Native America
New Native American mentoring program in South Dakota builds lifetime bonds
A South Dakota branch of Friends of the Children pairs paid, full-time professional mentors with thousands of at-risk children to help them grow into stable teenagers and eventually successful, well-rounded adults.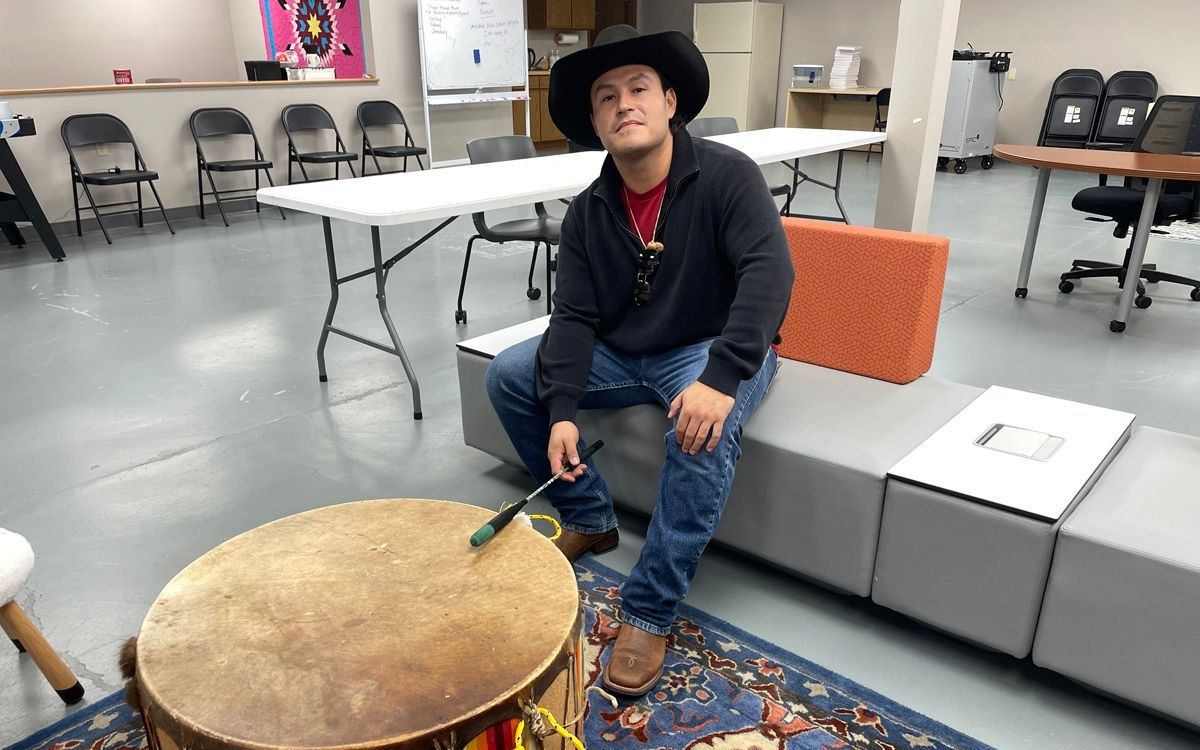 RAPID CITY, S.D. – When Coleman Eagle Elk first met a boy he expects to mentor from youth to adulthood, he used an ancient indigenous instrument to find common ground through song.
Eagle Elk met the 5-year-old boy and his mother at their home, then took the child to the Rapid City offices of the Friends of the Children. The new non-profit organization in western South Dakota pairs professional adult mentors with Native American children who have suffered trauma or abuse in their families.
Once at the office, Eagle Elk sat with the boy and played a ceremonial Native American bass drum while singing songs and building a bridge of trust, support and friendship that could last a lifetime.
"I set the big drum up and I told him that I'm your relative, your 'Leksi,'" recalled Eagle Elk, 31. "I told him that the drum is not just a piece of wood with rawhide on it, but that there's a spirit in there, so we'll be able to be open and honest with each other."
Eagle Elk, who has several years of experience counseling at-risk children, said he felt an immediate connection with the boy and believes the bond was mutual. And it all began with the two-person drum circle during their inaugural meeting.
"Being able to touch that cultural hunger that we as Native people have since birth, I saw his spirit light up," Eagle Elk said. "I heard his little voice beneath the loud drum. And while it was quiet, we were able to make that connection that some Native youth in Rapid City don't have access to."
New South Dakota chapter, new goals
The Friends of the Children He Sapa is the newest branch of the national organization, based in Oregon, which for nearly three decades has paired paid, full-time professional mentors with thousands of at-risk children to help them grow into stable teenagers and eventually successful, well-rounded adults.
The organization, funded largely by major charities and foundations from across the U.S., boasts a strong record of success.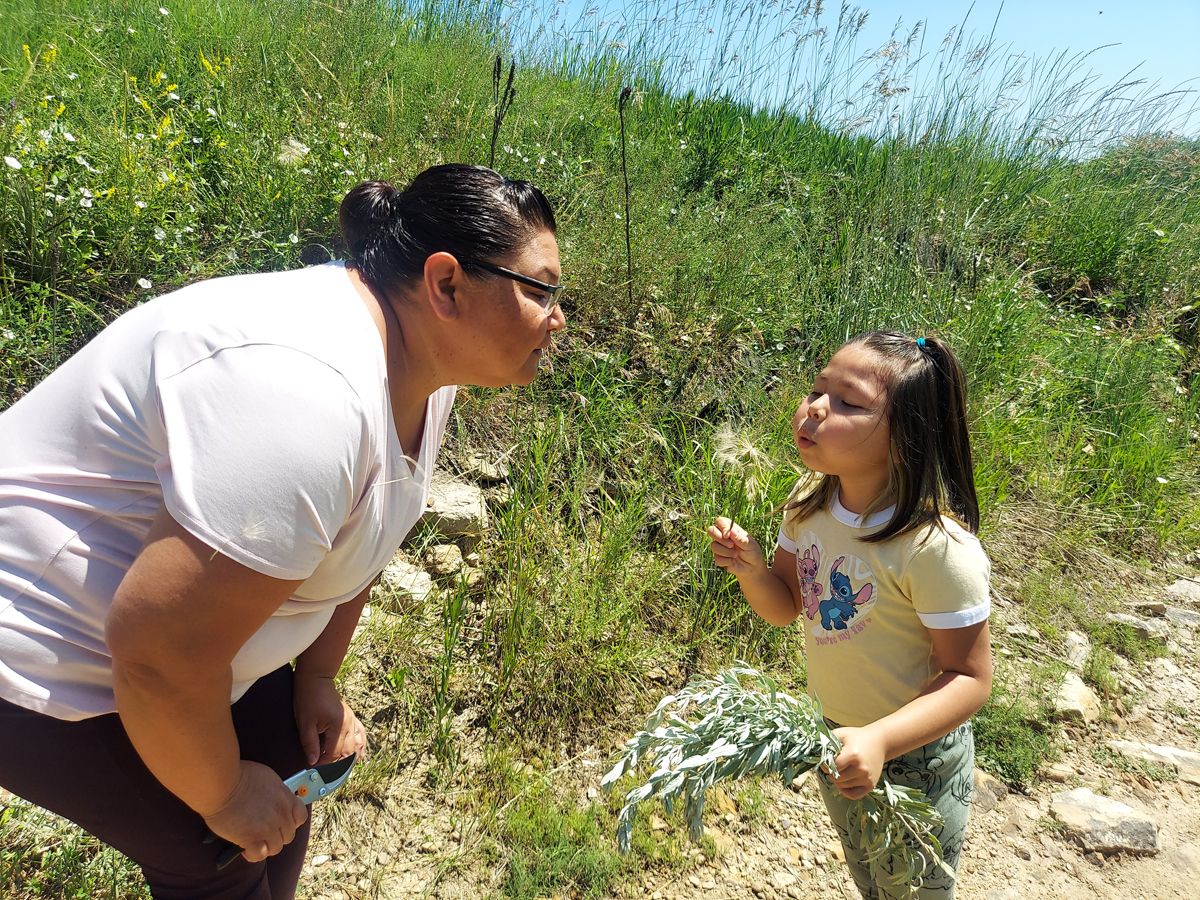 Data show that more than 8 in 10 earn a high school diploma or equivalency, 93% remain outside the juvenile justice system and 98% do not become parents in their teen years. Historical results also show that 92% of participants go on to higher education, the military or into the workforce.
A Harvard University study of the organization found that for each dollar invested in a mentee, the community benefits by $7 in saved social costs and that each child who completes the program saves the local community $900,000 in justice system, health care and teen parenting costs.
The South Dakota organization is the first Friends of the Children chapter to focus specifically on children in a specific cultural group, in this case indigenous boys and girls from Rapid City and the Pine Ridge Indian Reservation.
But like all chapters, the South Dakota group employs and trains salaried mentors to spend a minimum of four years with mentees and up to 12 years or more in many cases, meeting for several hours a week with the child in their school, home and at shared activities.
Previously: Native American artists in South Dakota travel new paths to prosperity
The need is great in South Dakota, where Native American children trail their majority white peers by significant margins in almost every educational metric, including academic achievement in math, English and science as well as in chronic absenteeism and disciplinary issues, according to state Department of Education data. Indigenous families also suffer disproportionate levels of poverty, substance abuse and low life expectancy.
The South Dakota Friends chapter was born out of $2 million in donations the organization received in 2022 from King Philanthropies and #startsmall, two national charities.
A model for indigenous communities
The larger, long-term goal of Friends of the Children is to use the fledgling Rapid City chapter as a model for how to bring the program to more Indigenous populations in South Dakota or other states.
Tasha Fridia-Mousseau, director of tribal programs for the national Friends program, said the organization has helped many Indigenous youth in the past but has recently made it a greater focus, especially with the launch of the South Dakota program.

"Part of the move had to do with really understanding that this was an underserved population," Fridia-Mousseau said. "We wanted to really use cultural identity as a protective factor."
Since launching in South Dakota, Fridia-Mousseau said the organization has received interest in developing the program in other tribal nations across the county and in other parts of the state, including in Sioux Falls.
"We have seen a lot of interest from other tribes in South Dakota and other tribal nations," she said. "Our goal is that we want every child who needs a friend to have one because we're limited only by our imagination and our funding."
Plans to expand in South Dakota
The South Dakota chapter launched in August 2022 and has since hired a staff of 10, five of whom are mentors who will each develop relationships with four children.
Valeriah Big Eagle, executive director of the South Dakota Friends chapter, led the launch of the group in 2022 and now focuses on growing its reach and the number of children enrolled.
Big Eagle is a member of the Ihanktonwan Oyate who has a doctorate in educational leadership from the University of South Dakota. Big Eagle, who lives in Rapid City with her husband and three children, was named a 2020 fellow by the Bush Foundation.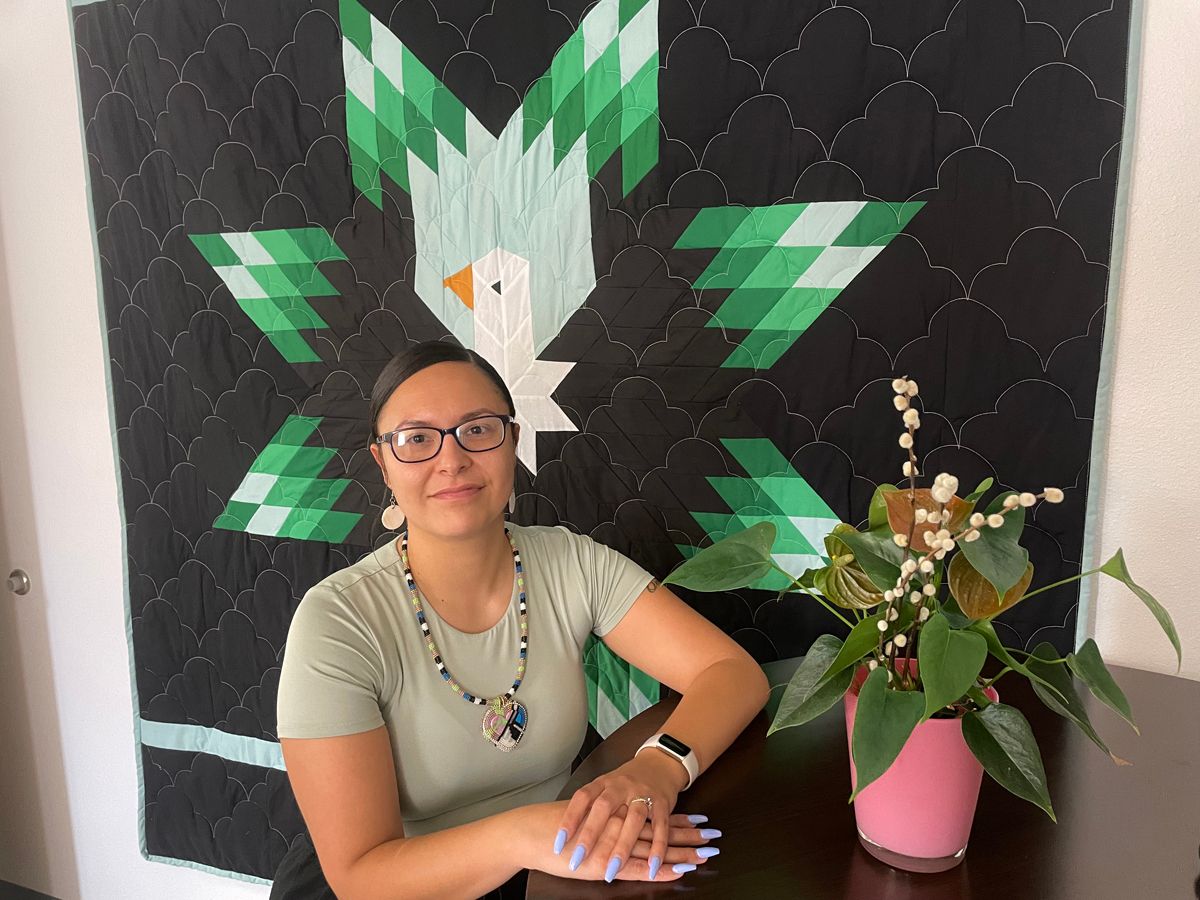 The children enrolled in the program are recommended for admission by teachers and school administrators. After parents agree to the program parameters, the children are then matched with a mentor who is trained in child development, trauma counseling and relationship building. In South Dakota, they also learn about Native American cultural awareness.
Children are selected at ages 4-6 and are chosen based on the greatest need for outside intervention and the highest likelihood of finding success within the program, Big Eagle said.
The mentors, referred to as "friends," or "relatives" within the South Dakota program, are paid a living wage of $45,000 to $50,000 a year and agree to spend three to four years minimum mentoring their assigned children.
More from News Watch: Native American leaders in South Dakota forge ahead with educational reforms
Mentors are expected to spend 14 to 16 hours a month with their mentees while also maintaining close ties to the families of the children. In addition to mentoring the youth, the mentors are trained to aid families in times of crisis.
For example, Friends of the Children representatives recently provided the family of a South Dakota mentee with counseling and cultural support after an incident of sexual abuse occurred within the extended family, Big Eagle said.
Many community partnerships
The Friends group has developed formal partnerships with many local and regional education and community entities, including school systems in Rapid City and Pine Ridge as well as the Oglala Sioux Tribe, Rural America Initiatives, Youth & Family Services and the Great Plains Tribal Leaders Health Board. The group recently inked a partnership with the Children's Home Society of the Black Hills, Big Eagle said.
The South Dakota Friends chapter is currently operating out of office space in an industrial park in northwest Rapid City. It also has a satellite office on the Pine Ridge Indian Reservation, though Big Eagle said the group is starting the process to find permanent space for its offices and educational facilities.
The local chapter is fully funded for its first year, 50% for year two and 25% for year three, Big Eagle said. Between local fundraising efforts and with support from the national organization, Big Eagle said she hopes the group can reach that goal and as a result, hire four new mentors and add 32 new mentees each year.
While the national group takes a two-generation approach to mentoring, the South Dakota chapter sees its mission as multi-generational. Mentors here work to strengthen families that include children, parents and grandparents, and can even positively influence future generations, Big Eagle said.
All Friends of the Children mentors receive training in CPR, first aid, sexual abuse awareness and other skills they may need to help children and families.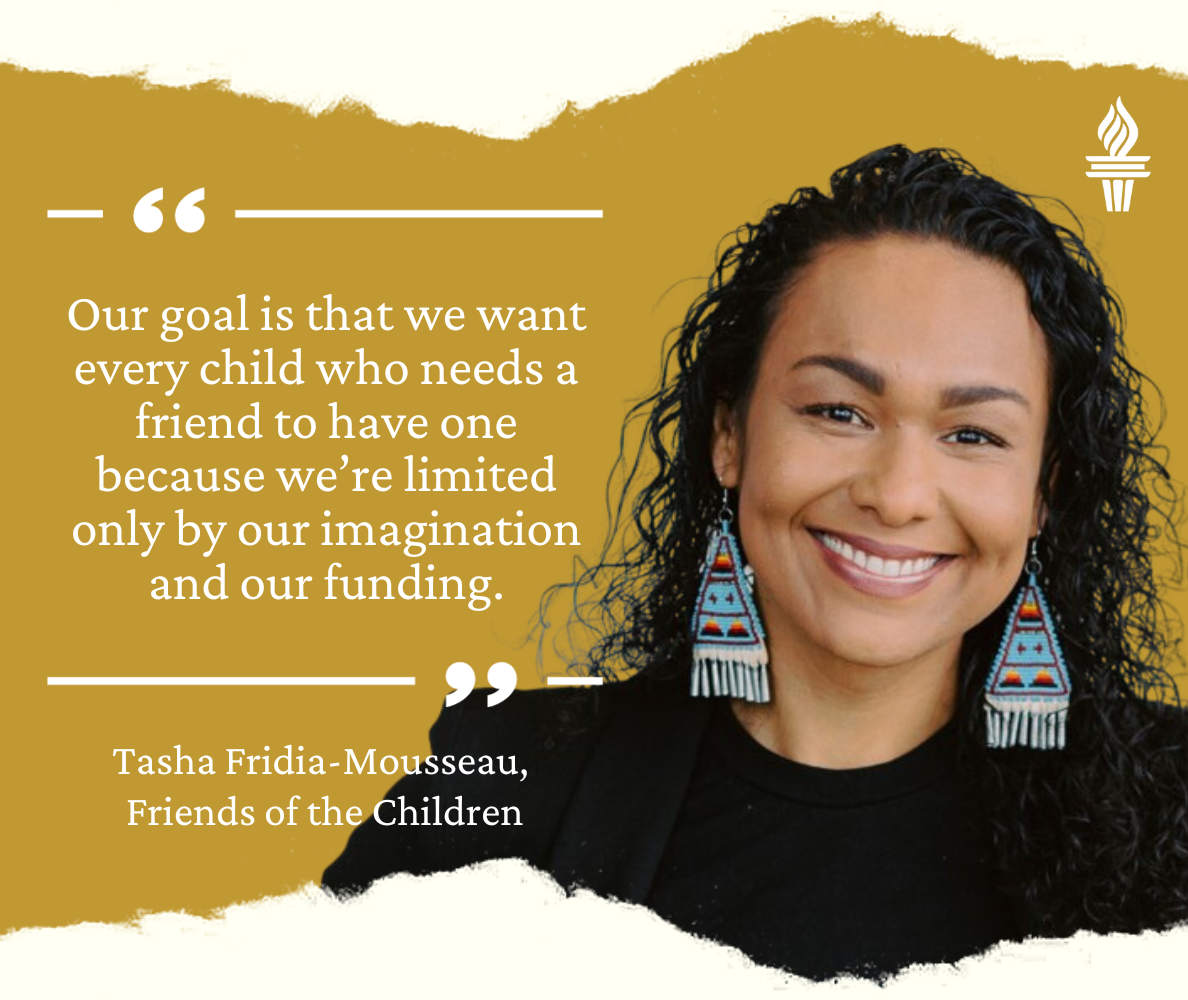 South Dakota mentors also receive training by Native elder Richard Two Dogs to understand and share Native American culture with the children and their families as a way to strengthen their identity, which Big Eagle said is one step toward reducing the impacts of historical trauma.
Big Eagle said generational trauma among Lakota and other American Indian tribes results from a variety of historical and ongoing hardships, from the relocation to remote reservations, to the taking of lands and rationing of foods, to the forced assimilation in boarding schools that sought to eliminate Native language, culture and identity.
Those traumas have led some Native Americans to escapism and other negative behaviors, such as substance abuse, physical and mental abuse of family members, or gambling and other unhealthy vices, Big Eagle said.
Breaking the cycle of poverty and trauma
Friends of the Children will try to break the generational cycles of poverty and trauma by not only helping children and families succeed with "feet in two worlds" but also by infusing mentor-mentee relationships with culture and pride.
"We know that many people, especially students, don't have access to cultural assets, such as our elders or sacred sites, our Lakota naming ceremonies, our traditions, our language," Big Eagle said. "We're really being intentional about providing those cultural opportunities for the youth and their families."

One of the elemental components of raising cultural identity is the Lakota naming ceremony in which individuals take on a Native American name in addition to their names given at birth, Big Eagle said. All mentors and mentees will receive Lakota names as part of the new relationships, she said.
"Whenever they are provided with that foundational Lakota culture, such as the naming ceremony, where they receive the name and the eagle plume because within that are spirits that can help us in our lives," Big Eagle said. "It helps establish their identity as a Lakota person and provides a connection for them. We're reconstituting that kinship system that has been lost and our way of life, and remembering who we are and where we come from. And part of that is strengthening that cultural identity."
The program also emphasizes a developmental approach that focuses on the "whole child," which is aimed at preparing mentees for success while giving them the skills and strength to overcome life challenges that will certainly arrive.
"Holistically, you're talking about improving the physical, mental, emotional and spiritual well-being of these children," she said.
A 'quiet boy' with untapped potential
Eagle Elk is still new to the Friends of the Children mentoring process. But as a father himself, he knows how much influence a mentor can have on aiding the development of the mind, soul and body of a child.
"He's a real quiet young boy, which a lot of our Native boys are. But when you find something that sparks them, like the drum, it's always going to bring them out of their shyness and bring them out in a positive way," he said. "He's real competitive, and he likes to race, throw a ball or play air hockey, so bringing that competitiveness out in him and finding where he can thrive in society, it's a really cool thing to see."
The Friends program requires mentors to visit children at their home and to spend time with them and their families, who are made fully aware of the program and its expectations. Mentors also go to school and sit in class with their mentees, and arrange for outside activities to help the children learn and grow outside the home and school.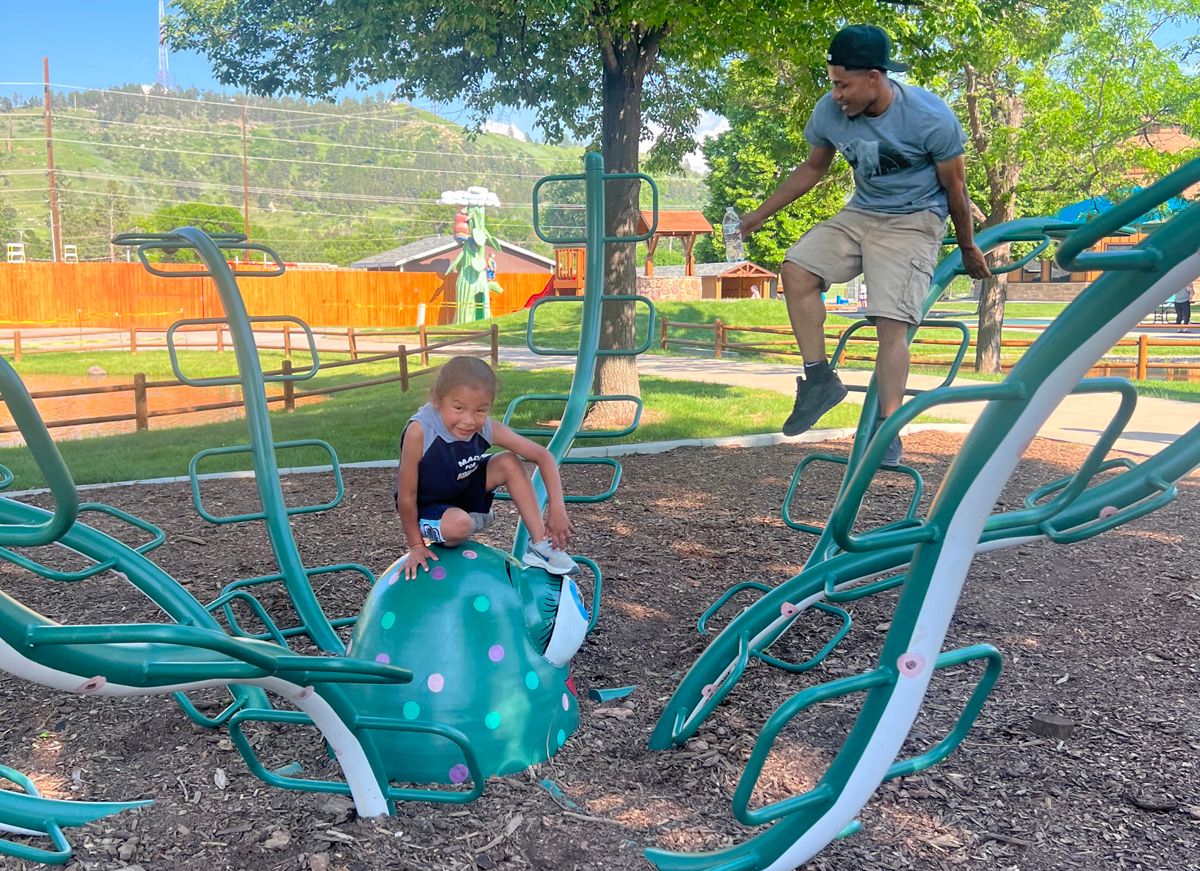 In South Dakota, mentor Isaiah Weasel Bear, a basketball fan, has organized two free basketball camps for Native youths in western South Dakota from kindergarten to 12th grade. They will be held on two days in late October at the King Center on the School of Mines campus in Rapid City. The camps will be led by Mines basketball player Alejandro Rama, a Native American member of the college team.
During a recent visit, Eagle Elk and his mentee worked on learning the alphabet, writing their names and practicing counting skills. Eagle Elk said the boy stopped counting at 10, but with minor encouragement, showed that he could count well beyond that.
"We're breaking barriers he thinks he has, but which he really doesn't," he said.
Eagle Elk said that he struggled in his own educational journey due to limited opportunities to learn by doing rather than by reading or being told what to do. Eagle Elk said hands-on learning is one educational concept he expects to bring forward in his mentorships.
"Take fixing a fence, which is something I can relate to," said Eagle Elk, who grew up with horses and ranching on the Rosebud Sioux Indian Reservation. "If the barbed wire is all messed up or torn down, you can show me once, and then I can carry on and fix another 100 miles of fence. But if it's just written down, some people might struggle with that."
Positive domino effect in families and communities
Big Eagle and Eagle Elk are both confident that by spending quality "highly intentional" time with children and young adults in the program, they will lay the groundwork for each mentee to find the strength and willingness to help others during their lifetimes.
"For me as a mentor, that's the goal, not only to help this youth in their life and to help their family but to help them be able to help others in a bigger scale throughout their life," Eagle Elk said. "There can be a positive domino effect throughout his life by helping each and every person become a better version of themselves."
In some cases, children and young adults simply need the opportunity to grow as individuals and then gain the understanding that they can help others achieve success and fulfillment in life, Eagle Elk said.
"We always have room to grow and to become a better version of ourselves and sometimes that means helping others because in our culture, you always want to help somebody so they become the better version of whatever they are trying to be in life."