Former small-town Minnesota mayor is behind the rise of electoral activism in South Dakota. He's just getting started.
Other South Dakota conservatives aren't convinced there's a problem: "I called these people and they assured me they were not dead."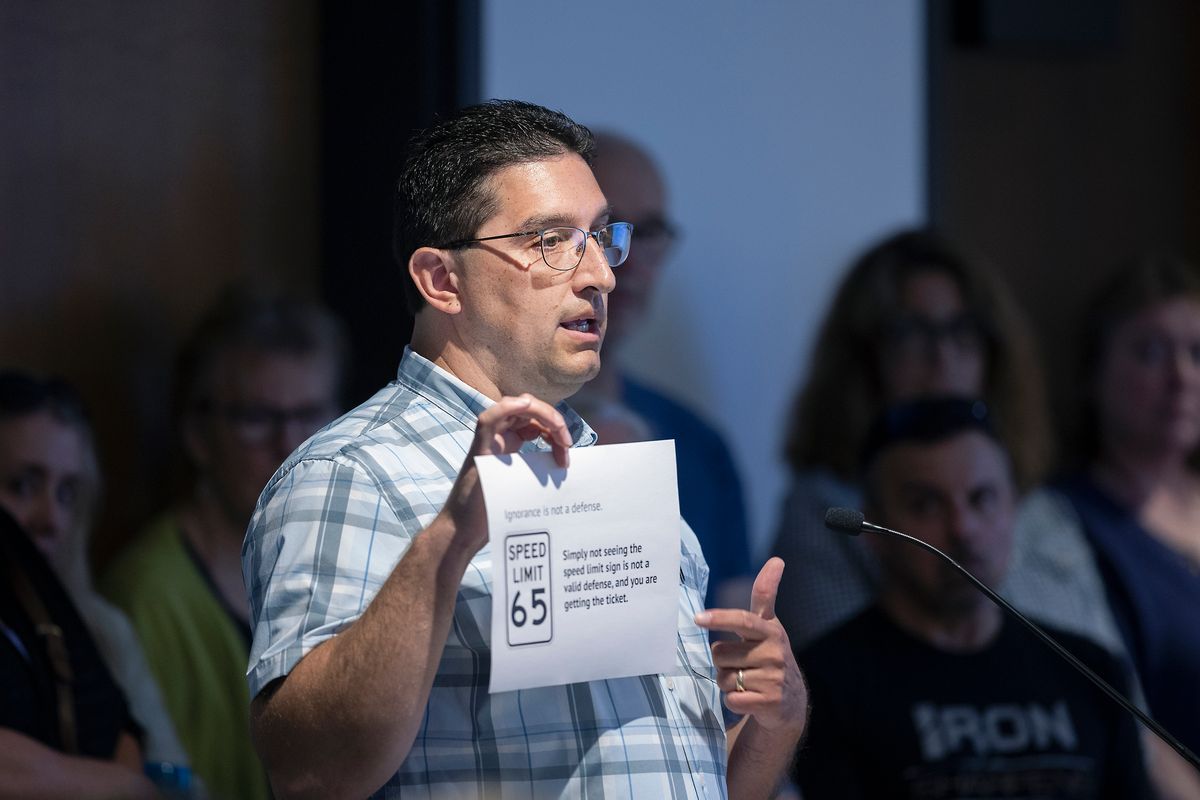 SIOUX FALLS, S.D. – One of the Midwest's most prominent election deniers stood next to a pinball machine at the Military Heritage Alliance in Sioux Falls in October, outlining how he impacted South Dakota's 2022 race for secretary of state.
Rick Weible, a 51-year-old computer analyst and Republican Party operative, had just given a slideshow to a group called Concerned Citizens of Lincoln County about alleged fraud in the 2020 presidential election and perceived vulnerabilities in South Dakota's voting systems.
The former small-town mayor from Minnesota, who now lives in the eastern South Dakota town of Elkton, spoke with News Watch after the presentation. He said that he initially saw himself as a potential candidate to challenge incumbent Secretary of State Steve Barnett at the 2022 state GOP convention.
Then Weible and his wife, Gretchen, met Monae Johnson, a more palatable nominee because she previously worked in the secretary of state's office. Johnson, who declared her candidacy in February 2022, had publicly expressed doubts about the validity of the 2020 election, refusing to acknowledge President Joe Biden's win over former President Donald Trump.
The Weibles, who moved to South Dakota from Minnesota as "tax refugees" in 2018, viewed Johnson as someone who could help them reform the system from within.
'Her campaign was a complete fraud'
But as Republicans approached the June convention in Watertown and prepared to select nominees for offices such as secretary of state and attorney general, Weible saw problems with Johnson's political effort.
"We found out her campaign was a complete fraud," said Weible, who runs a cyber security business called D3Defense in Brookings. "She didn't have a campaign speech, so I had to write one for her. She didn't have room reservations. She had no T-shirts, no signs, no buttons. She wasn't even totally sure of the rules of the convention."
Johnson declined an interview request with News Watch for this story. In response to a question about Weible, state elections director Rachel Soulek sent a statement that the secretary of state's office is "constantly combatting misinformation and disinformation regarding elections. We encourage voters to turn to their trusted sources for election information, which are the Secretary of State's Office and our county auditors."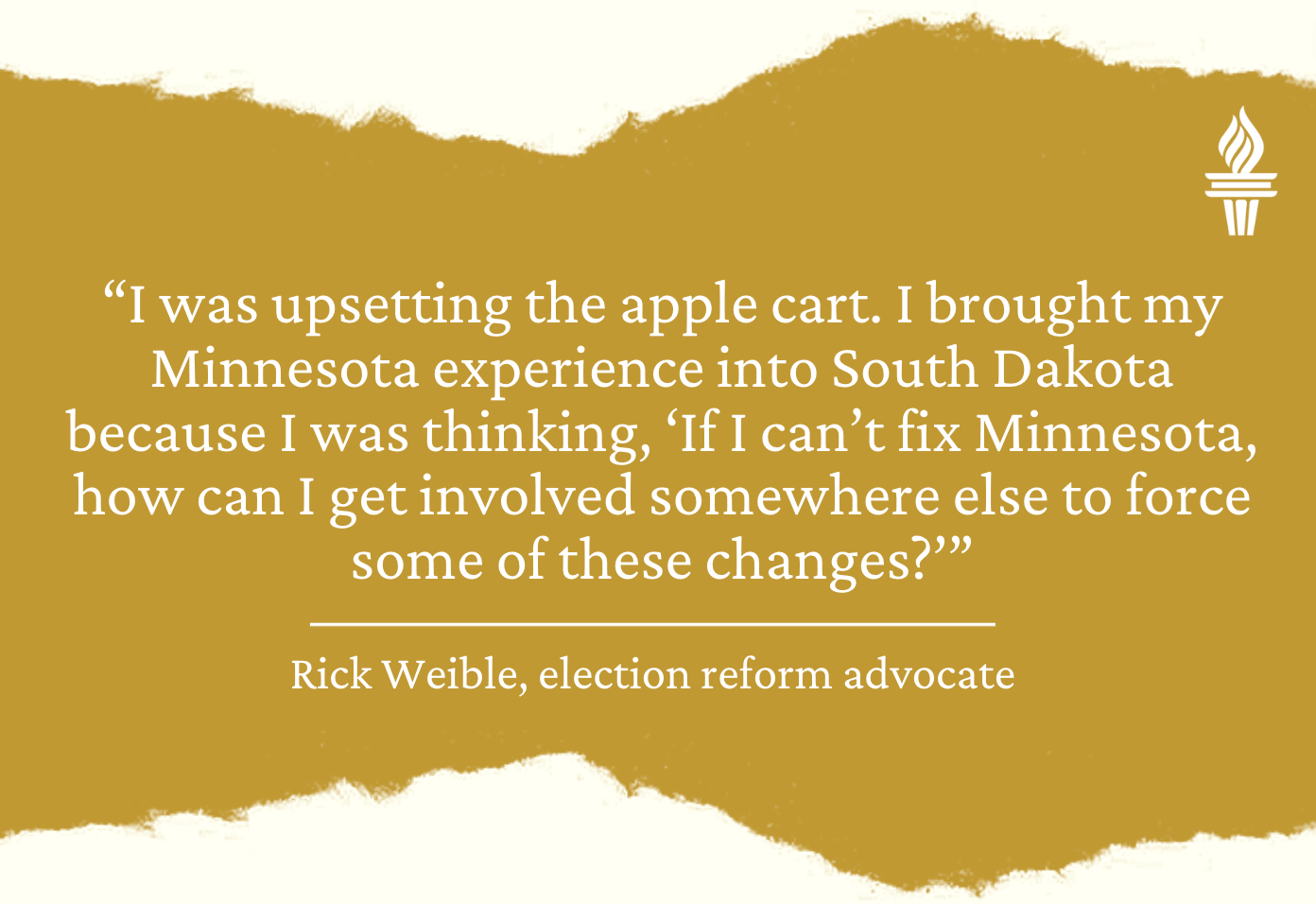 Gretchen Weible became Johnson's campaign manager and Rick served as adviser. They found plenty of far-right delegates receptive to the premise that Barnett had been slow to respond to concerns about online voter registration, drop boxes and machine tabulators in South Dakota.
Boosted by the South Dakota Freedom Caucus, Johnson defeated Barnett with 61% of the vote – a shocking rebuke for an incumbent – and vowed to make election security her top priority.
When Johnson cruised past Democratic challenger Tom Cool in the November General Election, Rick and Gretchen Weible stood behind her as she gave her victory speech, confident that at least part of their vision to overhaul election laws in South Dakota was taking shape.
"I was upsetting the apple cart," Weible said of that election. "I brought my Minnesota experience into South Dakota because I was thinking, 'If I can't fix Minnesota, how can I get involved somewhere else to force some of these changes?'"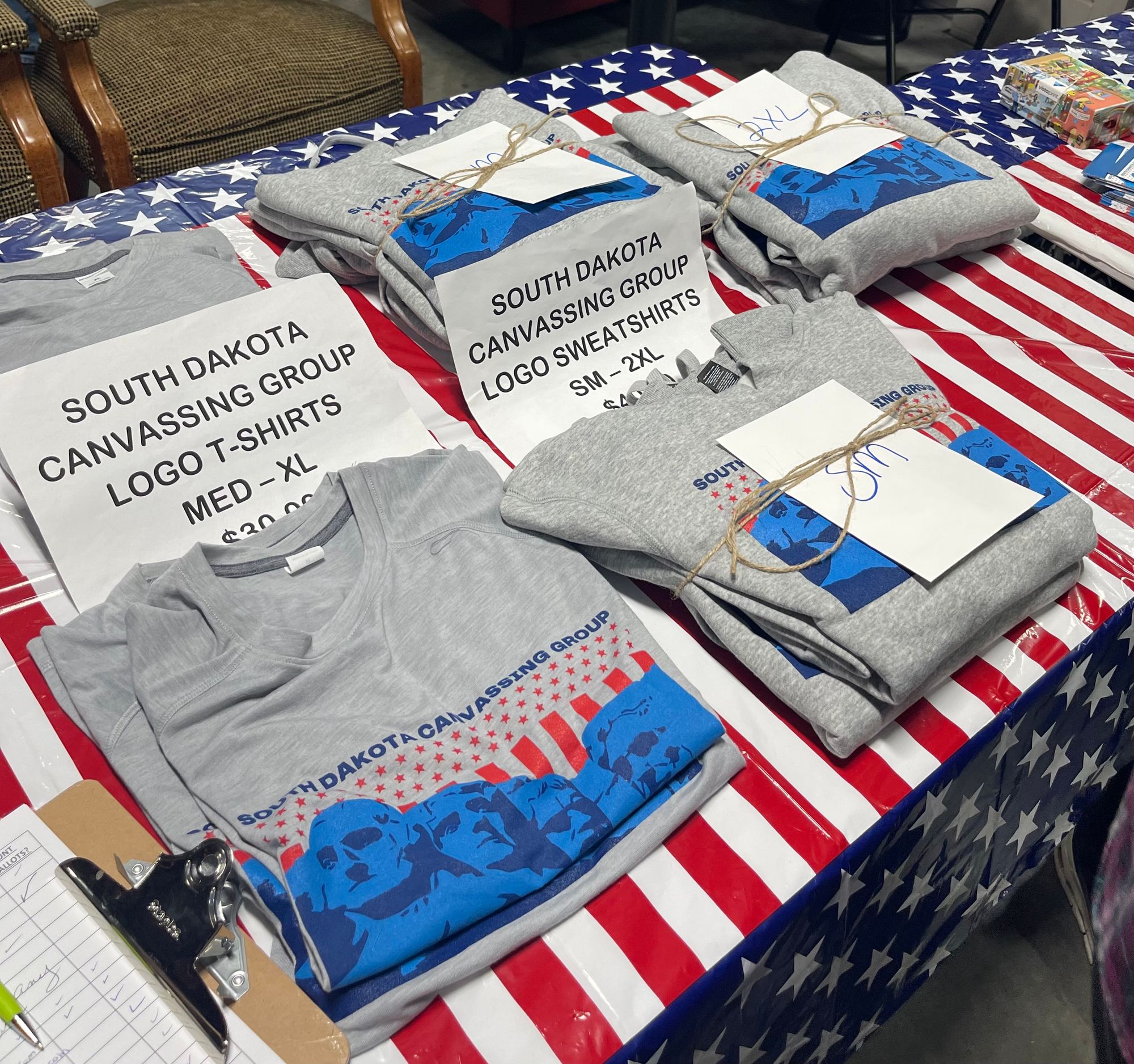 'The populism of the moment'
More than a year later, as electoral activism gains steam in legislative hearings, county commission meetings and citizen gatherings across the state, Rick Weible's influence is hard to deny.
The grassroots crusade is sparked by accusations of election improprieties that cost Trump the White House, despite no evidence of substantial voter fraud from Democratic or Republican election leaders.
Trump and his supporters have filed and lost more than 60 lawsuits relating to those claims. And the former president faces criminal charges for trying to overturn election results in Georgia, a key swing state. Trump also was indicted by a federal grand jury on charges related to the Jan. 6, 2021, riots at the U.S. Capitol and efforts to remain in power after the 2020 election.
Still, a CNN poll from August found that 69% of Republicans and Republican-leaners said Biden's win was not legitimate, up from 63% earlier in the year.
The South Dakota movement takes these unfounded allegations of rigged voting systems and projects them onto local elections. Citizen collectives such as the South Dakota Canvassing Group and Midwest Swamp Watch put county auditors, commissioners and poll workers on the defensive by echoing accusations from far-right media and demanding proof of secure systems, even in a state that Trump won by 26 points in 2020.

"When we think of free speech and the marketplace of ideas, we say good ideas rise to the top. But the inverse is also true," said Joe Kippley, a Republican Minnehaha county commissioner.
"Sometimes they're just bad ideas. And when people advocate for bad ideas, they come through loud and clear too. In the end, it's a trust-in-institutions question. Are we doing our best to build up trust in our institutions? Or are we looking to sort of ride the populism of the moment and say we didn't come out on the winning side, so let's burn it all down?"
Legislators act on election security
Rick Weible countered by saying that many public officials don't grasp the inner workings of South Dakota's Election Systems & Software (ES&S) process.
He wants more election transparency through the public release of cast vote records and proof that tabulating machines are not connected to the internet, protecting them from hacking. Hand counts are one way to secure elections, he said, as are stricter voter registration laws and post-election audits.
Gov. Kristi Noem and the South Dakota Legislature have been generally receptive to the message.
The state banned drop boxes during the 2023 legislative session and passed bills that addressed voter-roll updates, residency requirements, post-election audits and the testing of tabulation equipment.
For Rick Weible, who remains vocal in pushing for reforms with legislators and the South Dakota Board of Elections, crossing the border from Democratic-controlled Minnesota into Republican-dominated South Dakota has helped amplify his agenda.
"Any business expert is going to tell you that it makes sense to hunt where the ducks are," said Charles Stewart, a political science professor at the Massachusetts Institute of Technology who specializes in election technology and administration.
"Election denialism presents an opportunity to build a movement around restricting voting access and turning back the clock on a variety of electoral innovations. The places that are generally going to be the most receptive to that message are rural-based Republican states."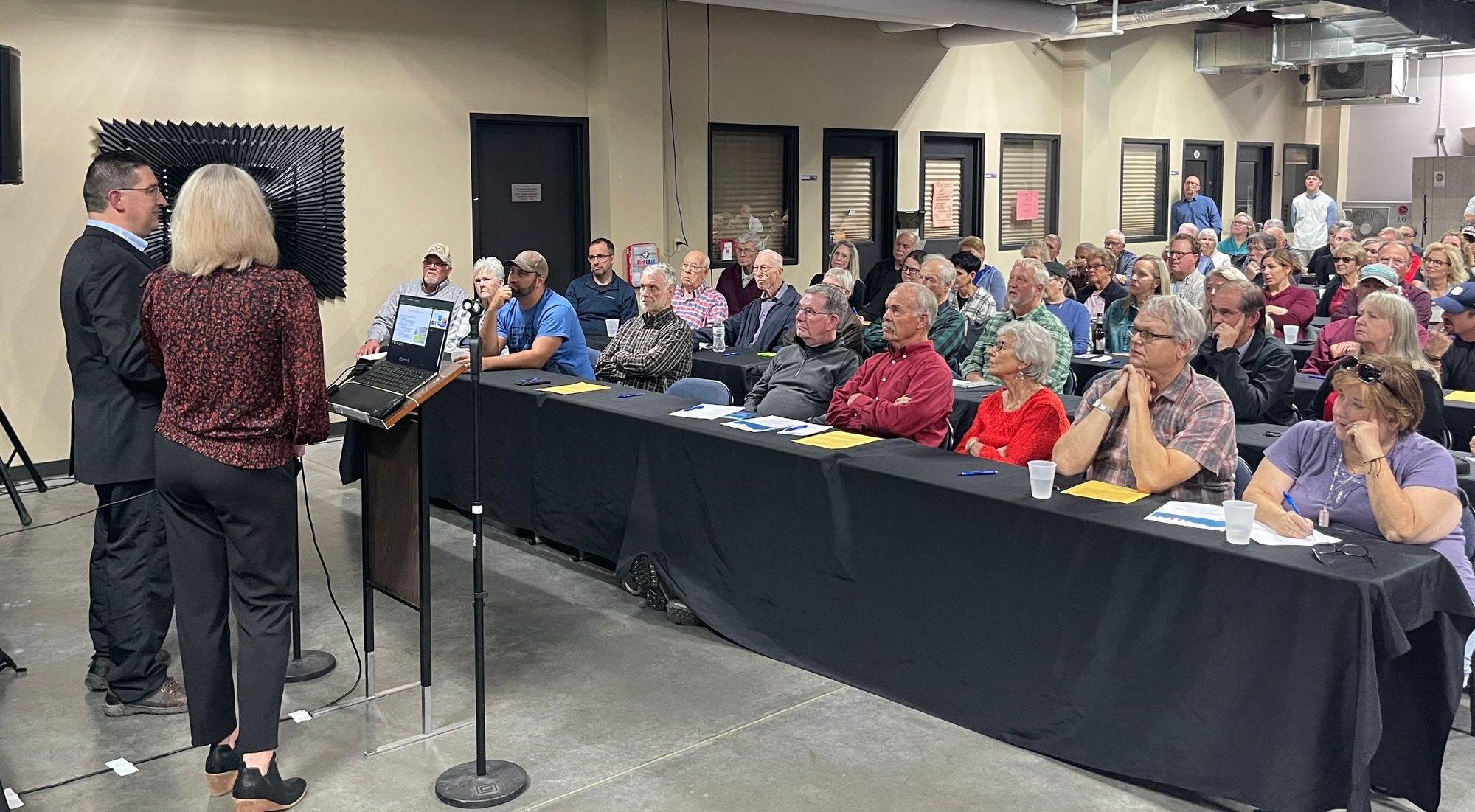 'Stolen elections equal slavery'
Rick Weible serves as adviser to the South Dakota Canvassing Group, formed by Jessica Pollema and Cindy Meyer and inspired by MyPillow founder Mike Lindell's August 2021 Cyber Symposium in Sioux Falls. That event promised and failed to show evidence of substantial election fraud.
Lindell was sued for $1.3 billion by Dominion Voting Systems, which claims it was harmed by unfounded statements from Lindell and other Trump allies that Dominion rigged its machines in favor of Biden in 2020. In allowing the lawsuit to proceed, a judge ruled that Dominion "has adequately alleged that Lindell made his claims knowing that they were false or with reckless disregard for the truth."
Pollema, an accountant from Tea, was a co-presenter with Rick Weible at the Military Alliance event in October, urging attendees to run for precinct committees or volunteer as poll watchers for the 2024 election. A canister was passed around for donations.
"Fair elections equal a representative republic, but stolen elections equal slavery," Pollema told the group of predominantly older and white attendees. "We need to get rid of the machines and we need to recruit volunteers so we can have fully staffed elections."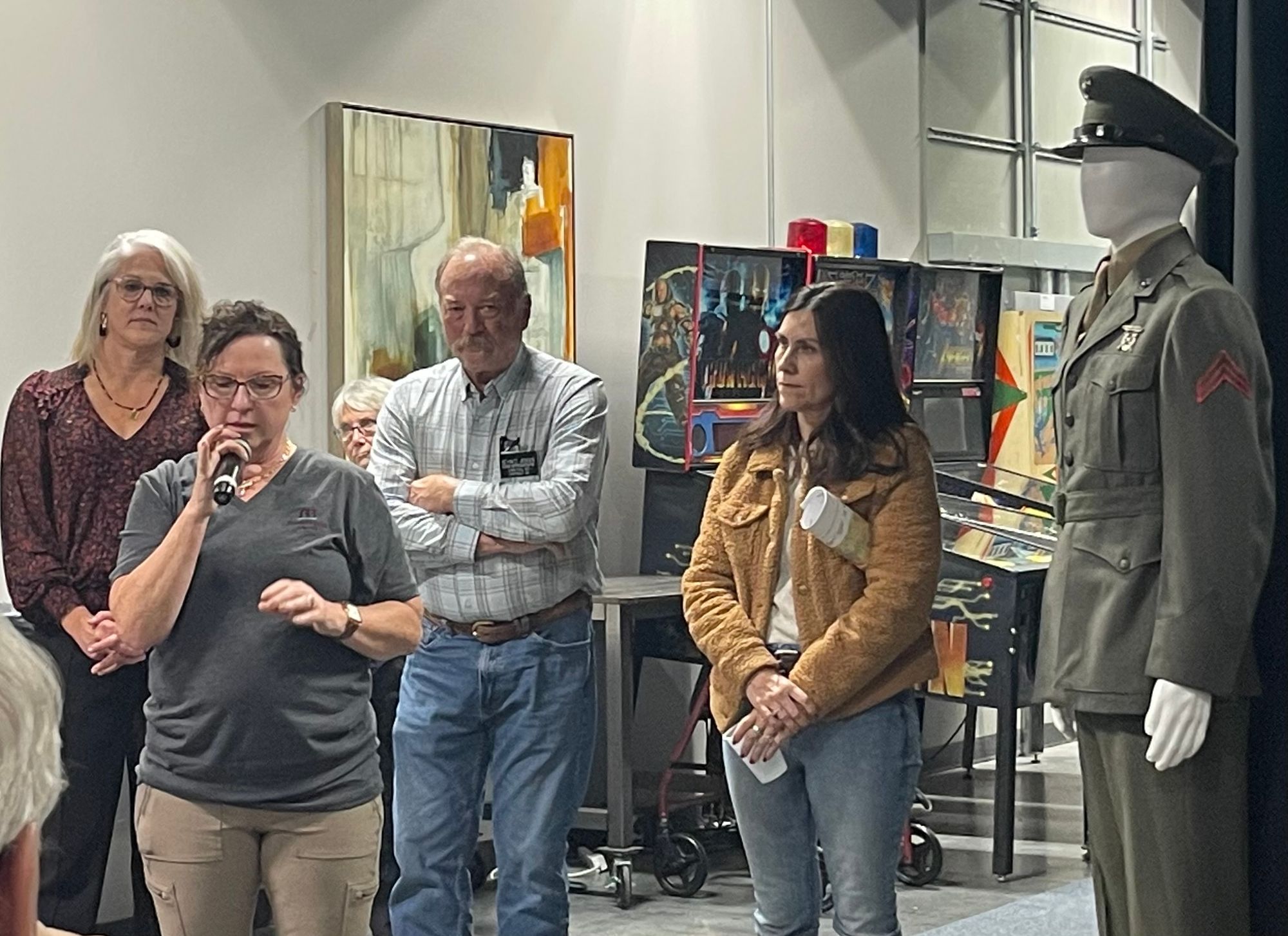 Poll workers seek protections
Also in attendance was Minnehaha County Auditor Leah Anderson, a canvassing group supporter who ousted incumbent Republican Ben Kyte in the 2022 primary and won the General Election, which put her in charge of elections in South Dakota's largest county.
Anderson had a long conversation with Rick Weible following his presentation and later addressed attendees about an October training session for county auditors that she attended at the secretary of state's office in Pierre.
Part of that session focused on protecting poll workers from undue influence from outside groups during post-election audits that South Dakota has adopted starting in 2024.
"That's their concern," Anderson told attendees at the Military Heritage Alliance. "They want to keep you away from them. That is a national strategy right now, protecting the poll workers, making the poll watchers seem like dangerous people. So I raised my hand and said, 'Well, I'm one of those people, but I'm also an auditor. And the best thing you can do is ask these people that are concerned to help count the ballots, to let them participate.'"
Anderson, a Sioux Falls accountant, publicly addressed the Minnehaha County Commission with canvassing group members before her election, questioning the integrity of online voter registration and machine vote tabulators.
In emailed responses to questions from News Watch, Anderson said that her alignment with the South Dakota Canvassing Group on certain issues doesn't present a conflict of interest with her role as county auditor.
"My priorities and that of South Dakota Canvassing are definitely similar," she said. "Attending their public meetings doesn't make me a member. It makes me an elected official who is willing to understand and meet with people in a transparent way."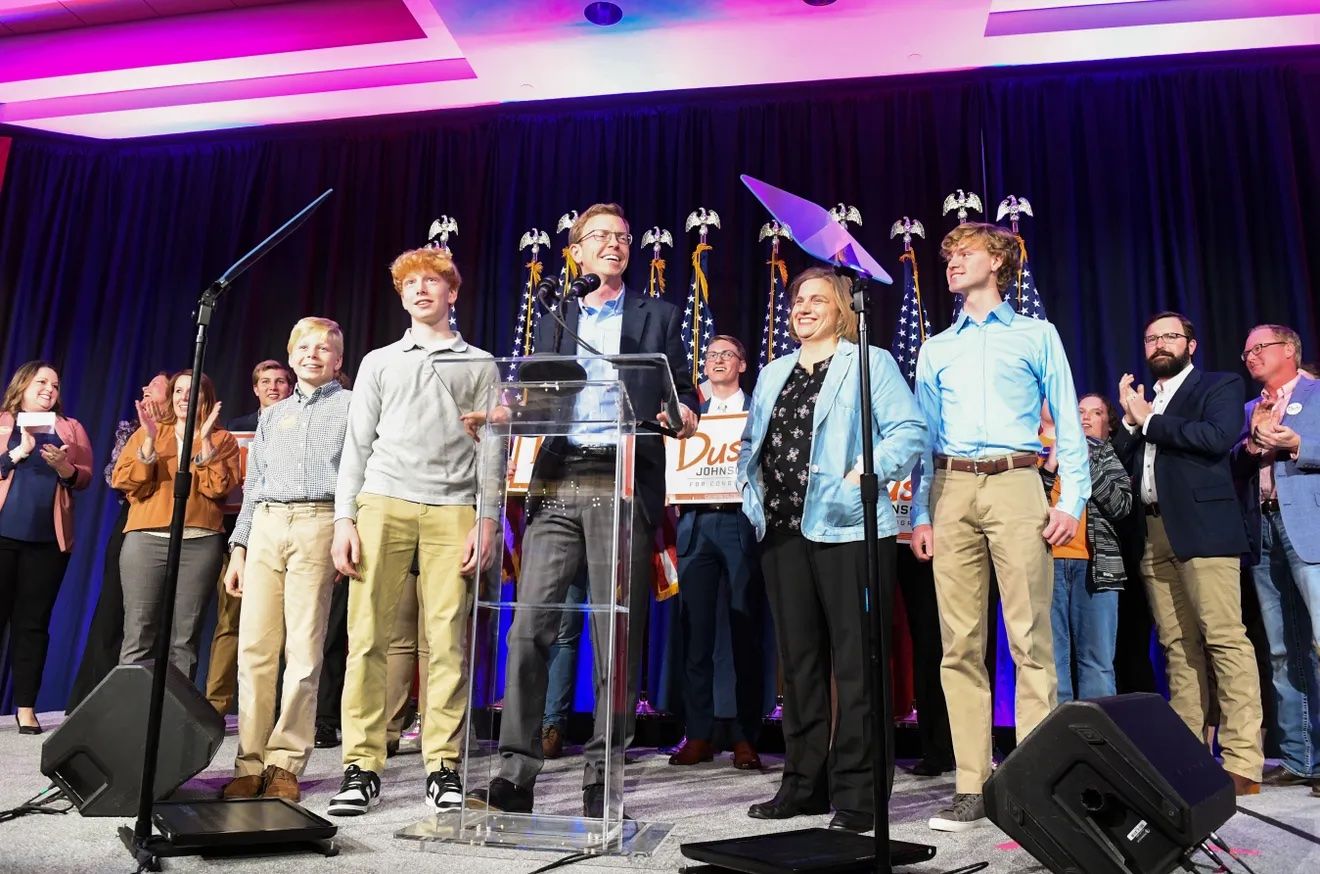 Months after taking office, in September 2023, Anderson hired Mike Mathis as elections coordinator for Minnehaha County. Mathis was involved with the canvassing group and frequently spoke at public meetings, telling Lincoln County commissioners in October 2022 that "I've never lived in a Communist country, but South Dakota is heading down that path" because of what he sees as lack of transparency with voting records.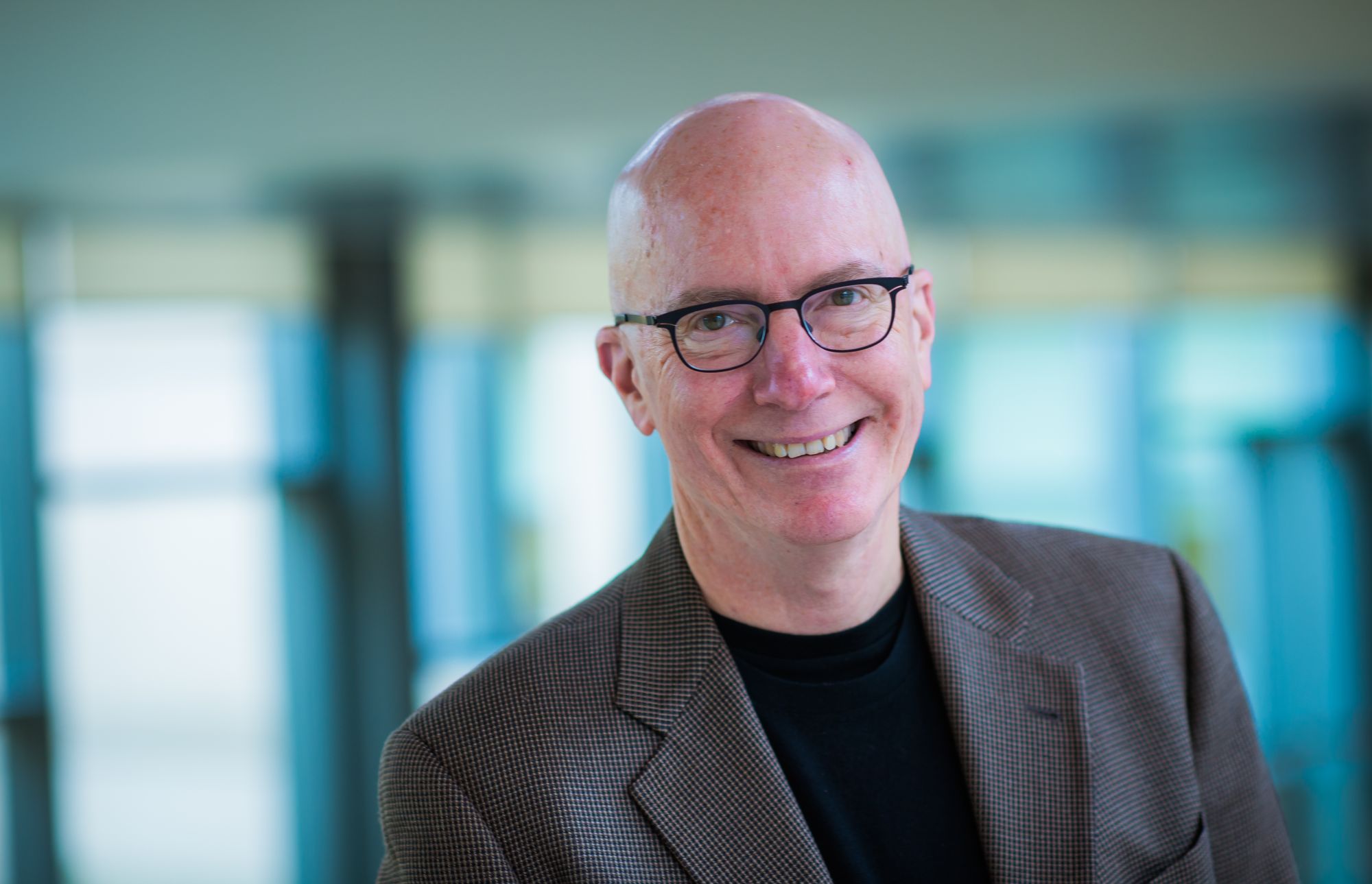 'These aren't bad people'
Mathis, who lives in Sioux Falls, ran for Lincoln County Commission against Republican incumbent Jim Schmidt and lost 60% to 40% in the June 2022 primary. Pollema ran against Lincoln County Auditor Sherri Lund and lost 57.5% to 42.5%.
Lincoln County has been a hotbed of electoral activism, with lawsuits for the release of cast vote records and heated exchanges between canvassing group members and county commissioners at public meetings.
Lund was vilified by Pollema and other activists for using a ballot drop box on the front steps of the courthouse during the COVID-19 pandemic in 2020. They also criticized her for accepting a grant of $14,438 from the Center for Technology and Civic Life, an election reform advocacy group that received $350 million from Facebook founder Mark Zuckerburg to assist state and local governments during the pandemic.
Pollema referred to those "Zuck Bucks" during the Military Heritage Alliance event, parroting claims of "election rigging" from national conservative media outlets such as Fox News and Gateway Pundit. At one point in discussing voting systems she casually asked, "Does anyone think that (U.S. Sen.) John Fetterman legitimately got elected in Pennsylvania?" Several people in the crowd indicated that they did not.
Schmidt, who has served on the Lincoln County Commission for 25 years, said his patience is wearing thin with the canvassing group's "wild theories" about election malfeasance. He understands their right to voice opinions but separates that from outlandish claims that can do real damage.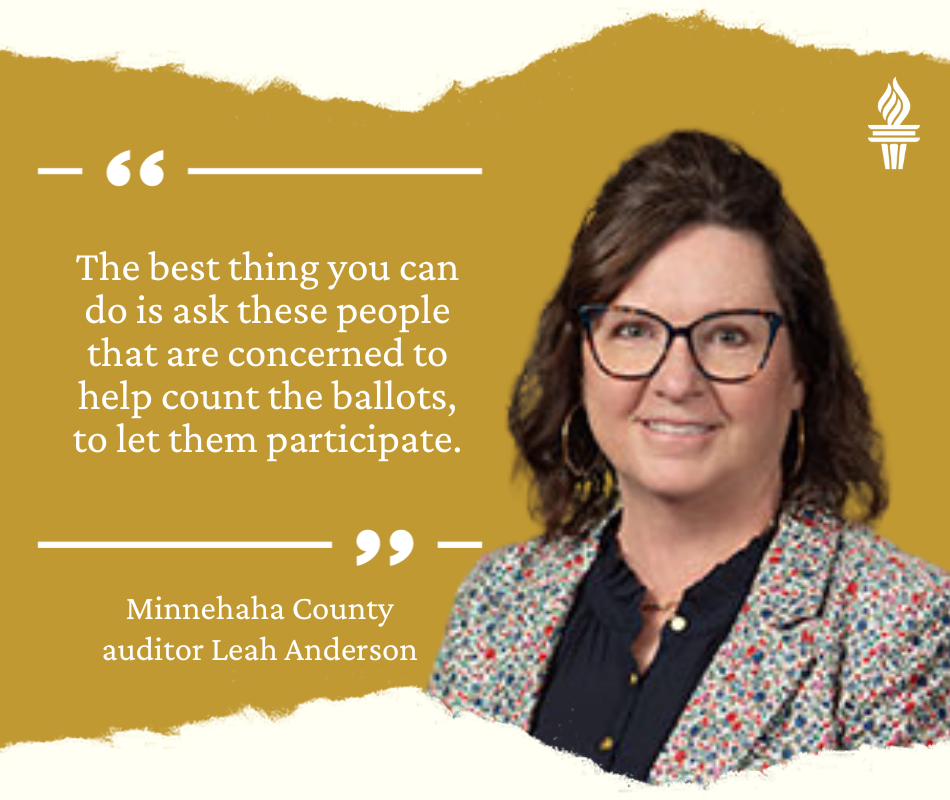 "These aren't bad people," Schmidt told News Watch. "I mean, I'm not disparaging them as to whether they're good husbands or wives or grandparents or whatever. But somewhere they have latched on to something and they've been consumed by this idea and convinced themselves that there's something wrong when there isn't. It does concern me that they are sowing doubt in the basic tenets of our democracy, that our elections are fair and upright. How many court cases do you need to have to prove these claims are false?"
Minnesota officials fight back
The movement met with marginal success in Minnesota in the aftermath of the 2020 election.
Rick Weible's lobbying efforts to tighten election laws fell short in a state with Democrats in most key government positions. He decided to focus on county commissions and municipal boards in right-leaning counties, warning about the vulnerability of voting systems.
Rick Weible was well-versed in Minnesota government after overseeing Republican campaigns and serving as mayor of St. Bonifacius, a small town in Hennepin County west of the Twin Cities. He combined that knowledge with his day job, computer data analysis, to capitalize on the post-election fervor among Trump loyalists.
He appeared at a March 2022 event in Brainerd, Minnesota, with former U.S. Army Capt. Seth Keshel, who worked with attorney Sidney Powell to file lawsuits on Trump's behalf to overturn 2020 results. Powell has pleaded guilty in Georgia to charges of conspiring to intentionally interfere with the performance of election duties.
Rick Weible formed Midwest Swamp Watch, which worked with citizen groups such as Dakota County Patriots in east-central Minnesota. The goal was to pressure county officials to publicly release cast vote records and other polling information that he said would expose irregularities, in addition to volunteering as election judges for 2022.
Michelle Witte, executive director of Minnesota's League of Women Voters, started attending county commission meetings with others to rebut allegations of election fraud, figuring grassroots energy could work both ways. Her group also posted information about election basics related to absentee ballots, vote tabulators and post-election reviews.
"One of the biggest takeaways was that most people just don't understand how elections work, and how they work differently from state to state," said Witte.
"We explained that the counties had safeguards in place that people just weren't aware of, and when we tried to bring it up, (the activists) weren't interested in listening. We welcome people bringing up questions and different points of view. But when you have constituents who deny all the answers and just want to demonize government officials, it's a whole new ballgame."
Weible lauded as 'election data hero'
Witte said she mentioned the Jan. 6, 2021, Capitol riots at one county meeting and heard people laughing from the other side of the room. She uses that as an example of the "temperament" of some of the groups calling for electoral reforms.
"Some of these are people who just don't like democracy right now because they don't see it serving their needs," she said. "You can't say you value the Constitution on one side and then try to slaughter it on the other."
Just as in South Dakota, Rick Weible had a preferred 2022 choice for secretary of state in Minnesota. That candidate was Kim Crockett, a former general counsel for a far-right think tank who was suspended from that role in 2019 for making racist comments about Somali refugees. She later apologized for the comments.
Crocket also called the 2020 presidential election "rigged" and praised Rick Weible as a "voter data hero" at one of her campaign events. She was endorsed by Trump.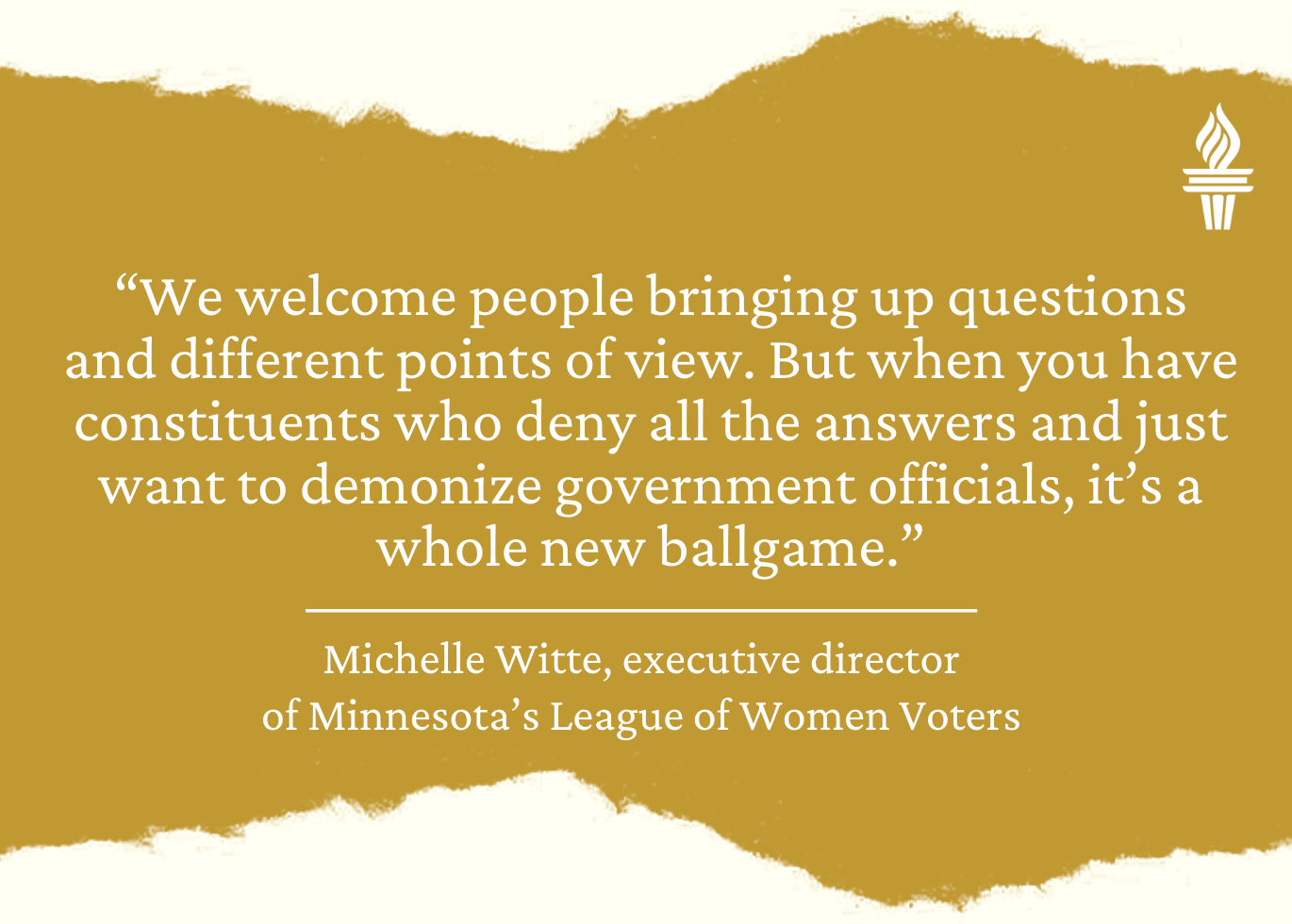 Crocket lost 55% to 45% to incumbent Steve Simon, who campaigned behind Minnesota's election integrity and was part of a Democratic Party sweep of constitutional offices in the state. Soon after, Rick Weible decided to focus his efforts on South Dakota.
"(Simon) supported county election officials and helped them deal with the onslaught of misinformation," said Witte. "I think the other part of it is that (the activists) weren't dismissed. It wasn't like we just kicked them out, right? They were heard many times and got a lot of their data. In the end, though, they didn't have the goods."
SD secretary of state drifts from Weible
It didn't take long for fissures to develop in the partnership between Rick Weible and Johnson after she was elected secretary of state, making her the state's top election official.
While he shrugged off the "election denier" label, blaming those denials on a lack of transparency, Johnson took a different view. She saw it as politically perilous and sought to separate herself from Rick and Gretchen Weible, despite their help with her campaign.
Johnson, who previously worked at the office under former Secretaries of State Chris Nelson and Shantel Krebs, hired former state legislator and assistant attorney general Thomas Deadrick as deputy secretary of state in November 2022, a choice Rick Weible criticized as too connected to the establishment.
Minnehaha County Auditor Anderson was also critical of Johnson, telling News Watch that 2023 election security laws passed by the legislature "occurred during a year where the new Secretary of State refused to support any election-related bills after running a campaign on election integrity and transparency."
Rick Weible was rebuffed by the Johnson-chaired Board of Elections when he lobbied for a change in voter registration forms, with Deadrick pointing out that such action could conflict with the state's 2022 settlement in a federal voting rights lawsuit.
The board also rejected Rick Weible's petition to require a full hand recount of the 2022 general election in Brookings County, where Gretchen Weible finished fourth out of five candidates for county commission. The motion to dismiss maintained that Rick Weible was "requesting the Board of Elections to take actions it is not authorized to do."
Johnson and the Weibles currently have no personal or professional relationship, according to Rick Weible.
"Monae made that decision," he told News Watch. "She sent us an email that said she didn't want to work with us anymore. My wife took it very personally and had to take some time off to reflect. But we don't consider Monae evil or anything like that. She's an elected official and we have to respect her because we want to make South Dakota the gold standard of elections. Let's just say that the door is always open."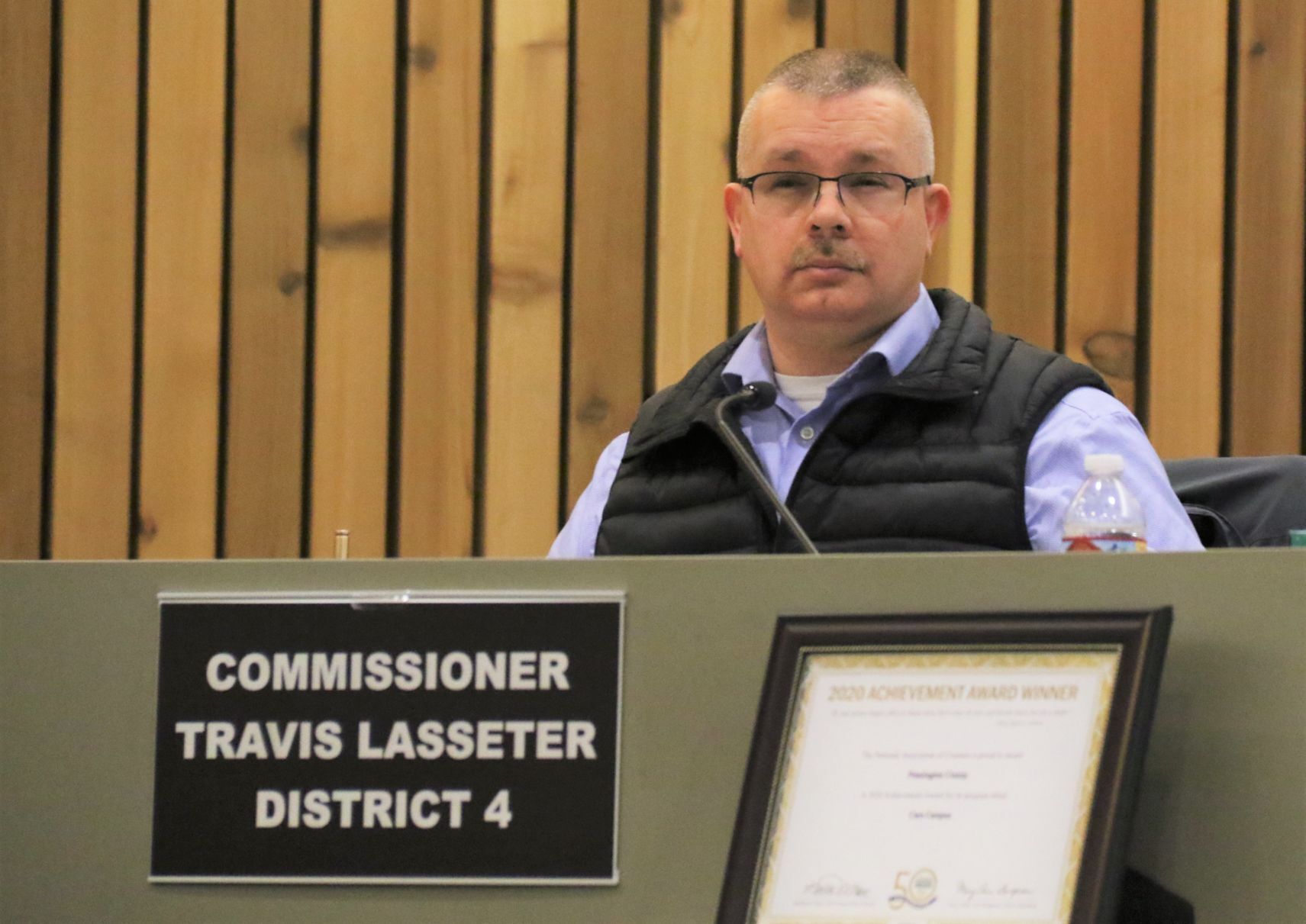 Commissioner disputes group's claims
When Travis Lasseter first heard of Rick Weible's election analysis and the work of the South Dakota Canvassing Group, he was interested in the cause.
Lasseter, a New Underwood rancher and U.S. Air Force veteran, was elected to the Pennington County Commission in 2020 behind a strong conservative platform. He heard concerns from his constituents about election vulnerabilities and kept an open mind.
"I was asked to give a presentation about voter fraud at a local grassroots organization called Citizens for Liberty," said Lasseter. "I went and asked for any evidence that they had, and they said they didn't have any evidence. But they asked me to watch the West River presentation from South Dakota Canvassing."
As he watched the slideshow and took notes on voter rolls and absentee ballots, Lasseter had serious questions about the validity of some of the findings.
One slide showed a chart from Drazabot, a system designed to show the proportion of votes cast for each candidate as they're recorded, much like the graphs used by Lindell to inaccurately claim fraud in several of Michigan's statewide elections.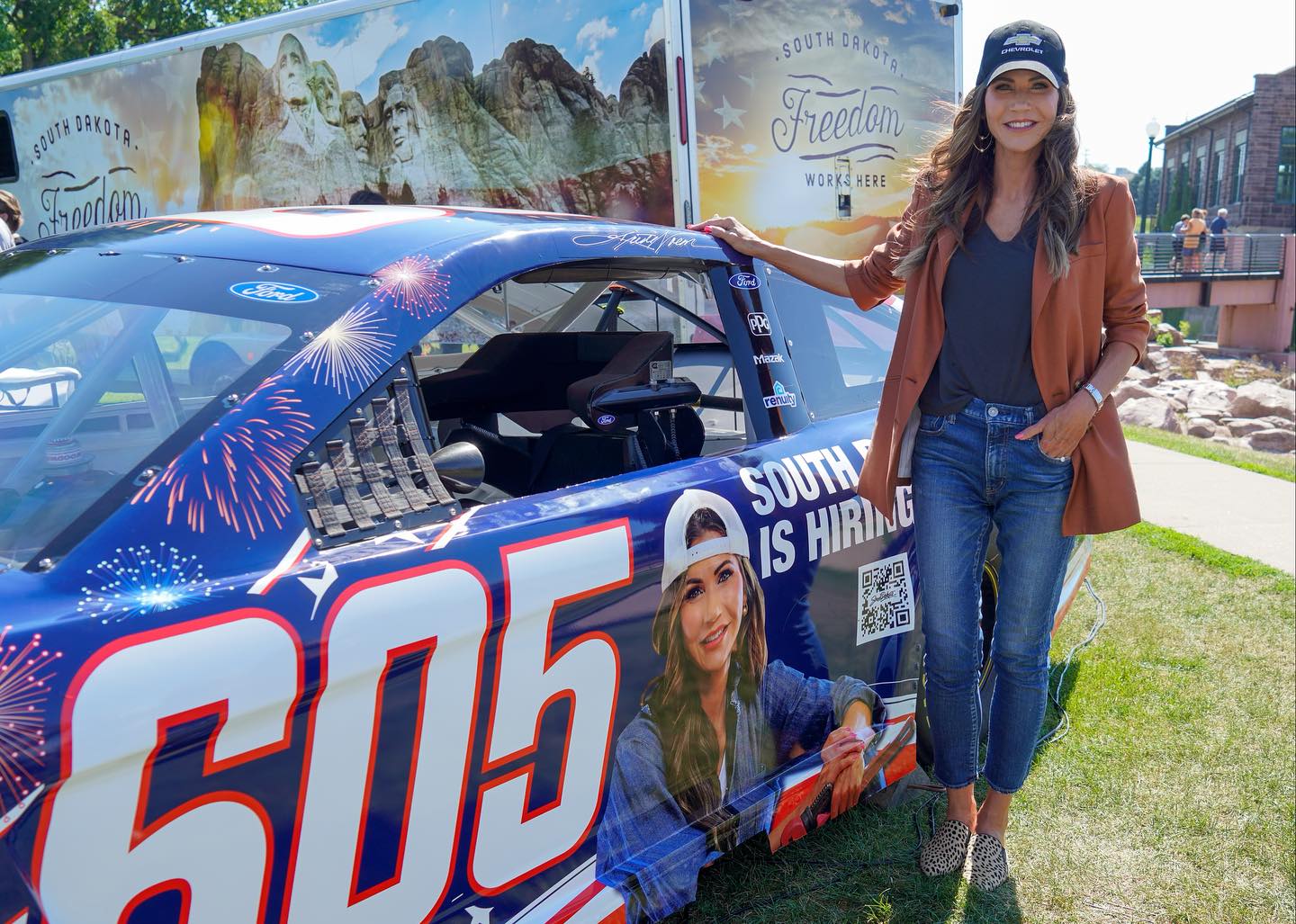 The South Dakota chart was for Aurora County and showed GOP primary vote counts trending downward, with the caption: "Why Did Votes Go Down?" Rick Weible and Pollema said they had volunteers manually charting data from TotalVote, the state's election management system, leaving the possibility of human error.
"If they had investigated the data, which was hand typed, they would have seen that someone transposed the numbers for that county," Lasseter told News Watch. "The high number was actually accurate, and it is documented on the secretary of state website. So they either did not verify that the data was entered correctly, or they willfully allowed it to be presented in a way to make the public more concerned."
Voters 'assured me they were not dead'
As for the group's allegation that dead people were listed as South Dakota voters, Lasseter said he was given two names and addresses and looked them up on the voter rolls.
"I called these people and they assured me they were not dead," he told News Watch. "They also stated that they often get confused with their deceased father because once the father passed away, they no longer were a Junior."
None of this suggests that Lasseter doesn't see flaws in the system. He advocated for legislation in Pierre that changed South Dakota's voter residency requirement from one day to 30 days and served on Johnson's summer study on post-election audits, hoping to bolster confidence in state and local voting results.
He views Rick Weible and South Dakota Canvassing Group as partly responsible for eroding that confidence rather than bringing constructive dialogue to issues of election security.

"It's almost as if they're trying to get people to follow something that can't be proven," Lasseter said. "There is some work to do, but the way they're going about it is not going to fix any problems. It's going to make people not want to listen to them."
McPherson County Auditor Lindley Howard, who serves on the South Dakota Board of Elections, echoed that sentiment from the standpoint of exasperated public officials.
"Basically (the activists) are saying, 'I'm a Christian, so I believe in election integrity, and you don't agree with me, so you are doing Satan's work,'" she said. "I would say that causes a lot of stress."
The U.S. Department of Justice established a task force in 2021 to address "threats of violence against election workers, administrators, officials and volunteers." The task force has charged 14 cases involving threats against the election community and secured nine convictions, none in South Dakota.
Asked about public officials feeling pressured or overwhelmed while trying to perform election-related duties, Rick Weible dismissed those concerns.
"I'm not responsible for how they feel, and I'm not sorry for that," he said. "If they feel that way, I hope they'd be willing to sit down with us and do some due diligence to help get the facts out there. They're just creating more work and wasting more time with all of the denials."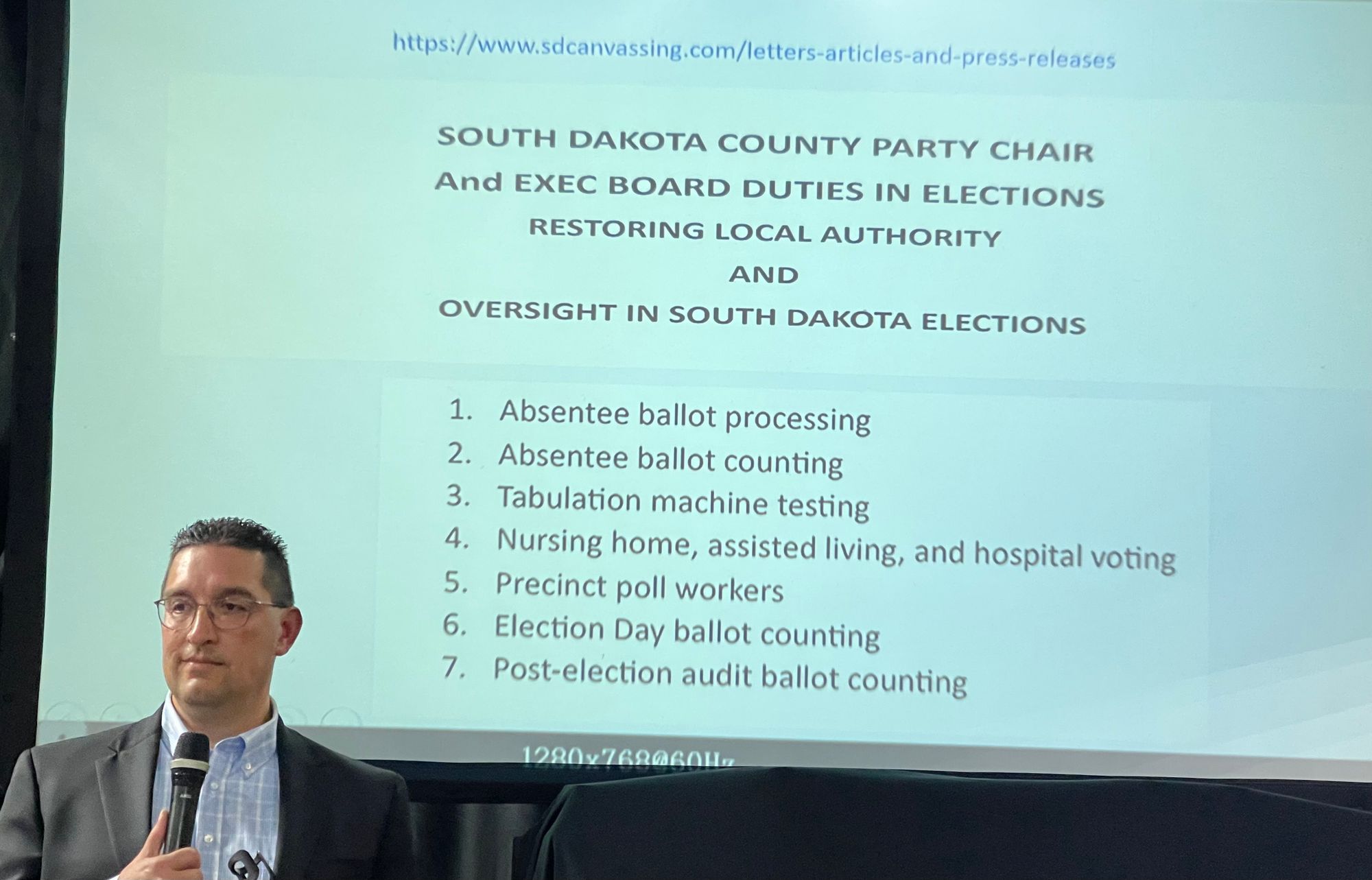 'No need for cast vote records'
South Dakota purchased ES&S voting systems in the aftermath of the contentious presidential election of 2000, when a U.S. Supreme Court ruling regarding vote recounts in Florida elevated Republican George Bush over Democrat Al Gore.
Confusion surrounding Florida's punch-card ballots led Congress to pass the Help America Vote Act (HAVA) in 2002. The law established standards for federal elections through the Election Assistance Commission, paving the way for South Dakota to adopt automatic tabulating and electronic ballot marking as state law in 2005.
Nelson, a Republican who was secretary of state from 2003 to 2011, worked with county auditors to choose optical scan ballots with high-speed counters as the standard for South Dakota.
"One of the key reasons we went to that is because we have a paper backup," said Nelson, who currently serves on the Public Utilities Commission.
"We're going to use the high-speed counters so we can get a quick, accurate count on election night. But that's the unofficial result. We know that if there's a question about the legitimacy of that, we've got the paper ballots, and we can go back through a recount or audit procedure. There's no need for cast vote records. We can go back through the paper and see exactly how each person voted."
Heated debate over voting records
When state's attorneys in Lincoln, Minnehaha and Pennington counties denied the disclosure of cast vote records to South Dakota Canvassing Group in 2022, its appeal reached the South Dakota Office of Hearing Examiners. That office backed up the counties, concluding that the "machine logs are not public records" based on state law.
Anderson, the Minnehaha County auditor, criticized that assessment during a meeting with ES&S officials at the company's Omaha, Nebraska, headquarters in June 2023. The meeting was also attended by Secretary of State Johnson, state elections director Soulek, and Republican state legislators Sue Peterson of Sioux Falls, Tina Mulally of Rapid City and Rebecca Reimer of Chamberlain.
After ES&S officials explained that some places do release cast vote records but those decisions are based on the legal authority of states and counties, Anderson pushed back.
"My state's attorney can give me their opinion," she said, according to a transcript of the meeting. "But if it's determined (elsewhere) to be public record and there is nothing proprietary and it does not identify a voter … there's some miscommunication there."
"Obviously we can't provide you with legal advice," the ES&S official said.
County auditor touts hand counts
Anderson also voiced her support at the meeting for hand counting and less reliance on election technology. She made similar statements to Minnehaha County commissioners when they voted to renew a three-year contract with ES&S in September 2023.
Machine vote tabulators must have an error rate no worse than 1 in 500,000 to be certified by the U.S. Election Assistance Commission. A Nevada election official in Nye County, with more than 10,000 voters, recruited hundreds of volunteers to hand-count ballots in November 2022 after expressing skepticism about machines. He estimated a human error rate of 25% after the first day.
"I'm part of a group (South Dakota Canvassing Group) that's doing a study on hand counting ballots, and I guess I disagree on the human error side," Anderson said at the meeting in Omaha. "I'm an accountant, and I can count. And I know a lot of people that can count. One plus one. I mean, you're counting. You're marking."
Anderson confirmed to News Watch that she sees hand counting as a viable alternative to machine tabulators in Minnehaha County, which has nearly 133,000 registered voters.
"Hand counting was the previous method of tabulation before the machines were brought into the state," she said. "If precincts are kept at a workable level and the people we serve are willing to step up and work the elections, it is very scalable and can be done in public."
Machine found mistake humans didn't
Tripp County, with 3,500 registered voters, became the first South Dakota county in nearly two decades to use a hand count in November 2022, with its county commission overruling the auditor.
On election night, a discrepancy between the number of ballots recorded in the poll book and the number of audited ballots in one precinct became a mystery until the tabulator diagnosed the problem.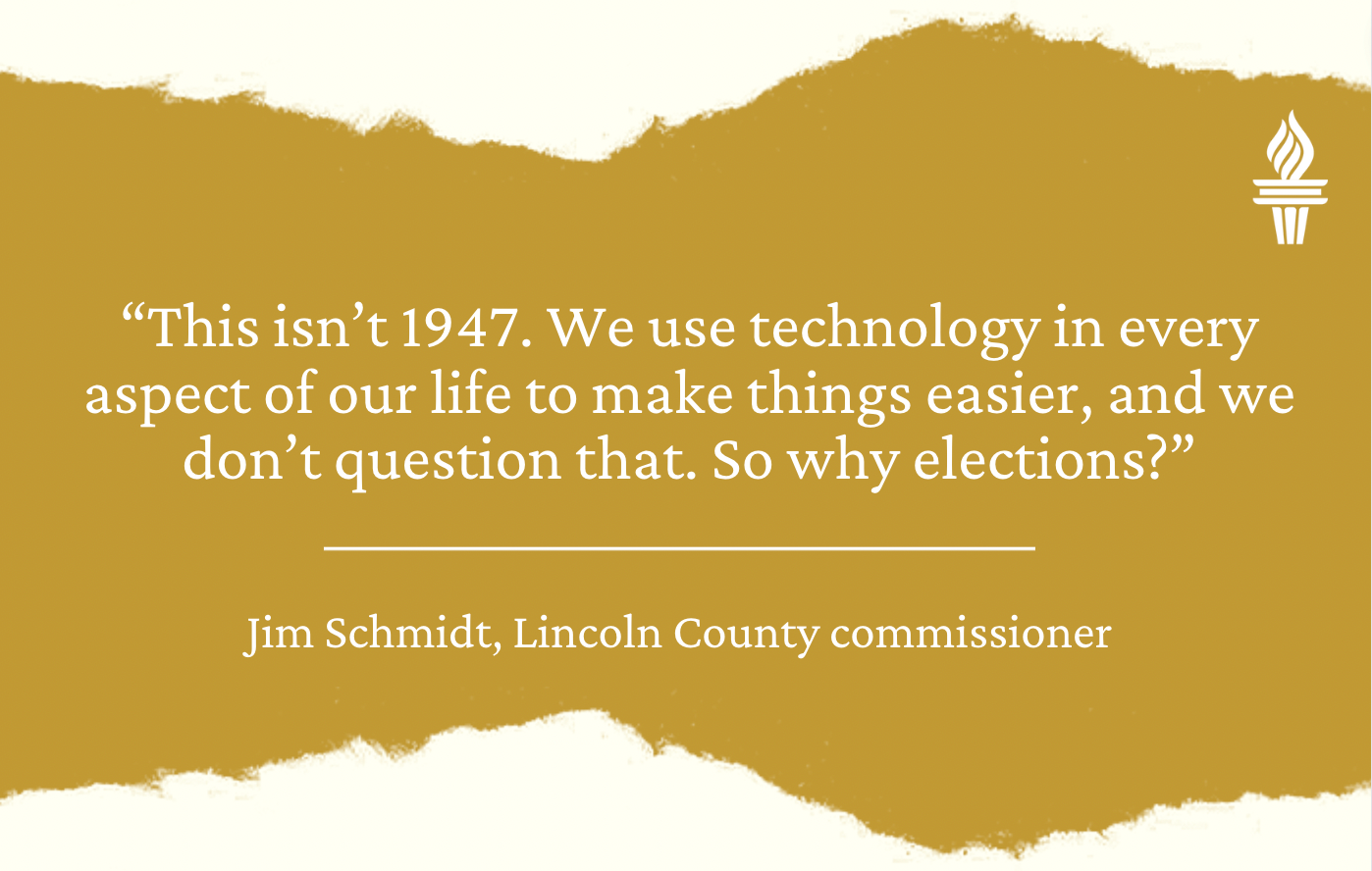 "The machine caught it," Tripp County Auditor Barb Desersa told South Dakota Searchlight. "To me, that shows that the machine is more accurate than humans."
Howard, the McPherson County auditor, said she spoke with precinct workers from the days when South Dakota still did hand counts.
They painted a grim picture.
"They shared stories of long ballots, long hours and fatigue," said Howard. "These days, we create test decks to test the tabulators before every election, and my experience of hand-counting those small number of test ballots tells me that hand counting is not accurate. There isn't an auditor in the state that has gotten that hand count correct the first time around."
Schmidt, the Lincoln County commissioner, has similar concerns about hand counting, especially in some of the state's most populous areas, where results might not be available for days.
"This isn't 1947," said Schmidt. "We use technology in every aspect of our life to make things easier, and we don't question that. So why elections?"
Drop boxes banned in South Dakota
Experts note that the "election integrity" movement is not just about Trump.
They pinpoint the COVID-19 pandemic as a flashpoint for much of the divisiveness and disinformation surrounding American elections. Expanding mechanisms such as mail-in voting, online registration and drop boxes to maintain social distancing triggered backlash from Republicans, who accused liberal reformers of taking advantage of the pandemic to change policies.
"A lot of Democrats took the position of not wasting an emergency to try to further a whole bunch of reforms that have been part of their playbook for a long time," said Stewart, director of the MIT Election Data and Science Lab.
"Republicans began to see how some of these could move past emergency status and into something permanent, and the issue became polarized and has remained so ever since. That's unfortunate because it's led to some of the things you're seeing in South Dakota."
Drop boxes, used in nearly 40 states in 2020, became a target for electoral activists after more than 40% of voters used the boxes to return ballots in that presidential election year, compared with about 15% in 2016.
A movie praised by Trump, "2000 Mules," purported to show a pattern of Democrat-aligned ballot "mules" paid to illegally collect and drop off ballots in swing states. Election experts criticized the project's flawed cellphone tracking analysis, while Trump's efforts to establish ballot fraud through the court system proved unsuccessful due to lack of evidence.
'State legislators are not experts'
Rick Weible and others encouraged South Dakota legislators to act, which resulted in a 2023 law stating that county auditors "may not establish or place … an absentee ballot drop box within the official's jurisdiction. A completed absentee ballot may only be returned to an office of the individual in charge of the election."
The Board of Elections approved language clarifying that to mean ballots can only be returned to the physical office of the election official, as opposed to the lobby of a county building where the office is located.
Pennington County, the state's second-largest county, has utilized a drop box in the foyer of the administration building in Rapid City.
"The box is in a locked area and then the box itself is locked. And only the auditor's office has a key to that box," said Pennington County Auditor Cindy Mohler. "In Pennington, (the new law) really did nothing more than remove a convenient way for voters to return their ballots during non-business hours or return their ballot without having to come all the way into the building."
South Dakota did not record a single case of voter fraud or other election-related crimes tied to the use of ballot drop boxes in 2020 or 2022, according to an April 2023 News Watch survey that drew responses from 58 of 66 counties, including 29 of the top 30 by population.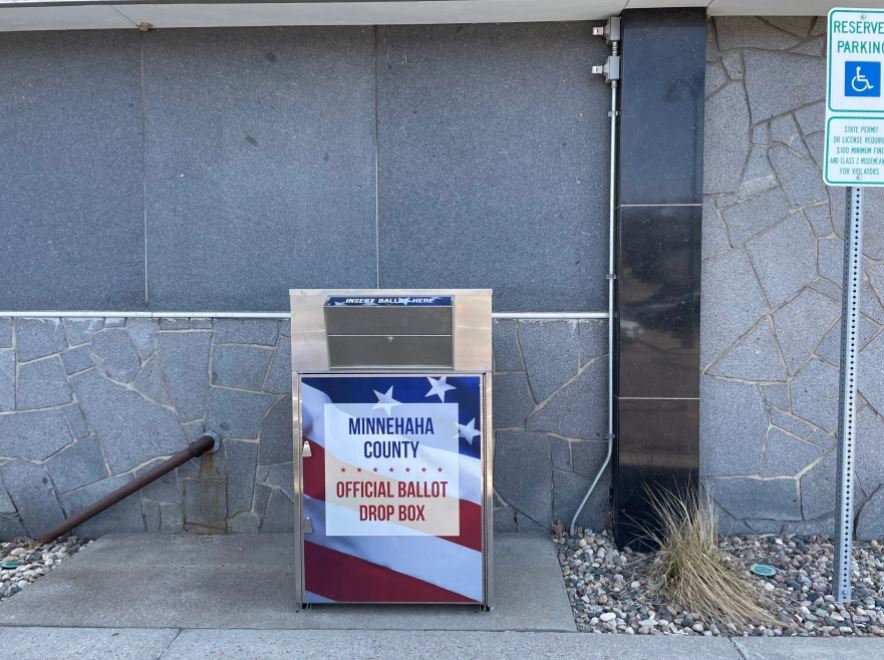 Several auditors expressed the belief that lawmakers got caught up in the rhetoric of alleged voter fraud without understanding the process in South Dakota, where signed return envelopes are cross-checked with signatures on ballot applications and can be tracked. Many auditors also noted that drop boxes have a more secure chain of custody than mailboxes, which are still permissible.
"Election administration as a policy area is like just about every other policy area in that the public and even state legislators are not experts," said Stewart.
"So they form opinions based on things they heard from friends and others within their own models of the world. And if their model of the world says that Democrats are out there trying to round up illegal ballots and throw them into drop boxes, they're probably not going to be persuaded otherwise, which means certain innovations and best practices will be off the table."
'I need to see actual proof'
Rapid City lawyer Scott McGregor, a Democratic appointee to the Board of Elections, said that Rick Weible raises interesting points on some issues but loses perspective on others, including tossing around the word "fraud" too recklessly.
Fraud is a criminal term to describe actions such as forging a signature, while many discrepancies in voter rolls are the result of residents failing to update their registration. Mail-forwarding businesses that allow hundreds of temporary residents – many of them retirees in RVs – to use a common address led to a change in residency requirements in South Dakota, despite possible conflicts with federal law and no evidence that people were voting in more than one place.
"I need to see actual proof from the South Dakota experience, not from some other jurisdiction that may have encountered some problems," said McGregor. "And I haven't seen it. I think (Rick Weible) would be better off choosing one or two issues to focus on. Sometimes he comes on too strong with objections and comments on everything, and it affects his credibility."
Rick Weible has a theory about folds in mail-in ballots that he claims caused discrepancies in machine counts in states such as Georgia, where Trump lost by 11,779 votes. Rick Weible does not believe that Biden won the state, though the election was certified, federal courts rejected challenges and Trump was arrested on state charges that he conspired to overturn the results.
"In 2020, where there was such a high propensity of absentee ballots, I'll tell you this: Trump filed the wrong lawsuit in Georgia," Weible said. "He only inspected two counties. If he had inspected them all, he would have crossed the finish line."
'Fighting to save our country'
At the Military Heritage Alliance in Sioux Falls, Rick Weible and Pollema wrapped up their slideshow after nearly two hours and opened the floor for questions. Some of the folks got up to stretch their legs or browse the South Dakota Canvassing Group T-shirts and hats for sale.
One man raised his hand and urged others in the room to attend as many public meetings as possible and volunteer as precinct workers to stave off election malfeasance in 2024.
"I told my family that we're not going on vacation this year," the man said into the microphone. "I'm fighting to save our country because if this crap goes down, it's over. We're not going to have any freedoms anymore."
Rick Weible considers such talk an awakening, the first steps of overhauling a system that has separated everyday citizens from one of the most vital functions of a democracy. If he has to wear the label of election denier to make it happen, he's ready and willing.
"If you want to get rid of election deniers, you have to let them be part of the process," he said. "Transparency is the inoculation for all conspiracy theories."
Rick Weible said he doesn't plan to run for office because he can make more progress through activism.
But others have emerged. Matthew Monfore, an evangelist and election skeptic from Fall River County who favors hand counting all ballots, has announced a run for the House in District 30.
Pollema has gained influence in Freedom Caucus circles and spoken to the Yankton County Republicans at their Lincoln Day Dinner in September. She did not reveal plans to seek future office when asked by News Watch.
"I am not anticipating the 2024 election to be any better than 2022 was," said Mohler, the auditor from Pennington County. "I'm expecting it to grow. I don't think this is going to die down in 2024."
Stewart's research bears that out nationally, especially with Trump dominating primary polls. There's enough resentment to allow people like Rick Weible to wield the rhetorical style of pedantry, defined as the quality of being overly interested in formal rules and small details that are not ultimately important.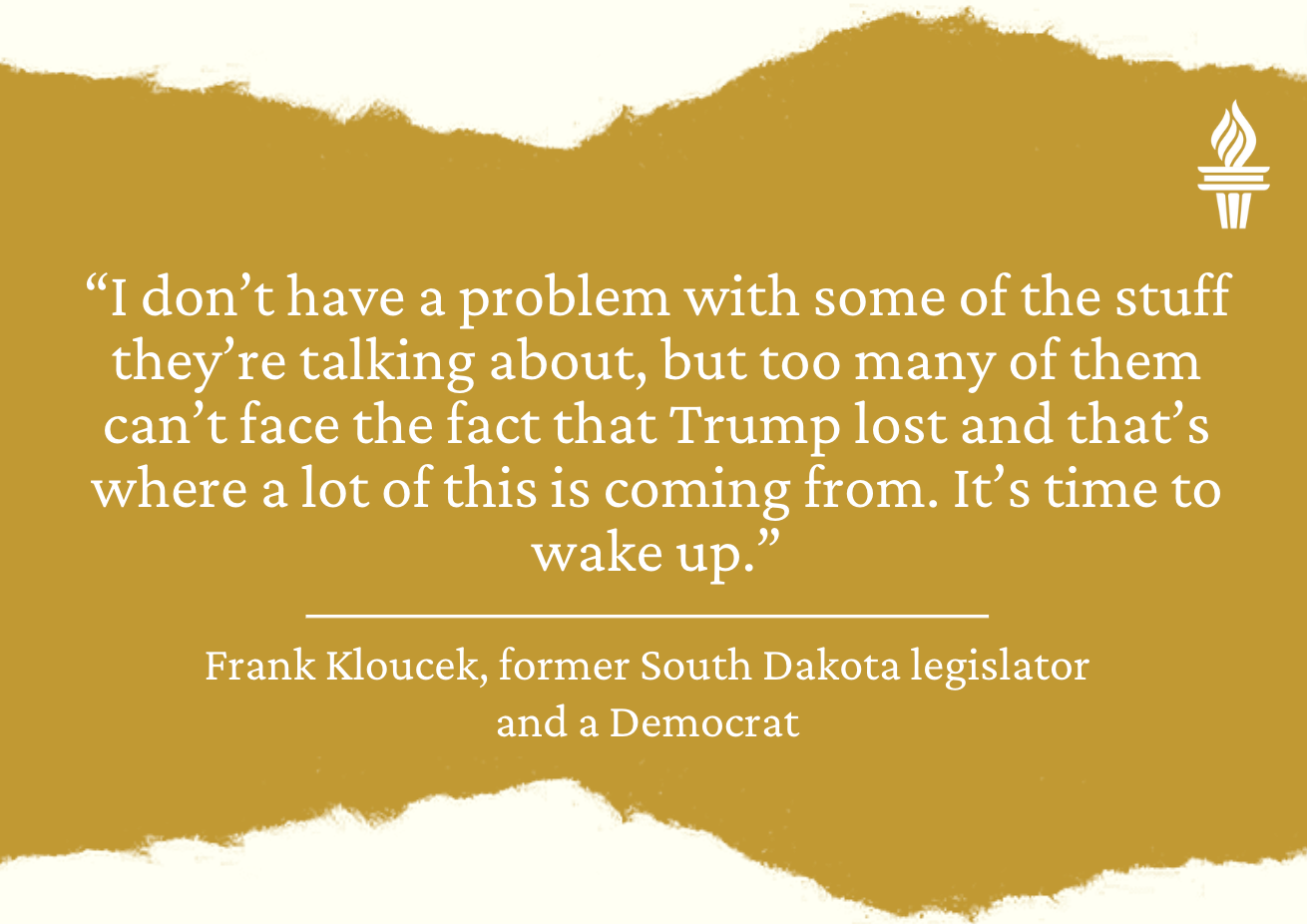 "People who use this style like to focus on fine points of law or administrative process to show they are experts, talking about things like cast vote records and elements of election administration," said Stewart. "To someone uninitiated who shows up at a church gathering or Holiday Inn meeting room, this person might sound like he knows what he's talking about. There's a little bit of authority there."
Frank Kloucek, who served several decades as a Democratic state legislator in South Dakota, didn't show up at the Military Heritage Alliance looking for pedantry. He was looking for proof. Kloucek said he has seen election improprieties in small-town South Dakota precincts but is dismayed that anyone can think Trump was the victim of a vast election conspiracy.
"They've got to face facts," he said, gesturing back at the crowd. "Biden won the popular vote by 7 million and had 306 electoral votes. They can't overturn that. I don't have a problem with some of the stuff they're talking about, but too many of them can't face the fact that Trump lost and that's where a lot of this is coming from. It's time to wake up."
Kloucek pulled out a bumper sticker that said, "Biden Won! Democracy Wins!" that he didn't have a chance to give Rick Weible after the presentation. He figured the time was not right, in that room or on a lot of roads across the state, to change anyone's mind.