Politics and Government
Dusty Johnson went from SD Republican boy wonder to the US House. Is he tough enough to be the next governor?
Dusty Johnson has risen from a fresh face on the PUC and chief of staff for Gov. Dennis Daugaard to South Dakota's U.S. House Representative. Could a run for governor be next?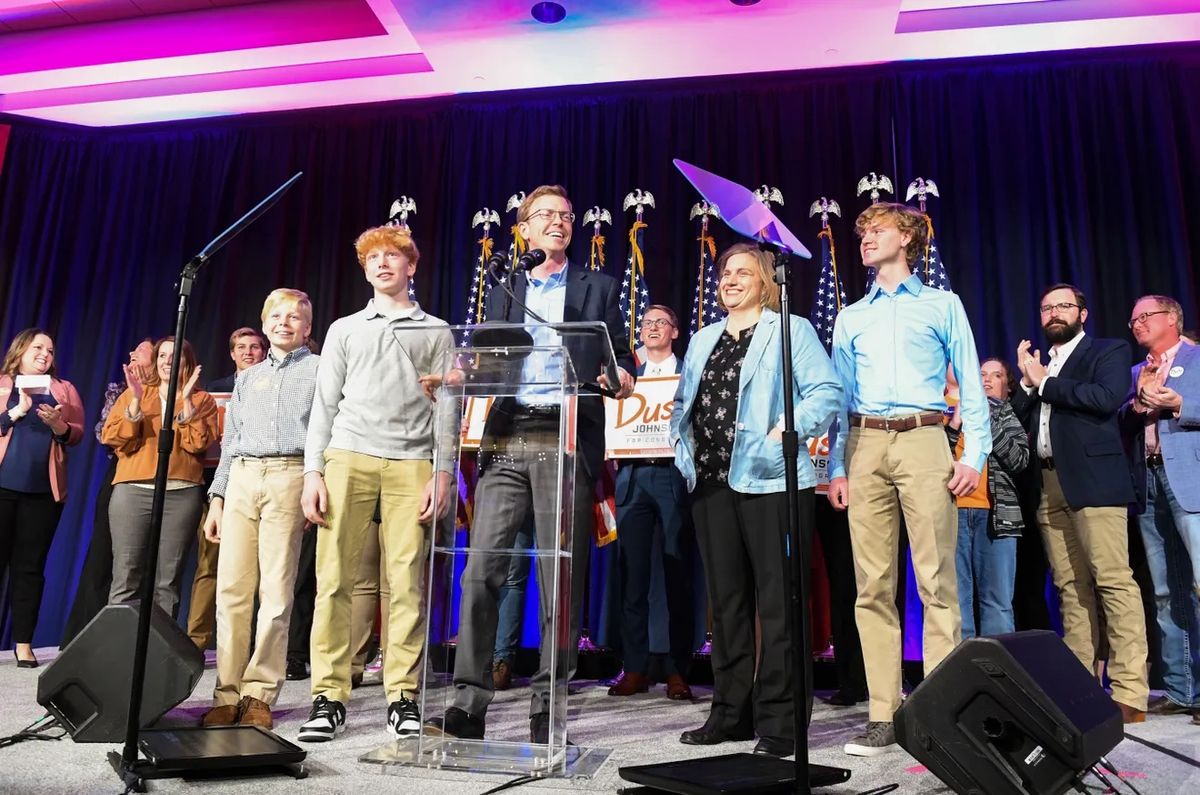 It's not easy to make Dusty Johnson angry.
South Dakota's lone member of the U.S. House of Representatives is more comfortable explaining the intricacies of rural development, making self-deprecating jokes about his bookish and bespectacled appearance or extolling the pleasures of watching his sons engage in activities from marching band to baseball.
The 47-year-old Pierre native did all those things in a series of interviews with News Watch that started in a basement room at Josiah's Coffeehouse in downtown Sioux Falls and stretched across several weeks, spanning the career and future goals of a self-described pragmatic Republican trying to find his way within a rapidly shifting party.
Leave it to a little insurrection talk to ruin the vibe.
When asked about his experience on Jan. 6, 2021, when Joe Biden's election win over Donald Trump was certified in Congress amid rioting in the Capitol by Trump supporters, Johnson's mood darkened. He recalled leaving the House floor that afternoon to return to his Longworth Building office during a pause in debate over electoral votes.
"The Capitol Police would not let me walk outside," he said. "I was a little irritated with them because I didn't understand how raucous the crowd was. They wanted me to take the tunnel, and I assumed they were just being overly cautious as they had been in the past. By the time I got back to my office, which only takes three or four minutes, the perimeter had been breached. Members of Congress who remained on the floor were trapped."
Johnson and his staff began improvising weapons from office items, removing flags from flag poles and gathering heavy metal objects in case the rioters tried to break in.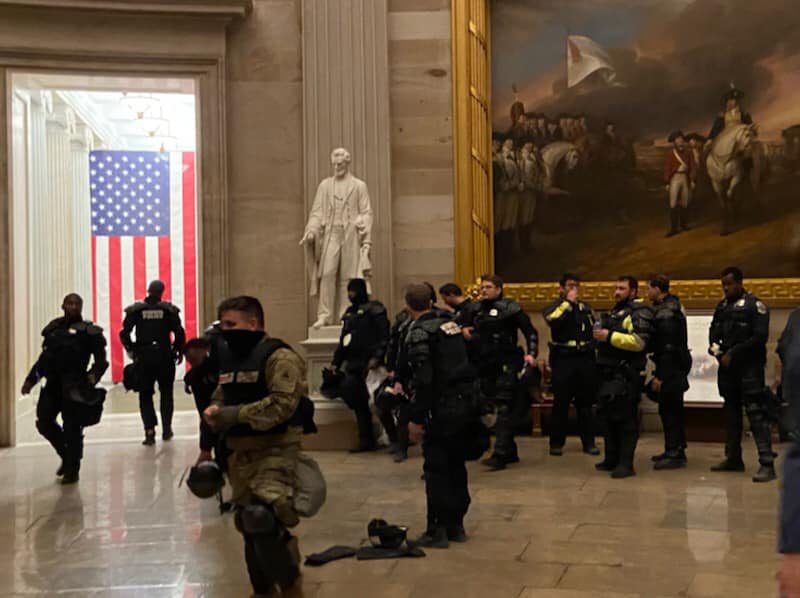 His oldest son, Max, was watching the Capitol siege during a high school study hall and finally reached his dad on the phone as law enforcement gained control of the scene.
"I was not afraid that day. I was angry," said Johnson, who returned to the House floor and voted to certify the election.
"I was angry that individuals had decided they were going to use violence to interrupt a sacred constitutional duty. I mean, it's the kind of thing that sometimes people on the left use to exasperatedly blame the right. But let's be clear, there were thousands of people who came to Washington that day who did not want to engage in violence. Some of them just wanted to be peaceful protestors, but too many of them were not interested in being peaceful. My anger was centered on them."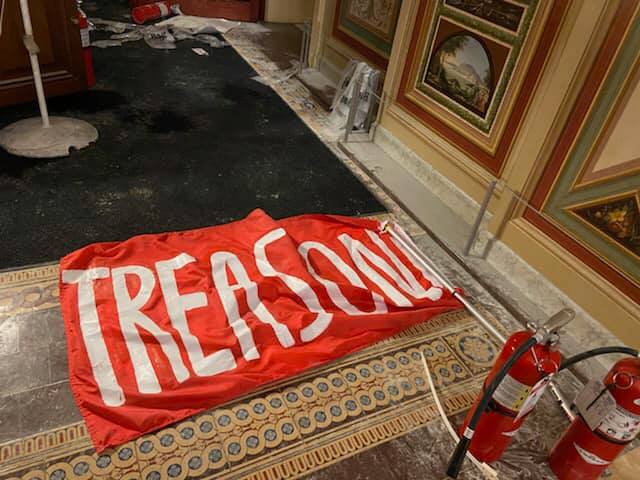 President Trump's continued influence looms large
The fact that Johnson's diatribe didn't include a reference to Trump is enlightening.
The former president, whose lawsuits claiming ballot fraud were dismissed by state and federal judges, spoke at a rally before the Capitol riot and has been indicted on felony charges for his role in working to overturn the 2020 election results.
Trump also is the leading contender for the 2024 Republican presidential nomination and remains popular in South Dakota, where he claimed 62% percent of the vote in 2016 and 2020.
But while Gov. Kristi Noem has bolstered her national identity by embracing Trump's "Make America Great Again" agenda, Johnson keeps his distance. He joined Sens. John Thune and Mike Rounds in skipping Trump's appearance at a South Dakota Republican Party fundraiser Sept. 8 in Rapid City, where Noem endorsed Trump and angled for a vice presidential spot on the ticket.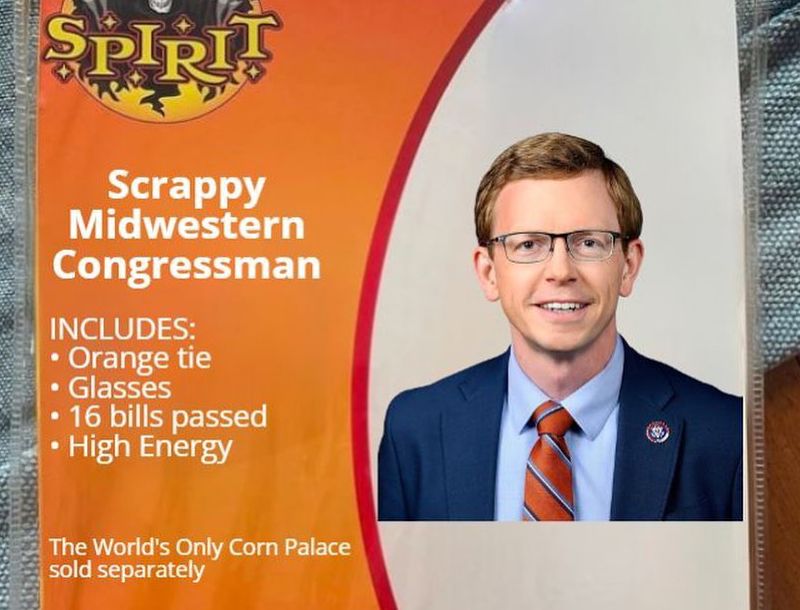 Trump's GOP influence, combined with a growing populist movement in South Dakota state politics, presents a quandary for Johnson, a 5-foot-11, 145-pound policy wonk known more for bargaining than bombast.
He specializes in budget administration and agricultural trade, not cultural touchstones such as transgender rights and race-based curriculum, which have gained traction in Noem's administration and among far-right state legislators.
"The trend line is moving against him," Michael Card, an emeritus professor of political science at the University of South Dakota, said of Johnson.
"As voters, we either want someone who matches our ideology, or we want someone whom we believe will be more of a trustee and do the right thing for the people because they have more information. I think that's going to be a challenge for Dusty because it appears to me that the state is moving in the direction that we are more ideological in terms of what we want from our leaders in the Republican Party. It's a challenge, but it's not clear if it will be a problem."
Johnson expected to run for governor in 2026
Johnson grew up surrounded by politics in Pierre and emerged as a Republican establishment wunderkind, serving as adviser to former Govs. Rounds and Dennis Daugaard and earning a seat on the Public Utilities Commission at age 28.
When not in Washington, he and his wife, Jacquelyn, stay active with sons Max (18), Ben (15) and Owen (11).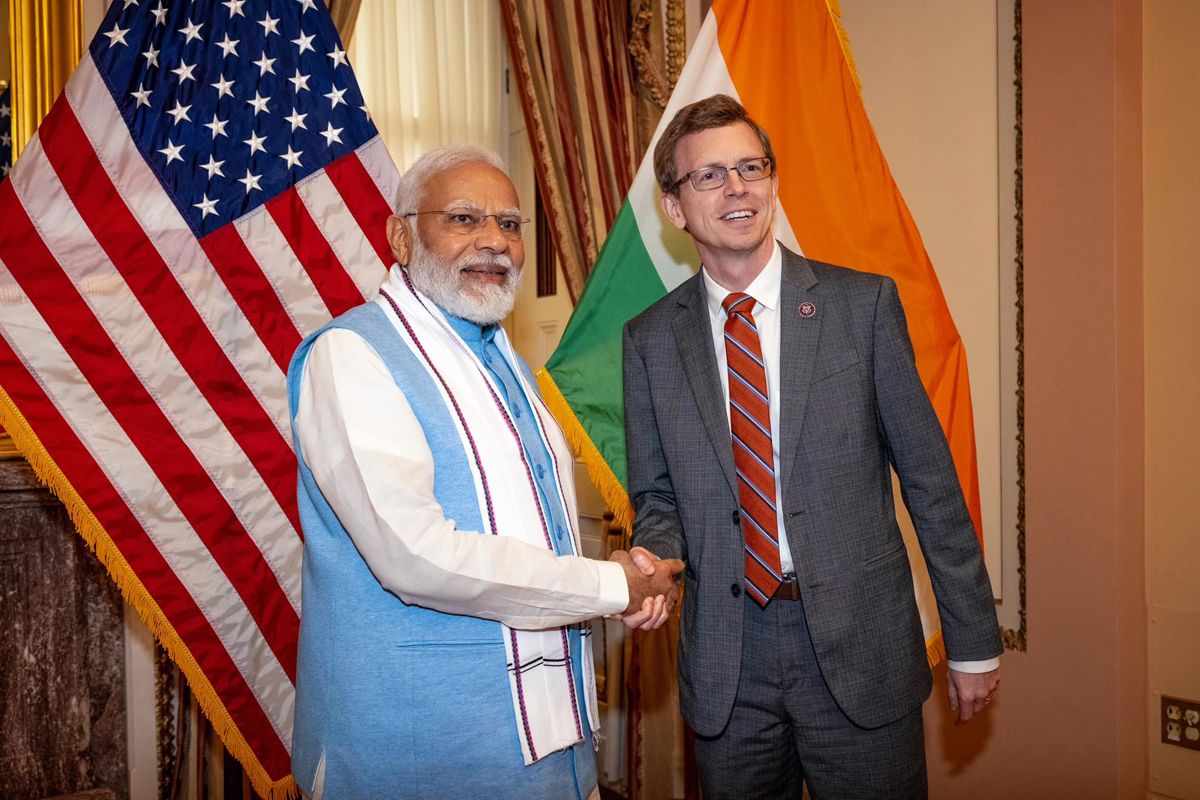 News Watch analysis, based on interviews with political pundits, officeholders and colleagues and mentors of Johnson, point toward him running for governor in 2026. He has met with potential donors and had nearly $3 million in his campaign committee as of the June 2023 filing date, plus about $65,000 in his leadership political action committee. He also established a state-level PAC in February.
"I hope he runs," Daugaard, who served as governor from 2011 to 2019, told News Watch. "I think he will. And if he does, I am four-square behind him."
There was a time when a sitting U.S. congressman with fundraising muscle and the endorsement of a recent governor would cruise to the nomination.
But these are unique times in South Dakota politics, as evidenced by the Republican state convention in 2022 and the U.S. House primary that year, which saw Rapid City state legislator Taffy Howard garner 41% of the vote by blasting Johnson as soft on issues such as border security and election integrity.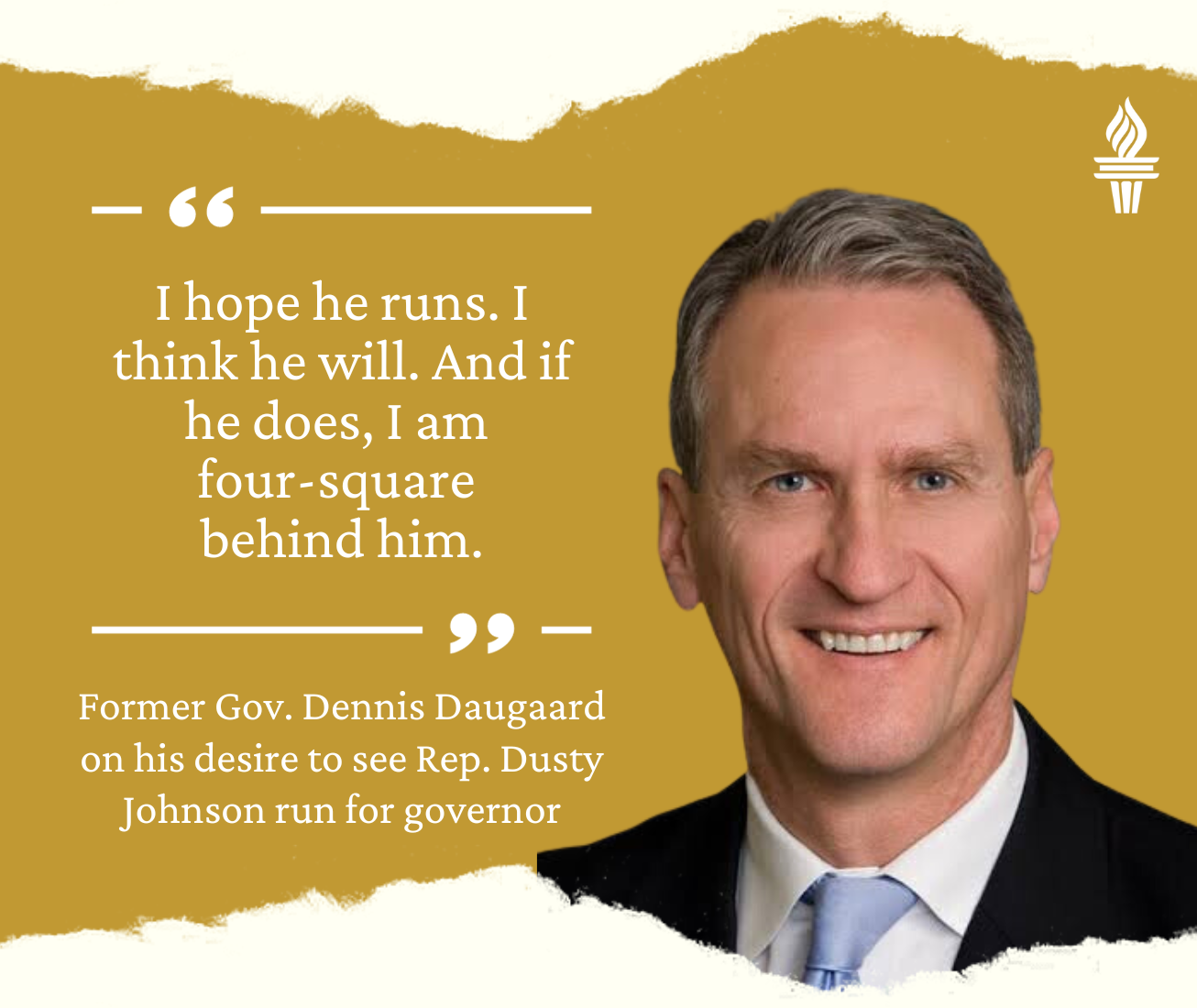 A more skilled and well-financed Freedom Caucus-aligned candidate could make Johnson's run for governor less of a coronation and more of an ideological struggle for the soul of the party, with hard questions being asked.
Does Dusty Johnson represent present-day South Dakota, or does he stand for what he thinks South Dakota should be? Do voters want a TV-friendly flamethrower as their top executive, or will they rally around, as Johnson likes to put it, a "workhorse rather than a show horse?"
Some Freedom Caucus hardliners are 'chaos agents'
The quandary extends to Washington, where Johnson was a key player in crafting a bipartisan deal to narrowly avoid a government shutdown at the end of September.
As chairman of the Republican Main Street Caucus, Johnson huddled with House Speaker Kevin McCarthy the night before the deadline, devising a strategy to pass a 45-day continuing resolution with no spending cuts that would pass the Democratic-controlled Senate.
The impasse was created mostly by a group of far-right House Freedom Caucus members led by Florida's Matt Gaetz. On Oct. 4, Gaetz brought a measure to remove McCarthy as House Speaker, and eight Republicans voted along with 208 Democrats to seal McCarthy's fate, throwing the House into disarray.
Johnson didn't hide his frustration with members he saw as more interested in creating friction than finding solutions.
"Some of the hardliners are principled," Johnson told News Watch the day after the shutdown was averted. "I think they're wrong, but they believe that what they're doing can help the system. Then there are some who are just chaos agents, and I have a much lower regard for those who just crave being at the center of the storm."
State Rep. Aaron Alyward, chair of the South Dakota Freedom Caucus, has criticized Johnson for such characterizations, saying the U.S. House holdouts are "tired of the get-along gang running this country into the dirt and want meaningful change."
But Johnson's reputation as a dealmaker has increased his stature on Capitol Hill, putting him in the room for key decisions as Republicans try to overcome infighting with a slim majority.
"One of the reasons I like Dusty is that he's not going to do anything just to make his base feel better," said North Dakota U.S. Rep. Kelly Armstrong, a fellow member of the center-aligned House Main Street Caucus.
More politics: South Dakota Republicans criticize program that provided $3.8B to state
"I mean, he wants to effectuate good policy. He wants to move this country forward in a conservative way, which is what his base wants, too. In a lot of ways, it's competing against the reality of the possible versus a 48-hour Twitter cycle."
The compromise of values necessary to square that circle was on Johnson's mind as he waded through busted doorways, shattered glass and shaken colleagues to return to the House floor on Jan. 6, 2021, where he voted to certify Biden's victory over Trump.
He was relieved that his staffers were safe and his family no longer had to worry. But damage was done to the democratic ideals and Constitutional pillars that inspired Johnson's public service.
So, yes, Dusty Johnson has anger, enough to make him question the condition of his country and home state, and what role he would play in helping it heal.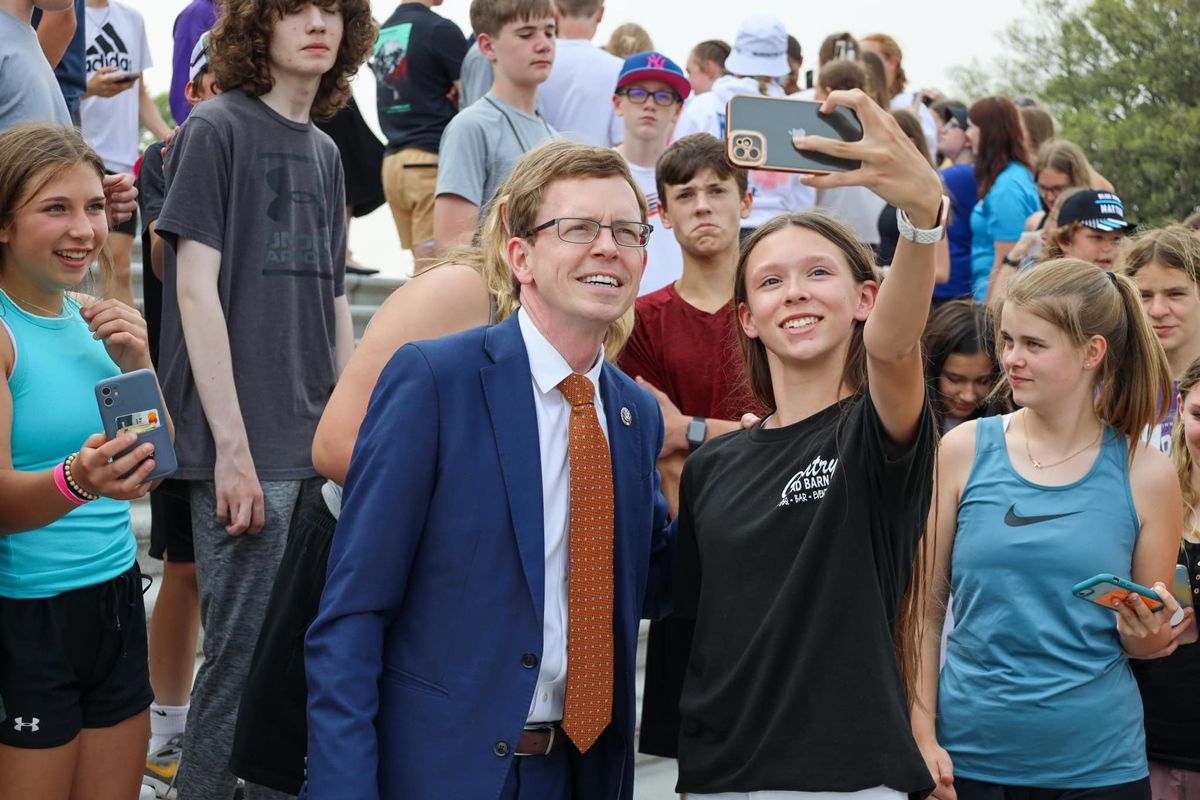 Dusty Johnson's political pedigree was shaped in Pierre
It makes sense to portray him as a born politician.
Johnson grew up in Pierre with a family legacy of lobbying and lawmaking and pushing the right buttons to make your voice heard. He immersed himself in the South Dakota Teenage Republicans the way some youth embrace the Boy Scouts, to avoid being lost in the wild.
His grandfather was Bill Johnson, a former broadcaster who turned to Republican politics in the 1960s and became an influential state lobbyist. Bill's wife, Joan, was also active in the GOP ranks, attending several national conventions as a delegate, serving as party treasurer and working as an administrative clerk in the South Dakota Senate for nearly three decades.
Dusty spent a few afternoons with his grandmother roaming the halls of the state Capitol, across the street from his middle school. On Sundays, when his family attended church at Lutheran Memorial, it was not uncommon to see three or four state Supreme Court justices in nearby pews, solemnly absorbing the sermon.
But the narrative of an idyllic upbringing surrounded by constructive influences is not entirely whole, as Johnson acknowledges.
There were rough patches that helped mold his political temperament. His parents, Kevin and Jacque, struggled at times to provide for five children during what Dusty, the oldest, describes as a "hardscrabble" existence.
He started working at 14, washing cars at Capital Motors and manning the snack bar at Lariat Lanes bowling alley to be able to afford daily essentials such as socks and deodorant.
"It's very easy to see that government exists when living in a state capital," said Johnson, who was born in 1976, the year Democratic upstart Jimmy Carter won the White House in the wake of the Watergate scandal.
"Because of growing up poor, I was aware that there were safety-net programs out there. When I walked to the convenience store to get groceries for my family, it was not unusual to have to pay with food stamps. So I've always been fascinated about the question of what is the right role of government in people's lives."
Kevin worked as a hotel clerk and groundskeeper and Jacque is a social worker with the South Dakota Department of Social Services.
They started out as Republicans from conservative families and gradually became more liberal, finding daylight between their own beliefs and those that became keystones of their son's political career.
"When you work in social services, you develop a different idea of how things should go," said Jacque, who went from Teenage Republican as a high schooler to precinct captain for the South Dakota Democratic Party in Fort Pierre.
"We avoid discussing those matters (with Dusty) because it's not worth fighting about. He knows that some of our core beliefs are different and we're going to stand by them. But we also believe in getting along."
Bill Janklow's leadership noticed in Johnson household
Johnson and his parents found common ground in their admiration for Bill Janklow, whose first stint as governor from 1979 to 1987 encompassed much of Johnson's childhood.
They saw him as an effective leader who put public concerns ahead of his own, understood policy matters and worked to solve problems without regard to partisan interests. His ability to unite a politically fractured family was something that young Dusty took to heart.
Another source of agreement was that education was paramount.
Kevin and Jacque, neither of whom are college graduates, wanted to put their kids on a different path. That especially pertained to Dusty, the oldest, who entered a gifted program in elementary school. When the program was threatened by state budget shifts in 1988, when Dusty was 11, Jacque showed up at an Education Committee hearing at the Capitol with her son to testify against the change.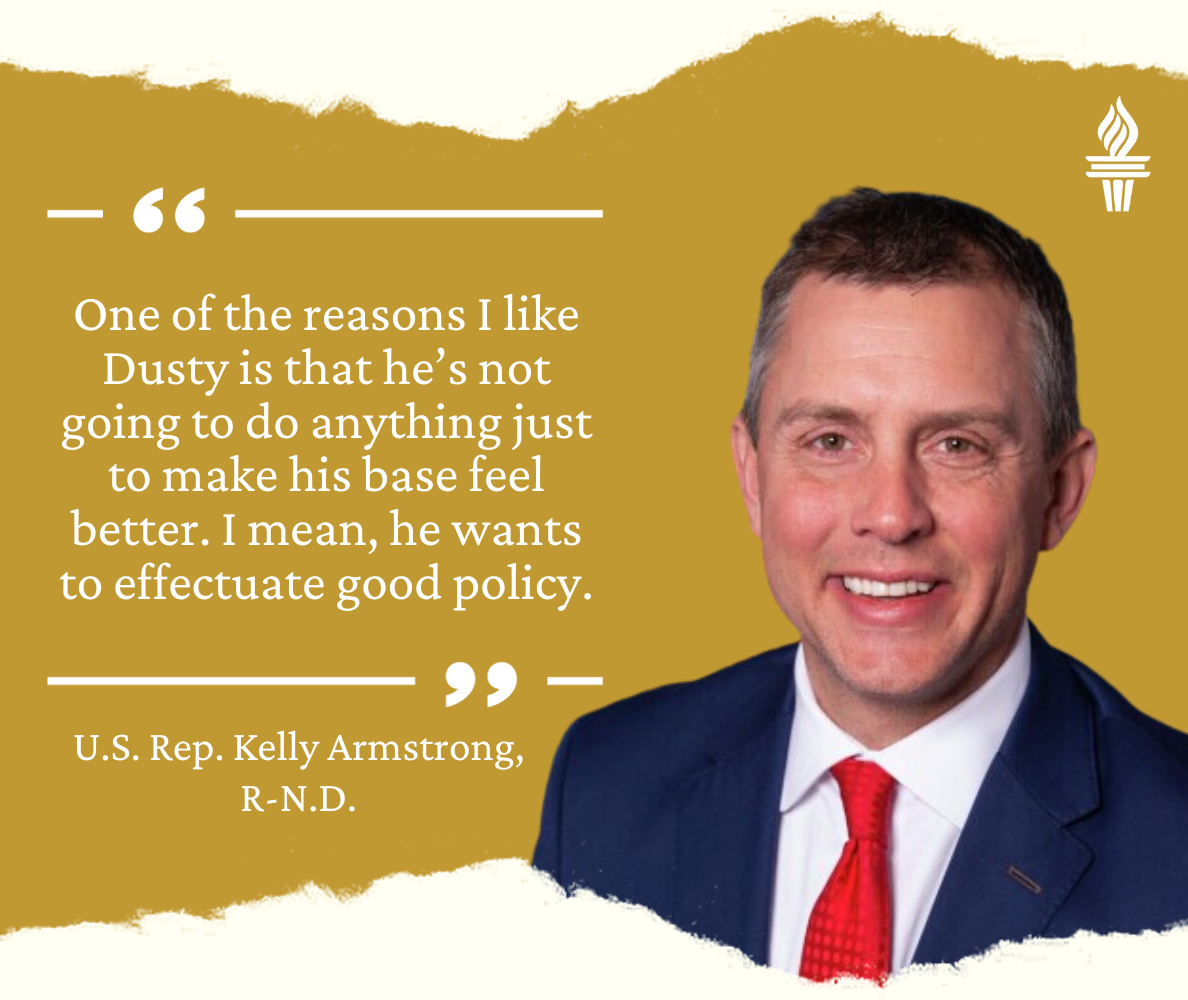 "I did a lousy job," she told News Watch when asked of that day. "My voice quavered, and I shook, but I tried to make my points. Unbeknownst to me, Dusty had signed up while I was testifying, and he got up and testified in front of the committee and did a remarkable job."
The committee ended up endorsing a bill to fund a separate gifted program, one of Dusty's earliest political wins. Jacque, watching with pride, figured his precociousness was aided by attempts to shield him and his siblings from the family's financial concerns.
"I tried to keep the kids out of that stuff," she said. "Kids are supposed to be kids, not miniature adults, although Dusty came off as 40 when he was 10."
Teenage Republicans served as political proving ground
Johnson landed his first job at 14 and started a business at 16, buying out a local hobby-store owner for $4,000. It was a place for kids to play Dungeons and Dragons and other role-playing games.
He also wrote for the Riggs High School newspaper and ran track as a quarter-miler, convinced that "going out and running until you puke teaches you plenty of lessons."
Dusty's lean toward politics was encouraged by Alice Kundert, a former state auditor and secretary of state who served as adviser to South Dakota Teenage Republicans, a group that gathered in the Black Hills each summer for a camp to identify and inspire future leaders.
State Rep. Tony Venhuizen of Sioux Falls, a former chief of staff to Daugaard and Noem, first attended the camp in 1997. He found it amusing that Dusty received a lifetime achievement award from the organization that year, at the age of 20. But it made sense as the camp progressed, shedding light on Johnson's "high energy" reputation.
"He was a very outgoing, dynamic guy, and really was a key leader for that organization for a long time," said Venhuizen.
Dusty's role as chairman of Teenage Republicans earned him a seat on the state GOP's executive committee, a position he didn't take lightly. Joel Rosenthal, the Republican Party chairman who became one of Johnson's closest advisers, saw that they weren't dealing with an average teen.
"He interacted well with adults, had a perspective of the party and made contributions to our efforts and discussions," said Rosenthal. "He was easily distinguishable from Teenage Republican representatives that had previously served on our board."
Head-to-head with Janklow over scholarship funds
Johnson had earned an all-expenses-paid Mickelson Scholarship to study political science at the University of South Dakota starting in 1995, fulfilling his parents' vision in the only way the family could afford.
It was Janklow, revered for years in the Johnson household, who nearly stood in the way.
Budget cuts were looming, and the governor proposed cutting the Mickelson Scholarship grants, which were draining funds from an economic development program.
Johnson and a classmate skipped school and headed to the Capitol on a February morning to testify to legislators, a familiar trip for Dusty with an added sense of urgency.
"When you believe you have a full ride to the University of South Dakota, you don't go hunting for other scholarships," Johnson told the Senate Education Committee. "If I have a full ride, why go out and find another $10,000 that maybe somebody else could use?"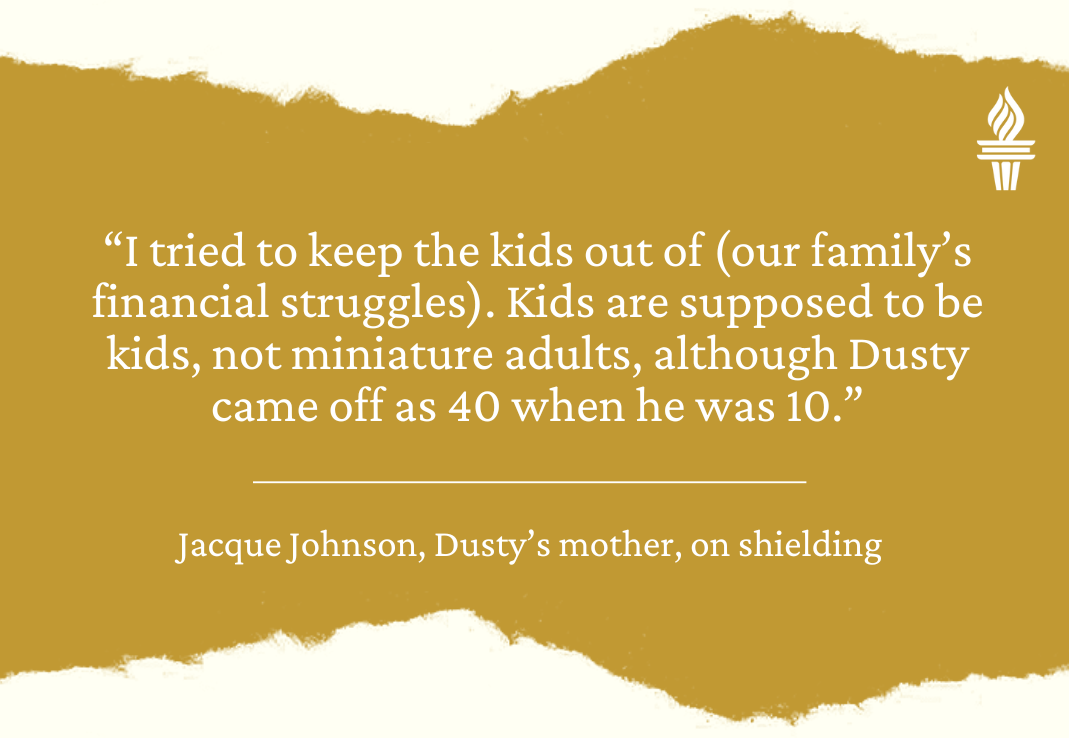 The high school senior later headed to Janklow's office and requested a private meeting, exhibiting a blend of self-assuredness and naivete at which he still marvels.
"I mean, I know now that governors and congressmen are booked every 15 minutes for 12 hours a day and you don't just get to parachute into their calendar," Johnson said. "But I waited and I waited, and we ended up squaring off for a bit. He's quick on his feet and sometimes I can be, and we went round and round on the issue."
In the end, the scholarship program was cut but that year's recipients were allowed to keep their grants, meaning Johnson would head to Vermillion with the understanding that politics are about negotiations and small triumphs, and tenacity is a handy tool.
Love blooms at USD: 'She had this incredible positive energy'
Jacquelyn Dice was a USD sophomore when she found herself swept into a date with Johnson, a junior in the Phi Delta Theta fraternity on his way to becoming a Truman Scholar.
"If you think he's high energy today, you should have seen him as a 20-year-old," said Jacquelyn, an honor student from Mitchell who would be crowned USD's homecoming queen as a senior. "Lots of people knew him on campus, and he was a fun person. We hit it off right away."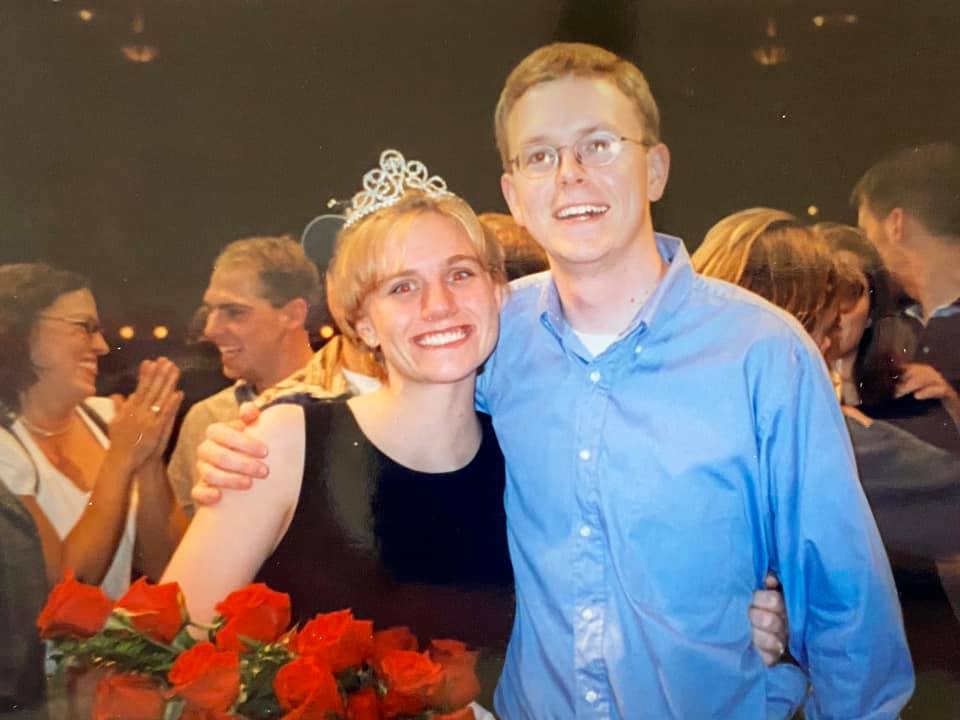 The first date was with a group of friends to Sioux Falls, where they dined at the Copper Room at Westward Ho Country Club and attended a symphony concert. Johnson quickly adds that the second date was a more modest affair, involving greasy calzones at a dive restaurant and a showing of "Super Troopers" at the Vermillion Theater.
Just as Jacquelyn had been aware of Dusty's presence at USD, he knew her from afar as a high achiever who threw herself into campus activities and uplifted others. Their first few dates did nothing but confirm that impression, and Johnson was smitten.
"It was immediately evident that she had this incredible positive energy about her, and nothing was going to bring her down," said Johnson. "She believes in the goodness of people. There's no guile in her. And I just think when you meet somebody who makes you feel better all the time, it's easy to be excited about life when you're around that person."
Jacquelyn knew she was hooked when Halloween arrived that fall of 1997 and she shrugged off illness because she was determined to attend a party with Dusty. She had no time to prepare, so she borrowed an Army National Guard outfit from a friend and made the best of it. He went as Zorro. They were pretty much inseparable after that.
From Kansas back to South Dakota political scene
Two years later, in 1999, Jacquelyn was a senior and Dusty was working with the U.S. Department of Agriculture as a Truman Fellow in Washington. She had an inkling that he might propose marriage on homecoming weekend and asked him not to make a spectacle in public.
"The last thing I wanted was to be proposed to in front of everyone at Slagle Hall," she said of the USD campus building. "He surprised me by coming in a night early. I was on the homecoming committee, and he took me out of a planning meeting and brought me out in front of Old Main. It was lightly raining, and he proposed, and it was very exciting."
Dusty jokes that he knew she would be crowned homecoming queen that weekend and needed to get a marriage commitment before she had other offers. The wedding came later that year.
They both attended the University of Kansas, with Johnson getting his master's degree in public administration and Jacquelyn studying higher education. Johnson worked for a time with local governments in Kansas but felt the pull of South Dakota politics, with plenty of intrigue as the 2002 election approached.
Thune, serving in the U.S. House and seen as a fast-rising Republican, steered away from a gubernatorial bid and challenged Democrat Tim Johnson for his U.S. Senate seat.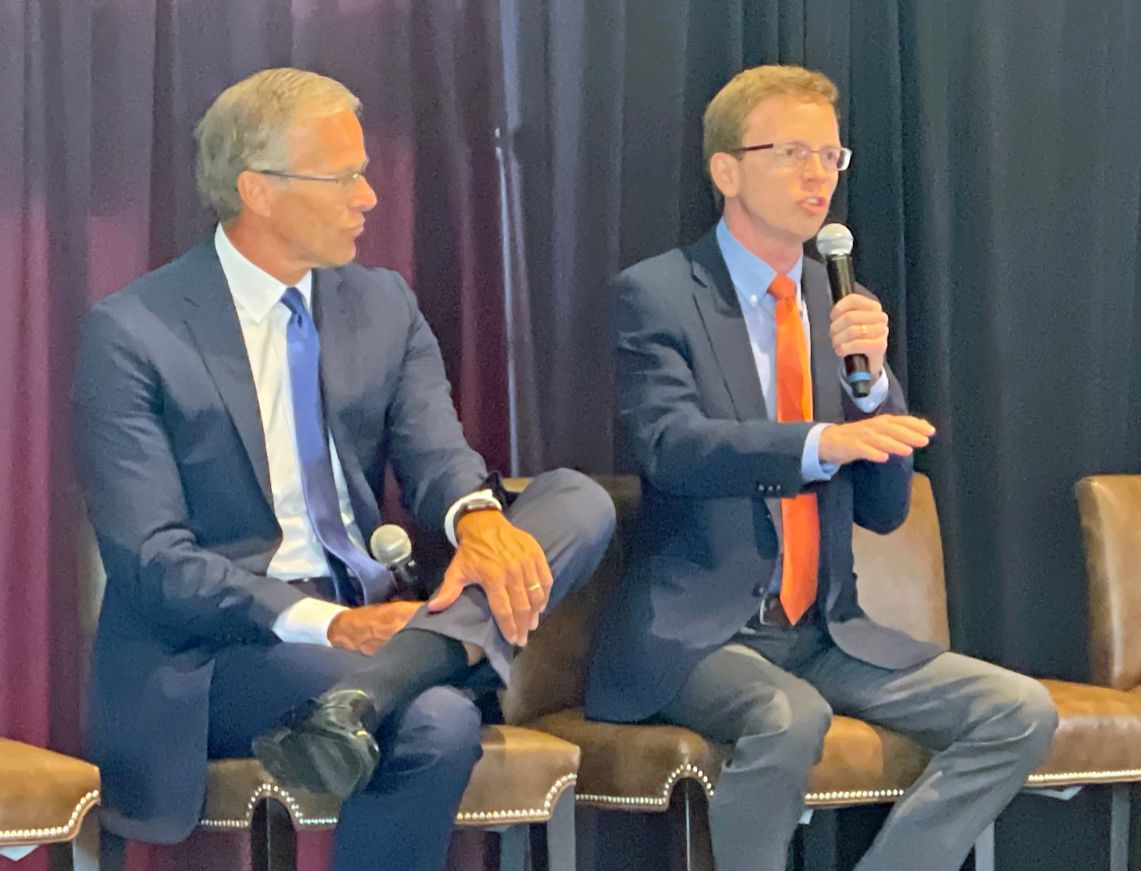 In the governor's race, Attorney General Mark Barnett, former Lt. Gov. Steve Kirby and Mike Rounds, then a former state senator, were engaged in a bare-knuckle GOP primary to succeed Janklow, whose second eight-year stint in office was ending.
Dusty and Jacquelyn moved in June 2002 to Mitchell, where she was joining the family business as a financial adviser. Dusty had an agreement to serve as Barnett 's press secretary if he won the primary, but Rounds won the nomination, meaning Johnson was a free agent.
'What does the junior policy adviser look like?'
He had stayed in touch with Rosenthal, who built a statewide Republican operation to boost Thune and Rounds in their races as well as Janklow in his ultimately successful U.S. House bid against Democratic opponent Stephanie Herseth.
Rosenthal tabbed Johnson to run the Mitchell office, mobilizing volunteers and connecting candidates, donors and voters. His efforts caught the attention of Rounds, who defeated Democrat Jim Abbott in the general election and called Johnson after a few weeks to offer him a job in his administration.
Johnson quickly worked his way into Rounds' inner sanctum, setting the stage for an oft-told anecdote in which he addressed community members in Miller and was introduced as a senior policy adviser to the governor on energy, economic development and transportation.
"If you're the senior policy adviser," an older woman asked Dusty after his remarks, "what does the junior policy adviser look like?"
Statewide PUC race in 2004: Newcomer vs. incumbent
When Republicans gathered in Johnson's adopted hometown of Mitchell for their state convention in the summer of 2004, the race for Public Utilities Commissioner was not a major concern.
Party leaders had other priorities.
Despite Republicans holding a sizable lead in registered voters in South Dakota, the state's congressional delegation consisted of three Democrats.
Tom Daschle was U.S. Senate minority leader. Tim Johnson had narrowly defeated Thune. And Herseth was in the U.S. House after winning a special election after Janklow was convicted for running a stop sign and killing a motorcyclist on a rural county road in August 2003.
Former state legislator Larry Diedrich geared up for a House rematch in the general election against Herseth, while Thune was mounting a Senate challenge to Daschle in what would become one of the most expensive and consequential races in state history.
Against this 2004 backdrop was the election for a seat on the three-person PUC, a constitutional office with staggered six-year terms that regulates electric, natural gas and telephone utilities.
The incumbent was 63-year-old Democrat Jim Burg, a former state legislator and National Guard officer seeking a fourth term after carrying 65% of the vote in 1998. Republican Carol Pitts had signaled a PUC run and then backed out, leaving the party without a candidate. With the support of Rosenthal, the 27-year-old Johnson put his hat in the ring and was unopposed at the convention, securing the nomination in a unanimous vote.
"If there had been anyone running against me at the convention, I probably would have lost," said Johnson. "I was just a kid."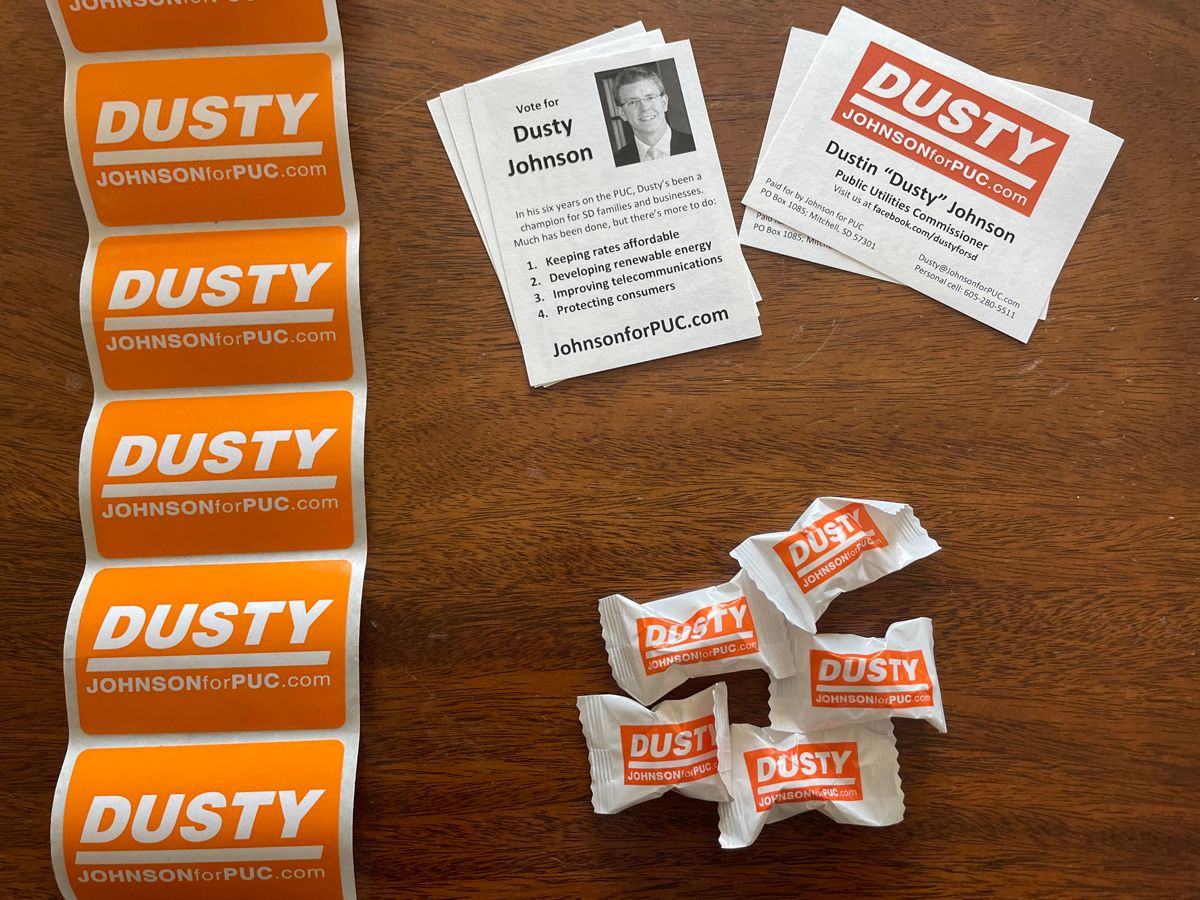 Among those surprised at the nomination was Daugaard, a former state senator and Children's Home Society chief executive who was serving as Rounds' lieutenant governor. He saw Johnson as an effective campaign staffer well-versed in public administration. But the idea of him challenging a seasoned incumbent like Burg seemed far-fetched.
"I thought he was a sacrificial lamb, in all honesty," Daugaard told News Watch. "I didn't think he would have a chance."
Jacquelyn had no idea what the PUC did and thought little of it when her husband got up to address the convention. She left shortly after to see about a home they were looking to buy.
But Rosenthal viewed the nomination differently, noting that Johnson's youth could be beneficial in a campaign that would revolve partly around improving cellphone service and harnessing wind energy.
"I've always felt that there's never a race that can't be won," Rosenthal said. "It just takes the right kind of campaign and the right kind of candidate."
Democrats react to campaign: 'We have our hands full'
Johnson acknowledged being self-conscious about his age and appearance as he entered the race. Political campaigns don't always get beyond first impressions, and he worried about coming off as an eager-to-please accountant rather than a robust public statesman.
"Not exactly made for TV" is how Johnson puts it. Like a reverse JFK. But Rounds pulled him aside and gave him straightforward advice that became part of his political creed.
"He said, 'Dusty, you have to be yourself,'" Johnson recalled. "And as I've gotten a little older, I understand that what voters appreciate almost more than anything is authenticity. I can tell when a politician is not being themselves, and I hold them with some disdain. I think they owe the voters a true look at who they are."
It was Jacquelyn's sister who suggested using a cardboard cutout of Dusty on the campaign trail, with the added touch of Johnson showing up and standing next to it to tell voters, "That's me!"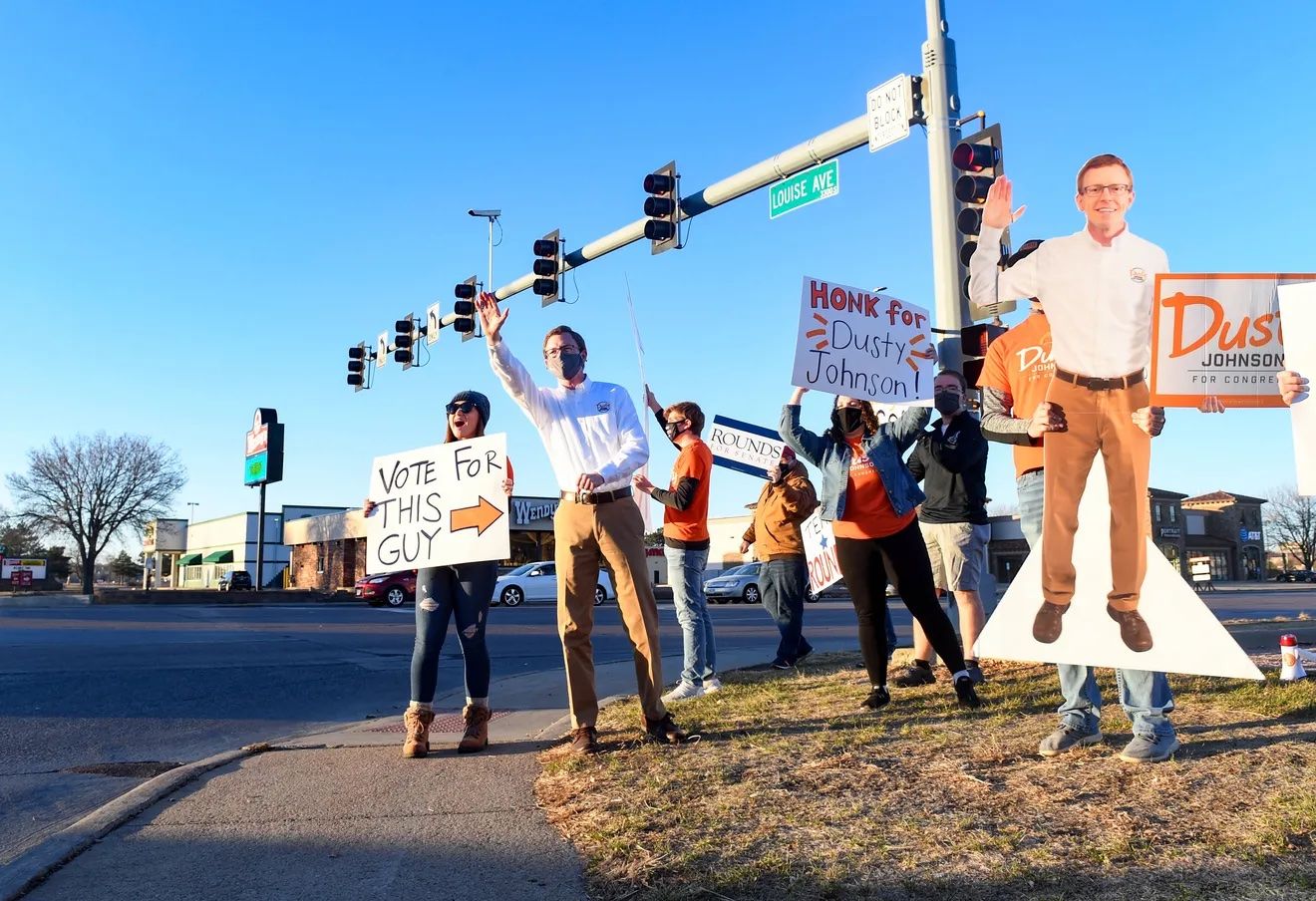 Like proposing marriage on a bench in front of Old Main, it was a bit corny, but it felt right.
"I don't really like how most politicians run their campaigns," said Johnson. "I think things tend to be too slick, and I just was always looking for a way to try to connect with people in a way that seemed a bit different. I think a lot of officeholders are a little too cool for school. That's never been my problem."
The campaign revealed another of Johnson's political rules: Never get outworked.
He gave himself a grueling schedule to all corners of the state, necessitating an unpaid leave of absence from the Rounds administration to make it work. He also used political connections to outraise his more established opponent $175,000 to $60,000.
Hustle and money helped, but it wasn't the whole story. Though Burg noted that "it takes a while to learn the ins and outs of the job," Johnson impressed industry insiders with policy chops on issues such as rural telecommunications and commercial trucking.
"(Burg) probably didn't realize until September that he even had a race, and by then Dusty had already shaken about 40,000 hands," said Rosenthal.
The momentum was clear at an October candidate forum, where Johnson held court on key PUC issues, going toe-to-toe with his opponent while sharing whimsical insights about life on the road during his maiden campaign.
Rosenthal recalls walking into an adjoining coffee shop after the forum and hearing a prominent Democrat talking to a companion about the race.
"We have our hands full," the man said.
Keystone Pipeline controversy part of PUC experience
Johnson's victory was 55% to 42%, a margin of 46,000 votes.
It was easily overshadowed at GOP headquarters by Thune's historic takedown of Daschle and the re-election of George W. Bush to the White House. But among political insiders in South Dakota, Johnson's campaign had an air of competence that made him someone to watch.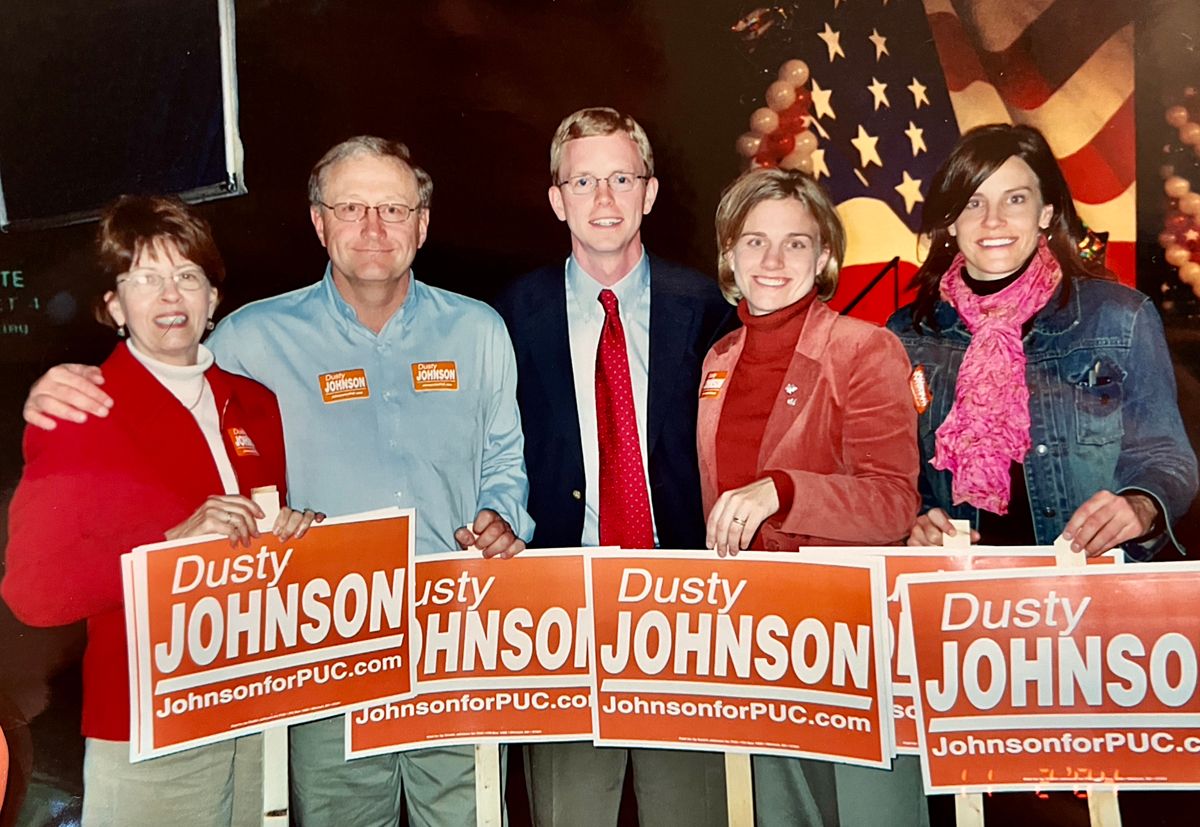 He threw himself into PUC duties at a critical juncture, focusing on emerging cellphone technology, wind turbines as economic development and more transparency from the commission, including documentation of correspondence with constituents.
That last tenet was tested when Johnson and fellow PUC commissioners Gary Hanson and Steve Kolbeck were asked to approve the TransCanada Keystone Pipeline, a $2 billion crude oil project that would make a 1,845-mile trek from Canada through 10 eastern South Dakota counties on its way to Midwest refineries.
When the company initiated eminent domain proceedings in 2007 to take over rural property along the route, Johnson insisted that eminent domain was a matter for the circuit court and separate from the PUC's decision to approve a construction permit.
Unlike the current carbon pipeline controversy in South Dakota, in which permits have been denied by the PUC following complaints by landowners and pushback from far-right legislators, Johnson and his fellow commissioners had political cover from Republicans, including Gov. Rounds.
But there was plenty of heat from rural property owners leading up to the vote in March of 2008, when the permit was unanimously approved.
"Pipelines are safe and getting safer," Johnson, serving as PUC chairman, said at the hearing.
Hanson approved the Keystone permit in 2008 but voted against carbon pipelines this year. He said a major factor in his decision was a concern that leaks of carbon dioxide, which is colorless and odorless, could cause harm without being detected.
"The difference I observed was in the type of fear the pipelines presented to citizens," said Hanson, in his fourth term after being first elected in 2002. "For most people, the fear of a petroleum leak was, 'It's going to ruin my land.' And the fear of the (carbon) pipelines was, 'It's going to potentially kill my family members or my cattle. It could be lethal.'"
'He was kind of a singular presence back then'
As Johnson neared the end of his first PUC term, another South Dakota political shift was afoot.
Barack Obama won the White House in 2008, giving Democrats control over all three branches of the federal government. Obama's landmark health care reform package in the face of a still-struggling economy energized Republicans for the midterms in 2010, especially in South Dakota, where Herseth's U.S. House seat, ultimately captured by Noem, was seen as vulnerable.
One of those who saw Johnson as part of a potential GOP wave was Will Mortenson, a fellow Pierre native who studied political science at USD and briefly met the PUC commissioner when he visited campus.
Mortenson later interned in the state Legislature in 2009 and observed how Johnson engaged consistently with those around him, regardless of political standing.
"He was kind of a singular presence back then," said Mortenson, who was elected to the Legislature in 2020 and became House Majority Leader in 2022.
"I had run into a lot of people who held elective office, all of whom seemed to take themselves very seriously. Dusty seemed to be a guy with his feet firmly planted on the ground, who talked to people he just met and to people who were his superiors with the same level of respect and excitement and humor."
Mortenson, just 22 at the time, was full of ideas about how South Dakota Republicans could extend their reach, much of which centered on the upcoming election.
"I asked Dusty to go to lunch and pretty brazenly suggested he should run for Congress," said Mortenson. "He told me that he was not going to do that, he was going to run for PUC again, and within a few days he offered me a job running his 2010 campaign."
Young talent helps 'Full Dusty' campaign take over
Mortenson had never run a campaign before and was willing to work long hours for meager pay, a prerequisite for the job. Raising money for a regulatory race isn't easy, and Johnson became legendary for maximizing campaign budgets by demanding that everyone match his workload.
"He's very frugal," said Kelsey Webb Smith, who was a legislative intern in 2010 when she signed onto the campaign. "I think he was eager to recruit young talent, mostly because he didn't have to pay us very much money."
Mortenson and Webb Smith were fresh out of USD and eager to pursue a career in politics. It didn't matter that Johnson's 2010 re-election race was against overmatched Democrat Doyle Karpen in what would be a statewide Republican sweep, including wins for Noem and Daugaard.
Johnson wanted to exude the same energy that got him the job, which meant a comprehensive campaign summarized by an "elevator pitch" TV ad, in which he spoke personally to a camera in place of the voter. For boots on the ground, he recruited a legion of loyal Teenage Republicans to cover bases from Beresford to Box Elder.
"It was shocking to me how many people in so many different towns knew this guy and would absolutely jump over the moon to try to help him," said Mortenson, who has a law practice in Pierre. "I thought, 'How does one guy get this many friends when they're 33 years old?"
Webb Smith, a Belle Fourche native who later managed Daugaard's 2014 re-election campaign, learned the rigors of campaigning by embarking on a whirlwind of Lincoln Day dinners, county fairs and small-town celebrations.
"We had the ground game going," she said. "We were putting up signs everywhere, and Dusty had some crazy goal of having the campaign represented at every parade in the state. I still have memories of being at the Farkleberry Festival in Hayti, which is such a small town that the parade goes through twice."
Jacquelyn walked parade routes with Max, who was 5 at the time, handing out campaign fliers and deferring PUC-related questions to her husband, who worked the other end of the street. It became clear that Johnson knew no other campaign gear, leading to 16-hour days as election day approached and staffers staggered to the finish line.
"I think I hit two deer during that campaign," said Webb Smith, who now works for a Black Hills education cooperative. "We had these little Dusty-themed mints that we handed out at rodeos and parades and high school football games, but he never reimbursed our gas. It's easy to like Dusty and we wanted to work hard for him. But I told him recently that every time I'm his presence for the rest of my life, he's buying the drinks. He owes me from those days."
Daugaard's appeal to Dusty: 'Will you help me?'
Johnson won re-election with 73% of the statewide vote, among the widest margins in South Dakota history. He quickly became involved in the shuffling of gubernatorial administrations from Rounds to Daugaard, who defeated Democrat Scott Heidepriem for the office.
Johnson had boosted Daugaard's campaign in Mitchell and helped him prep for debates as a sparring partner. It wasn't surprising when the new governor asked Dusty to join his transition, which involved finding the right people to guide the administration starting in 2011.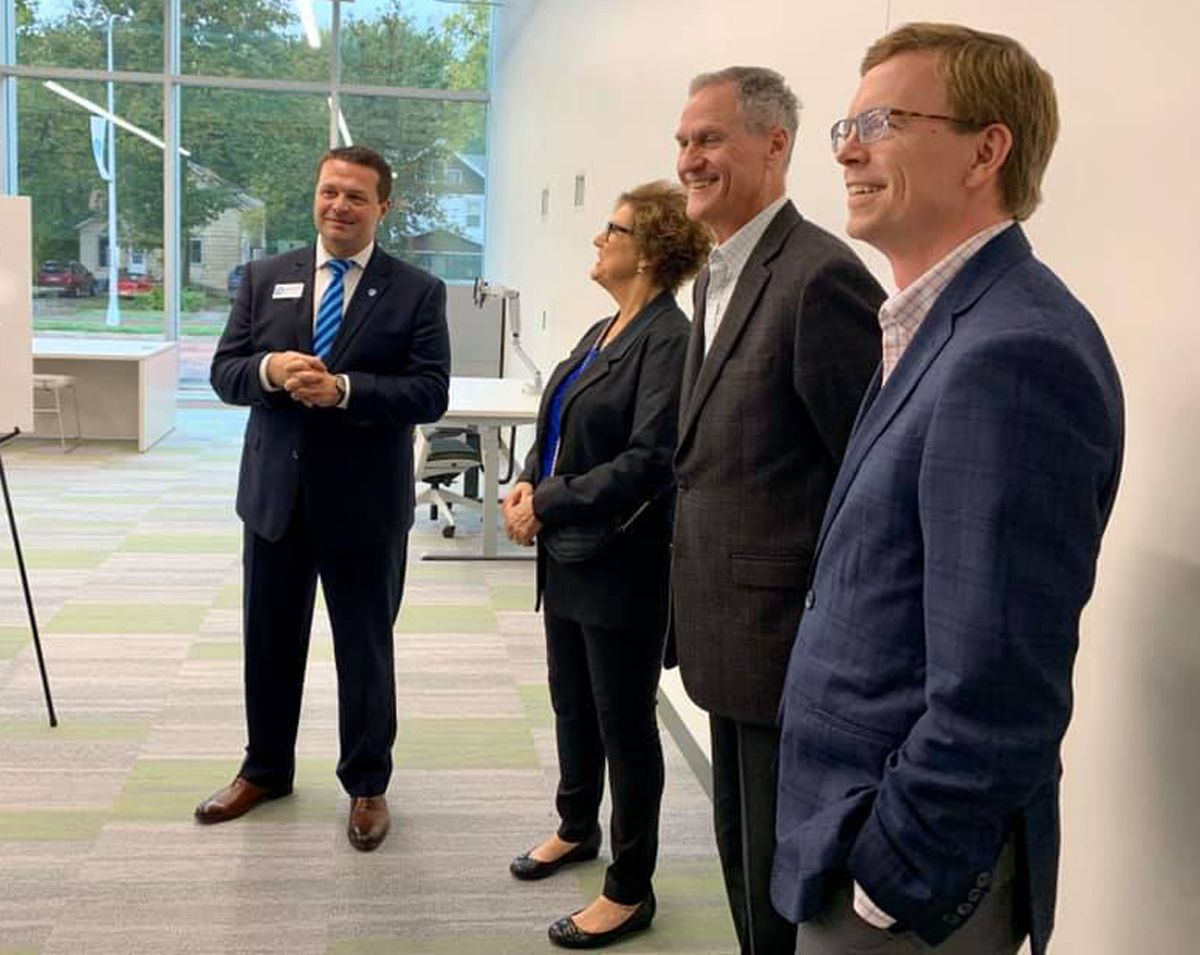 In forming an executive team that included Lt. Gov. Matt Michels, director of policy and communications Venhuizen (Daugaard's son-in-law), senior adviser Deb Bowman and chief financial officer Jason Dilges, Daugaard became accustomed to having Johnson's input.
"Among others who were on the transition team, as we were trying to identify who could be chief of staff, we all sort of said, without him in the room, 'Gosh, wouldn't it be great if Dusty would ever do that?'" recalled Daugaard.
A few days later, Daugaard and Johnson went through a Taco John's drive-thru in Pierre and ate tacos in Daugaard's office. The governor-elect made the pitch that South Dakota faced a $127 million budget deficit and would need strong fiscal leadership to get back on track.
"I can't do it alone," Daugaard told Johnson. "Will you help me?"
They both know it was complicated politically.
Johnson would be walking away from a job he campaigned for months to keep before his second term on the PUC even started. Daugaard was already facing charges of nepotism for hiring Venhuizen to the executive committee and his son, Chris, a recent South Dakota State graduate, as a PUC analyst.
"South Dakota has a lot of talented people with fresh ideas and new energy," state Rep. Bernie Hunhoff of Yankton, the Democratic leader in the House, told the Rapid City Journal at the time. "I worry that the governor is handicapping himself even before he takes the oath by reshuffling party loyalists rather than building a Cabinet that looks and thinks like greater South Dakota."
Hanson, Johnson's fellow PUC commissioner, didn't learn of the move until just before Dusty was announced as chief of staff. He recalled being skeptical of the decision at the time.
"It was a big risk," said Hanson, who served as Sioux Falls mayor from 1995 to 2003. "When you run for a position and then basically say, 'Thank you for electing me, I'm not going to take the position,' it makes it very difficult the next time you run for office as far as the trust of the voters. But it worked out for him in the end."
Johnson said that he determined he could make a more meaningful impact as chief of staff than on the PUC and that he was "walking away from my own political career to go serve someone else."
Traditionally, taking the role of chief of staff and acting as the governor's enforcer does not lend itself to future statewide office.
But Jon Schaff, a professor of government at Northern State University in Aberdeen, notes that Johnson likely knew he could buck that trend. Getting close to the governor's office in a more powerful position, while problematic at first from a public relations standpoint, could come off as more statesmanlike than continuing in a regulatory role.
"I'm not going to suggest he was merely padding his resume, but you could see it as a way of building up experience and credentials for a guy who could run for governor someday," Schaff said. "As with most politicians, there's always a combination of altruism and self-interest. So you might say, 'OK, this is the best way I can help the state. And oh, by the way, I've got these ambitions.'"
Budget cuts dominate early days of administration
Despite an age difference of 23 years, Johnson and Daugaard had plenty in common. Both came from modest means that shaped a doctrine of self-reliance and attention to detail, believing that major swings in one direction could be difficult to reverse.
The fact that they emerged as staunch fiscal conservatives was not surprising, in other words, nor was their decision to tackle the budget crisis head on. There had been two years of federal stimulus money flowing into the state on the heels of the Great Recession, and now those funds were going away, meaning cuts were coming.
"There was $127 million that had to be cut, which was 10% across the general fund of state government," said Johnson. "It was not a foregone conclusion that's how it would be handled, and it took a lot of courage from Dennis to want to address that problem by ripping off a Band-Aid rather than nickel and diming. I think some people probably would've taken half-measures to try to soften it, but most were tired of the budget drama and wanted to move forward."
Daugaard and Johnson worked with legislators to soften the blow to schools, allocating money from higher-than-expected tax collections and holding property tax rates steady to reduce the cut to 6.6%.
Medicaid surplus was used to keep nursing homes and other medical facilities from the deepest of cuts, though everyone felt the pinch. Daugaard also reduced salaries for Cabinet members and top-level staff and cut his own pay.
Johnson, with two young sons at home and another on the way, decided to live in Mitchell and commute to Pierre, driving 600 miles a week. Budget negotiations weighed on his mind. He devised a schedule to maximize hours on both ends, with Jacquelyn and the kids realizing a difference in routines when Dad was home.
"I'm the more easy-going parent, less strict than Dusty," said Jacquelyn, now CEO of Dice Financial Services in Mitchell. "The kids knew there was more 'work before play' when Dad was home, like sweeping out the garage on Sundays. It was more about work ethic than the garage actually needing to be swept."
In the pre-Zoom video calling era, Johnson set up a computer screen in his office so he could hold meetings and face-to-face conversations with people when he was working from home.
"He really felt like he wanted people to be able to just walk in and talk to him, so it wasn't just for meetings," said Venhuizen. "He'd be sitting at his desk working in Mitchell, and you could just walk into his office and chat with him."
Mortenson, who had joined Webb Smith in working at the governor's office after the PUC campaign, recalled a few practical jokes where the computer in Pierre was moved into odd places at Dusty's expense, the downside of working from afar.
Webb Smith said Johnson, despite overseeing nine departments and supervising energy policy and office operations, felt compelled to respond personally to citizen concerns, at the expense of time management.
"He had the most high-maintenance constituent services approach I have ever seen and probably will ever see," said Webb Smith. "I mean, he would personally contact the constituent on his personal cellphone and talk to them about their issue and then talk to state agency staff to navigate what was needed. There were a lot of cases where that was not the best use of his time, he had bigger issues to work on, but he wanted to be involved."
Problem-solving went into overdrive during the federal shutdown of 2013.
Daugaard wanted to keep federally funded Mount Rushmore open and had Johnson contact the National Park Service to inquire about raising private funds to foot the bill. Quoted a price tag of $15,200 a day, Johnson and his staff went to work.
"At the time I was the governor's scheduler, so my desk was right outside (Daugaard's) office," said Webb Smith. "They were making all these phone calls, and Dusty would run into the governor's office and say, 'We got so-and-so electric company to sponsor a day!'"
The private funds allowed Mount Rushmore to open on Oct. 14, drawing positive headlines for Daugaard. The shutdown was resolved four days later.
To Johnson, taking a local approach rather than politicizing the standoff – in which hardline Republicans unsuccessfully fought to defund or delay Obama's Affordable Care Act – was a lesson in executive leadership.
"I learned a lot about emotional maturity from (Daugaard)," he said. "I learned about being more thoughtful and deliberate. Early on in my career, I was maybe too prone to rush to judgment, and I still have a bias for action. But I think I learned from Dennis that sometimes it's better to just take a beat or two before pulling the trigger. And I'm a much better leader today because I was working with him."
US House campaign in 2018: 'The timing was right'
In politics, working in the private sector and spending more time with family can also mean mulling the right moment to get back in the game.
When Johnson announced he was leaving his chief of staff position after the 2014 election to work for Vantage Point Solutions, a Mitchell-based technology consulting firm, he cited no such ulterior motives.
But he didn't rule anything out.
"I had conversations with the CEO during the hiring process where I said, 'Listen, there's a decent chance I'm done with politics. I mean, I might be a co-owner of this business with you for the next 30 years, but I also want to be palms up. There's a chance that I'm going to feel called to run for something in the future.' I didn't have a particular office in mind."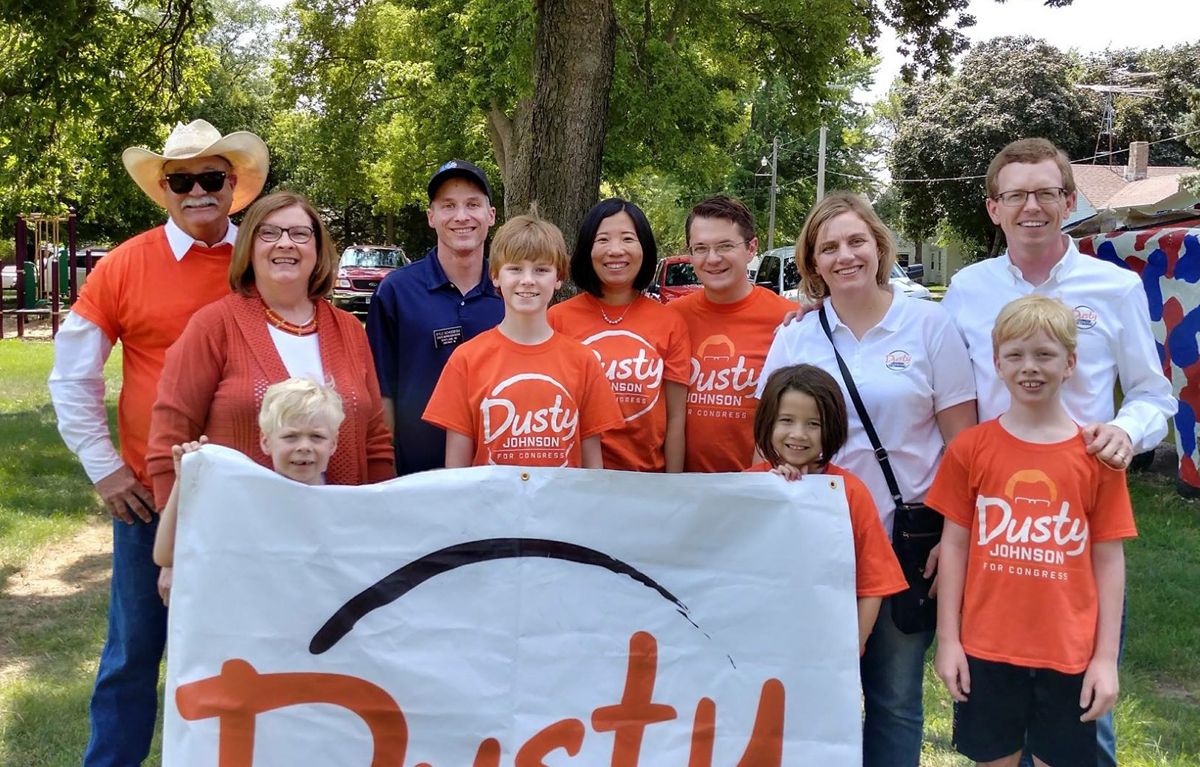 If Johnson's upbringing in Pierre, successful PUC campaigns and stint in the governor's office positioned him to become a South Dakota statesman, it was natural to ask, as he reached 40 years old, when his time would come.
"It was sort of understood that he would work himself up the ladder, and maybe it happened a little more slowly than people expected," said Schaff. "But that's also part of living in a state where if you're a really ambitious politician, there are only so many avenues you can take."
Tremors within the Republican Party, both in-state and nationally, added urgency.
Trump announced his presidential run in June 2015, promising to build "a great, great wall" on the southern border. Six months later, after a mass shooting in California committed by extremists inspired by Islamic terrorists, the real estate mogul and former reality TV star called for "a total and complete shutdown" of Muslims entering the country.
Noem, who criticized Trump's candidacy and character but became a political ally when he won the White House, was making moves. She announced she was running for governor six days after her 2016 re-election to the House, beating a deadline to transfer funds left from her congressional campaign into a state account for governor.
That left an enticing opening for South Dakota's lone U.S House seat.
There were no heavyweight Republicans in the ring and the state Democrat Party was in shambles. Jacquelyn sensed an aura of inevitability when her husband spoke of the opportunity.
"The timing was right," she said. "You don't want to regret not trying."
Johnson seeks positive tone against Krebs, Tapio
The 2018 election would mark eight years since Johnson had run for office and four years since he worked full-time politically. But there were only so many shots at major seats in South Dakota, and the leanings of his lifelong party made him restless.
His campaign kickoff at the Alex Johnson Hotel in Rapid City in May 2017 played all the hits, bringing back the cardboard cutouts, jokes about his resemblance to popcorn impresario Orville Redenbacher and a sequel of his "elevator speech" ad, featuring a cameo from Jacquelyn and the kids and ending with a manufactured "Go, Dusty, Go!" chant.
Johnson's speech to supporters that day was more solemn.
He pledged to steer away from the bitterness and anger of the political scene and focus not on cultural grievances but issues more central to South Dakotans' everyday lives. It was a subject that had weighed on his mind since the populist emergence of Trump and the formation of the Freedom Caucus in Congress, making it hard to stay on the sidelines.
"I just didn't understand why everybody needed to be angry all the time and why the rhetoric needed to be so toxic," Johnson told News Watch of his decision to run. "I was making more money in the private sector than I would make in Congress, and obviously I was able to spend more time at home. But it didn't seem like that was a good excuse for not getting back into the arena. It sort of felt like I was taking the cheap way out."
His most prominent primary opponent was Secretary of State Shantel Krebs, a former state legislator who touted her political experience and small-government approach. The wild-card candidate was state senator and former Trump state campaign chair Neal Tapio, who echoed the president's anti-Muslim rhetoric and advocated for restricting refugee resettlement.
Krebs declined an interview request for this story.
Tapio sent a message to News Watch declaring Johnson, Thune and Rounds to be "South Dakota representatives of the globalist establishment mafia."
Tapio's candidacy would not be the last time Johnson faced a challenge from his right flank, prompting a litmus test of his approach to the MAGA movement.
Johnson's flights on state aircraft draw scrutiny during race
Krebs courted "America First" supporters by touting an endorsement from Kansas Secretary of State and Trump adviser Kris Kobach, echoing his call for a registry for people from areas where terror threats were detected.
She also appeared with controversial U.S. Rep. Steve King of Iowa, who called her a "full spectrum, constitutional Christian conservative." King was later abandoned by most Republicans in Congress and voted out of office after wondering in an interview why "white nationalist" and "white supremacist" are considered offensive terms.
Johnson tried to stay above the fray, offering support for Trump's travel ban but opposing the Muslim registry as "clearly unconstitutional."
For Daugaard, who publicly endorsed his former chief of staff, it made sense for Dusty not to drill down on hot-button issues but paint a broader picture of what type of public servant voters would send to Washington.
More politics: Noem's 'demanding' style sparks staff turnover, turmoil: 'It's a tough gig'
"Issues are important, but it's very difficult to foresee specific matters that are going to come before Congress," Daugaard told News Watch. "So you really need to elect someone who has the right values that's going to make the decisions that you yourself would make if you were in their place. To fixate on one or another issue and say, 'This is why I'm voting for that person,' I think that's a little narrow."
The gloves came off in the late stages of a debate held a week before the June primary, with Krebs down in the polls. She fended off claims from Johnson about her voting record on spending bills, which he said cast doubt on her claims of fiscal austerity.
Krebs then called into question Johnson's use of taxpayer-funded state planes when he served as chief of staff, teasing TV ads that rolled out the next morning. At issue were flights where Johnson was picked up and dropped off in Mitchell for state business rather than Pierre, costing the state tens of thousands of dollars, according to Krebs' camp.
"Hard-working South Dakotans get up and drive to work every day, without a fancy plane to taxi them around," she said in a statement. "If it's good enough for them, it should be good enough for bureaucrats like Dusty Johnson."
Primary victory leads to convincing win in November
Johnson's campaign sent a cease-and-desist letter to television stations to stop airing the ads, but the commercials kept running. Daugaard did interviews calling the allegations "absolutely false," bolstering Johnson's contention that the claims were a Hail Mary from a desperate candidate rather than substantive breach of the public trust.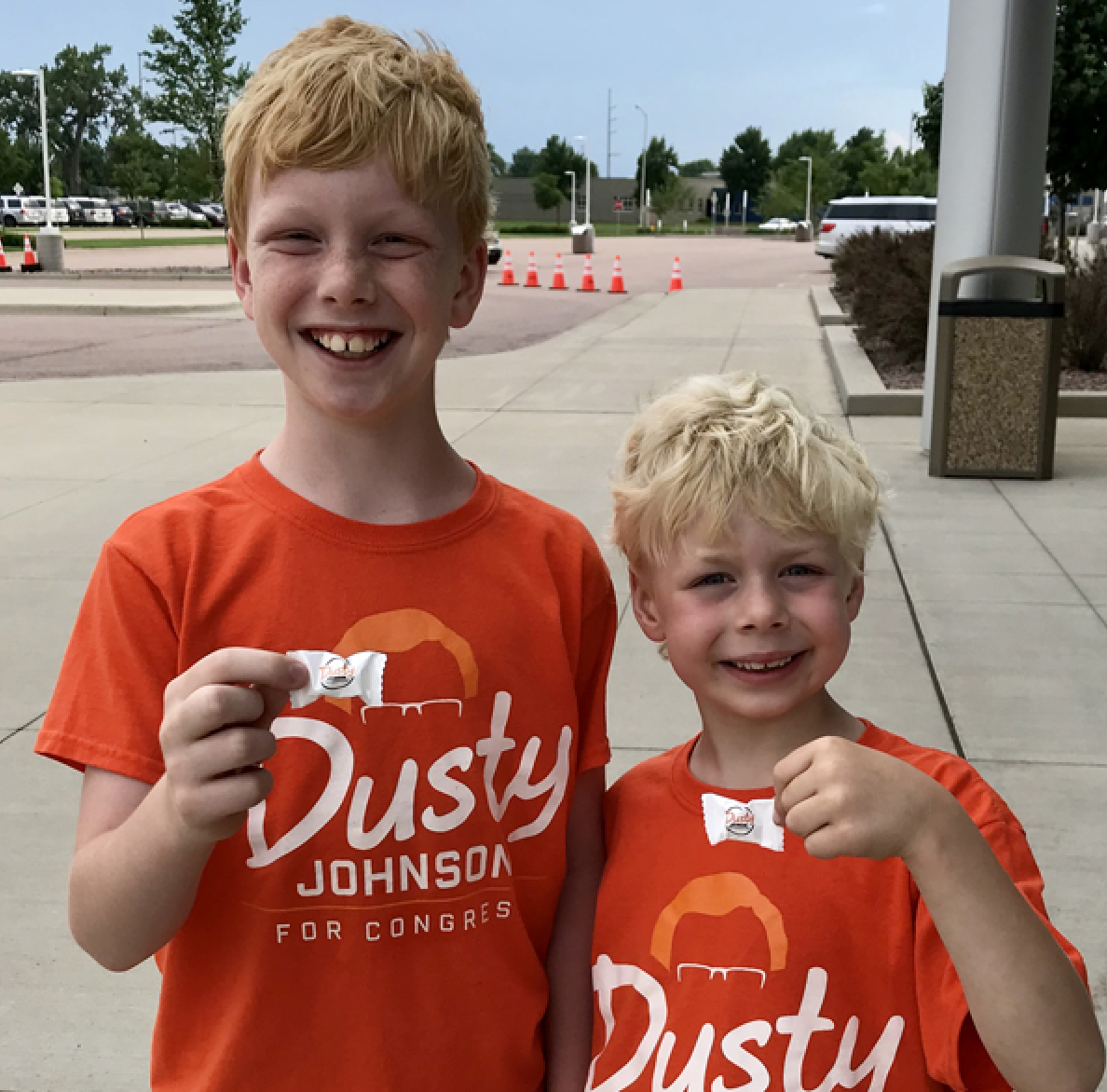 "I'm sure my public statements at the time indicated that I thought it was baloney, but looking back, I don't have any particular anger about it," Johnson said. "I mean, these are the things that happen in campaigns. It certainly helped to have my boss publicly explain that these were things he was asking me to do. He was asking me to renegotiate contracts with medical providers, and there were contracting officials and Cabinet secretaries who were also going to these meetings. None of these flights were commute flights."
Internal polling didn't show any real damage from the claims, allowing Johnson to keep his cushion. He carried 48% of the vote in the primary, distancing himself from Krebs (30%) and Tapio (22%) and justifying the strategy of staying in his campaign lane, regardless of the noise.
"I think it shows that when it's competitive, it's hard to outwork and out prepare Dusty Johnson," said Schaff. "I mean, Shantel Krebs is a talented politician and basically popular and I don't think your standard-issue Republican would have had a problem with her. But Dusty just works really hard and probably seemed like a more credible candidate when it mattered."
The general election against Democrat Tim Bjorkman was largely a formality, but Johnson took no chances. He doubled his opponent's fundraising haul and took his "Energy to Burn" tour through 30 cities and rural towns, pledging support for the ethanol industry, work requirements for welfare programs and balanced federal budgets.
When Trump traveled to Sioux Falls in September 2018 to hold a private fundraiser with Noem, who was in a tight battle with Democratic opponent Billie Sutton, Johnson joined Daugaard, Thune and Rounds to greet the president on the tarmac next to Air Force One.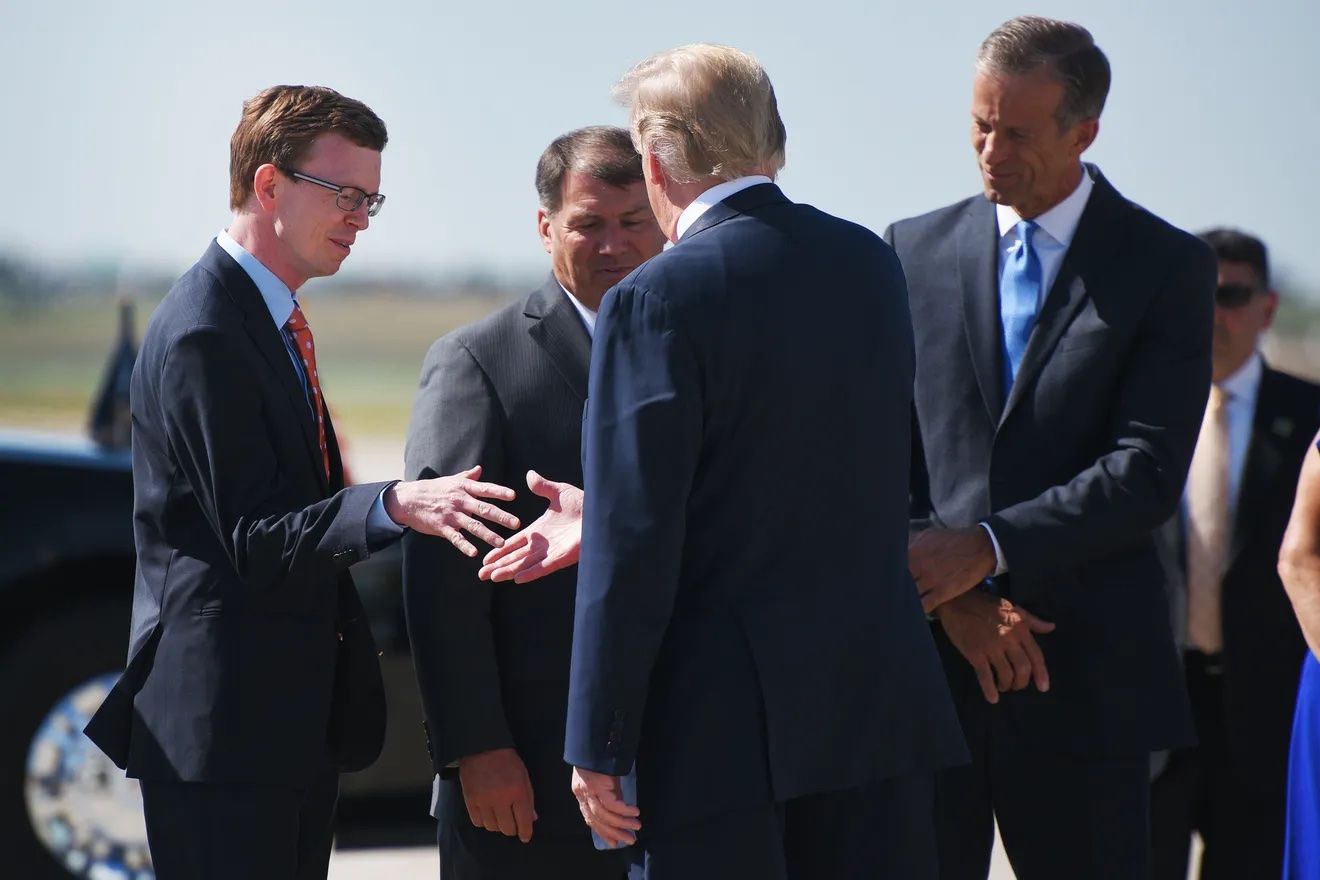 On election night, Dusty's parents looked on at the Hilton Garden Inn in Sioux Falls as their son declared victory with 60% percent of the vote. For Kevin and Jacque, it seemed the culmination of a political journey, from a fifth grader testifying in Pierre to an influential Teenage Republican and trusted adviser to a United States congressman taking his talents to Washington.
"I knew from the time he was little that he was going to be doing something incredible," said Jacque. "He's the most self-directed individual that I've ever met."
Survival in Congress calls for grasp of policy, politics
Johnson sat with his sons on the House floor on Jan. 3, 2019, as longtime Democratic Rep. Nancy Pelosi was voted Speaker of the House. Her grasp of the gavel signaled a changing of the guard after four years of the Republicans controlling both chambers.
"That voting process takes a long time," recalled Jacquelyn, who sat in the gallery between GOP Rep. Dan Crenshaw's father and Pelosi's best friend from college. "It's hard to know when you're supposed to stand up or sit down. I don't know that I was really living in the moment. I was more worried about my kids not acting up down there."
The Democrats had picked up 41 seats, their biggest gain since the post-Watergate election of 1974. That meant Johnson and North Dakota's Armstrong, at-large members from ruby-red states who were not averse to working across the aisle, would face hard choices as Democrats accelerated oversight of the Trump administration.
A penchant for pragmatic politics helped connect Armstrong and Johnson as time went on, but so did their differences. Armstrong, for example, didn't need to consider homemade weapons during Jan. 6 because he has a .45-70 lever-action rifle hanging in his office.
"I always say that the reason Dusty and I hang out is because I've sworn more in one sentence than he has in his entire life," said Armstrong, a criminal attorney and North Dakota state senator before running for Congress.
"But there aren't a ton of people in D.C. that get both policy and politics, and Dusty is one of them. Not just South Dakota politics but Washington politics, the pressure points, why things are the way they are. You can be the biggest policy wonk in the world, but if you don't understand that part of it, you won't get anything done."
Johnson makes run for border after opposing Trump
Friction arrived less than two months into Johnson's first term. He was one of 13 Republicans who voted to block Trump's national emergency declaration for the Southern border, citing constitutional concerns over executive expenditures without legislative approval.
Democrats and moderate Republicans saw Johnson's vote – later negated by Trump's veto – as a principled stand against an overzealous president obsessed with building "the wall" while stoking hysteria about illegal immigration and ignoring the separation of powers.
Trump's supporters, of which there are many in South Dakota, saw it differently. Johnson's office received thousands of calls characterizing the representative as a RINO (Republican in Name Only), a turncoat or worse.
"We absolutely have to secure the border, and I'm fully committed to a physical barrier being a part of the solution," Johnson told News Watch. "But my oath of office is to the Constitution, which says that it's Congress that has the power of the purse. I get that we're in an era where bumper-sticker slogans seem to win arguments, but I'm going to back the Constitution even when it gets me in trouble."
Not long after his vote, Johnson joined a congressional fact-finding trek to Arizona near the border with immigration hard-liners and provided commentary on social media. One video showed him next to a shallow stretch of the Colorado River on the Mexican border, purporting to show how easily the river could be traversed.
"The water is shin-deep here," said Johnson to the camera, sporting jeans and a plaid button-down shirt. "And that's Mexico right over there."
Political observers saw it not just as damage control but an attempt to find common ground with Trump on an issue that Johnson genuinely feels strongly about. But while Trump advocated for the wall and Noem made a point of sending National Guard troops to the border, Johnson scrutinized asylum laws and explored proposals such as fingerprinting youths who cross the border to make sure they're not "recycled" by trafficking cartels.
Privately, the first-term congressman bemoaned the lack of nuance in public discourse, but he wasn't naive enough to ignore political winds.
In December 2019, Johnson joined all House Republicans in voting against Articles of Impeachment as Democrats sought to remove Trump from office for withholding military aid from Ukraine unless the county announced investigations into Biden and his family. Trump was acquitted in the Senate, where all but one Republican (Utah's Mitt Romney) voted not guilty.
"That first year in D.C., you wouldn't put Dusty on the so-called Never Trump side, but he was definitely Trump skeptical, and he was a little bit public about that," said Schaff. "And I do think he sort of, if you will, learned his lesson and maybe started talking more about the things where he agreed with Trump on certain things."
'It was a chance for us to come together'
The 2020 election and its aftermath, with cries of election fraud and the grievance-fueled assault on the Capitol, confirmed the fears of political conventionalists that democratic institutions were imperiled.
While some Republicans, including Senate Leader Mitch McConnell, called out Trump's election lies as damaging to the country, Johnson's public comments steered more toward a lack of respect for constitutional norms.
He voted to certify the election in the early morning hours of Jan. 7, pointing out that Congress' role in the counting of electoral votes from the states is an administrative and largely ceremonial act. House members rejected a challenge of Arizona's votes 303-121 and turned back the Pennsylvania challenge 282-138.
"Congress is not given a super veto over the decision of the states with regard to elections," said Johnson. "Everybody who voted that day understood that for Republicans, there was a popular vote and there was a principled vote, and you had to make a decision about what kind of politician you were going to be."
A week later, Johnson voted against impeaching Trump for "incitement of insurrection," reasoning that Trump was leaving office anyway and the process would further divide the country. He also referenced the previous year's racially charged police brutality protests, some of which turned violent.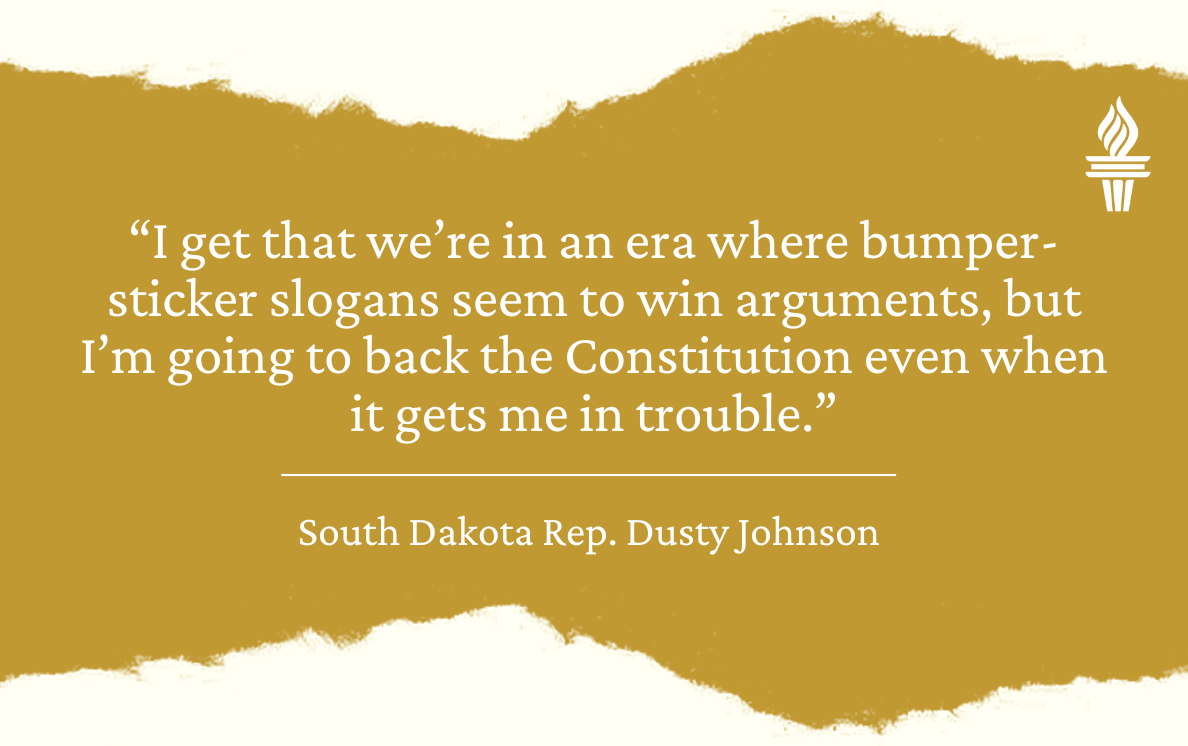 "Those who turned to violence (at the Capitol) must be held accountable for their actions, although political leaders deserve some blame as well," Johnson's statement read. "That was true as violence rocked our cities last summer, and it is just as true now. But a snap impeachment is the wrong approach. There is only one week remaining in the President's term. It is an act sure to divide our country, and Democratic leaders are making a mistake pursuing it."
'Lots of knuckleheads in both parties'
Only 10 House GOP members voted for impeachment, and Trump was later acquitted in the Senate, though seven Republicans voted guilty. Thune and Rounds were not among them.
"Dusty's stance was sort of like, well, he's going to be leaving office, which isn't the same thing as he did nothing wrong or this is not an impeachable offense," said Schaff. "It was a procedural argument, not a substantive argument against impeachment."
Johnson's desire to move on was understandable.
He saw efforts to interrupt the peaceful transfer of power and violence on city streets as signs of an eroding civic landscape. From his view, though, there was little evidence of amelioration after Biden took over.
"I think the conflict of the 2020 election could have been an opportunity for some soul-searching for America," Johnson told News Watch. "It was a chance for us to figure out how to come together, how to focus on an agenda that was more centered around shared American values. That clearly hasn't happened. I mean, I've got a number of disappointments about President Biden, but one of the biggest is that he has not tried to govern as a uniter. I don't think even his staunchest defenders could claim that the Inflation Reduction Act and the American Rescue Plan were attempts to find common ground. They were thoroughly partisan exercises. Of course, I don't want to lay all the blame for continuing partisanship at the feet of the president. There are lots of knuckleheads in both parties, and I'm frustrated with all of them."
Primary challenge from Taffy Howard gains support
Johnson's criticism of Biden was not enough to quell concerns in South Dakota, where reactionary Republicans trumpeting themes of election fraud gained influence.
The upsurge was evident at the party's 2022 state convention in Watertown.
Monae Johnson, who publicly refused to acknowledge Biden's victory, was tabbed for secretary of state in a landslide over incumbent Steve Barnett, telling delegates that election integrity "is all on our hearts and minds."
Howard, the state legislator, tried to seize the moment with her 2022 primary challenge. She noted that Dusty Johnson was among 35 House Republicans who voted in favor of an independent commission to investigate the Jan. 6 riot. He also opposed stripping Wyoming Rep. Liz Cheney, one of Trump's most arduous GOP critics, of her House leadership position.
Dusty Johnson focused on rural economic issues and blasted Biden's social spending. But vulnerabilities were exposed in a race pitting a well-known incumbent against "the least effective legislator in modern South Dakota history," as Johnson characterized Howard.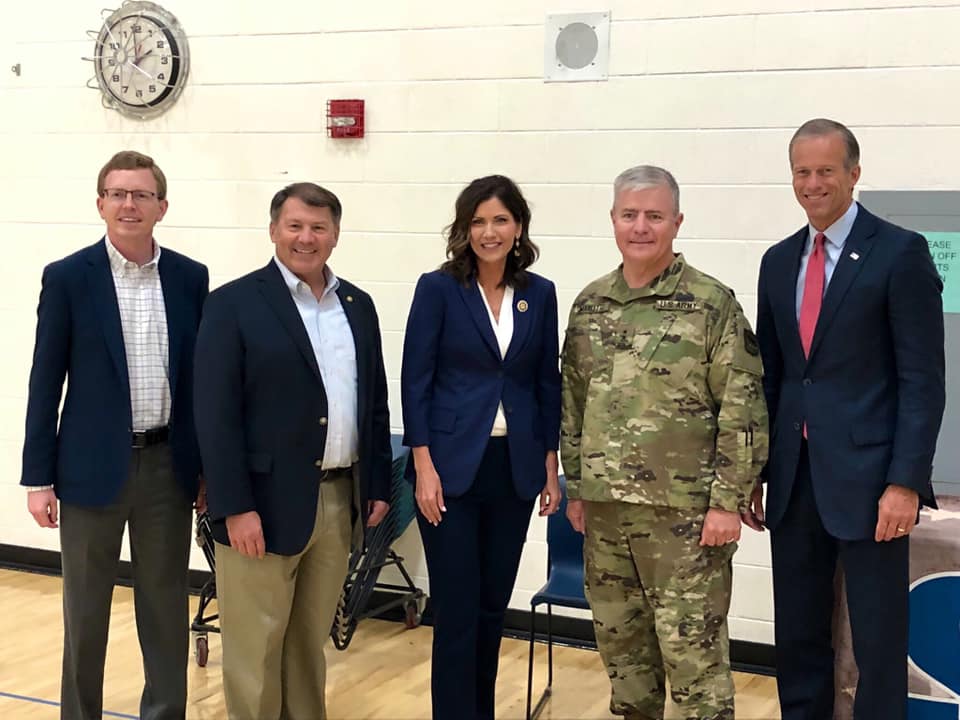 Two years earlier, his 2020 primary opponent, Elizabeth May, received 23% of the vote. Howard nearly doubled that with 41%, riding a late surge that Dusty Johnson attributed to more than $550,000 in out-of-state money from far-right PACs such as Drain the DC Swamp. The congressman's campaign was boosted by about $365,000 from establishment PACs such as Defending Main Street, according to Roll Call.
"I'm never going to be scared of a primary," Johnson said. "I mean, everybody gets a primary in this modern Republican party. Kristi Noem had a primary, John Thune had a primary. Anybody who thinks that by acting in a certain way they can gain a free pass doesn't understand modern politics. At some point, you just go do the right thing and figure out what that means politically later."
Frustration over partisan roadblocks in DC
The midterm elections gave Republicans a slim majority in the House starting in 2023, but party discord made governing a chore.
Johnson emerged as a key ally in Kevin McCarthy's bid to become speaker, which involved making concessions to erode objections from Freedom Caucus members. The South Dakota congressman also worked across the aisle to help secure a bipartisan debt ceiling agreement in May, increasing his public profile on the Hill.
"Dusty has an ability to work with people on the other side and be like, 'OK, what do you want? Where are we at? We've got to find a path forward.'" said Armstrong.
"But he's also good at calming down rank-and-file (Republican) members, making sure nobody goes completely off the rails. There were about five members that got called back to Washington over Memorial Day to deal with the debt limit, and Dusty was one of them. Some of that was because people trust his political instincts, and some of it had to do with the fact that he understands (federal food assistance) policy really well, and that was part of the agreement."
One of Johnson's Agriculture Committee priorities was passing his Cattle Contract Library Act, a program to assist livestock producers negotiate prices with slaughterhouses. The bill was introduced in 2021 and didn't reach the House floor until 2023, when Republicans regained control of the House, passing the measure by a vote of 411 to 13.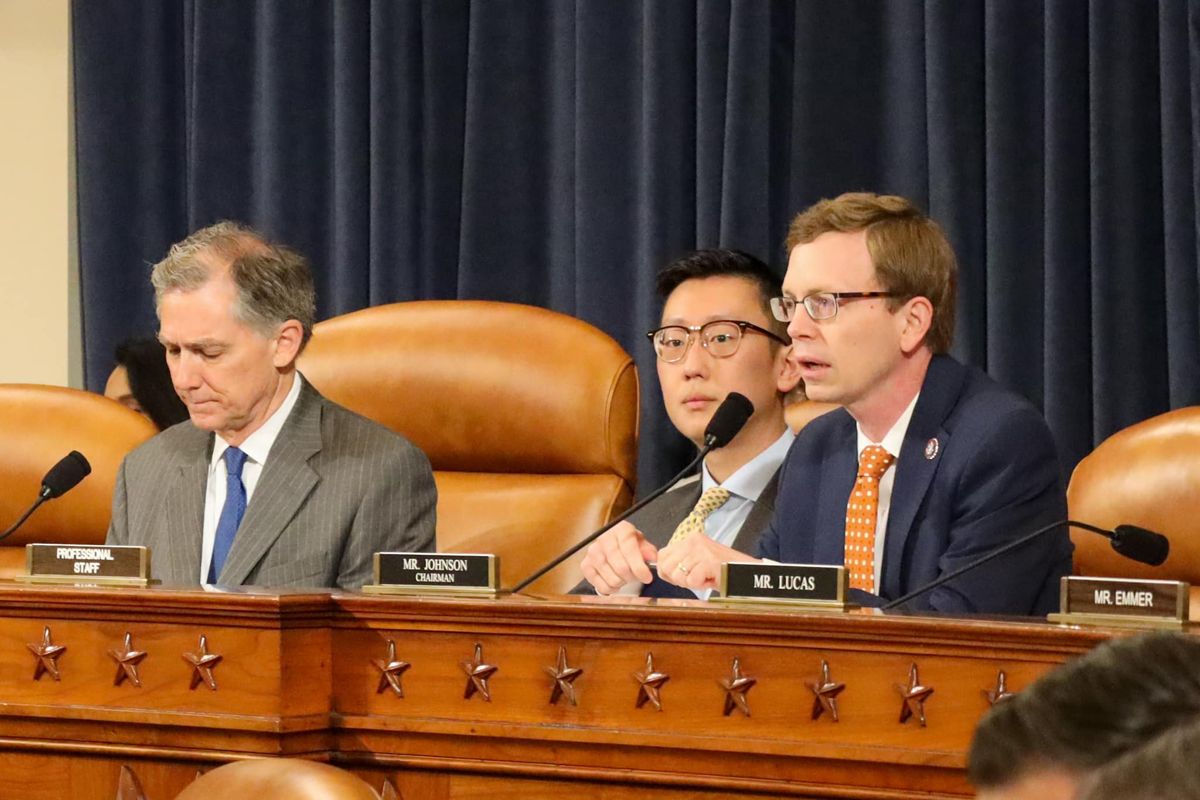 The legislation still hasn't been taken up by the Democratic-controlled Senate, but the Department of Agriculture launched the library as a pilot program.
"Being a member of Congress in the minority, if you'll forgive my French, that just has to suck," said Card. "Everything's in the power of the speaker of the opposite party. Even now, with Dusty in the party with a slim majority, he's limited in what he can do and propose. There aren't many big changes or major bills in Congress other than ideological ones, and Dusty seems much more interested in nuts-and-bolts issues, like what's the problem and how can we solve it?"
'Dusty's not a guy who's a Washington animal'
These concerns steered Johnson and Armstrong to the Republican Main Street Caucus, one of five ideological House factions referred to in "The Godfather"-like parlance as the "five families." The House Freedom Caucus is the smallest and yet the most well-known of these groups, manning the far-right flank.
Johnson serves as chair of the 75-member Main Street Caucus, touting a pragmatic approach to coalition-building and fiscal policy rather than its previous identity as "moderate," a loaded word in certain circles these days.
His attention to policy has survived political drama. Armstrong recalls attending a speaking event with Johnson involving rural electric co-ops during their first year in office, when much of the media focus was on Robert Mueller's special counsel investigation of Trump.
"Dusty got up and said, 'Everything you guys read is Mueller and impeachment and all of that,'" Armstrong recalled.
"'But I just want you all to know that there are a lot of members on both sides of the aisle who are working hard to effectuate policy that affects everybody in this room in a thoughtful and meaningful way.' And he gets done and they give him a standing ovation. These are people from rural electric co-ops who are interested in making sure they can provide services to their community, and they found it hopeful to hear that."
Moments such as those are fleeting amid Republican infighting and partisan feuds, with the government shutdown just the latest example. According to a recent Fox News poll, overall approval of congressional job performance stands at 19%.
It could be enough to make the familiar confines of Pierre and the machinations of state government look appealing by contrast as the 2026 gubernatorial election draws nearer.
"Dusty's not a guy who's a Washington animal," said Schaff. "That doesn't mean he's not a serious legislator. In fact, I think he's more serious than probably 90% of Congress. But you also get a sense that he doesn't love it the way some people do, and he might be looking for a way out."
Noem remains wild card as 2026 comes into focus
On a late August afternoon in Sioux Falls, Johnson took the stage at the Midwest Agricultural Export Summit to discuss Farm Bill negotiations and trade priorities. Thune sat next to him, his graying senatorial presence providing contrast to the congressman's boyish appearance.
When the moderator mentioned that Johnson kept South Dakota punching above its weight, Dusty responded, "I want to thank you for not mentioning what weight class I'm in," drawing a chuckle in the room before launching into a dissertation on China's trade practices.
An hour later he was in Harrisburg for a tour of Showplace Cabinetry, an employee-owned manufacturing company that recently completed a $2.5 million plant expansion, partly due to stiffer tariffs that boost American-made products.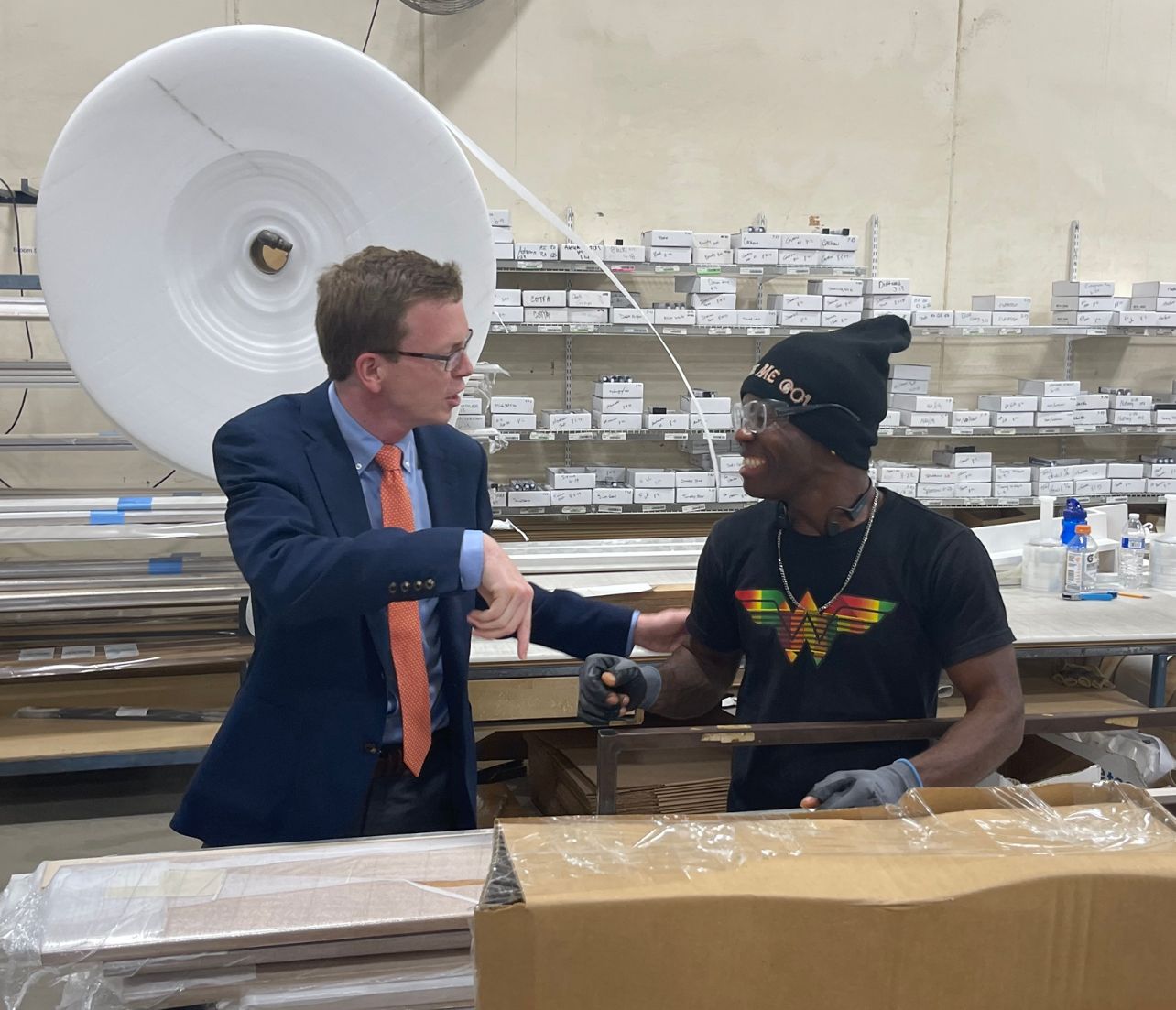 Johnson spoke with workers while strolling through the sprawling facility, telling one manager that the "No. 1 ability is availability," an aphorism he said came from NFL coach Bill Belichick.
The agricultural summit and factory tour fit Dusty's home-state duties as a U.S. congressman, especially one who shapes policy as a member of the House Agriculture Committee.
But it didn't take much to envision him in "Full Dusty" mode, blanketing the state to connect with business owners and everyday South Dakotans, asking to be their next governor.
An out-of-state PAC called FairShake is running TV commercials in South Dakota distancing Johnson from the discord in Washington, proclaiming that "there are some folks in Washington you can't rely on – South Dakota can count on Dusty Johnson." The congressman said he is unaware of who is funding the ads or why they're running in a non-election year.
The parade of GOP primary opponents for 2026 could get crowded, with Lt. Gov. Larry Rhoden and Attorney General Marty Jackley the names most mentioned, along with Johnson. There will almost certainly be action from the party's populist brigade, especially after Howard's tally in the U.S. House primary.
One name being floated is Rep. Jon Hansen, a Dell Rapids lawyer who has gained influence as a leader of anti-abortion efforts and successfully exerted political pressure against the certification of carbon capture pipelines. If Hansen opts to run for attorney general instead, Howard could take another run at Johnson in the gubernatorial race.
"The reason the Taffy Howard thing matters is that it shows that roughly 40% of Republican voters in South Dakota aren't really happy with Dusty," said Schaff. "Can he win any of those people over? Would Johnson, Jackley and Rhoden be competing for the 60% and there's someone else over there getting that 40%? What happens to those votes?"
Noem remains a wild card, especially if her attempts to join the Trump presidential ticket or Cabinet are unsuccessful. She could decide to run for Senate in 2026, putting Rounds in position to stay and fight for his job or join the race for governor. Most political observers interviewed by News Watch said it's more likely that Rounds defends his Senate seat in that scenario.
None of South Dakota's three congressional delegates have a close relationship with Noem, but Johnson is at least on speaking terms with her. He notes that they campaigned together in the late stages of the 2022 primary race, where she fended off a challenge from former House Speaker Steve Haugaard.
But Dusty also has drawn distinctions, allowing voters to envision what the governor's office might look like after Noem moves on. He has mainly steered clear of cultural issues that dominate conservative media, knowingly opting for nuance. He volunteered at a COVID-19 vaccine clinic in 2021 but opposed federal mandates. He voted against the Democrat-led Respect for Marriage Act last year but made it clear that "gay marriage and access to contraception aren't going anywhere."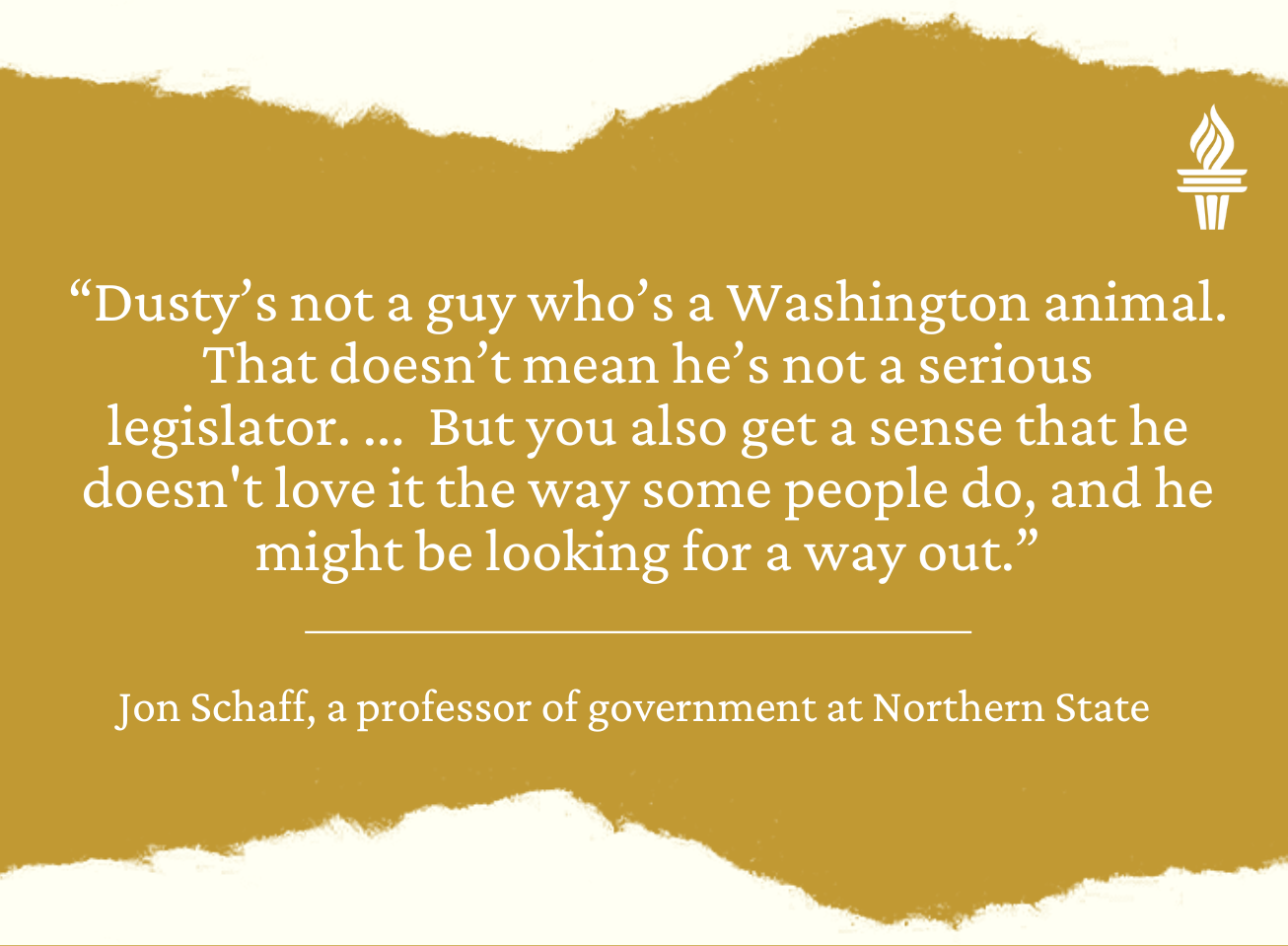 On abortion, Johnson has been consistently "pro-life" without expressly supporting outright bans such as the one in South Dakota, which does not include exceptions for rape or incest. On a federal level, he co-sponsored a 2022 bill that sought to "protect unborn children from abortion by 15 weeks' gestation, with exceptions in cases of rape or incest, or to save the life of the mother."
In a nod to South Dakota's Native American population, Johnson recently introduced the Wounded Knee Massacre Memorial and Sacred Site Act, working in coordination with the Oglala Sioux and Cheyenne River Sioux tribes. The act preserves a section of South Dakota land where hundreds of Lakota Indians were massacred by the U.S. Army in 1890.
"What happened at Wounded Knee is a stain on our nation's past that cannot be washed away," said Johnson, emphasizing the importance of historical accuracy at a time when South Dakota educators have been instructed to steer away from "inherently divisive concepts."
More distinctions are sure to follow.
The next few years will help forge the identity and influence of South Dakota Republicans, an electoral deep dive into what the party stands for. Johnson will have to show he's up to that fight, that he's ready to get angry. It remains to be seen whether normal campaign bells and whistles will be enough.
Those who know him well, though, insist it's more about staying the course than fanning flames. If the self-propelled certainties of a political career have pointed to this moment, why not let history be the guide?
"I think 'Dusty being Dusty' is all you're ever going to see," said Mortenson. "You're not going to see him decide that he wants to start doing professional wrestling politics because he isn't a professional wrestler, and everybody knows it. I think he can rightly talk about having respect for the process and the people he's supposed to represent. You're not going to see him take a swerve into the gutter. He was built for the high road, and that's where he'll be traveling."