Business and Development
Sharp drop in building permits points to stagnation in South Dakota housing market
South Dakota's housing market is showing signs of stagnation, with a sharp dip in building permits revealing a reluctance of potential buyers to construct new homes.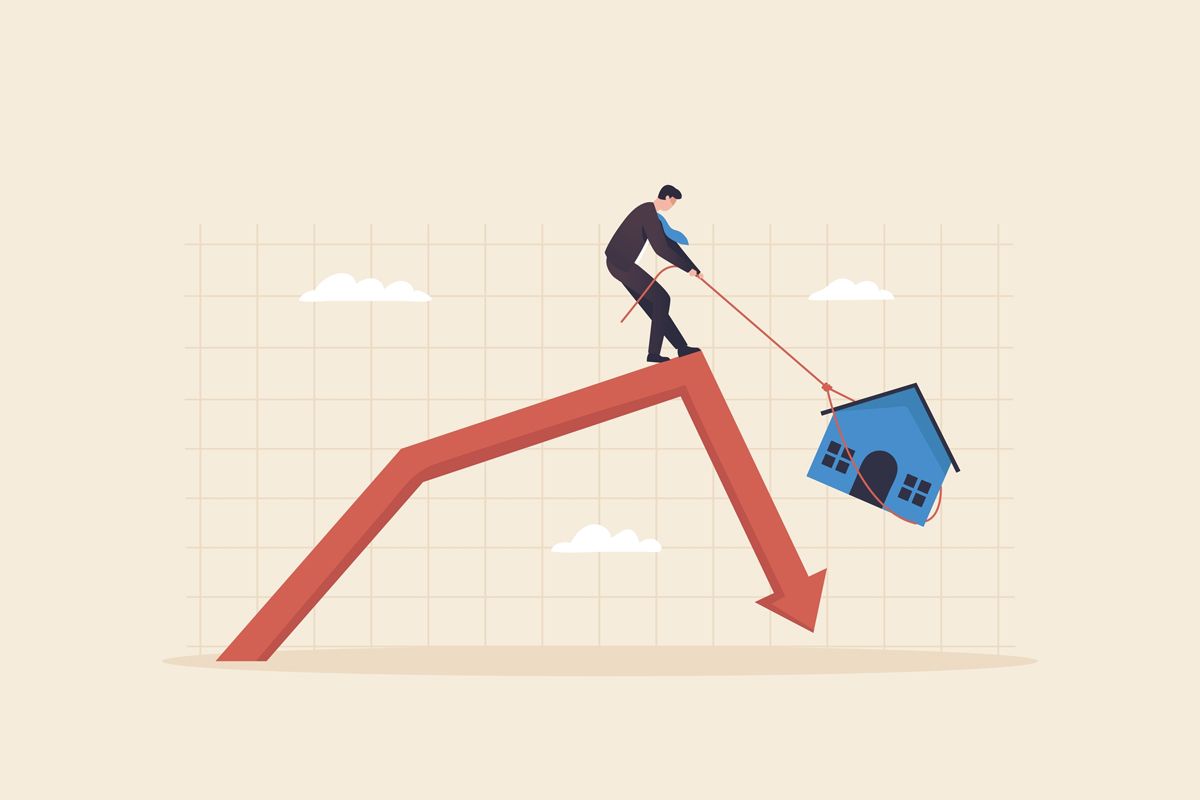 South Dakota's housing market is showing signs of stagnation, with a sharp dip in building permits revealing a reluctance of potential buyers to construct new homes.
Building permits issued in South Dakota in the second quarter of 2023 were down 37% from the previous year, said Aaron Scholl, assistant professor of economics at Northern State University in Aberdeen. That's more than twice the amount of downturn reported nationally (15.1%) and reflects a sharp turn from South Dakota's building boom of 2020-2022.
The trend will likely filter down to demand for existing properties, as high interest rates make homeowners think twice about selling and having to enter the market themselves, said Scholl, who described the scenario as a "wedge between aspiring homeowners and homeowners who locked in historically low rates."
The average 30-year fixed-rate mortgage is 7.31% – the highest since 2000 – as the Federal Reserve uses rate hikes to try to control inflation. The mortgage rate was under 3% for much of 2020 and 2021 as the economy stalled during the COVID-19 pandemic.
"It's making people think twice as to whether they want to go back into the market and deal with those higher rates," said Scholl, who published a recent study for the Dakota Institute, an economic research and analysis organization in Sioux Falls.
"If you give up being a homeowner, you still have to find somewhere else to live, and rental prices are being driven up as well. It's a balancing act deciding whether to dip your foot in the seller's market when some of those seller advantages are dwindling."

For Paul Stenholtz, who put his central Sioux Falls house on the market in September, the timing seemed right. He's partially retired and his wife died in 2017, so he wants to live somewhere warmer to be near his goddaughter and her family.
At 69 years old, it became tougher to maintain the 2,000-square-foot house, and Stenholtz hopes to find a buyer. He also plans to keep an apartment in Sioux Falls.
"There are still circumstances that are causing people to move," said Brandon Martens, a Sioux Falls real estate agent and former president of the South Dakota Realtors Association. "They're just paying more attention to what those circumstances are and making them more thought out."
Hot Sioux Falls market cooling
In Sioux Falls, there were 6,042 building permits issued from January through September 2023, down one-third from the same period in 2022 (9,075). The total value of permits issued dropped from $1.72 billion during the 2022 period to $880 million in 2023.
Listing prices for houses continue to rise in South Dakota, against the national trend. But there are signs of a slowdown, with prices forecasted to rise only 2.2% in the fourth quarter of 2023 after increases of 17.5% in 2022 and 10.6% in the first quarter of 2023.
Martens said the numbers show the housing market leveling off after the "anomaly" period of 2020-22, when post-pandemic stimulus money kickstarted the economy.
In some cases, he said, year-over-year declines are misleading because the market is reverting to a place volume-wise "where we should have been in the first place."
"But there are definitely people in the Realtor world that are struggling right now," Martens added. "They're trying to find out where that next buyer or seller is coming from just because the market has shifted so much in the last couple of years."
Home prices remain high: 'New normal out there'
Scholl's study in Dakota Outlook, a quarterly publication of the Dakota Institute, noted how South Dakota's still-high listing prices despite deceleration in new construction "underscores the unique nature of South Dakota's housing landscape."
Median list prices spiked 17.5% from 2021 to 2022 in the state, compared with 5.2% nationally. But the arc has leveled off somewhat, with year-over-year growth of 10.6% in the first quarter of 2023 and 7.3% in the second quarter, with a fourth-quarter projection of 2.2%.
Jared McEntaffer, CEO of the Dakota Institute, noted that South Dakota tends to lag behind national housing cycles. The state's median list prices were below the national norm from 2018-2020 and then saw prices skyrocket last year. But it appears the downturn has arrived.
Nationally, list prices declined 3.1% year-to-year in the second quarter of 2023.
"When I sort of gaze into my crystal ball and try to see where the housing sector is going to be for the next year or two, it's not great," said McEntaffer, a former economics professor at Penn State University.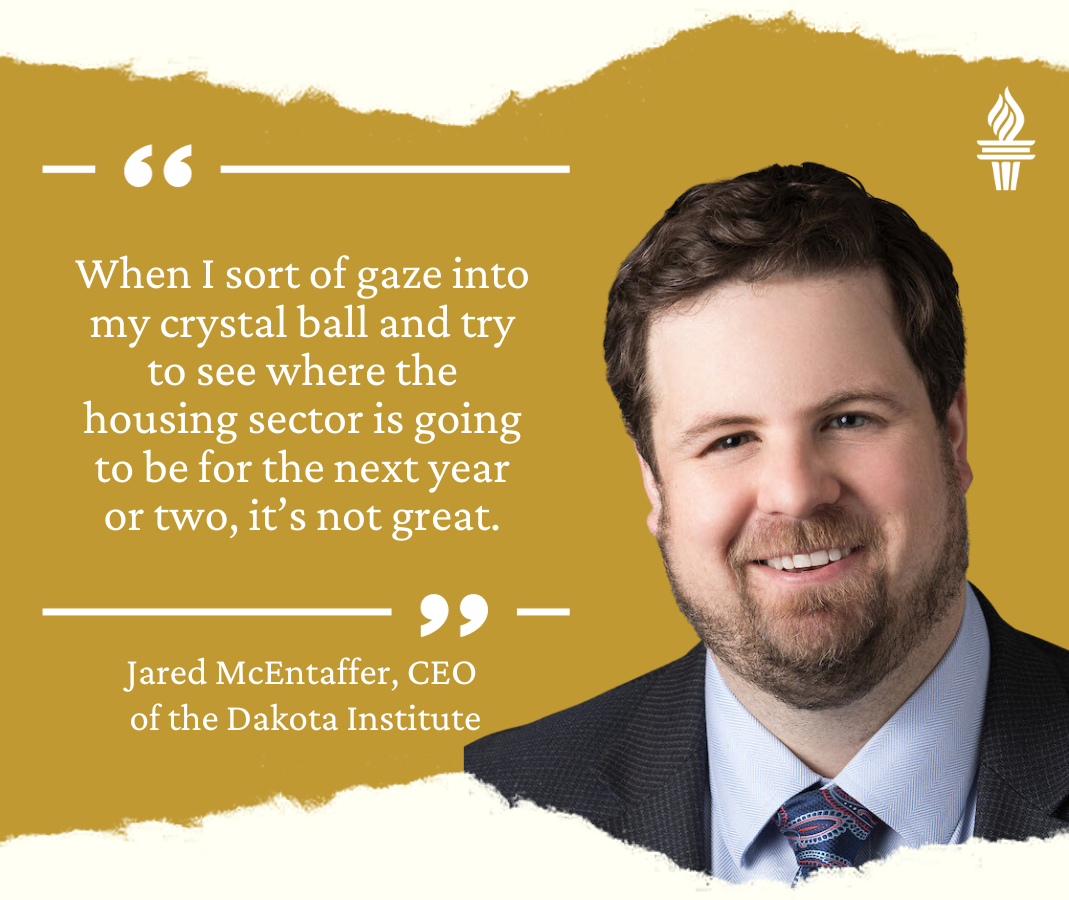 "We had so much rapid price growth that it's going to be hard for that to unwind very quickly. Expectations are very anchored at higher price levels, and people that are in their homes are not going to want to lower the prices. There's a new normal out there."
Access to housing an ongoing, major concern
The lack of housing affordability, keeping marginal homebuyers from the market, is potentially troubling for a state with a rising population.
South Dakota ranked fifth in percentage of population growth (1.5%) among U.S. states between July 1, 2021, and July 1, 2022, according to the U.S. Census Bureau, nearly four times higher than the national growth rate of 0.4%.
That trend could put the state's total population above 1 million residents as early as 2030.
"Access to affordable housing is part of this," said Scholl. "If we see these listing prices and the housing market sustained and building permits falling, that translates into the rental market, which affects government budgets and the resources that are devoted to help individuals that have a tough living situation."
First-time home buyers, meanwhile, are facing the realization that they might not be able to afford the dream house they envisioned, at least not the first time around.
"There are some who are saying, 'OK, so this is just going to be our first house, not our forever house,'" said Martens. "Maybe they stay for three to five years, which used to be the average. They look at it as a stepping stone, not a forever standing stone."