Politics and Government
'Freedom Works Here' has spent millions to promote SD jobs. Now businesses are being asked to pitch in.
Noem's administration is seeking the help of economic development groups and top businesses to pay for national ads touting her "Freedom Works Here" campaign. But some of these groups are still waiting for the names of thousands of prospective employees.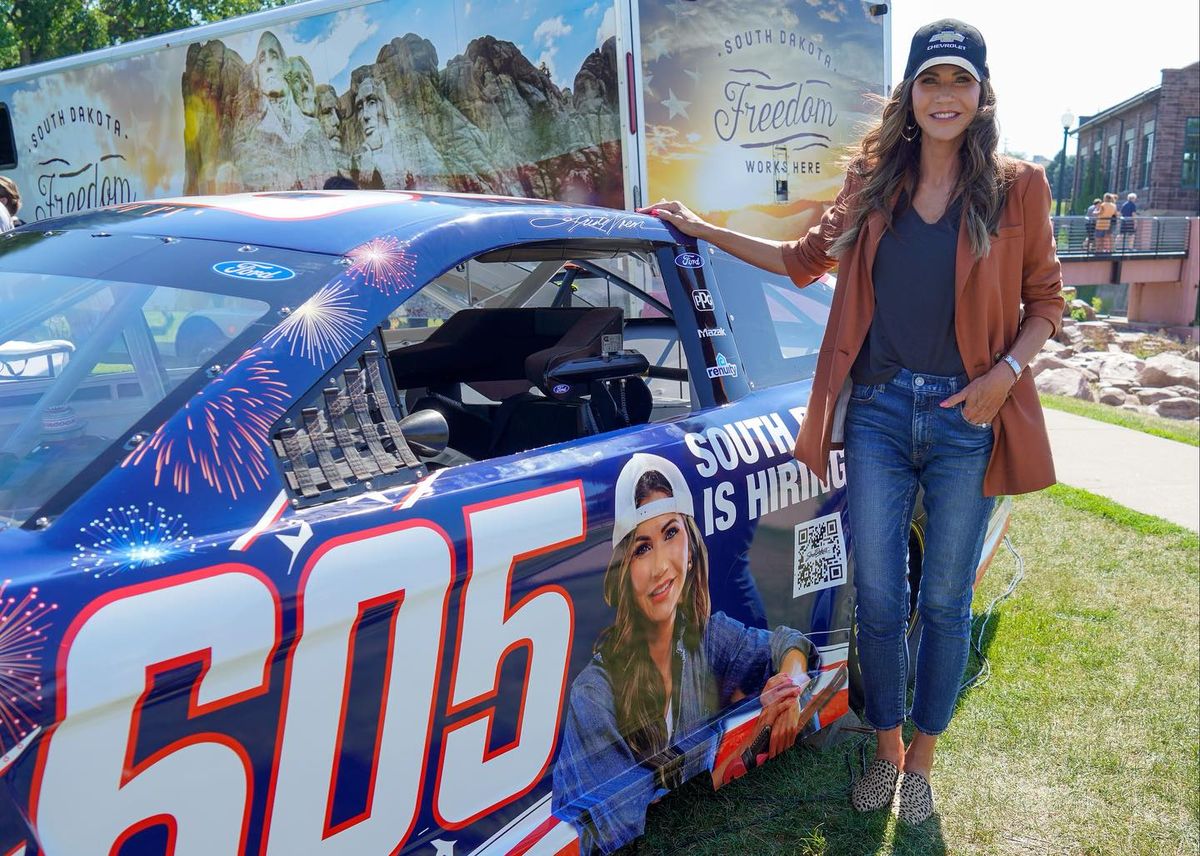 Gov. Kristi Noem's administration reached out to economic development groups and major employers across South Dakota last month, asking them to help extend a run of national TV commercials touting her "Freedom Works Here" workforce recruitment campaign.
By contributing $10,000, they were told, they would receive perks such as callouts on the "Freedom Works Here" website and social media channels, detailed market research data and two invitations to the Governor's Pheasant Hunt.
The biggest incentive, though, was the promise of names and contact information for thousands of prospective employees that Noem and the Governor's Office of Economic Development (GOED) said have registered through the workforce campaign's website.
As of Sept. 14, the "Freedom Works Here" website claimed that 6,501 people have applied to move to South Dakota through the program and that 1,402 were in the final stages of moving to the state, which has an unemployment rate of 1.9% and about 20,000 open jobs.
Economic development groups from the state's two largest cities, Sioux Falls and Rapid City, pledged the $10,000, which will be matched by GOED. But they are still waiting to receive the names and contact information.
"We desperately want to know who these people are," said Tom Johnson, president and CEO of Elevate Rapid City. "If there are that many people who want to move to South Dakota, we're convinced that a good chunk of them would enjoy the quality of life in the Black Hills. We definitely have jobs to fill, so we want to access those names right now, like ASAP."
Gov. Noem commercials centerpiece of 'Freedom Works Here' campaign
Bob Mundt, president and CEO of the Sioux Falls Development Foundation, confirmed that his group is contributing $10,000 and that he expects to see the contact information soon.
"The indication was that these were names, email addresses and those types of things," he said. "Once we get that list, we'll have to cull that down a little and target who we want to reach."
The "Freedom Works Here" commercials are the centerpiece of a $6.5 million marketing effort putting the governor and state in the spotlight.
The TV spots show Noem playing roles such as plumber, electrician, welder and dentist to illustrate the need for more workers in South Dakota. GOED also teamed with Live Fast Motorsports to use the governor's likeness in sponsoring a NASCAR stock car.
The advertising push, which included a commercial during the Republican presidential debate Aug. 23 on Fox News, was originally scheduled to run through Labor Day. GOED used Future Fund dollars to enlist the marketing and distribution services of Ohio-based Strategic Media Services and Tennessee-based Designsensory Inc.
In mid-August, GOED commissioner Chris Schilken sent a proposal to development groups and major employers seeking donations to continue the nationwide ad placement through November for the "most effective workforce campaign we've ever conducted."
The goal, he said, was to raise $250,000 and match with another $250,000 from GOED. Schilken added that "we are prepared to raise significantly more than that and will match accordingly," according to the document, which was obtained by News Watch.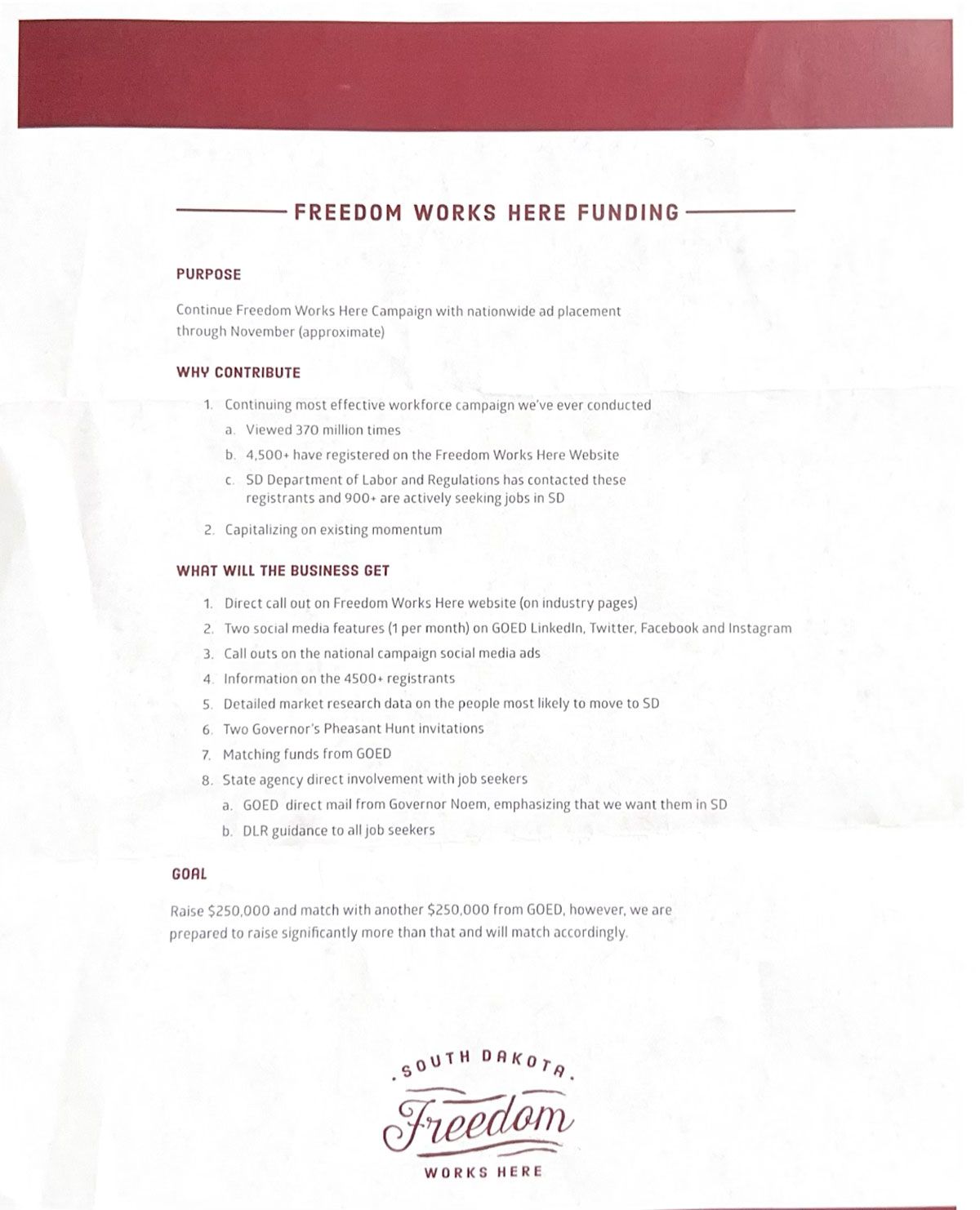 First Premier CEO: 'We've gone in a different direction'
Noem appointed Schilken to replace Steve Westra, who resigned as GOED commissioner in May. His appointment still needs to be confirmed by the South Dakota Senate during the 2024 legislative session. Schilken did not respond to multiple interview requests from News Watch.
Dana Dykhouse, CEO of Sioux Falls-based First Premier Bank, which serves as the bank for the state of South Dakota, said his company is unlikely to contribute to the "Freedom Works Here" campaign.
"It's kind of unprecedented for a governor to ask for money from businesses to run this type of campaign," said Dykhouse. "I've never heard of it before. If someone wants to do it, more power to them. We've kind of gone in a different direction in training our workforce."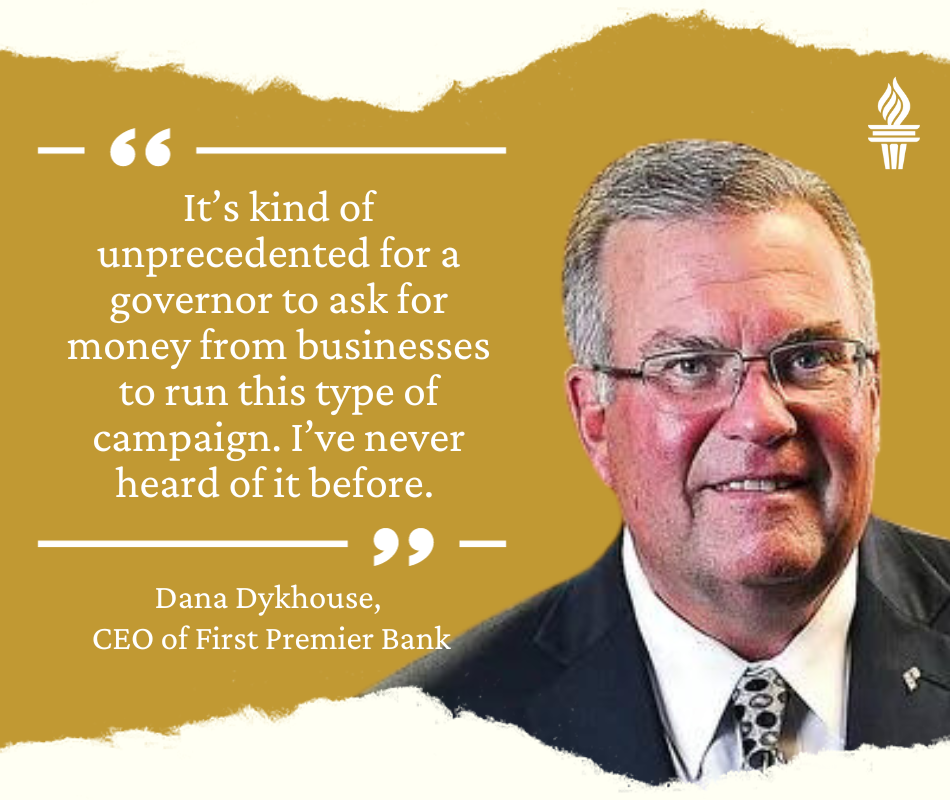 First Premier Bank has been a major investor in Freedom Scholarships and the Build Dakota Scholarship, both of which carry a three-year work requirement in South Dakota for college graduates who receive the grants. The state has also helped fund those scholarships.
Aberdeen meatpacking plant relies on own hiring strategies
In public statements this month, Noem credited the "Freedom Works Here" effort with helping to ease workforce shortages throughout the state, highlighting several South Dakota businesses that have been "able to thrive" because of the program.
But one company heralded as a success story by Noem's office said that recent out-of-state hires were largely the result of the company's own recruitment strategies, not the governor's campaign.

Demkota Ranch Beef, a meatpacking plant in Aberdeen with about 900 employees, was featured in a Sept. 1 press release from the governor's office as having "hired 82 workers from out of state in the last six weeks," followed by a list of states those employees came from.
Mark Stammer, Demkota's vice president of human resources, was asked by News Watch how many of those new hires came from people filling out applications and submitting contact information through the governor's recruitment program.
"None of them did," he said.
Demkota CEO Adam Bode, who is quoted in a Sept. 8 column by Noem talking about his company's hiring practices, told News Watch via email that "we have not participated in the governor's program."
Stammer said he was contacted by representatives from Noem's office and the GOED in late August, and they asked him to send information about his company's influx of new employees.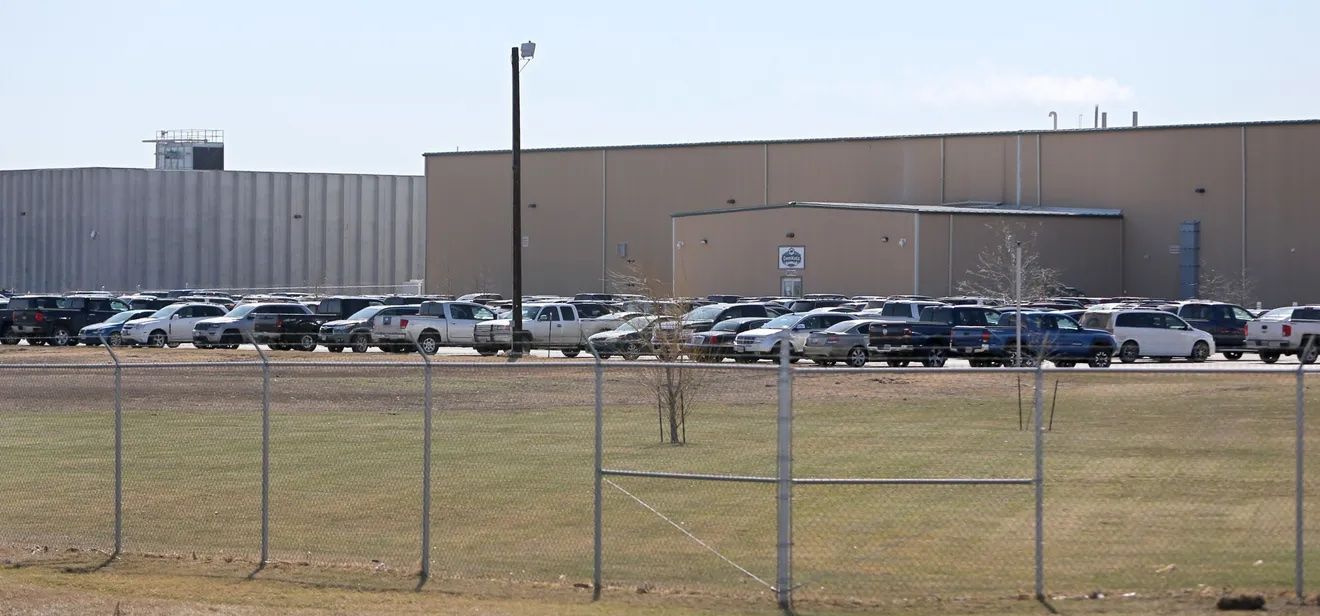 He told them that Demkota had hired 82 workers from out of state in the previous six weeks and listed some of the states they came from, as well as a quote from Bode. That information ended up in the press release and column from Noem's office touting businesses that are "loving the results" of the workforce recruitment effort.
Stammer said that it's possible some of the new employees saw Noem's commercials, but the hires didn't come from online applications tied to the campaign. They came from intensive recruitment efforts in major U.S. cities and "word of mouth" among immigrant/refugee workers.
The company sends representatives to recruit and hand out fliers at sites such as grocery stores and Laundromats, with an occasional hiring event if a region shows promise.
"We have a lot of (workforce) needs, so we get out on the road and work to find these people," said Stammer, a retired major general in the U.S. Army. "Nobody really wants to move to South Dakota. But there are attractive things such as no state income tax and being a healthy state, and I think the governor is highlighting those things very well."
Key to success is getting past 'fluff and stuff' to hard data
Although Noem's campaign stresses recruiting workers from across the U.S., Stammer said that Demkota has drawn much of its workforce from Mexico and Central America as well as Somali and Karen refugee communities.
"I don't know that we're in a position to delegate our recruiting responsibilities to the governor's office," said Stammer. "We have a lot of personnel needs and we're going to get after them ourselves. If there are other entities that want to join forces, that's great."
Chris Clifton, named executive director of Watertown Development Company in June, said his organization was contacted by GOED and plans to participate in the program. But not for the $10,000 that larger organizations were asked to contribute.
"We agreed that we would participate on a per capita basis, but we never got an exact number or anything like that," he said. "The question is whether it's an investment that Watertown can see some results with, and I think the answer is yes."
Clifton, who has been involved in economic development campaigns at previous jobs in Georgia, Tennessee and Arkansas, said the key to success will be translating hopeful messages into tangible data and opportunities. He has not yet seen names of prospective employees or other hard data from the "Freedom Works Here" campaign.
"The disconnect in my view when it comes to economic development is that after you get past the fluff and stuff, how do you measure results?" he said. "You need to not only measure (social media) impressions but also measure contacts. If some of those contacts result in a move to South Dakota and new employment, that's even better."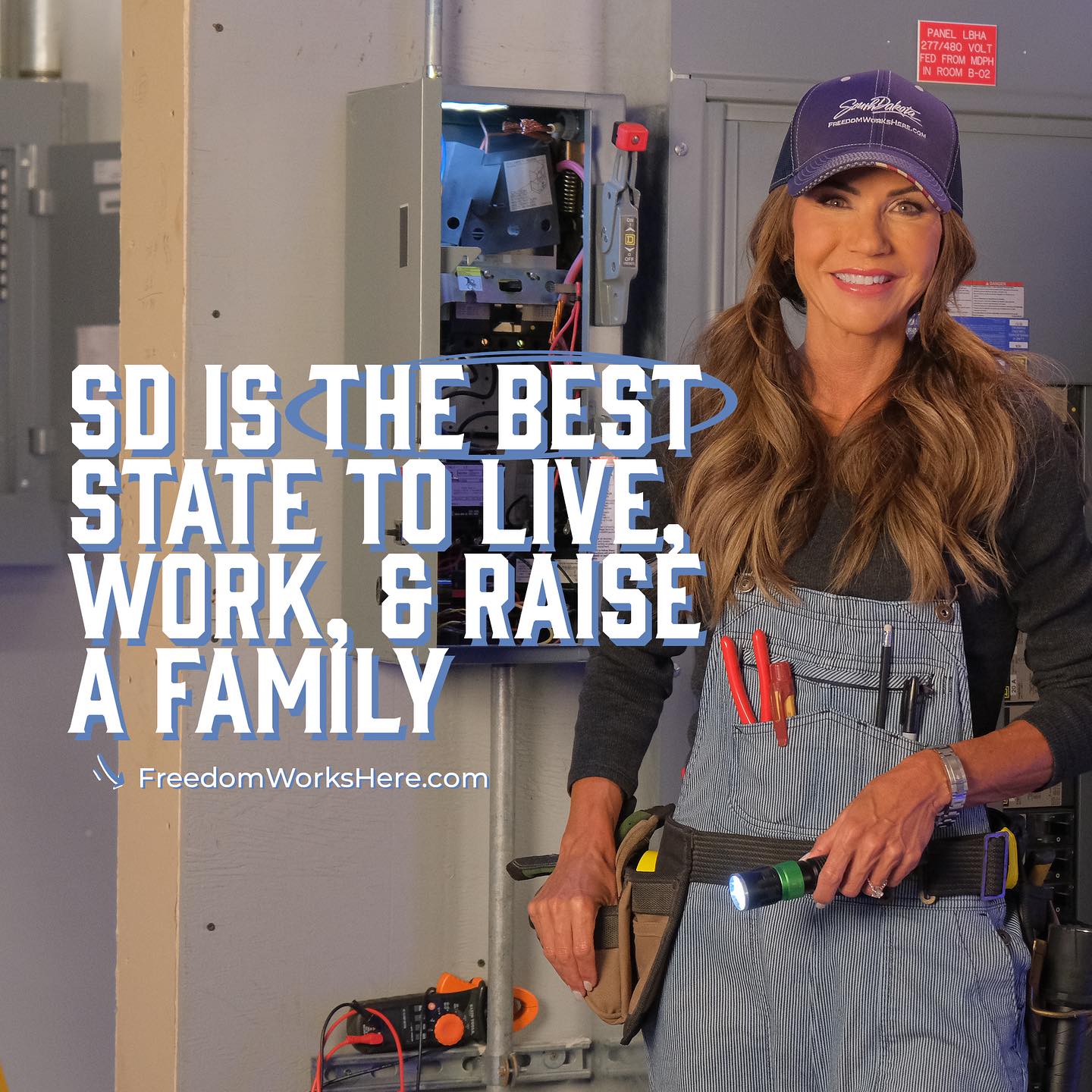 Future Fund dollars previously used for marketing efforts
Most of the resources for the "Freedom Works Here" campaign have come from the Future Fund, created by the late Gov. George Mickelson in 1987 and paid into with unemployment taxes from businesses. The fund provides grant money to support economic development and research, with funds made available at the governor's discretion through the GOED office.
It's not unprecedented to use Future Fund money for a national advertising campaign.
Under Gov. Dennis Daugaard, South Dakota launched a workforce recruitment effort in 2015 that referenced the colonization of Mars and asked, "Why die on Mars when you can live in South Dakota?" The state spent about $3 million over three years in Future Fund dollars on that campaign.
The "Freedom Works Here" campaign has more than doubled that price tag, with five commercials connected to the campaign being viewed "almost 700 million times," according to the governor's office.
Now Noem's office is looking to extend the effort with more national ad placements, with economic development groups being asked to contribute.
It's not the first time her administration has reached out to communities for help with workforce recruitment.
GOED planned a $1 million marketing initiative in 2022, asking development groups to co-op in funding it. In addition to using digital and social media to market South Dakota, a workforce incentive program offered signing bonuses and relocation packages to prospective employees from out of state.
The workforce program "assisted in successfully recruiting and relocating 66 people to South Dakota from a total of 27 states and two foreign countries," according to a GOED report to the South Dakota Legislature.
The Sioux Falls Development Foundation was one of seven community groups that contributed to both the marketing and workforce incentive phases of that 2022 program. Mundt, the foundation's president, said contributing again to the "Freedom Works Here" ad campaign in 2023 could pay dividends if contact information for those seeking jobs is detailed and available.
"We're all looking for workers," he said. "And we're willing to try a lot of different things to try and get those workers."