Business and Development
As Sturgis Rally attendance slows, planners try to build for the future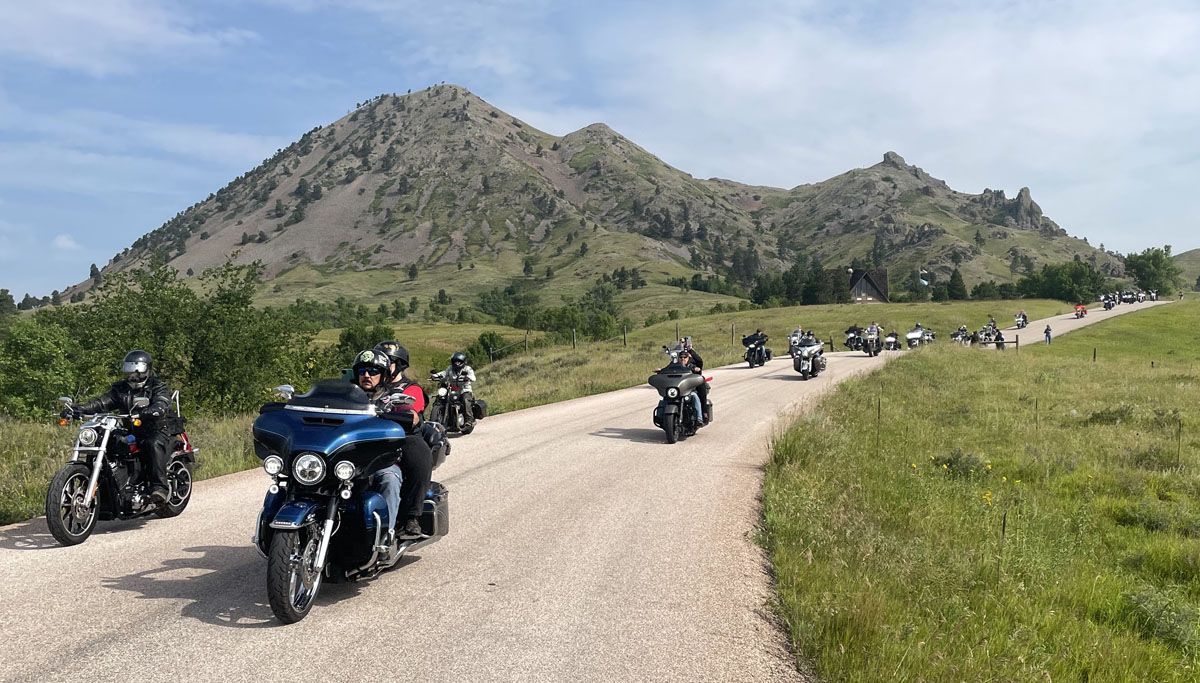 STURGIS, S.D. – Jayda Hammer is precisely the type of person that Sturgis Motorcycle Rally managers are targeting as they try to develop the next generation of rally attendees to keep the event rolling for another 50 years or more.
Hammer is a 19-year-old woman from Aberdeen whose extended family has a long history of riding motorcycles. She and her mother, Crystal Hammer, strolled around downtown Sturgis one day during this year's rally and Jayda even took a "really cool" cycle ride with her grandfather through the morass of motorcycles and leather-clad bikers on Main Street.
But even as Jayda marveled at the scenes playing out around her, it was clear that tourism officials and business leaders from the city and state who are working to preserve the rally have their work cut out for them.
When asked if she could see herself at the rally as an older adult, Jayda could only muster a meek "maybe?"
"I don't know," Jayda said. "I just don't like big crowds."
More from News Watch: Bee colony loss at 'unsustainable' rate, hurting ag industry and consumers
Rally organizers, who saw attendance fall dramatically and then taper off since the seminal 75th rally set a record of roughly 750,000 rally-goers in 2015, have been trying for several years to build interest in the event and the motorcycling lifestyle among a more diversified audience beyond the middle-aged white men who dominate the rally now.
Attendance at the annual August event, which generated an estimated $785 million last year in overall revenue for the city and state, has dropped by a third since the 75th and fell by more than 9% from 550,000 in 2021 to 505,000 in 2022, according to estimates.
More bad news arrived on Aug. 8 when the South Dakota Department of Transportation reported that traffic entering Sturgis during the first four days of the 2023 rally was down more than 16% compared with the 5-year average. DOT said that 194,851 vehicles were counted entering Sturgis at nine locations so far this year, compared with the five-year average of 232,353 vehicles.
Without question, the rally remains a major U.S. and even global tourism event and a draw for hundreds of thousands of visitors who this year once again fill streets, restaurants, campgrounds and hotels across the Black Hills region.
But with strategies ranging from subtle to overt, rally officials have sought to increase attendance, especially among new audiences.
They are trying to attract young adults, women, foreigners, ethnic and racial minorities and people who don't ride motorcycles. The goal is to build a future beyond the current aging attendees who someday will permanently park their Harleys.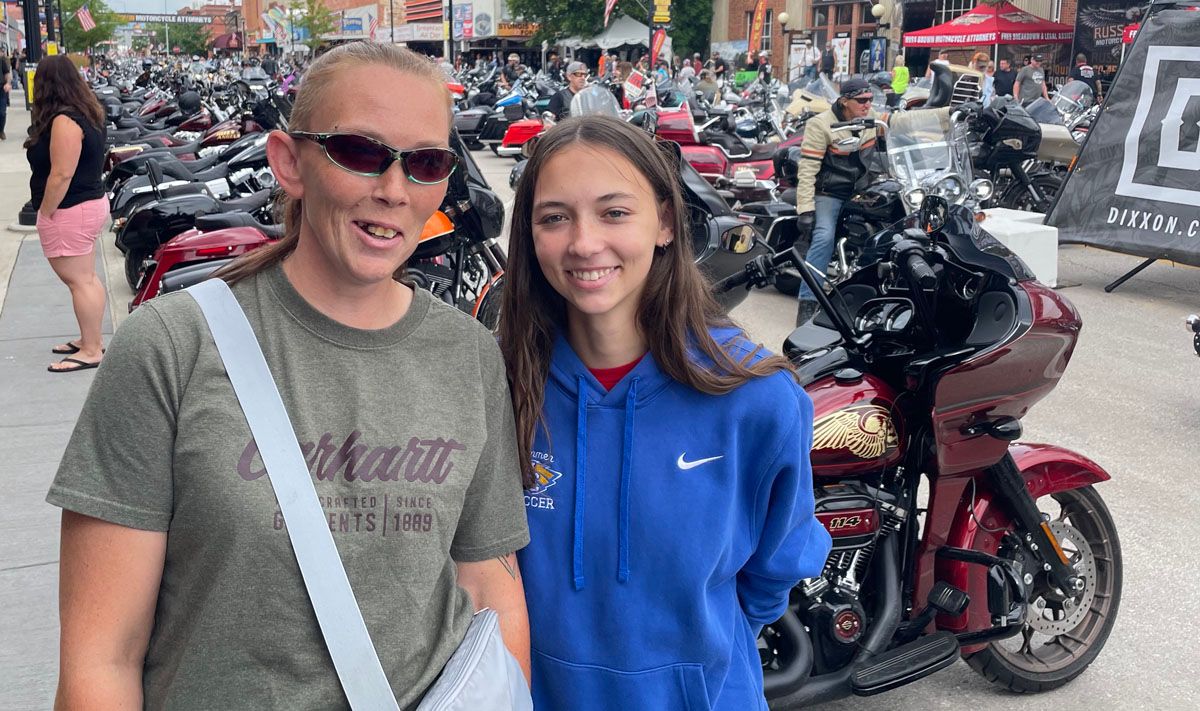 So far, there is no single path forward to preserve the long-term future of the 10-day annual rally, now in its 83rd rendition.
Organizers acknowledge it may be difficult to expand the audience and lure someone like Jayda. And yet, there is too much pride, history and money at stake to let the rally fade without a fight.
"I know that being downtown now there seems to be a large older demographic, which is a concern for the city and has been for the last several years," said Beka Zerbst, a Sturgis native who is now president of the Sturgis City Council. "But we take that 30,000-foot view about what the rally will look like in five, 10 or 20 years, and what we can do today to ensure its continuation and continued success."
Building generational interest in Sturgis Rally
The inkling of organizers that building a future for the rally requires generational familial or friendship connections is borne out in the attendance of Nathan Tower, 24, and his 29-year-old sister, Kaleigh Decknick of New Hampshire.
As they watched bikers pass by the Iron Horse Saloon, Tower said the two became acquainted with the rally because their father was stationed at nearby Ellsworth Air Force Base when they were children.
This is their first time arriving at Sturgis on motorcycles, and so far, they've enjoyed people-watching, attending cycle races and riding their bikes through the Black Hills as a family, Tower said.
A few years ago, they picked a spot on Needles Highway in the central Black Hills and spread their grandfather's ashes along the roadway that was his favorite place to ride.
"It's more of a sentimental thing this year between me and my old man," he said.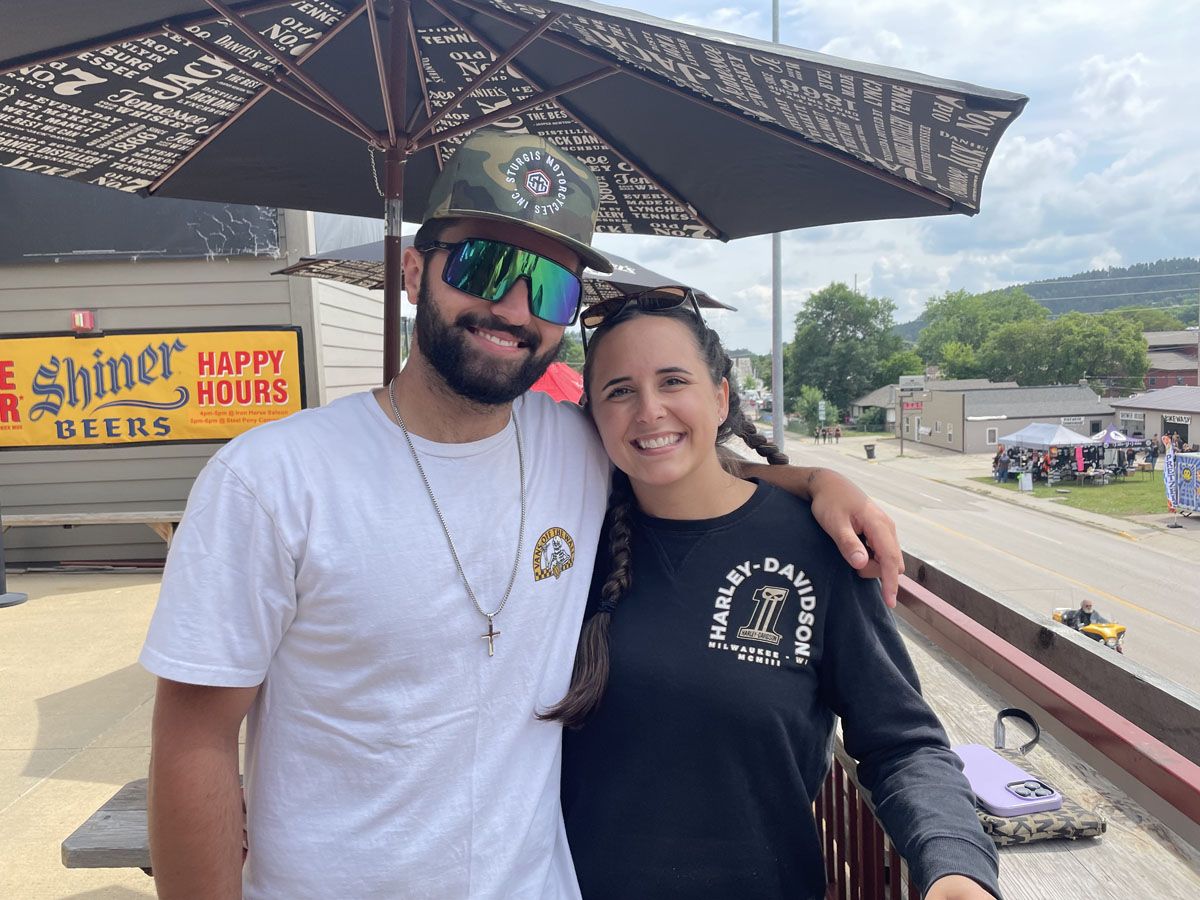 Tower said he has noticed more young people at the rally this year, yet he acknowledged that he and his sister clearly stand out from the crowd due to their youth.
"I do feel like it's more of a family event now. But let's be real, it will never be for kids," he said.
However, he expects the family to return to Sturgis for years and be the older bikers themselves one day.
"Just being on bikes non-stop, it's a different kind of experience," Tower said. "I love it, it's a lot to take in, but it's fricking cool and I wouldn't change a second of it."
Starting young on a two-wheeled lifestyle
Building a legacy of motorcycle interest among youths and young adults is key to bringing in new riders to Sturgis for the long term, rally organizers said.
To do that, the rally has welcomed Rapid City-based Strider Bikes to Sturgis to provide bicycle instruction for children and get them used to traveling safely on two wheels. The city has partnered with famed South Dakota motorcycle builder Laura Klock and Mitchell Technical Institute in a program where engineering students will build custom cycles for an auction. And for the first time, the Motorcycle Industry Council, a power sports trade association, set up a training site in a church parking lot on Lazalle Street in Sturgis to provide inexperienced riders with in-person training on how to gear up and ride a cycle safely in a half-hour class.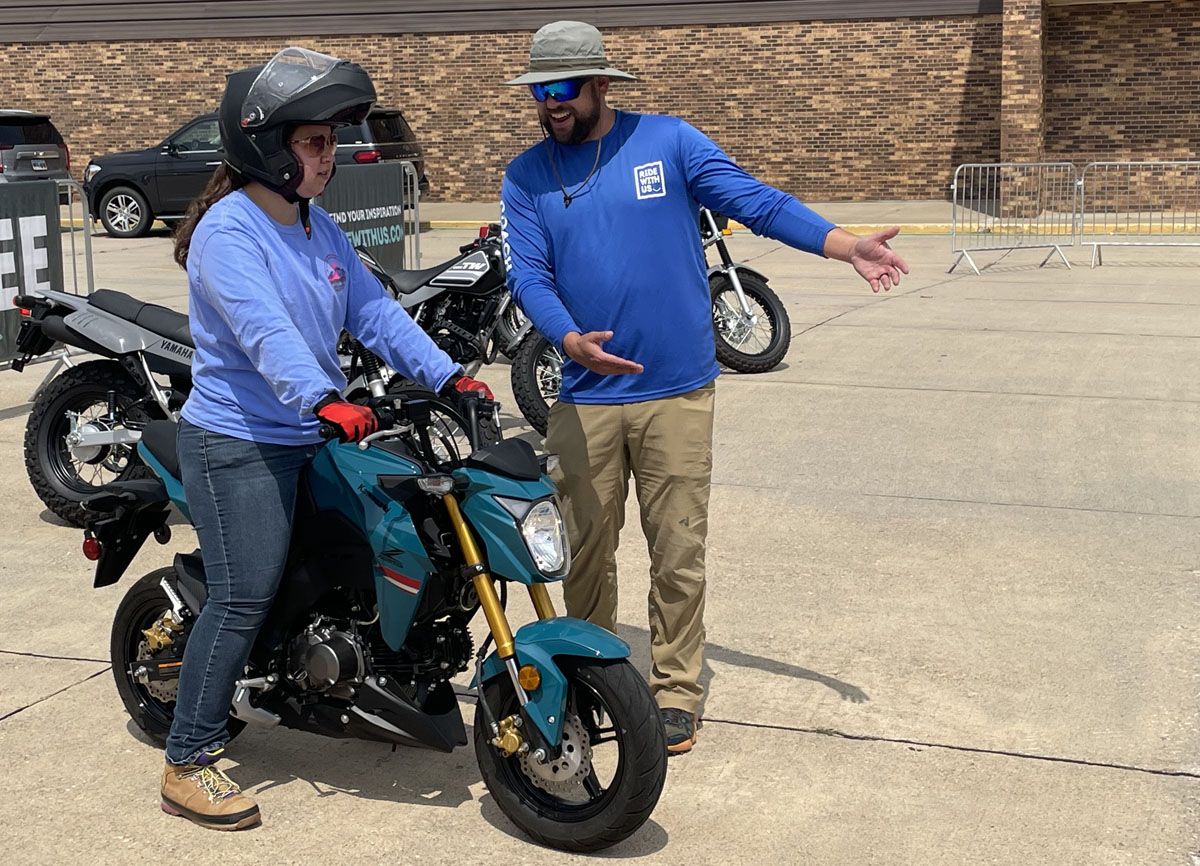 Cinnamon Kernes, an executive with the industry council, said the training center uses small cycles kept in first gear and a training expert from the Motorcycle Safety Foundation on hand to create a positive first experience on a motorcycle.
"We want to provide people that first taste of riding in a controlled, non-intimidating environment," Kernes said. "And they can make that decision, do they love it and it changed their life, or maybe it's not for them, and either way that's OK."
Previous and ongoing efforts to attract younger attendees is paying off, according to the city.
A 2022 rally survey showed the average age of attendees was 50.8 years old compared with 53.5 years old in 2017.
Those riders continue to pack significant purchasing power as well, according to the latest survey. About 40% of rally goers in 2022 had household incomes of more than $100,000 a year, according to the survey.

New marketing and expanded offerings
To improve its reach with younger riders, the city has engaged in more social media messaging and targeted marketing efforts.
Officials have also worked to expand the offerings of the rally, which began in the 1920s solely as a small racing event that has grown and adapted over time, said Deb Holland, spokeswoman for the city of Sturgis.
"We certainly have done research on who the demographic is, and we're turning more toward that younger crowd," said Holland, who has experienced the rally over a 40-year period as a resident of Sturgis and as a newspaper reporter.
Over the past few decades, the rally has evolved into a multi-faceted event with all-inclusive campgrounds and resorts, nightly live music and major concerts, organized cycle rides through the Black Hills and expanded food offerings that attract both bikers and non-bikers.
"It's more of a participatory event instead of just sitting back and looking at bikes and riders," Holland said. "It's crazy how it has morphed into a concert and foodie event. And I'm just dumbfounded how when I first came you could only get a corn dog and now there's an Asian soba noodle place."
The rally has also expanded geographically to create more places for bikers to visit, with events and gatherings in Lead-Deadwood, Hill City, Custer and at the Interstate 90 Exit 55 mini-rally at the Black Hills Harley-Davidson dealership in Rapid City.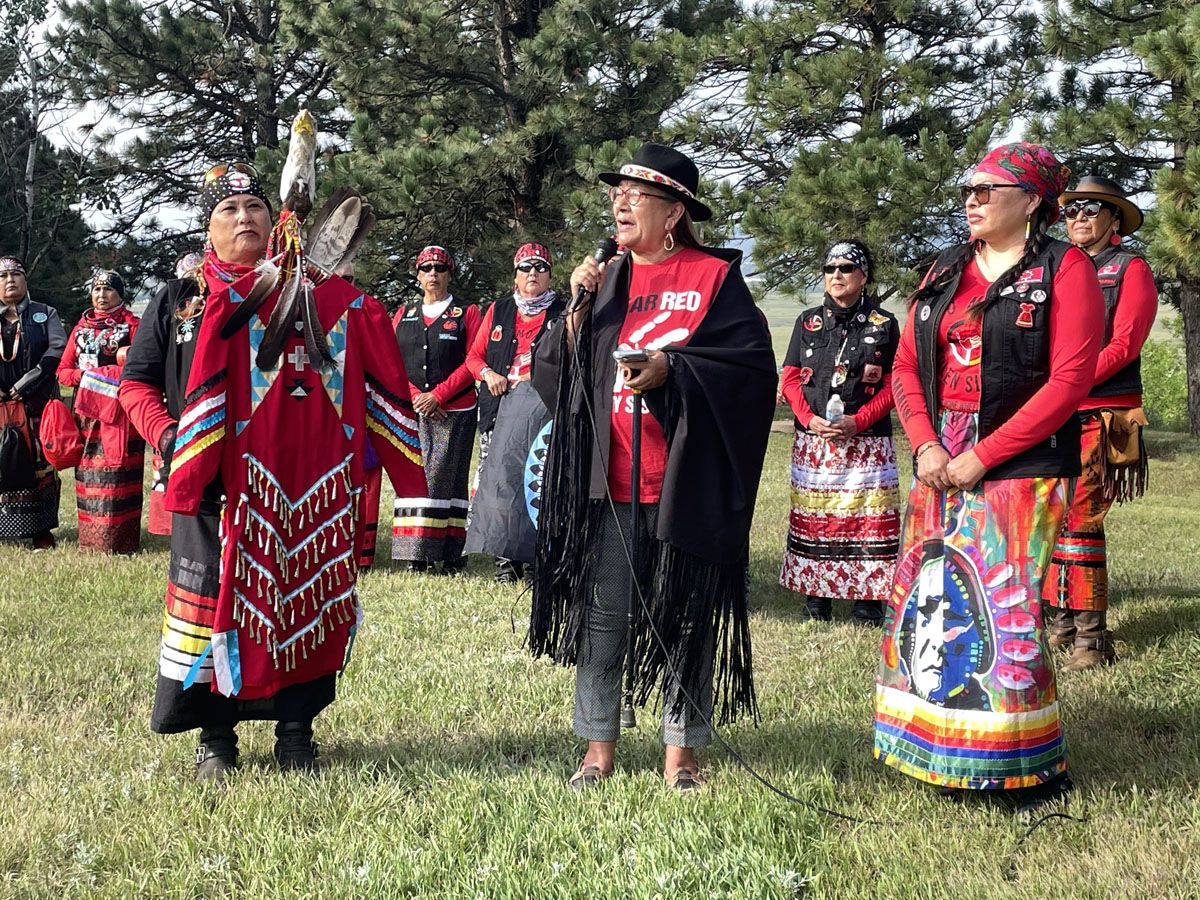 Seeking gender and ethnic diversity at Sturgis Rally
In addition to cultivating future bikers by targeting youth and young adults, rally planners have made concerted efforts to attract people who are outside the stereotype of the middle-aged white men and their wives (and their dogs who sometimes ride with them in leather vests and goggles.)
Extensive efforts have been made to bring more women to the rally, both as bikers who embrace the motorcycle lifestyle and as non-riders who may enjoy all the other things Sturgis and the Black Hills have to offer.
This year, the city is hosting an all-women's ride through the Hills. And the Sturgis Buffalo Chip campground for 15 years has hosted the Biker Belles ride, led and dominated by female bikers. Klock, a business owner in Mitchell, is serving as the Sturgis Grand Marshall for 2023.
"We have started to look at encouraging and inviting more women to be part of the rally," said Zerbst, the town council president. "The city has recognized the importance that women play in the industry and the growing demographic of women in the motorcycle world."
Attracting more world travelers
Rally leaders are also taking steps to revive international interest in the rally, which fell after travel restrictions implemented during the COVID-19 pandemic.
In 2017, about 12% of rally attendees were from countries outside the U.S., while in 2022 that figure had fallen to 4%, according to city survey data.
Now that the pandemic has eased, Finland residents Harri Naukkarinen, 63, and his 54-year-old brother Ari Naukkarinen, decided the time was right for a bucket-list bike trip across the U.S.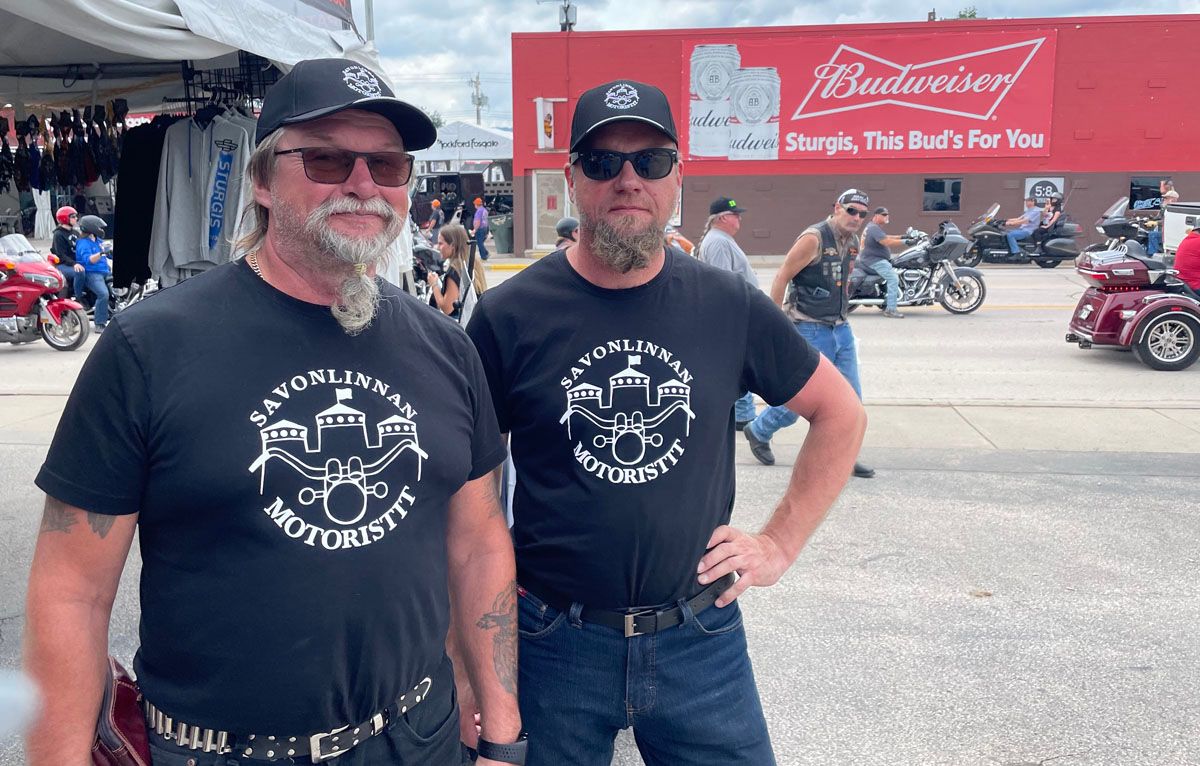 The brothers flew from Finland to Chicago, rented cycles and stopped in Sturgis for a spell before heading on to Yellowstone National Park and eventually California.
"It's pretty crazy here, and very loud. But this is great," Harri Naukkarinen said. Added Ari: "We will definitely come back some day."
Native Americans joining in to Sturgis Rally
The rally has also become a more welcoming place for Native Americans, according to some Natives, who make up about 10% of the population of South Dakota.
On Sunday, Aug. 6, the fourth annual Medicine Wheel Ride was held to develop fellowship among Native bikers and draw attention and funding to the long-standing problem of missing and murdered indigenous women.
The event has grown to more than 200 riders and for the first time this year had sponsorship from Harley-Davidson. The event included breakfast burritos, drinks and snacks prior to the ride, said organizer Lorna Cuny.

The event began at Bear Butte State Park, a sacred site for Native Americans, and traveled through Sturgis and the Black Hills with culmination at the Crazy Horse Memorial.
Prior to departure, a ceremony was held with Natives in traditional dress and a presentation highlighting challenges faced by American Indians.
When it comes to human trafficking, a crime believed to disproportionately affect the Native population, Rapid City women's activist Norma Rendon told attendees to "be observant, and report it if you see it."
"I'm related to all of you standing here," she said. "We should be good to each other, love each other and protect each other."
Wilson Price and Tina Perez of Arizona, who participated in the Medicine Wheel Ride, said it's is an important way to generate greater focus and funding on trying to find missing indigenous people and to hold those accountable for their crimes.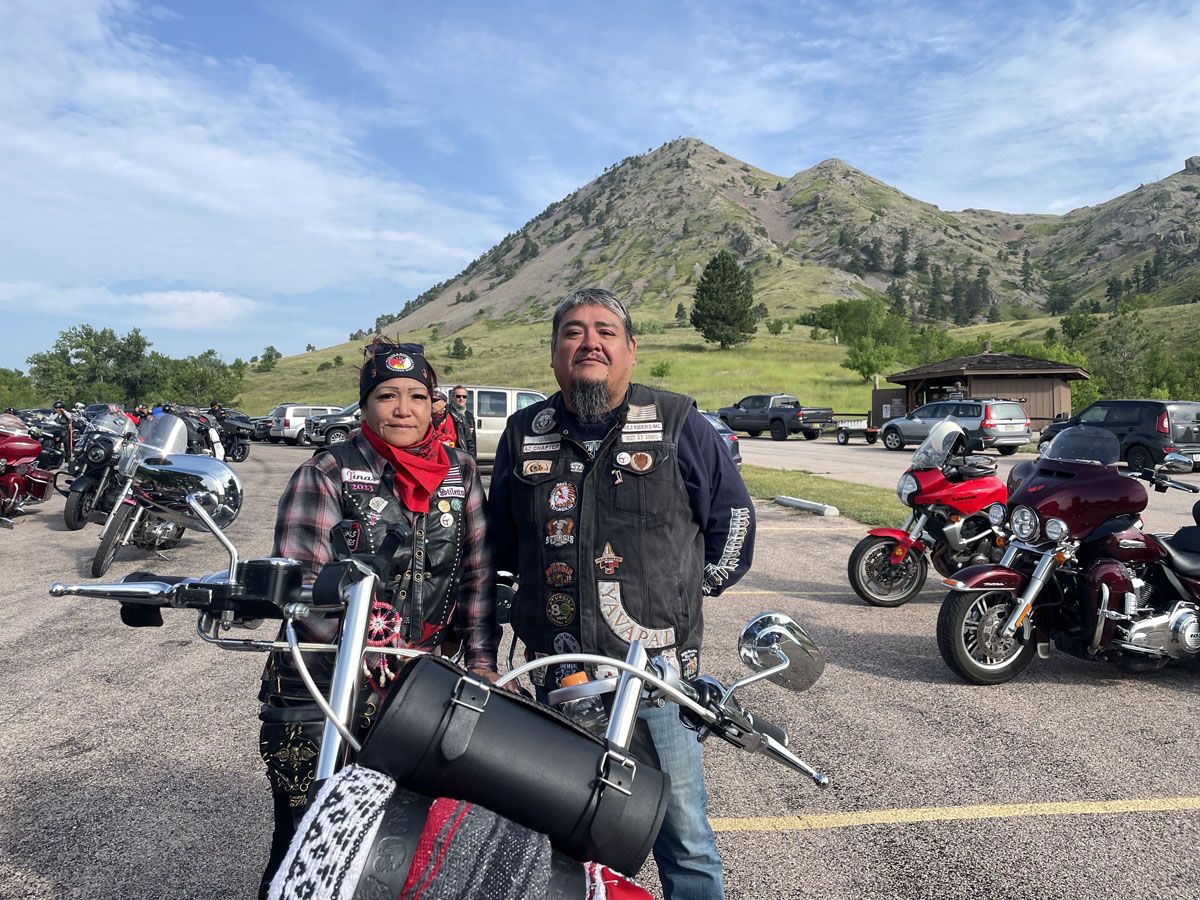 "When riding, you think about all these missing people, and how their families lost their loved ones and they're still missing," said Price. "There's hope, there's hope. And without awareness they're forgotten and we're trying not to forget them."
Perez said they both felt positive vibes from people at the event and at the Sturgis rally as a whole.
"They really welcome you, and you can feel it," Perez said.
The growth of the Medicine Wheel Ride is an indicator that Native American views of the rally are changing, even if slowly, said Cuny.
Simply starting the ride at Bear Butte shows that some Native Americans who may have seen the rally as an imposition on their culture and sacred lands may be softening their views, she said.
"It felt like it was kind of exploitative of these sacred sites, but through education, that has changed some," Cuny said. "Sturgis has grown into such a huge event, and there's no way we can stop that. But if we can be part of that and educate people, that seems like a better approach."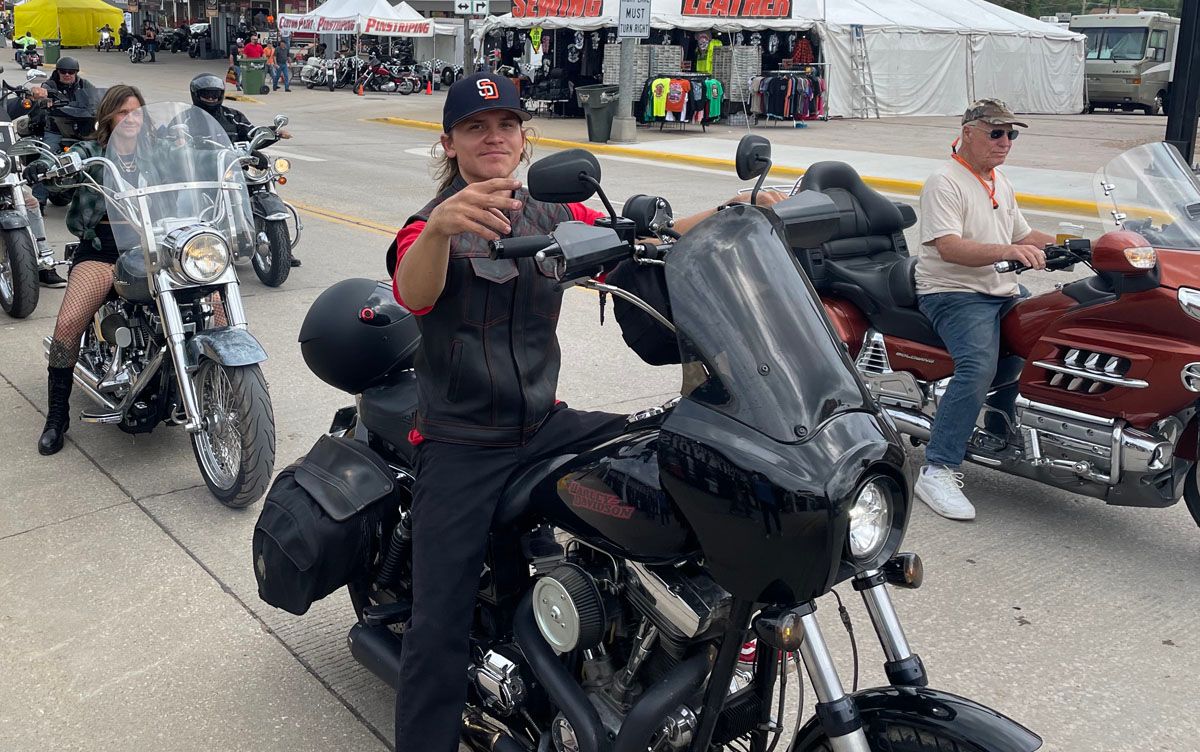 Rally improving data gathering
Zerbst said it is critical for the rally to continue to trumpet the fact that the rally is a place for people of all backgrounds to gather, build new relationships or strengthen old friendships.
As they try to plan for the future, rally officials say gathering better demographic and lifestyle information on attendees can aid efforts to market the rally to certain audiences that may not think of Sturgis as a vacation destination.
Holland said part of that effort will be to expand messaging that highlights why people have flocked to the rally for more than 80 years.
"It's all about people, meeting old friends, making new friends. It's like a family reunion of sorts, and we're kind of losing that in society these days," she said.
When the 2023 rally ends, organizers will hold a summit to look back at what worked and what didn't, and moreover to look for ways to continue to understand and grow the rally audience.
To illustrate the depth and determination of those strategy sessions, one forward thinker at a city meeting recently theorized that someday rally goers may arrive at Sturgis in electrically powered motorcycles with the classic Harley-Davidson rumble sound blaring out from a speaker.
"We look at it incrementally, that we're making small steps forward, and I do believe it's working," Zerbst said. "Lord willing, someday maybe my grandchildren will put me in their little sidecar and drive me around Sturgis."