Business and Development
South Dakota universities look to strengthen enrollment through affordability, accessibility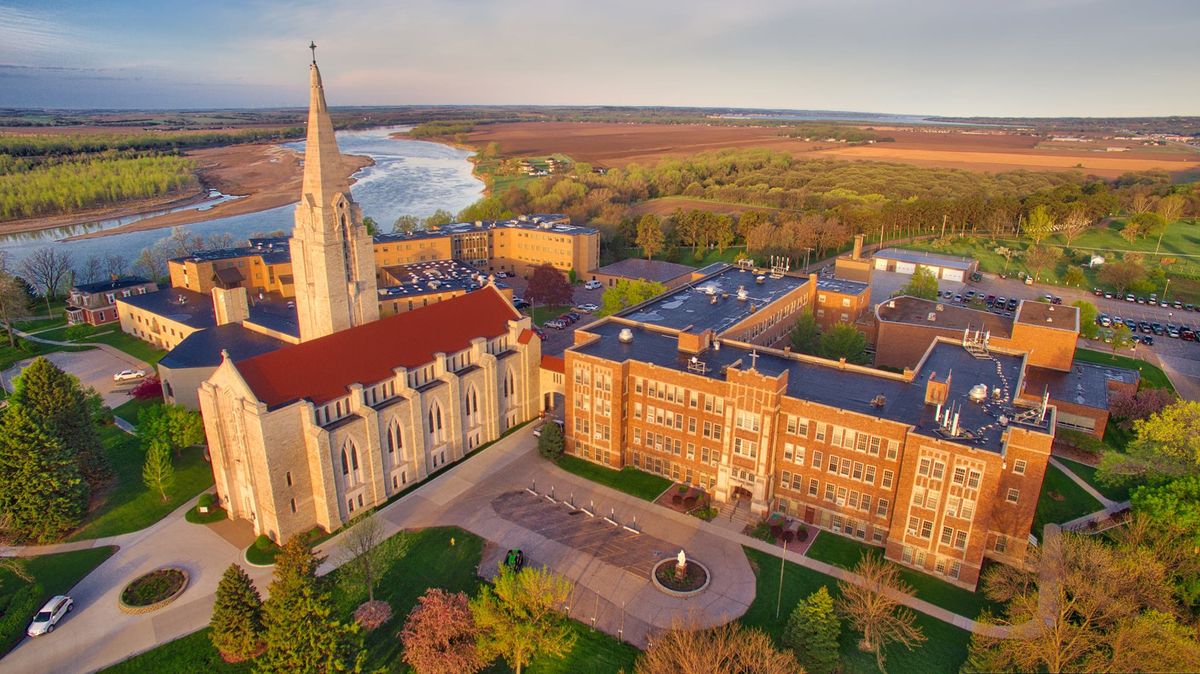 Out of the 8,264 South Dakota public high school graduates in 2022, 62% went on to higher education after graduation, according to the most recent State Report Card from the state's Department of Education.
But with the number of college-aged students predicted to dwindle and as other states roll out more college affordability programs, some South Dakota colleges plan to bolster enrollment with creative recruitment tactics and another tuition freeze.
While cost remained a big factor in his decision, Brady Giles from Brandon decided a Big Ten school and the biomedical engineering program was worth attending the University of Nebraska-Lincoln.
"I was looking forward to a fresh start," Giles said. "I think it was a good reset that I was able to go out and make new friends and still have those friends at home at the same time.
For others, staying in South Dakota for college was the prime option for higher education.
Education: Native American leaders in South Dakota forge ahead with educational reforms
Canton native Izabel Kreger knew she wanted to stick close to her family and take advantage of the lower college expenses of South Dakota's in-state tuition.
"Out-of-state tuition for most colleges is pretty crazy. And obviously, like everybody else, I'm trying to graduate with the most minimal debt possible," she said.
Kreger, a first-generation high school graduate and college student, is now three years into nursing school at the University of South Dakota.
Enrollment numbers going up after long downturn
Although the fate of the upcoming semester's enrollment numbers will not be finalized until September, some South Dakota universities are optimistic about welcoming an increase of students.
"If this year goes the way in which we're anticipating, this would be our third consecutive year of growth in on-campus new students," said Scott Pohlson, vice president for enrollment, marketing and university relations at the University of South Dakota in Vermillion.
Greg Franz, associate vice president for enrollment management and marketing at Mount Marty University in Yankton, said August is too soon to predict fall enrollment because "melt" – the number of accepted students who confirm their enrollment but don't show up – could cause a decrease.
"We're obviously crossing our fingers, hoping that we can stave off melt this year. But our numbers do look strong compared to last year," Franz said.
"At the moment, there are a lot of positive signs and indications, and we're optimistic that we're going to see another great year coming into the fall (2023) semester in South Dakota," said Nathan Lukkes, the executive director and CEO of the South Dakota Board of Regents.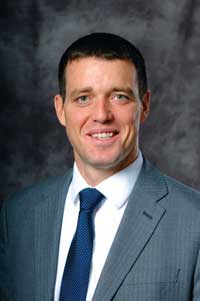 Prior to the COVID-19 pandemic in 2020, several of the state's universities experienced enrollment declines that persisted through 2021.
A string of enrollment declines at the regents' universities began in 2018. By 2021, the six public schools had nearly 2,300 fewer total students enrolled, according to SDBOR data.
From 2010 to 2021, the country experienced a 15% decline in the number of undergraduates enrolled at a postsecondary institute, according to the National Center for Education Statistics.
Post-secondary education institutes in Minnesota experienced a 16.9% drop in total enrollment from 2010 to 2021, according to the state's Office of Higher Education. Total enrollment at South Dakota's six public universities decreased by 8.2% during the same time period, according to SDBOR enrollment data.
Enrollment sees recent increases after slide
However, many South Dakota colleges secured a rise in enrollment numbers in 2022.
"While there has been a trend trending downward in enrollments nationally for public universities, South Dakota has fared better than the rest of the country," Lukkes said.
Aside from a decrease of 43 students in the 2021-2022 school year, South Dakota's four technical schools have maintained increasing enrollment numbers for the past nine years, with the inclusion of dual enrollment. Total enrollment has increased by 44.5% from the 2008-2009 school year.
The Board of Regents had a slight increase of 0.7% from fall 2021 to fall 2022. First-year student numbers rose by 6.3% in fall 2022.
In the 2021-2022 school year, Mount Marty University welcomed its largest class yet and the highest number of overall students enrolled in 10 years. From 2020 to 2022, total fall enrollment counts increased by 8.1%.
"I think a big part of the success of Mount Marty University is that we're a university who knows who we are. We know who we are. We're clear on our values. We're clear about our mission. We're clear about saying who we are, and more importantly, we're good about being who we are," said Bill Miller, executive vice president and provost at Mount Marty University.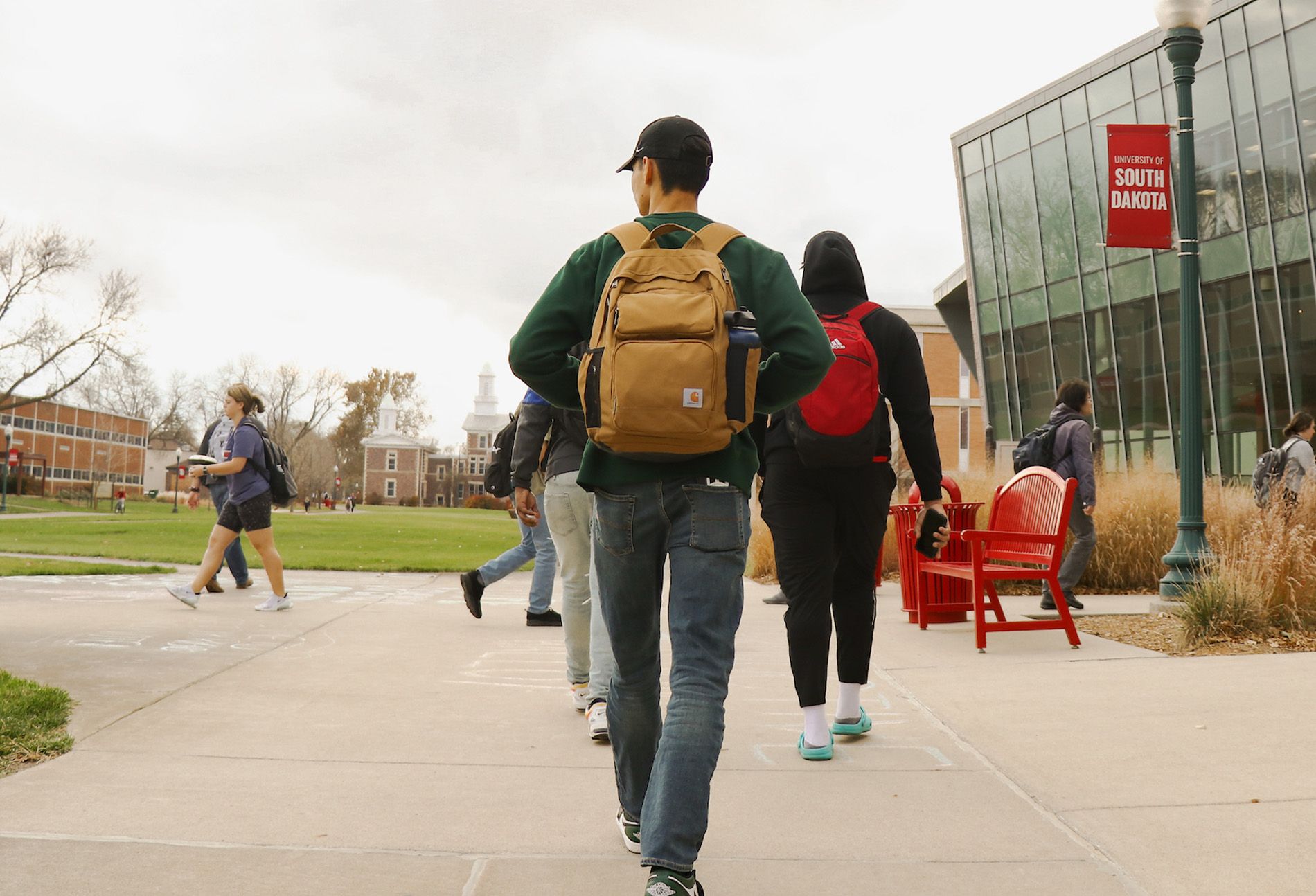 Enrollment cliff looms for South Dakota schools
Maintaining a rising stream of students may not be easy for South Dakota's higher education institutes, though, as declining enrollment appears set to continue throughout the nation in the coming years.
"What's unmistakable is that we're heading towards what's called an enrollment cliff," Franz said.
Fewer children were born during the Great Recession of 2007 to 2009, meaning the population of traditional college-aged children will decline in the next several years.
"It'll tighten things up for everybody, and it will increase competition, it will increase recruitment efforts, and it will absolutely result in some schools with unsustainably low enrollment numbers," Franz said.

In comparison to 2012, regional four-year institutions are estimated to drop by more than 11% in enrollment numbers by 2029, according to a 2018 Hechinger report.
The class of 2027 had 10.2% fewer students enrolled in South Dakota public schools in fall 2022 than the class of 2026, according to enrollment data from the state's Department of Education.
"The upside is it is going to turn around and come back up. But we know there's roughly a 10-year period where there's going to be a drop-off," Lukkes said.
South Dakota ready for challenges
While the approaching enrollment cliff spurs concerns over the fate of college enrollment numbers, South Dakota universities are taking several precautions to avoid a devastating blow.
"We're focusing on other opportunities to grow enrollments and fuel our workforce pipeline. And one of those is currently about 35% of South Dakota graduates from high school don't go on to any post-secondary education," Lukkes said.
The Teacher Apprenticeship Pathway is one way the Board of Regents plans to place more students in higher education programs, Lukkes said.
Dakota State University, Northern State University, the Board of Regents, and the state's Department of Education and Department of Labor have partnered to help paraprofessionals employed in the state's school districts become fully certified teachers.
According to the South Dakota Department of Education, paraprofessionals are aides who work under the supervision of a licensed teacher and assist teachers in the classroom.
Under the Teacher Apprenticeship Pathway, the paraprofessionals can receive virtual education necessary to become teachers while continuing to work as paraprofessionals.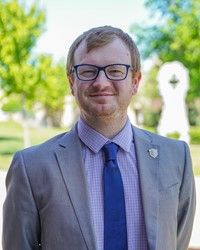 At Mount Marty University, pushing through the enrollment cliff also means changing the type of students typically recruited, Franz said.
Transfer students receive the same number of scholarship opportunities as incoming first-year students, providing financial enticements. The school also recently launched a diversity, equity and inclusion initiative to bring more students from diverse backgrounds to Mount Marty University, a Catholic Benedictine school.
Athletics will play a role, too.
Mount Marty added the Lancers football team in fall 2021. The program can bring anywhere from 90 to 150 students to the university, Franz said.

Freezing tuition for affordability
Affordability and accessibility efforts offer another potential solution to staving off enrollment drops at the state's colleges.
The Board of Regents hopes to improve students' access to higher education by keeping tuition at the same price for another year.
The six regents schools froze tuition on their own in fiscal year 2022. The Legislature provided funding for another freeze in fiscal year 2023 and fiscal year 2024. A fiscal year begins in July and ends in June of the following year.
"It truly is a partnership and there's skin in the game from the Legislature standpoint, the governor standpoint, the campus standpoint to really hold the line on tuition and fees and ultimately it's to the benefit of the students," Lukkes said.
The South Dakota Board of Technical Education secured a tuition freeze for fiscal year 2023 and 2024 and, like the Board of Regents, hopes to maintain those tuition prices in fiscal year 2025. It oversees the state's four technical schools in Rapid City, Mitchell, Watertown and Sioux Falls.
The average cost of in-state tuition and fees for undergraduates at South Dakota's six public universities was $9,356 in fiscal year 2023, higher than Wyoming, Montana, Nebraska and North Dakota but lower than Iowa and Minnesota.
While the state's tuition and fees rank third-highest in the seven-state region, South Dakota public universities had the second-cheapest total undergraduate costs behind Montana in fiscal year 2023.
A future drop in tuition for regents schools may seem unlikely with the recent string of tuition freezes. However, with the market for students gaining competitiveness, "nothing's off the table," Lukkes said.
"We're constantly evaluating and assessing opportunities to maintain our competitiveness and attract and retain as many students in South Dakota as we can," he said.
South Dakota schools face competition
Colleges across the state may also face heightened competition in enrolling non-resident students in the coming years as other states push out more affordability programs.
The University of Nebraska System launched a free tuition program in 2020 for full-time undergraduate students who are Nebraska residents and have a family income of $65,000 or less.
Total enrollment at the five campuses in the University of Nebraska system declined by roughly 4.3% from 2020 to 2022.

"If we look at that program in Nebraska and our enrollment numbers, we continue to see an increase in students coming from Nebraska to South Dakota," Lukkes said.
Starting in fall 2024, Minnesota will offer free tuition and fees at public institutions and tribal colleges in the state to residents whose families bring in less than $80,000 per year.
According to Minnesota's Office of Higher Education, the North Star Promise Scholarship program will work to stabilize the state's college enrollment numbers, improve the state's economy and labor force and offer higher education opportunities to more residents.
"Long story short, it's tough to anticipate what impact that (North Star Promise) may or may not have, but we believe we're well positioned and we've been taking steps over the last four or five years to position South Dakota to remain competitive in the marketplace," Lukkes said.

Regents extending in-state tuition to out-of-state residents
The Board of Regents could stem enrollment drops from out-of-state residents with their recent extension of the South Dakota Advantage Program.
Under this program, students from Colorado, Iowa, Montana, Nebraska, North Dakota and Wyoming pay the same price for tuition as South Dakota residents. Starting this fall, Wisconsin and Illinois will join the list.
"Those two markets were identified as kind of ripe for the picking, if you will, in terms of dynamics and things going on in the states — you know, enrollment trends, cost of tuition. We thought there was an opportunity there to really capitalize on those two markets," Lukkes said.
In 2022, the Illinois Board of Higher Education found that 47.6% of Illinois students attend college outside of the state.
Wisconsin and Illinois enrolled a combined total of 215,394 high school seniors in fall 2022. South Dakota public and non-public schools enrolled 10,144 seniors, according to enrollment data from the state's Department of Education.
Students from Minnesota currently make up the largest number of non-South Dakota residents enrolled in regents schools. The number of non-resident students at the state's six public colleges has climbed from 5,576 students in 1999 to 12,940 students in 2022, according to SDBOR data.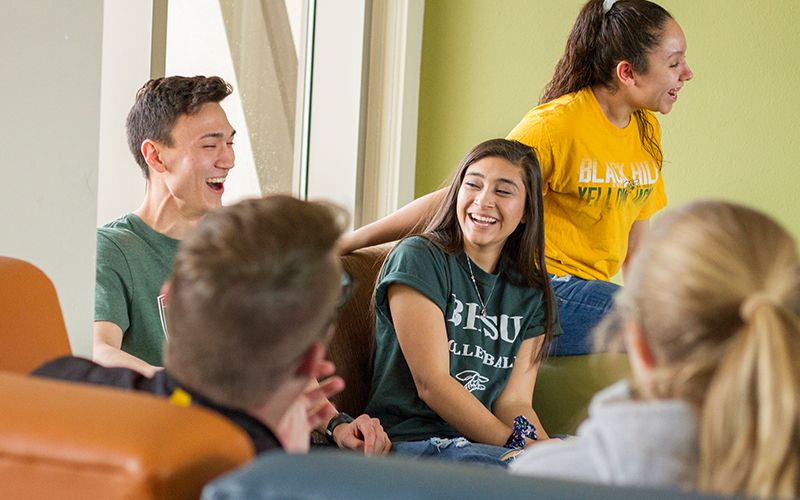 Giles didn't always plan on becoming a non-resident at a Nebraska college.
"Our family has always been big USD people, so I've been rooting for them since I was young. But I never really thought about where I was gonna go," he said.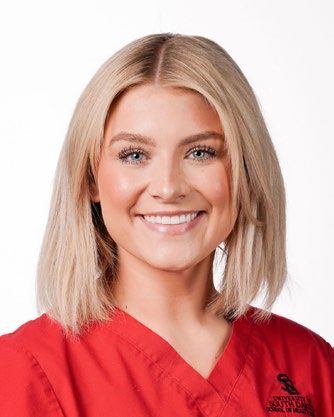 He first thought about going to the University of Nebraska-Lincoln after receiving an invitation to a conference for students wanting to enter a health-related field.
"So then I went there for that pre-med conference, and since then, I've been sold on it," Giles said.
For Kreger, a dream out-of-state school would have been the University of Minnesota. However, the average cost of tuition and fees for a resident student at the school is $16,654, roughly $7,200 more than the University of South Dakota.
"College is overwhelming and tough, but I'm very fortunate to be in the position to go to college, so I'm super grateful," Kreger said.
Watch for an upcoming story by Abbey Stegenga about what South Dakota universities are doing to improve graduation rates to help fill some of the nearly 40,000 job openings in the state.