A partnership between South Dakota News Watch and South Dakota State University has led to the creation of a new internship program that will provide extensive training and real-world experience for student journalists.
After months of planning and preparation, News Watch and SDSU have launched the "Jeffrey B. Nelson Investigative Journalism Endowed Internship" and have chosen a student to be the inaugural participant in the program.
After an application process, SDSU student Andrew Rasmussen has been chosen for the internship and is already at work reporting and writing articles of statewide interest for News Watch.
Rasmussen is a senior at SDSU majoring in journalism and political science with a minor in legal studies. A native of Brookings, S.D., Rasmussen has previously worked as a reporter for The Collegian, the independent student newspaper at SDSU. Rasmussen was recently elected president of the SDSU Students' Association.
"I am very excited to grow my journalism skills with the South Dakota News Watch team as an intern this summer," Rasmussen said. "The type of hard news produced by News Watch is what I am passionate about and I look forward to reporting important stories about South Dakota while learning from some of the best."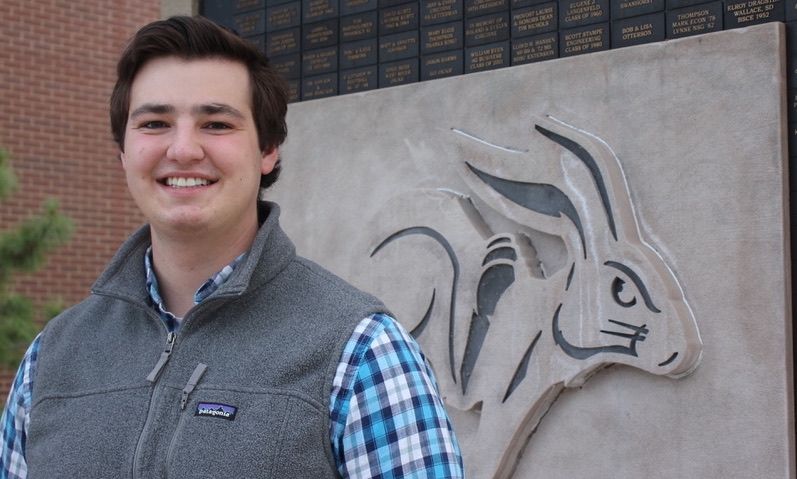 The paid summer internship came as a result of strong support of the SDSU Foundation and the family of late journalist and SDSU administrator Jeffrey B. Nelson.
Nelson obtained baccalaureate and masters degrees in journalism from SDSU and worked in newsrooms and corporate and academic communications. Nelson returned to SDSU and served as Director of Gift Planning, a position he held until retirement in 2014. Prior to his death in 2017, Nelson was a strong advocate of accurate reporting in the public interest — a cause shared by his brother, Barry, also an SDSU journalism graduate who initiated the reporting fellowship.
Lyle Olson, director of the School of Communication and Journalism at SDSU, said internships are a critical part of the overall education of journalists at SDSU.
"SDSU journalism has required internships for decades; I did mine in 1975," Olson said. "This mandatory experiential learning requirement is a key strength of our degrees in advertising, ag communication, journalism, and public relations."
Creation of the Nelson investigative fellowship, Olson said, provides a new opportunity for student journalists to expand their education and gain valuable experience working with a statewide news organization with a strong reputation for accuracy, fairness and production of high-impact journalism.
"This new and unique endeavor with the Nelson family and South Dakota News Watch enhances our internship program even more," Olson said. "It's the first ever endowed internship, and it focuses on a critically important role in today's society, that of high quality, in-depth, investigative reporting."
News Watch Executive Director Rob Joyce said the development of a student internship fulfills another major goal of the non-profit journalism organization that launched in February 2018: To aid in the growth and development of the next generation of journalists in South Dakota.
"Since the beginning, South Dakota News Watch has sought to engage in efforts to educate young journalists," Joyce said. "We are excited about this partnership with the SDSU Journalism Department and thankful for this opportunity to provide an internship of this caliber to young journalists."
South Dakota News Watch, online at SDNewsWatch.org, has produced more than 225 in-depth articles of statewide interest, which are shared at no cost for use by all other media across the state.