The nursing industry is under pressure in South Dakota as an aging population, fewer nursing students and an older workforce are combining to create staffing shortages.
But the state has an added challenge in filling open nursing positions – pay. National nursing studies show RNs in South Dakota earn less than their counterparts across the nation.
According to the American Nurses Association, South Dakota's registered nurses have the lowest annual salary of any state and the District of Columbia, ranking 51st behind Mississippi, Alabama and Iowa.
The association reports that South Dakota's 12,530 registered nurses received an average annual salary of $57,010, or $27.41 per hour in 2017. California's RNs posted the highest compensation at $102,700, $49.37 per hour.
Health care officials say many factors contribute to South Dakota's comparatively poor compensation levels for nursing, including the rural nature of the state, as well as low reimbursement rates to hospitals from Medicare, Medicaid and Indian Health Services.
Still, they are at a loss to explain why those same factors are not at play to the same extent in surrounding states.
While the average RN salary in Iowa is comparable at $57,930, Nebraska nurses receive an average of $62,210 per year. North Dakota nurses make $63,140 annually, and, in Minnesota, nurses earn $77,540 per year, the association reports.
In South Dakota, the number of nurses joining the work force – either as recent graduates or transferring from another state – has not kept pace with the number leaving in recent years. In 2016, the net loss was 1,738. That was up substantially from the 930 net loss the year before, according to the South Dakota Department of Health's Board of Nursing.
Nurses leave the profession due to retirement, a change of career or a move out of state. Some simply choose not to renew their RN licenses.
Compounding the shortages, enrollment in South Dakota's eight nursing programs has declined in recent years.
According to the South Dakota Board of Nursing's report on nursing education programs, last year a total of 308 LPNs and 306 associate degree RNs were enrolled in colleges and universities, a decrease of 103 students from the previous year. A total of 710 students graduated from the LPN and RN programs in 2017, 67 less than in 2016, the report stated.
While reasonable tuition rates for South Dakota's nursing schools are attracting out-of-state students, Carrie Clausen-Hanson, a board member of the South Dakota Nurses Association, said low pay makes it difficult to draw faculty and accounts for some of the declining enrollment numbers in the state.
"Faculty pay, teacher's pay, nursing pay, there is not a lot of difference," she said. "Part of why we have trouble with enrollments in our nursing schools is they can't find faculty. And a lot of it is due to pay."
Clausen-Hanson, who worked as a registered nurse in South Dakota for 35 years and taught at Presentation College, said many of her students who graduated with associate's degrees in nursing were landing jobs that paid more than her faculty position.
Nationally, nursing school enrollments also are being limited by a lack of qualified faculty and budget restraints. Almost two-thirds of the nursing schools responding to an American Association of Colleges of Nursing survey cited a shortage of faculty and/or clinical preceptors as a limiting factor for increasing enrollment.
AACN reported a 3.6 percent enrollment increase in entry-level baccalaureate programs in nursing in 2016. But that increase is not sufficient to meet the projected demand for nursing services, including the need for more nurse faculty, researchers, and primary care providers.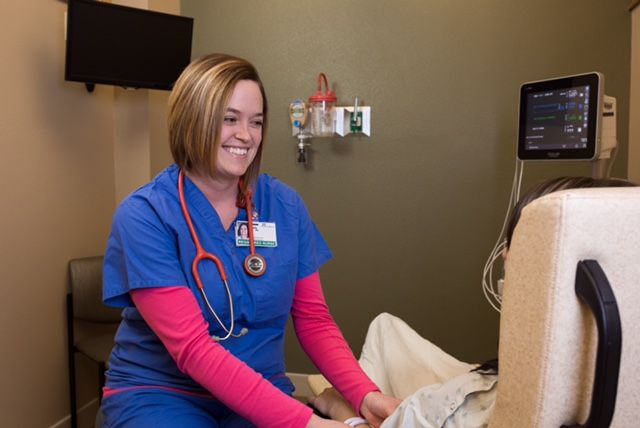 Nursing shortages will grow
As the chief nursing officer of Regional Health, Lori Wightman oversees 1,200 registered and licensed practical nurses at the organization's flagship hospital in Rapid City, as well as hospitals in Sturgis, Deadwood, Custer and Spearfish, and facilities in Newcastle and Upton, Wyo.
Regional Health faces the same challenge from the nursing shortage as hospitals in other parts of the country.
"I would be lying if I said we didn't," Wightman, who has worked as an RN for 28 years. "The last figure I saw was a 1.13 million shortfall in nurses by 2025."
She points to the increase in demand for nursing care from the large number of aging Baby Boomers as one contributor to the problem. The U.S. Census Bureau estimates that by 2050, the number of residents age 65 and over is projected to be 83.7 million, almost double the estimated population of 43.1 million in 2012.
With larger numbers of older adults, there will be an increased need for geriatric care, including care for individuals with chronic diseases.
"South Dakota is not immune to that national shortage," Wightman said.
In addition, more nurses are approaching retirement age. More than 1 million RNs will reach retirement age in the next 10-15 years, according to the Health Services Administration. Currently, the average age of nurses in the U.S. is 47.
Before she joined Regional Health three years ago, Wightman said the organization had a turnover of more than a third of its workforce in one year, leaving "a big gap to fill."
Through a variety of recruitment and retention efforts, Regional has been able to reduce what then were 200 vacancies in nursing positions to 186 open spots today.
"We currently are having a fairly successful time in recruiting nurses," she said. Over the last 11 months, Wightman said Regional Health had hired 356 nurses using three pipelines of candidates to address the shortage.
Among those efforts are local collaborations with high schools, colleges and universities to increase interest in the profession; a national recruitment campaign Wightman admits, "has not been very fruitful," due to the nationwide demand for nurse, and in recent years, an international recruitment program that has been more successful.
"We currently have 75 nurses who were recruited internationally and are working in our system," she noted. "In the Philippines alone, there are over 200,000 nurses looking for jobs in the United States. They are investing in their education. They are developing nurses, doctors and all kinds of professionals and they benefit with foreign dollars flowing back to their country. They are eager to come to work for us."
---
Average annual salary for registered nurses
Here are the average annual salaries for registered nurses in selected states:
South Dakota – $57,010
Iowa – $57,930
Nebraska – $62,210
North Dakota – $63,140
Wyoming – $64,900
Minnesota – $77,540
California – $102,700
Source: U.S. Bureau of Labor Statistics
---
Changing the game
Universities, health care systems, social service agencies and communities have banded together to try to address the challenge of attracting nurses to the state.
In July, the federal government provided a $100,000 network planning grant to South Dakota State University, the University of South Dakota Sanford School of Medicine, Great Plains Tribal Chairmen's Health Board and Catholic Social Services Rapid City to partner in a study of health care workforce shortages on the Pine Ridge Reservation.
The project, "Assessing Pine Ridge's Health Care Workforce Current and Future Needs," aims to conduct a health care workforce needs assessment of Pine Ridge's professional and nonprofessional health care (Indian Health Services and tribal) vacancies. The grant also will fund a health care workforce needs summit for tribes and provide tools to assist them in gauging and meeting those needs.
And in mid-August, after 18 months of studies, the Huron Community Campus cut the ribbon on a new nursing program aimed at addressing a serious shortfall in qualified nurses in the Huron area.
"When our nursing task force came together, we came up with 46 open nursing positions in Huron and the surrounding area," said Doug Pietz, executive director of the Huron Community Campus. "One question was why are we not getting nurses? Was it a lack of interest in nursing? But students were interested in moving up the chain from LPNs to RNs. They couldn't travel to enroll in other nursing programs in the state. The best alternative was to bring the nursing program to them."
With a $1.3 million investment, largely from the Huron University Foundation, the Huron Regional Medical Foundation and the City of Huron, Pietz said his institution partnered with Southeast Area Technical Institute in Sioux Falls, which has an accredited nursing program.
The 12-month program is offered to licensed practical nurses who have 750 hours of experience and are seeking to earn their associate's degree as a registered nurse. Seven individuals signed up for the inaugural class, he said.
"Nursing is critical to the Huron area," Pietz said. "Obviously, nursing is critical to all rural areas. This program represents a home-grown effort to provide educated nurses for all of the health care providers in town, as well as in the Huron area."