South Dakota farmers recently received $19.4 million in payments from the federal government to offset losses due to an ongoing international trade war that has devastated two major agricultural industries in the state – soybeans and hogs.
An agriculture industry official said that the emergency payments may help some farmers survive the trade crisis, but he also called the bailout a "Band Aid" that won't begin to cover financial losses from the market disruption.
In all, 2,895 farmers or farm operators in South Dakota have received payments through the Market Facilitation Program approved by Congress this fall to help farmers weather the ongoing trade dispute. The payment information was obtained from the U.S. Department of Agriculture by the Environmental Working Group.
While two South Dakota farm operations received more than $200,000 in payments, most farmers received far less.
A News Watch analysis of the bailout data shows that 91 percent of the payments to individual famers in South Dakota were less than $20,000, and 70 percent, or 2,025 recipients, received less than $10,000. As of Oct. 31, the program provided nearly 88,000 American farmers with more than $355 million in emergency payments.
State agricultural agencies and groups do not have data on the losses South Dakota farmers have endured due to the trade war, but experts say they are in the millions.
The loss of the Chinese market for soybeans, hogs and other commodities such as corn, wheat, sorghum and dairy products comes as Midwestern farmers face ongoing challenges created by low prices and decreasing demand for crops and livestock.
A recent report by the Federal Reserve Bank of Minneapolis revealed a spike in Chapter 12 bankruptcies by farm operations in the Ninth District that includes South Dakota, North Dakota, Minnesota, Montana and parts of Wisconsin and Michigan. The fed said 84 of the agriculture-specific Chapter 12 bankruptcies were filed in the 12-month period ending in June 2018, more than double the number in the same year-long time frame in 2014.
"It's a poor cycle we've been on, and this [the trade war] is just one more thing that has pushed us down further," said Scott VanderWal, a Volga farmer who is president of the South Dakota Farm Bureau Federation.
---
South Dakota farm payments
We've assembled a list of all payments made in South Dakota under the Market Facilitation Program as of October 2018.
To view the full list of payments, download the full database (xls).
---
Program aids SD soybean, hog producers
The initial payments are a small part of an overall $12 billion, three-pronged bailout of the agriculture industry approved by the Trump Administration to aid those stung by the trade war with China. The program includes direct payments to producers, efforts to expand new markets for agricultural products and a government program to buy and distribute surplus food commodities.
American farmers were hurt by the trade dispute when China retaliated against tariffs Trump placed on American steel and aluminum sales to China by placing tariffs of up to 30 percent on the purchase of American agricultural products.
A second wave of bailout payments could be approved in early December, though the most any individual farmer can receive is $125,000. Some farm partnerships or husband-and-wife farming operations can receive multiples of that amount.
The MFP payment data was obtained from the USDA through a Freedom of Information Act request by the non-profit Environmental Working Group that tracks federal spending and environmental policies. The data released by the group covers only the first wave of emergency payments to farmers under the MFP program, which could ultimately dole out more than $5 billion.
The EWG payment data provides a window into the financial devastation caused by the loss of trade with China, which buys 60 percent of soybeans produced by American farms and is a major market for South Dakota pork as well.
VanderWal said the bailout is needed to protect the agriculture industry and farmers who are heavily leveraged with equipment, land, seed, fertilizer and labor costs and many of whom have already faced several down years in a row.
"It sounds like a lot but when you spread it out over lots of farmers and lots of acres it certainly doesn't make up for the loss," he said. "It's only a Band Aid, but it may help keep some people in business until the administration gets its trade deals worked out."
VanderWal said the tariff crisis is hurting many farmers but could be the death knell for young farmers who haven't built up adequate financial reserves or those who might be in "a slippery position" due to overextension of capital.
He also looks at the protection of the American agriculture industry as a national security issue in which the nation could suffer a catastrophe if farming or food production were to fall into foreign hands.
"If we lose the ability to have control over our own food supply and raise our own food, that's a problem that could cause extreme impacts," said VanderWal, who pointed out that 98 percent of American farms remain family owned. "Taking it a step further, if family farmers go out of business and multi-national companies start to farm our land, you'll lose the personal touch and the focus on the land and the water resources."
Payments to farmers were based on a formula specific to the crop or livestock raised. Soybean farmers, who made up the largest group of payment recipients, were paid $1.63 per bushel for half of the soybeans harvested in 2018. Hog farmers received $4 per hog owned during the period of July through August.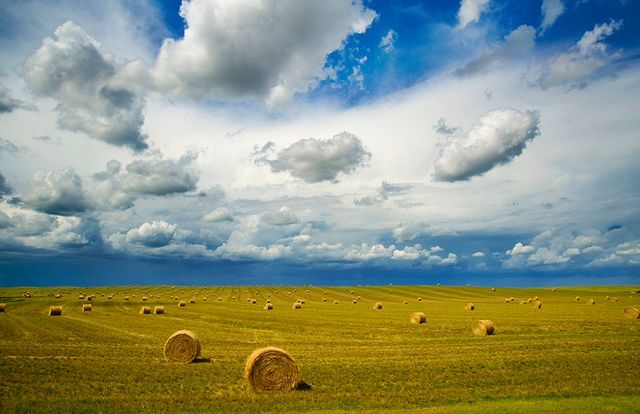 Farmers welcome payments, hope trade war ends
Farmer Leonard Kopman, who grows soybeans, corn and other crops near Bryant in Hamlin County, said he and his wife lost several hundred thousand dollars in anticipated revenue when the tariffs kicked in.
Kopman and his wife each received $114,023 from the MFP program this fall, money he said they expect to spend on paying their eight employees or buying necessary supplies.
Kopman said he and his wife have paid dues for years to agricultural groups that have worked to expand the market for their products, including the Chinese market for soybeans. Even as prices for soybeans have dipped over the past few years, Kopman said he and his wife were able to adjust operations and spending to keep the farm running smoothly.
"We were humming along all right, and we had kind of adjusted to prices and the market," he said. "And overnight our markets disappeared; 98 percent of exports to market are gone."
The per-bushel price of soybeans fell more than 20 percent almost overnight, from about $10.60 a bushel to $8.30 a bushel, Kopman said.
Like other South Dakota farmers, Kopman said he and his wife would much rather have sold their soybeans and corn and made a decent profit than stockpile excess product and rely on a government bailout in order to make ends meet.
"We don't sit and cry and have our hand out, and it's certainly not like a cure-all," Kopman said of the MFP payments. "It would be much better if we just had the market for our soybeans, but we're like a casualty of war."
Kopman said he and other farmers fuel numerous parts of the regional economy and boost businesses related to agriculture.
"It's a lifeline that if it wouldn't have come in for the agriculture industry, the losses would reverberate throughout the Midwest in manufacturing and other businesses and everyone would suffer," he said.
Kopman said he generally supports President Trump's tariffs on steel and aluminum sales to China because he said the Chinese were trying to steal American technology and gain an unfair advantage.
Still, he is hopeful the trade war will end soon because he and other soybean farmers are sitting on large inventories and face great uncertainty about the 2019 growing and harvest season.
"If we don't get our Chinese market back, the pain is going to be long-term and a lot of adjustments will have to be made," Kopman said. "It's a dire situation right now. There's piles and bags of beans everywhere, and next year is going to be worse than this year."
Ferlyn Hofer, a hog producer from Canistota, estimates he lost more than $70,000 in revenue during the two-month period around Labor Day when the Chinese tariffs sent pork prices plummeting. Hofer said he and other producers would typically receive about $130 to $150 per hog sold in the fall depending on its finished weight. The break-even price on a hog is around $110, yet after the tariffs kicked in, Hofer said the price had fallen to $60 to $70 per head.
"Pork producers are being hurt bad, and this is a way to help," Hofer said of the bailout payments. "It isn't going to replace the money lost, but it might help pay your interest bills and some feed costs."
Hofer had about 4,000 hogs during the time period allotted for the bailout, so at $4 per head, he received an MFP payment of $17,304. He has also applied for a soybean payment but has not received word yet on that application.
"We're not making any money off this, but it helped pay the bills for a couple months there," Hofer said.
About a quarter of the hogs raised in South Dakota are exported to other countries, with China a major market, Hofer said. As the tariff dispute drags on, Hofer said pork producers are trying to break into new markets such as South Korea, which holds promise as a future destination for American pork products. He said hog prices have rebounded in the months since they bottomed out this fall.
Applying for a payment was fast and easy with just a two-page application, and the payments were processed quickly, said Hofer, president of the South Dakota Pork Producers Council.
Getting money to farmers fast was a major goal of Congress when it enacted the bailout program, said Logan Kopfmann of Huron, agricultural program specialist for the USDA Farm Services Agency which is administering the MFP program.
"The farmers are very appreciative and surprised how fast the turnaround is for them to receive the money in their accounts," Kopfmann said. "This is a way for the government to help out and make things as stable as possible for them, so we're trying to work as fast as we can to help these farmers get the payments and start to turn things around."
The bailout program didn't help every South Dakota farmer who had a down year, however.
Joe Lesnar farms near Webster and applied for an emergency payment to offset losses he suffered in 2018. But since Lesnar lost nearly his entire crop to hail damage, he didn't qualify for MFP payments that are based only on harvested products. Lesnar found out this fall that he received only a $2 payment for tariff-related losses on his small wheat crop.
"That's the way it goes; you've got to apply and see what comes," Lesnar said. "I can't even take the wife out for a hamburger with that."
---
Help for Great Plains farmers hit by tariffs
Here is a look at the number of payments and total dollars received so far by farmers and farm operations in seven Midwestern states to help offset losses due to the trade war with China and tariffs on agricultural products such as soybeans, wheat, corn, dairy products and hogs.
The payments from the federal Market Facilitation Program are calculated based on production levels in 2018. Another round of payments may be approved in December, though the maximum payment to any individual farmer is $125,000. These figures are for payments made as of Oct. 31, 2018.
State Number of payments Total paid out
Iowa 4,268 $30.9 million
Minnesota 6,400 $43.3 million
Montana 1,218 $3.2 million
Nebraska 4,249 $25.9 million
N.D. 2,883 $13.2 million
S.D. 2,895 $19.4 million
Wyoming 198 $277,838
U.S. 87,697 $355.6 million
Source: Data obtained from USDA by Environmental Working Group