RAPID CITY, S.D. – Driving on East North Street in Rapid City can be trying. In the 100 block, the four-lane road curves up a hill into a busy commercial district. Pedestrian traffic can be heavy and cars frequently turn on and off the street from nearby homes, motels and businesses.
Even on a sunny day, the painted white dashes between driving lanes are faded and worn down by tires, rain, snow and snowplow blades. At night or during rain or snowfall, the lines are virtually invisible, making it difficult to stay in a travel lane.
Less than a half-mile away, however, the lane markings on a busy six-lane section of Omaha Street in Rapid City are clearly visible both day and night.
The disparity of lane markings in a single neighborhood is not uncommon in South Dakota, where the quality and type of roadway markings varies widely from road to road, city to city and county to county. Some areas of the state are far behind in the use of new traffic marking technologies.
National studies show that effective marking of roadways saves lives. Nearly 60 percent of fatalities on America's roadways – roughly 25,000 deaths annually – result when motorists leave their travel lanes, according to federal data. Highway agencies across the country are focusing on traffic control measures, including improved lane markings, as a way to combat the dangers of distracted driving caused by cell phone use.
Missouri saw fatalities drop by 25 percent after the state upgraded the number and visibility of highway lines. North Dakota transportation officials have reduced head-on fatalities by installing "rumble strips" into the centerlines of two-lane highways.
At a time when new traffic-control technologies are expanding, many South Dakota government agencies are behind other states in adopting new highway marking methods that have prevented accidents and saved lives. Most of those new methods or products are far more expensive than the standard reflective paints frequently used in South Dakota.
"Every street or highway engineer will tell you that effective paint striping is the cheapest, most cost-effective way to improve safety," said Shannon Schultz, assistant highway superintendent in Minnehaha County.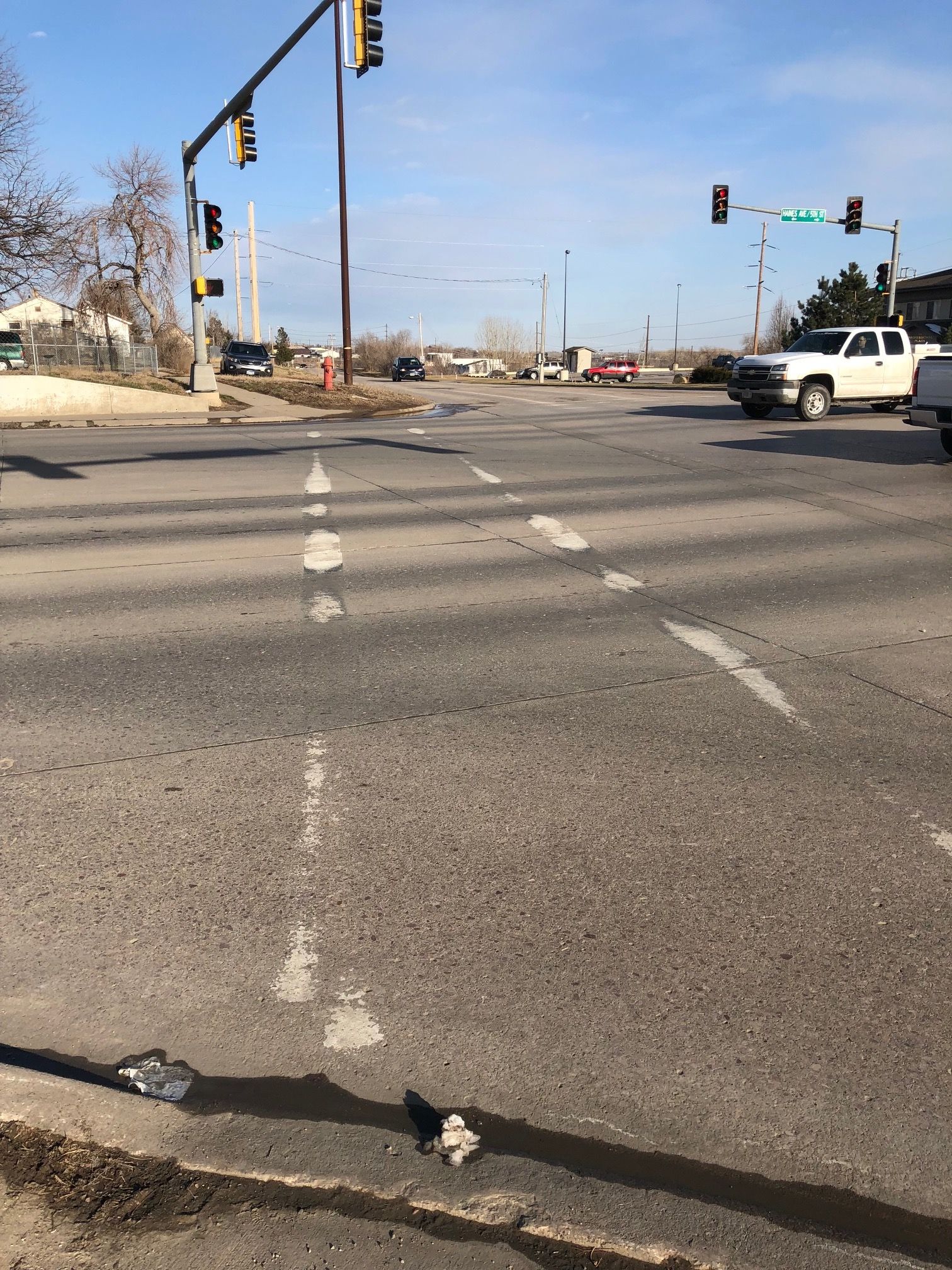 Getting what they pay for
The science behind road and highway markings has improved dramatically over the past decade with development of new paints and epoxies, more reflective additives and new ways to alter asphalt and concrete surfaces to warn drivers they are about to leave their lane or the road surface.
The most commonly used lane striping in South Dakota is a 4-inch wide strip of white or yellow paint enhanced with small glass beads the size of a grain of sand that reflect light back to a driver's eyes at night. Highways and roads are maintained by jurisdiction, with cities paying to stripe local streets, counties responsible for non-state roads outside cities, and the state overseeing interstates and state and U.S. highways.
Many cities and counties redo the lane markings every year, typically in the summer. Some cities and counties repaint the stripes every other year.
But in some rural areas, roads are repainted only when needed. In Hughes County, home to the capital city of Pierre, road striping is done on an "as needed" basis, according to Highway Superintendent Mike Meyer.
Hughes County has 550 miles of gravel roads but only 23 miles of paved roads under the county's jurisdiction, Meyer said. "We don't do it every year, but if they deteriorate, we'll freshen it up," Meyer said.
Highway engineers readily acknowledge that the painted lines lose effectiveness over time as paint wears away and the reflective glass beads shear off. That makes the roads the least safe in winter and spring when paints are at their oldest and most worn, especially at night when reflectivity of the paint has fallen.
Rapid City Traffic Engineer Steve Frooman said the city spent about $210,000 in 2017 to paint 95 miles of white lines and more than 225 miles of yellow lines. Frooman said the city striping program follows guidelines of the Federal Highway Administration and the Manual on Uniform Traffic Control Devices. The city tries to remark all roads and school crosswalks each year and will do some high-traffic areas twice a year.
Frooman said he believes city roads are safely marked, but he acknowledged that some road features can go longer without being repainted based on priorities. "We have some parts of town where some crosswalks haven't been touched in years and some turn arrows that have faded away and have been gone for a long time," he said. "We're trying to address those things."
Like other traffic engineers, Frooman said he sometimes receives complaints about the condition of lane lines and other road markings. Often, he said, a complaint is triggered by "a recent negative experience" and come with greater frequency in the spring.
"The main thing I've noticed is that people have called in a lot when they feel like they've nearly been in a wreck either because they couldn't see what lane they were supposed to be in or someone else cut them off or couldn't see what lane they were supposed to be in," he said.
"Every street or highway engineer will tell you that effective paint striping is the cheapest, most cost-effective way to improve safety."
New products bring higher costs
But in Rapid City and elsewhere across the state, officials are beginning to use new products that have benefits in one or all of three critical areas: reduced drying or application time; durability against weather and wear; and increased visibility or ability to warn of pending danger.
Both Rapid City and Sioux Falls use a plastic marking tape that is set into a one-tenth inch groove cut into the road surface to expand longevity and reduce damage from tires and plow blades. Though significantly more costly, the tape tends to last longer and maintain reflectivity longer, officials said.
Every product that is more effective or durable than beaded paints will increase application and product costs. For example, a new type of paint that includes both traditional round glass beads but also trapezoidal beads that are more reflective costs $40 a gallon and covers 190 feet per gallon compared to the traditional beaded paint that costs only $16 a gallon and covers 300 feet per gallon, according to Ross Swedeen, a project estimator for Traffic Services Co., a road-marking contractor in Black Hawk, S.D. That equates to 21 cents per foot for the more reflective product compared to 5 cents per foot for the basic paint, about $845 more per mile for the costlier product.
Sioux Falls takes an aggressive approach to monitoring the effectiveness of its road marking program with a city inspector who checks every completed painting project. Officials are always on the lookout for new, more effective technologies, said Heath Hoftiezer, principal city traffic engineer.
Five years ago, the city began using a more reflective type of bead in its white and yellow paints, Hoftiezer said. The city also sometimes uses an all-weather tape that is more reflective during rain and snow on the 560 lane miles of roadway it oversees. The city's budget for road markings is $432,000 for 2018, Hoftiezer said.
Two-thirds of those lanes still get the basic paint with glass beads once a year, Hoftiezer said. Every year officials in Sioux Falls reserve about five percent of lane miles to test new products and monitor their effectiveness on a cost-benefit basis, Hoftiezer said. "We're always trying to find something that's strong and durable, that stays white and keeps its reflectivity," he said. "The products have gotten so much better over time and we're constantly trying to find what works best."
Recent advancements include a new type of epoxy that dries so quickly it can be laid down almost with lane closures, he said. The city also is investing $19,000 in a "reflectometer" that allows for testing of reflectivity of lane markings over time without having to risk taking multiple readings amid moving traffic at night.
While cities pay for their own road marking programs, South Dakota counties receive some financial help from the state, which divvies up nearly $1 million a year to its 66 counties based on their highway miles. In Minnehaha County, for example, the county spent $207,500 on its 320-mile road-marking program last year, of which $39,500, or 19 percent, was paid by the state.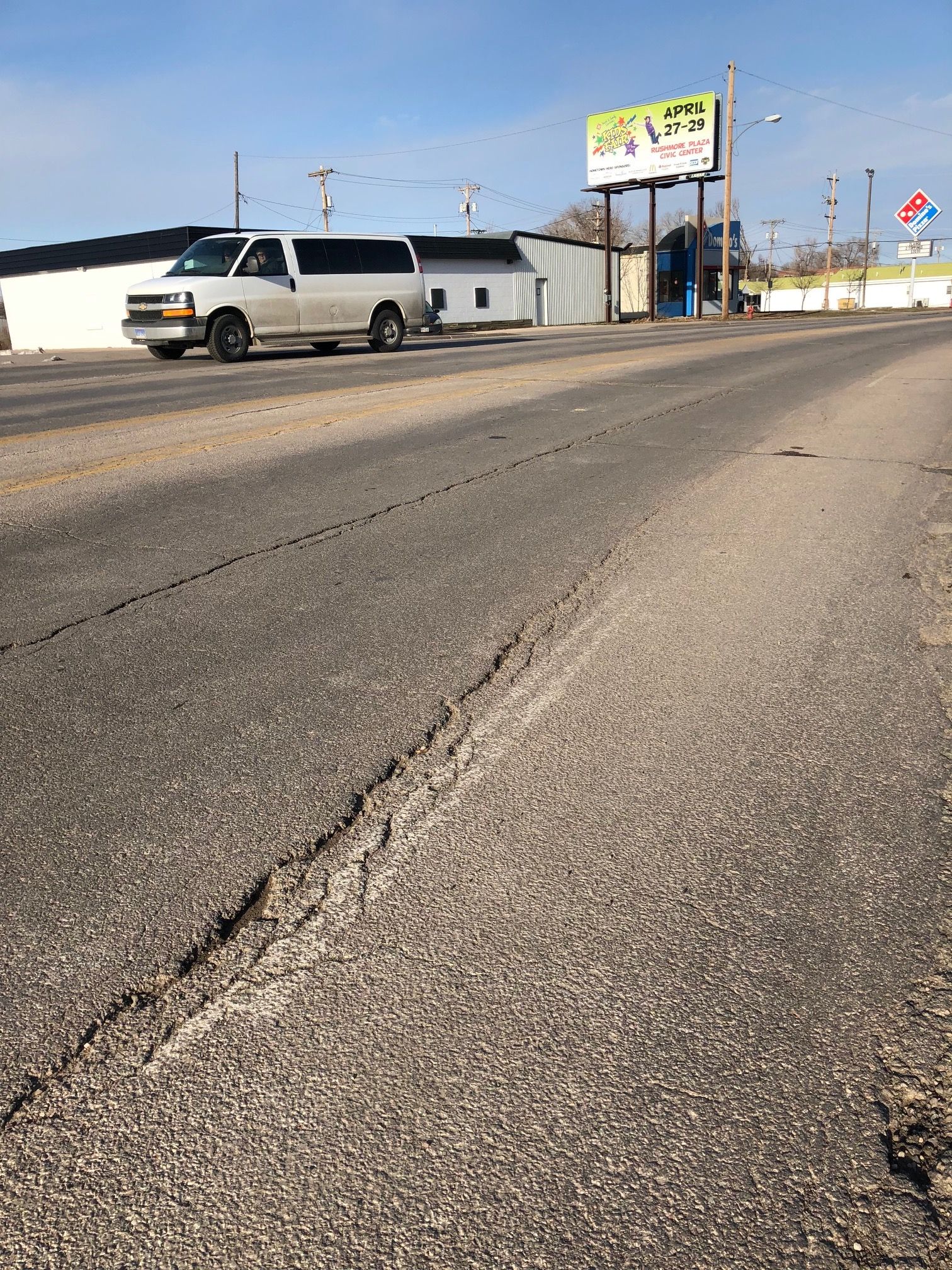 Alerting distracted drivers
Beyond the markings on South Dakota roadways, highway officials are increasingly moving toward rumble strips and rumble stripes in order to use sound to alert drivers they are leaving their lane or the roadway.
Partly to combat distracted driving by cell phone-addicted motorists, Minnehaha County and other jurisdictions are using rumble strips to make highways safer.
In addition to expanding its 4-inch wide paint stripes on the outside edge of county roads to six inches in width, Minnehaha County has begun cutting more rumble strips on the sides of its highways, according to Schultz, the assistant highway superintendent.
Rumble strips are dugout sections of asphalt set a few inches apart that generate a loud thumping sound when tires roll over them. The strips can be from four to eight inches wide on two-lane highways or up to 12 inches wide on interstates. When paint or other lane markings are laid on top of the rumble strips, they become known as rumble stripes.
Spurred by the fact that most crashes in Minnehaha County are due to vehicles leaving the roadway, and with new financial support from the state, Schultz said the county has begun cutting rumble stripes on the edges of its highways.
"For the first time, this county will get a whole bunch of lane miles with rumble stripes," Schultz said. The only drawback of rumble strips and stripes is that nearby residents can hear the thumping sound when a vehicle rolls over the strips, Schultz said. "But every time you hear that sound, a life may have been saved," he said.
South Dakota is behind its neighbor to the north when it comes to installation of rumble stripes in the centerlines of two-lane highways.
North Dakota began installing rumble stripes in the center lines in 2010 and has seen a significant reduction in head-on collisions as a result, said Peggy Anderson, spokesperson for the North Dakota Department of Transportation.
A study a few years ago showed that 62 percent of fatal crashes in North Dakota were due to lane departures, so the state began an aggressive program to install rumble strips on the edges and centerlines of its highways, Anderson said. "Distracted driving was one of the reasons we did it," she said. "It alerts drivers who are distracted or inattentive that they are departing from their lane."
Anytime a North Dakota highway needed improvements, which is typically every three to five years, the centerline rumble strips were installed, Anderson said. A 2015 study in one area showed that crashes with serious injuries or deaths fell by 7.5 percent after centerline stripes were installed, she said.
North Dakota spends $6 million a year in state and federal funds on its road-marking program, Anderson said. The cost to add centerline rumble stripes is $900 per mile for asphalt and $1,850 per mile for concrete, Anderson said. South Dakota does not break out its costs for its road-marking program.
A dozen studies by states and the federal government showed highways with centerline rumble stripes reduced crossover crashes by 40 to 60 percent, according to the Federal Highway Administration. Rumble stripes installed on the edges of rural freeways reduced crashes with fatalities or injuries by a third, the agency reported.
South Dakota began its own centerline rumble stripe program in 2017, though some highways with a high incidence of crossover crashes had the stripes installed for safety as early as 2010, said Andy Vandel, highway safety engineer with the state Department of Transportation. One highway that has had a centerline rumble stripe for years is the hilly, winding section of U.S. 14A in Boulder Canyon between Sturgis and Deadwood.
Now, the state is adding the centerline rumble stripes anytime a highway needs roadwork, and some highways are getting the centerline stripes outside the regular road-improvement schedule, Vandel said.
So far, the state has installed 208 miles of centerline rumble stripes, including on U.S. 12 from state Highway 10 to Aberdeen and from Aberdeen to Ipswich; on state Highway 42 between state highways 19 and 17; and on state Highway 11 between Interstate 90 and the state border in Union County.