YANKTON, S.D. – Backers of Port Yankton, a proposed gambling and entertainment complex along the Missouri River at Yankton, are betting they can gather the necessary signatures from South Dakota voters to place the issue on the 2020 ballot.
Representatives of the Yankton Area Progressive Growth group had hoped the South Dakota Legislature would approve placing the constitutional amendment on the statewide ballot in fall 2018. However, their measure failed in legislative committee earlier this year.
To permit gambling in Yankton, the group now must persuade voters to approve the amendment, because current state law allows legalized gambling only in Deadwood and at tribal casinos.
On May 10, a YAPG committee started the process of drafting a constitutional amendment, seeking approval of the language from the state Attorney General's Office and the Legislative Research Council, before circulating petitions to put the measure on the ballot in two years.
"This is not a sprint, it's a marathon," said Nancy Wenande, the new chief executive officer of the YAPG organization and former Yankton mayor. "The general consensus was we need to keep moving this project forward."
Wenande estimated volunteers will need to collect roughly 35,000 signatures from registered South Dakota voters to put the measure on the ballot. The exact number will be 10 percent of the total voters participating in this fall's statewide general election, she explained.
In addition to working on petition language, Wenande said her group will soon begin conversations with representatives of Deadwood and other communities, as well as tribes, to educate them about plans for the entertainment complex.
As envisioned by YAPG, the planned constitutional amendment would apply only to the Port Yankton project. However, in light of a recent U.S. Supreme Court decision that set aside a federal ban on sports betting, South Dakota could see further efforts to expand gaming.
Port Yankton plan
Port Yankton proponents said while their concept includes gambling, it is primarily an economic development initiative. With a storied riverboat past, a history linked to Dakota Territory's original capital, and more than 100 historic buildings in its downtown core, they contend that Yankton is positioned to hit the jackpot much in the same manner as Deadwood.
"We want to create that same allure that Deadwood has and encourage visitors to come for the experience we can provide, and that's not just gaming," Wenande said. "There is so much more to Yankton, and that's what we want you to experience. Come for the lake and the river, the hiking, biking, history and retail. And, for us, it's another way to get a new hotel for our community."
YAPG's vision for Port Yankton would include a hotel-casino, restaurant and convention center, all built on the Gurney property near the Missouri River in historic downtown Yankton. Nearby Lewis and Clark Lake already attracts 1 million visitors annually, and project proponents said the new complex could spur other development and give those visitors a reason to go downtown.
"Yankton is losing its fair share of regional conventions and first-class entertainment because we lack facilities for larger events," Wenande explained. "This is about sustainability. Any community needs to be fluid and flexible in how it wants to grow and remain viable. This is one of the few opportunities in which we're not going to the taxpayer for funding. A private developer would infuse money into our community to benefit us."
Bernie Hunhoff, founder and editor-at-large of South Dakota Magazine who served 14 years as a state legislator representing the Yankton area, said he backs the proposed project for all it could bring to Yankton.
"Many cities the size of Yankton wish they could be frozen in the '70s and '80s, with a few grocery and clothing stores, a couple of local banks and life would be good," Hunhoff said. "But today, a town like Yankton needs to compete with the world and provide amenities that are offered by Minneapolis, Des Moines and Omaha."
"Without museums, parks, libraries, good schools and recreational opportunities, we will not persuade young entrepreneurs and families to move here," Hunhoff added. "We think Port Yankton can help us find some of the solutions and fund improvements that allow us to move in the right direction."
Wenande and Hunhoff said YAPG did its homework, completing two feasibility studies that examined gaming venues in neighboring states of Iowa, Nebraska and Minnesota. Those studies found total annual gaming revenues of $195 million in the region, with a significant portion of those dollars coming from residents of southeast South Dakota.
"We found a $60 million bleed from our area that is easily traceable," Hunhoff said. "All we need to do is capture about $30 million to $35 million to make this thing a success. We only need a fraction of what is already occurring."
"We're certainly not trying to be the only bakery in town," he added. "There is already a gaming industry here. We're just not benefitting from it. With this project, we think the pie will grow because we could become a destination city. We've got more than a million visitors a year now, but we just need to get them a few steps into town."
Gaming expansion
While many other states, Illinois and Pennsylvania in particular, are debating expanded gaming in their jurisdictions to generate additional revenues for tight state budgets, South Dakotans are likely to determine whether the state joins the trend.
When voters approved legalized gaming for Deadwood in 1988, largely to fund historic preservation efforts in the former 1870s gold mining camp, the Black Hills community became only the third jurisdiction in the U.S. to offer gaming, joining Atlantic City, N.J., and the state of Nevada. Since then, virtually every state except Hawaii and Utah has come to offer some form of legal betting. Also, compacts with eight of South Dakota's nine Native American tribes have allowed gaming in those jurisdictions.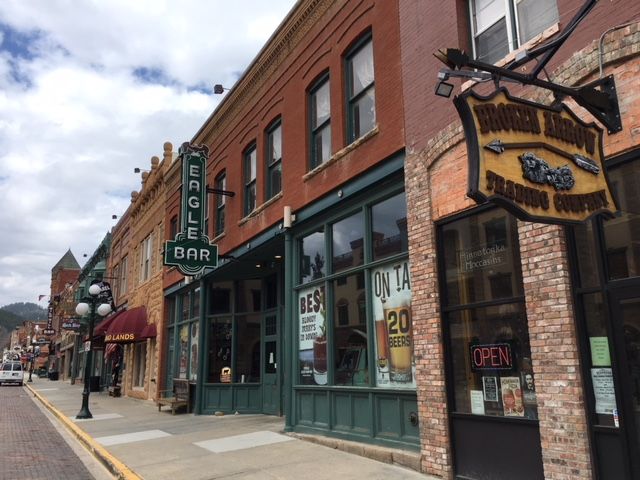 Critics of legalized gambling and its expansion have opposed it largely on moral grounds. Others, such as tribes operating existing casinos, said expanded gaming could "cannibalize" the marketplace, reduce revenues and hurt programs funded by gambling profits.
Deadwood, a city of about 1,300 residents which has secured more than $300 million in public-private investment and more than 1,000 new jobs since gaming was first introduced in November 1989, is not overly concerned that the Port Yankton project would negatively impact its revenues over the long-term.
"We think it's up to the citizens of South Dakota whether they want to see additional gaming," said Mike Rodman, executive director of the Deadwood Gaming Association. "I don't necessarily know that we will be fighting the measure, but we want to make sure that Yankton follows the same rules Deadwood did with a municipal vote and ensure that we have a level playing field in how they propose gaming for Yankton."
In addition, Rodman said the US Supreme Court's ruling in May that allows states to decide if they will introduce legalized sports betting will likely lead to South Dakota voters determining whether sports betting is added to the stable of slot machines, card games, roulette, craps and Keno currently offered in the state.
"Deadwood is just beginning conversations on sports betting with an eye on being on the ballot in 2020," Rodman said after the high court's ruling. "We believe if we move forward, we will be pursuing gathering signatures."
While Rodman acknowledged that sports betting already is occurring in the state, albeit illegally, the gaming industry's stance focuses on remaining competitive when other states allow sport wagering.
"Deadwood has always been dedicated to bringing the gaming options that our customers ask for," he said. "We continue to strive to develop a world-class integrated gaming destination that competes favorably. We would like to see a safe, legal environment for South Dakotans to enjoy sports betting."
The South Dakota Lottery, which has generated $2.69 billion to support education, lower property taxes, develop natural resources and provide problem gambling treatment services since its inception in 1987, is one state agency that might feel the impact of expanded gaming if the Port Yankton project comes to fruition. In addition to Powerball and scratch-off lottery games, 1,335 establishments across South Dakota operated nearly 10,000 video lottery devices in fiscal 2017, according to the state agency.
But thus far, the agency hasn't taken a stand on the project.
"At this time, the South Dakotas Lottery declines to comment on this matter," spokesman Wade LaRoche stated in an email.
Likewise, South Dakota Gov. Dennis Daugaard, who will be out of office by the time any vote occurs in 2020, has not voiced his opinion on the Port Yankton project. The governor's signature would not be required as the constitutional amendment would be subject to a vote of the people.
"For that reason, Governor Daugaard did not take a position on Port Yankton," said Tony Venhuizen, Daugaard's chief of staff. "He would not be opposed if the people voted for it."
Despite potential opposition and a statewide vote that is more than two years away, Port Yankton proponents said their excitement for the project has not waned. They said the possible transformation of their community is worth the work.
"We're going to be taking the long road," Wenande said. "And that's okay."