News About News Watch
Video and transcript: South Dakota News Watch public launch and press conference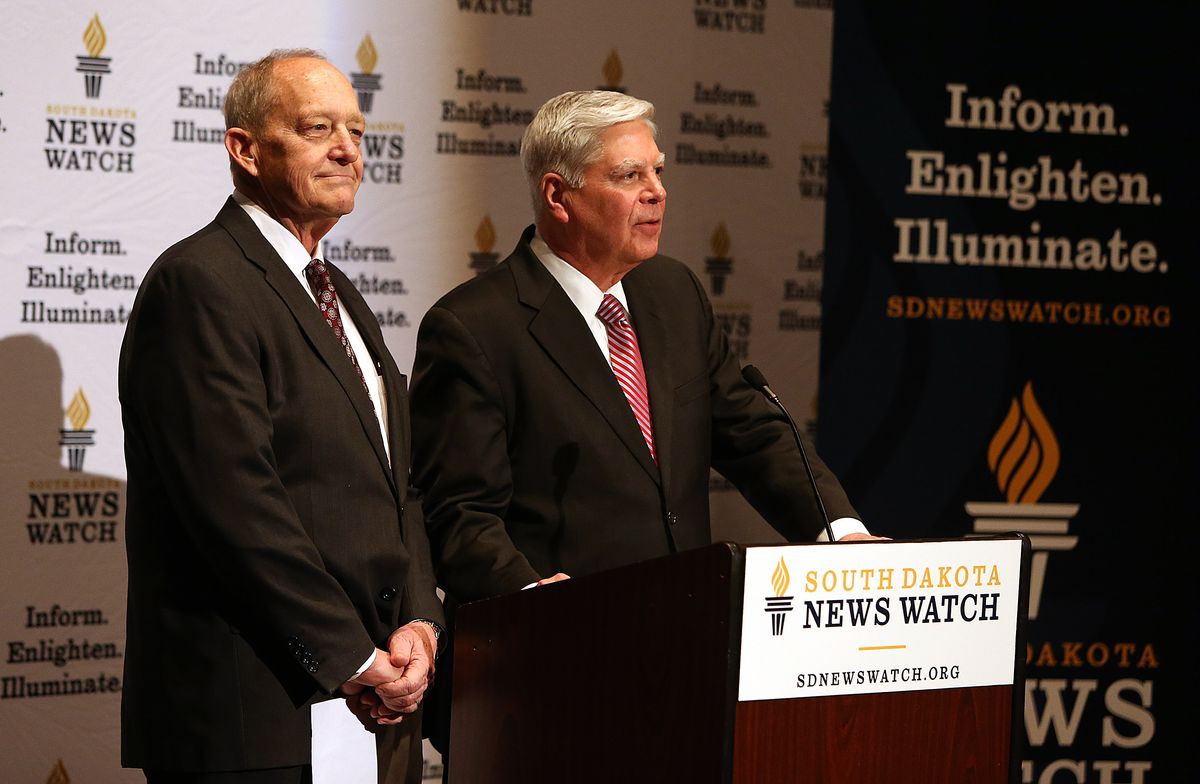 Co-founders Randell Beck and Jack Marsh hosted the public launch of South Dakota News Watch at a press conference, Tuesday, Feb. 13, 2018, in downtown Sioux Falls, S.D. South Dakota News Watch is the nation's latest non-profit news organization, committed to investigative and public service journalism for the benefit of all South Dakotans. This is a transcript of their remarks.
Jack Marsh:
Good afternoon everyone. Welcome to this historic occasion.
This is a great day for journalism and the First Amendment. An important day for civil discourse and the free flow of ideas. A promising day for the future of our remarkable state, South Dakota.
I'm Jack Marsh. With me is Randell Beck, my treasured colleague and friend.
Nearly three years ago, with the encouragement of many people, the two of us began exploring the feasibility of starting a non-profit venture to report the most important statewide stories of our time.
Today, Randell and I are thrilled to see the realization of that dream.
We are announcing the launch of South Dakota News Watch, an independent, nonpartisan, nonprofit news organization created for the public's benefit.
For two life-long journalists and retired media executives — with a combined 82 years in the profession — this launch is a high-water mark in each of our careers.
We are privileged to be co-chairs of the board and honored to serve alongside our outstanding fellow directors. Nine volunteer directors in all.
A vigilant, fair and independent press is vital in a healthy and open society. News Watch is an additional resource available for free to all South Dakotans who strive to be better informed and more engaged citizens.
While South Dakota's newspapers and broadcasters continue to provide strong local coverage in communities from one end of the state to the other, there has been a significant decline of in-depth reporting on issues of broad statewide concern. We are not replacing or duplicating the good work of newspapers and broadcasters. We are partnering with existing news organizations to fill the gaps with valuable new content — by delivering more and better journalism.
Funded by individual donations, foundation grants and media company contributions, South Dakota News Watch will regularly produce journalism available to everyone through our website, SDNewsWatch.org, and through existing media outlets.
We seek to INFORM, ENLIGHTEN and ILLUMINATE.
Our mission statement: "South Dakota News Watch is an independent, non-profit organization reporting untold stories that help South Dakotans be informed and engaged citizens. South Dakota News Watch will produce investigative and public service journalism that sheds light on the people, communities, institutions, governments, issues, concerns, health and general welfare of South Dakotans."
Ladies and gentlemen, we seek your trust.
Trust us – to report events accurately, thoroughly and fairly.
Trust us — to tackle, without fear or favor, complex issues of policy that influence daily
life.
Trust us – to act honorably and with integrity.
Trust us – to call out greed, hypocrisy and corruption, wherever they hide.
In this, our pilot year, we pledge four things:
To uphold the highest principles of professional journalism.
To admit our mistakes.
To operate transparently – and to expect the same of others.
To always listen.
Thank you for joining us in this important cause.
Randell Beck:
The idea for South Dakota News Watch emerged from our belief in the power of sophisticated journalism to make our state a better place to live. But in our search for a solution, we were inspired by similar non-profit efforts around the country designed to fill the gap created by declining resources in America's newsrooms.
Nearly 150 organizations like South Dakota News Watch have sprung up coast to coast over the past five to eight years as a direct response to the financial pressures on established news media. We are experiencing an exciting time of innovation as American journalism undergoes an enormous and rapid transformation.
We believe the rapidly increasing number of such efforts – and the way readers have embraced them — conveys two big lessons. First, they have revealed the extent to which in-depth journalism has taken a back seat to other, vital functions of the media in recent years. With fewer resources, many newsrooms have simply been forced to make hard choices about what they cover.
The second lesson is equally important. We're convinced that educated readers, young and old, on farms and in small towns and big cities, representing a diversity of viewpoints, all share an interest in meaningful long-form journalism that challenges institutions, provides context and understanding of complex issues and even, on occasion, uncovers wrongdoing. South Dakota News Watch rests on the firm belief that fair, thorough, in-depth journalism that seeks the truth also unites us, as citizens, in informed civic debate that makes our state a better place to live.
In these challenging times, South Dakota News Watch embraces the ideal that the free flow of ideas strengthens our democracy. That fact lies at the heart of why South Dakota News Watch exists, why we are gathered here today.
Jack Marsh:
Indeed, the times we are in require more skeptical reporting — not less — and that's what lies at the heart of South Dakota News Watch. We are proud of the journalism published beginning today on the News Watch web site and that you will see published this week through the state's newspapers and broadcasters
To the media of South Dakota, we say: Let's serve the public together.
To the public, we say: Join us in the search for truth and in supporting coverage that makes South Dakota a stronger, better place to live, for ourselves, our children, our grandchildren.
Randell and I deeply appreciate your presence at this kickoff celebration. We are grateful for all the allies who have helped to create South Dakota News Watch.
Randell Beck:
Thanks, Jack.
South Dakota News Watch would not be a reality without the contributions of our board of directors. Many are here today. I would like to thank and introduce Jay Huizenga, general manager of KELOLAND Media Group; Jon Hunter, publisher and president of the Madison Daily Leader; Christine Hamilton, owner of Christiansen Land and Cattle Company near Oacoma; Shannon Brinker, former publisher of the Rapid City Journal; Cory Myers, news director at Argus Leader Media. Two other board members, Arnold Garson and Bill Duhamel, could not be with us today.
And now it's my privilege to introduce our news staff. Maricarrol Kueter, former executive editor of Argus Leader Media, is executive director of South Dakota News Watch. And Bart Pfankuch, former top editor of the Rapid City Journal, is our investigative reporter. I'd like to ask Bart and Maricarrol to join us at the podium for any questions you might have.