To discover the truth about the new, more advanced meatless burgers by Beyond Meat, South Dakota News Watch arranged a side-by-side comparison with traditional American ground beef.
We grilled up one pre-formed beef patty bought at Walmart and one pre-formed patty of The Beyond Burger by Beyond Meat. Here is the comparison of the equal-weight patties and the final product, served exactly the same way on a roll with ketchup, onion, lettuce and tomato.
Beef burger basics
Four-ounce patty of 80/20 ground chuck, $5.98 for package of four patties. Ingredients: beef and natural flavorings. Product of USA, packaged and distributed by TSD Sales and Distribution, Dakota Dunes, S.D. Nutrition data: 380 calories, 30 grams fat, zero grams total carbohydrates, 105 mg cholesterol, 100 mg sodium, 26 grams protein.
Beyond Burger basics
Four-ounce patty of plant-based products, $7.59 for package of two patties. Main ingredients: Waster, pea protein isolate, expeller-pressed canola oil, refined coconut oil. Also, less than two percent of the following: cellulose from bamboo, methylcellulose, potato starch, natural flavor, maltodextrin, yeast extract, salt, sunflower oil, vegetable glycerin, dried yeast, gum Arabic, citrus extract, ascorbic acid, beet extract, acetic acid, succinic acid, modified food starch and annatto.
Product of USA, made from domestic and imported ingredients, distributed by Beyond Meat, El Segundo, Calif. Nutrition data: 270 calories, 20 grams fat, 5 grams total carbohydrates, zero grams cholesterol, 380 mg sodium, 20 grams protein.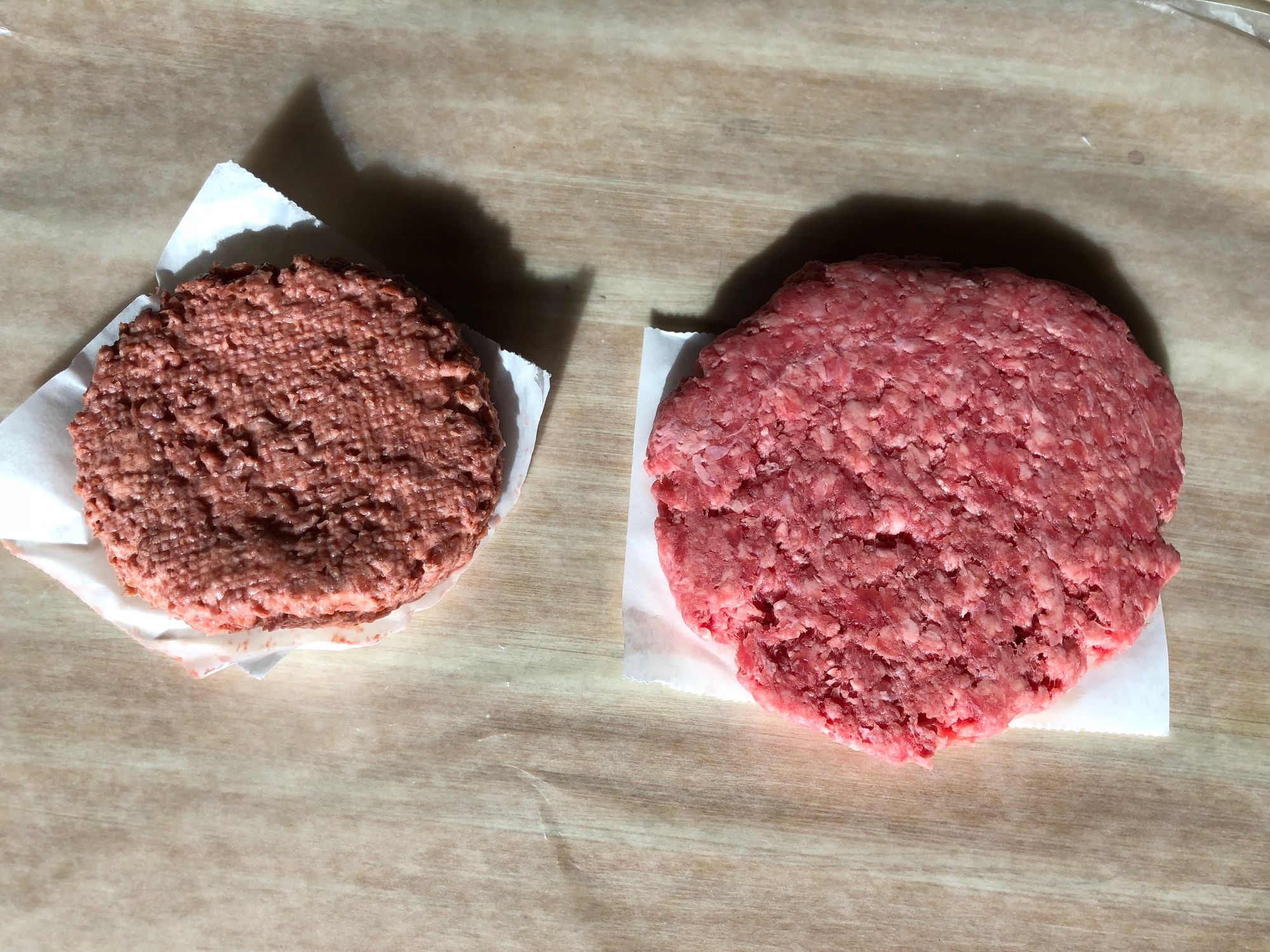 Cooking and tasting notes
Both products came out of the plastic packaging with firm texture, a bright pink color and an inviting look. Once on the grill, both patties sizzled as they cooked and both dripped juices onto the grill flame below. Both patties took on a satisfying crispy char as they grilled to medium-well doneness. When put on the bun and cut in half, the Beyond Burger was a bit firmer than the beef burger, which shrank a little more but had more juiciness throughout. The Beyond Burger retained a pinkish color in the middle while the beef burger, cooked through, was mostly gray with just a thin line of pink color in the middle.
The beef burger tasted like burgers we both had before: juicy, meaty, tender, rich and well paired with onion and tomato. Both tasters were pleased with the overall appearance and flavor.
The Beyond Burger was also tender but perhaps a bit mealy. The texture was similar to the beef burger, though it lacked the richness and juiciness of the beef. To one taster, The Beyond Burger had a somewhat off-putting odor both before, during and after cooking, perhaps a bit chemically or overly plant-like. That smell translated into the taste and then lingered on that taster's palate for an hour after the tasting. The other taster said The Beyond Burger was well above in flavor than many other veggie burgers tried before, and that it would make a fine substitute at a barbecue for a vegetarian or vegan guest.
In the end, the classic beef burger won out among both tasters. But also clear was the fact that The Beyond Burger is a major advancement in texture, flavor and eating experience over veggie burgers tasted in the past.