As the clock struck zero at the 2012 Summit League basketball finals, South Dakota State University fans stormed the Sioux Falls Arena court to celebrate their men's team's first-ever bid to one of America's most significant sports spectacles, the NCAA Division I tournament.
Coupled with SDSU's women's basketball triumph earlier on the same court, the moment seemed to bolster the Brookings school's decision eight years earlier to leave the familiar confines of the Division II North Central Conference to compete at the highest level of intercollegiate sports.
"It was one of those days," said SDSU athletic director Justin Sell, "that changed our university."
Like most everything in the increasingly complex world of college athletics, however, there was more to the story. Besides winning, SDSU sought to keep the athletic program financially viable and less reliant on taxpayer money, university support and student fees.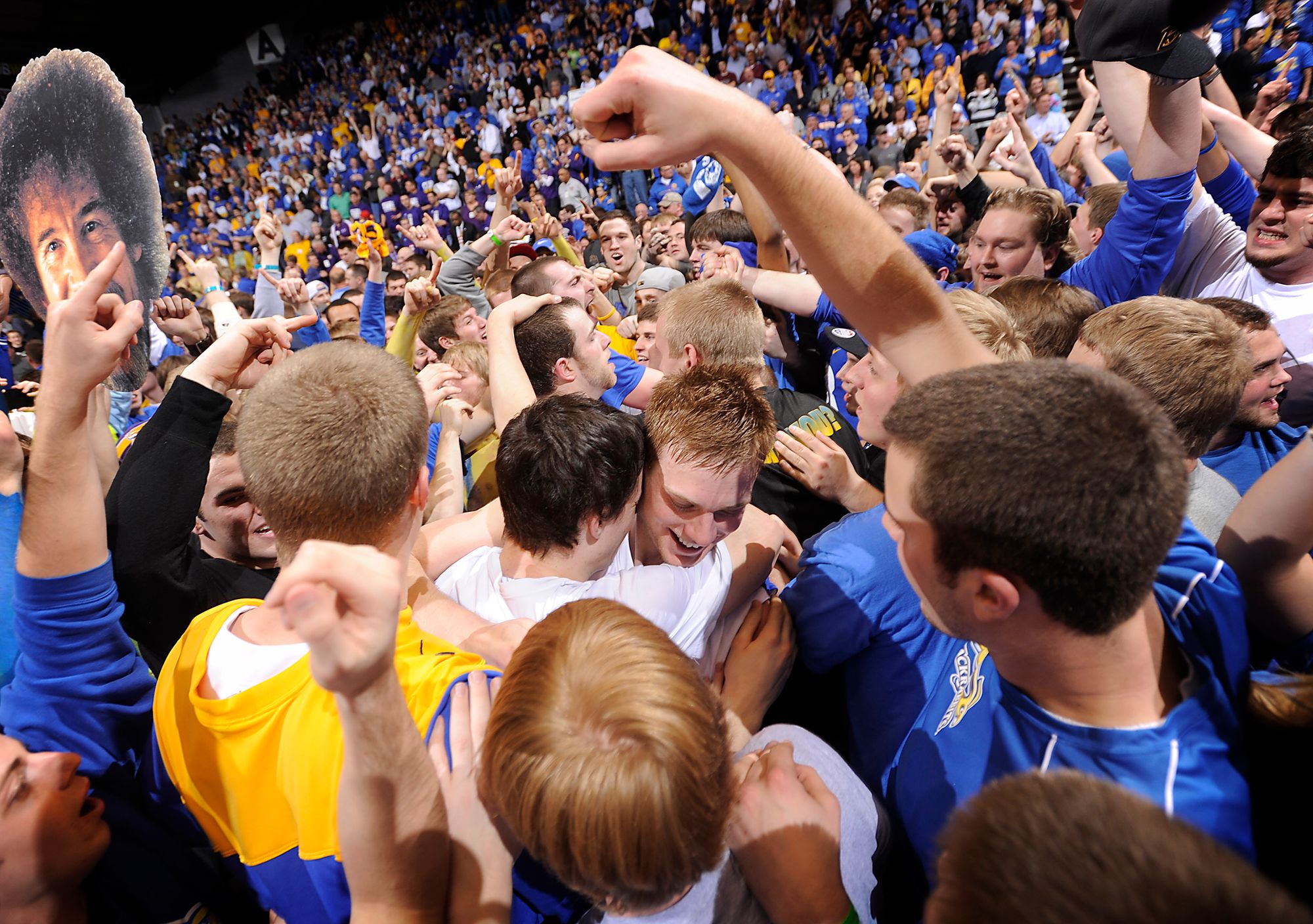 Two years later, the University of South Dakota in Vermillion announced its own jump to Division I and began a similar journey to depend less on those allocated funds, as they're known in NCAA circles.
According to a South Dakota News Watch analysis of mandatory NCAA reporting data over the past decade, the Jackrabbits' Division I reclassification in 2004 has been more successful in that regard:
SDSU, with an athletic budget of $20 million, draws about 45% of its revenue from allocated funds, according to the most recent data.
USD's athletic department is more subsidized, with 66% of its $18.5 million budget coming from government and institutional money and student fees.
Government support refers to general funds disbursed by the South Dakota Board of Regents, which oversees the state's six public universities. Institutional funds can include money from tuition, tuition waivers and endowments.

USD and SDSU athletic departments scrambling to find revenue

SDSU and USD compete in the Summit League for most sports and are football members of the Missouri Valley Conference along with North Dakota State and the University of North Dakota.
That puts them in the Football Championship Subdivision (FCS), a lower level than the Football Bowl Subdivision (FBS), which encompasses major-college programs such as Nebraska, Minnesota and Iowa.
The so-called Power Five conferences – the Atlantic Coast (ACC), Big Ten, Big 12, Pacific-12 (Pac 12) and Southeastern (SEC) – reap the benefits of billion-dollar television deals and ticket sales. Their allocated funds average is 7%, due mainly to media rights, NCAA and conference distributions and bowl-related revenues that create a "haves and have nots" chasm in college athletics.
That leaves mid-major programs such as SDSU and USD scrambling to find enough money to meet mounting expenses for scholarships, coaches compensation, facilities and travel. Operating revenue such as ticket sales, corporate sponsorship and donor contributions can be a challenge for mid-major athletic programs to generate.
When compared with rivals, the South Dakota schools are not unique, according to the News Watch analysis of NCAA data from 2012-2020 (fiscal year 2021 was disregarded due to COVID-related impacts):
The average percentage of allocated funds for FCS schools is 71%, which means USD is less subsidized than most schools at their competitive level. 

Other Summit League public schools that sponsor football also rely heavily on allocated funds: North Dakota State (33%), North Dakota (54%) and Western Illinois (72%).

SDSU reported $4.4 million in ticket revenue in 2020, compared with $960,000 for USD. 

NDSU reported $6.3 million in ticket sales in 2020, while UND had $4.9 million (including Division I hockey) and Western Illinois $900,000. 

Northern Colorado, a former NCC school that reclassified to Division I in 2002, drew 70% of revenue from allocated funds in 2020 and brought in just $339,500 in ticket sales.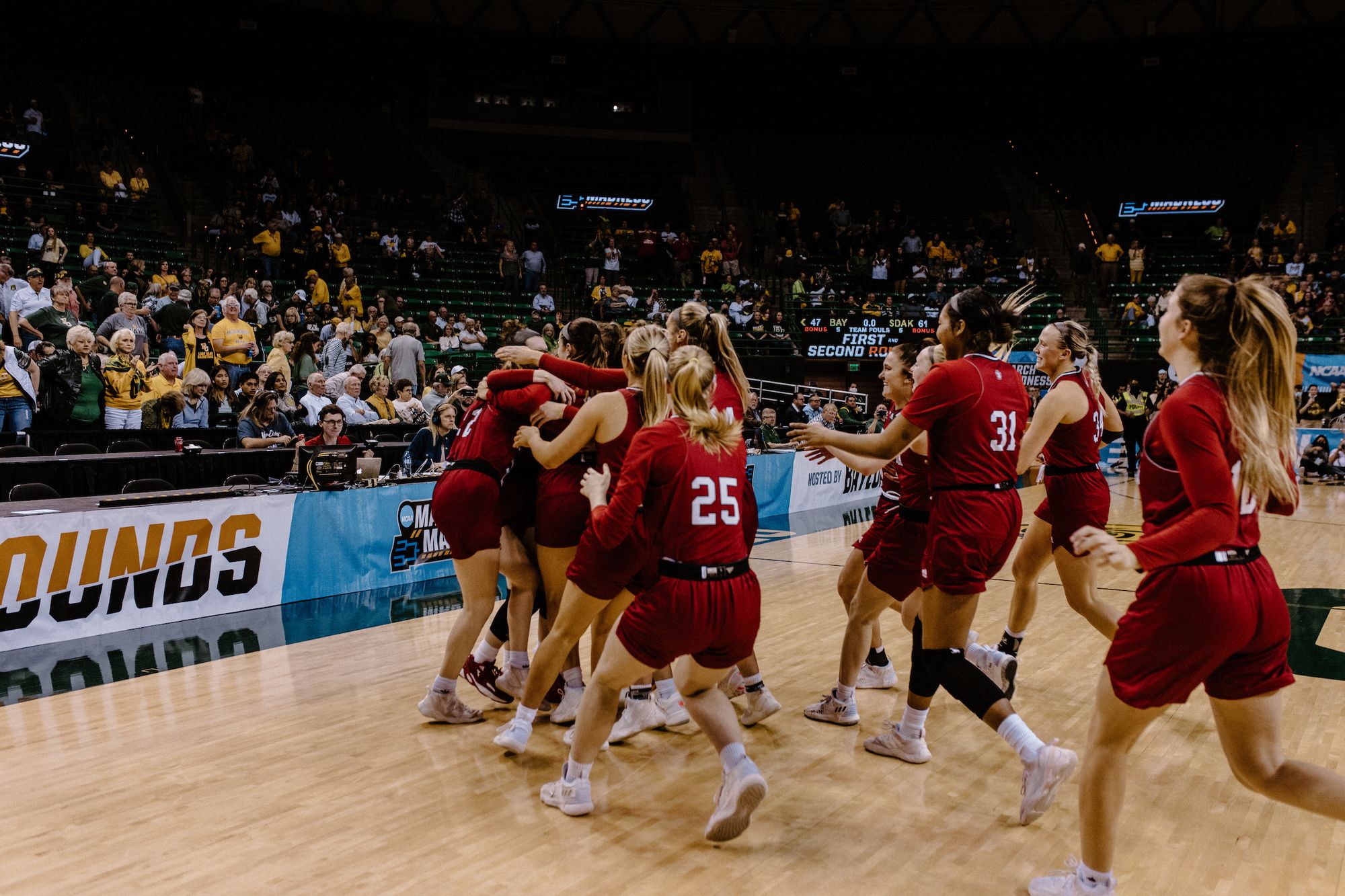 USD's reliance on allocated funds: 'Time to re-balance?'

USD's reliance on allocated funds has increased nearly 100%, from $6.58 million in 2012 to $13.08 million in 2020. SDSU went from $7.88 million to $9.9 million during that span, a rise of 27%.
Academic spending at USD increased 23% from 2012-20 ($164.1 to $202.6 million), while SDSU's spending increased 12% during that span ($163.6 to $183.4 million). Those expenditures include instruction, research, public service, academic support and student services.
On the athletics side, increased funding to meet Division I demands has not produced higher enrollment. In fact, SDSU's undergraduate enrollment dropped 10.7% from 2012 to 2023, while USD's dipped 4.6%. Tuition more than doubled at both schools during that span from $114.30 a credit hour to $256.55, a spike of nearly 125%.
Brian Maher, Board of Regents executive director, was asked if the board was concerned about one of the state's Division I universities being more reliant than the other on public and student subsidies.
More from News Watch: Observers note more positive pulse in South Dakota politics
"We always have to look at how equitably we are treating like institutions, and we will continue to look at that," said Maher. "Is there a concern? I would say, always. Are we overly concerned right now? No, but I do think we need to look at making sure the balance is there and, if not, is it time to re-balance? I think we always need to look at that."
"A lot of schools can't drive the revenue," added SDSU's Sell. "Is one model better than one another, is one good or one bad? I don't know. They're just different. Each school philosophically has to figure that out, and ultimately it's your constituents, students and supporters that need to feel comfortable with that approach."
Athletic success equals national exposure for USD and SDSU

The Jackrabbits and Coyotes have seen their share of sports success, with SDSU's football team claiming its first-ever national title this past season and USD's women's basketball advancing to the Sweet 16 of the NCAA tournament in 2022.
SDSU won the Summit League women's basketball tournament in Sioux Falls last week and will compete in the NCAA tournament for the 11th time since making the move to Division I. The Coyotes' track and field program has produced four NCAA individual pole vault titles.
How has that success translated into meeting the financial demands of fielding competitive teams and creating a rewarding experience for student-athletes and their fans?
USD president Sheila Gestring pointed to renewed efforts to market the school's sports teams and improve game day experience to boost interest. She also noted that Division I sports can bring exposure to a university that goes beyond turnstile counts.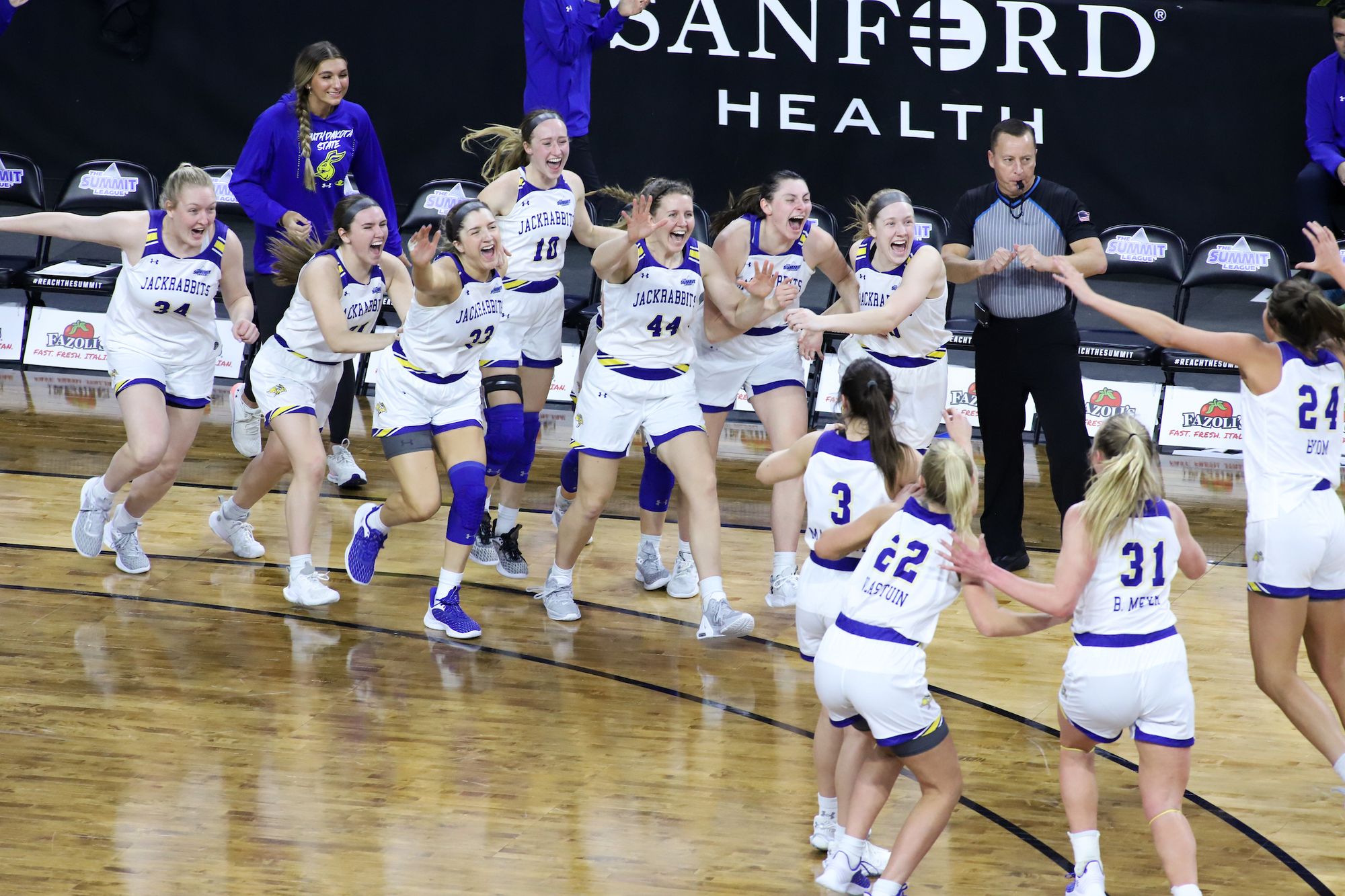 "There is value involved in getting national exposure," Gestring told News Watch. "You can't buy enough marketing to match the free coverage you're getting when you're making a march to win the WNIT (Women's National Invitation Tournament) or get to the Sweet 16, or you have an Olympic silver medalist or Sports Illustrated play of the year. It's a tremendous way to expose not just your athletic teams to a national audience, but the university in general."
Gestring spoke those words several days after watching USD's basketball teams bow out in the first round of the Summit League tournament, the women dealing with the departure of coach Dawn Plitzuweit, who guided the Coyotes to three Summit tourney titles, to West Virginia of the Big 12. The USD football team is coming off a season with three wins and eight losses, reinforcing the notion that selling your school's Division I vision to donors and fans is easier on the heels of victory.
"There's a certain amount of revenue that comes with winning, and I think that's how you fill the gap," said Maher. "Otherwise, to use a phrase from athletics, 'You're just another guy.'"
Alumni and other donor support needed to keep athletic departments afloat


Jim Abbott, who served as USD's president from 1997-2018, knew that change was inevitable when SDSU joined NDSU in reclassifying to Division I in 2004, leaving the Coyotes on a lower competitive level than their in-state and century-old rival.
Abbott agreed with SDSU leadership at the time – president Peggy Gordon Miller and athletic director Fred Oien – that Division II athletics had become watered down and that South Dakota, the nation's last state without a Division I athletic program, would rally around a new era, as suggested in a report by the SDSU-commissioned consulting firm Carr Associates.
"Healthy universities are living organizations that, if they are student-focused and forward-looking, grow over time," the report said. "Wise universities continue to reaffirm their values but also reach out to new opportunities that present themselves."
Abbott, however, knew that a surge in athletic scholarships, travel and other investments needed for Division I would take an influx of money from alumni and other donors, and he didn't see that level of support in Vermillion.
The school's endowment would grow from $45 million to $258 million during his stint as president. But the USD Foundation was still finding its footing at the time. He was also paying attention to UND, which had similar reservations and was staying in Division II despite NDSU's move.
"I had quite a few conversations with Peggy Gordon Miller about it," Abbott told News Watch. "For a while, we were shooting toward moving to Division I at the same time SDSU did, and we were hoping that UND would go along. It didn't work out that way. In the final analysis, I determined that we didn't have the foundation support at that time. The support had to be substantial, and it just didn't come together at that time."
Students supported fee increases at both universities

But the feeling of inevitability stuck with him, hastened by the deterioration of the NCC, and UND and USD both announced in 2006 that they would transition to Division I in two years.
Abbott knew he had made the right decision after attending the 2008 Division II women's national championship basketball game between USD and Northern Kentucky in Kearney, Nebraska, a 63-58 loss by the Coyotes that drew a crowd of 3,067.
"It was a national championship, and it was pretty ho-hum," Abbott said of that final Division II season. "There just wasn't the enthusiasm generated by it. And by that time all these other schools had gone Division I, and it was pretty clear that it made sense for us long-term."
Spikes in corporate and donor support, including major investments from Sanford Health, helped USD revamp its athletic facilities. Those included the $73 million Sanford Coyote Sports Center, a 6,000-seat basketball and volleyball arena that opened in 2016, and a $26 million remodel of the DakotaDome football complex.
The enhancements, as well as a $10.5 million project to repair the DakotaDome roof in 2000 that included $4 million in state funds, were bolstered by public and student support.
In 2015, USD students voted to approve a three-year increase in general activity fees (student fees), partly to generate revenue for the athletic department. Student fees went from $38.30 per credit hour in 2015 to $52.70 in 2018, bringing the annual fee to $1,581 for a student taking 30 credit hours. In fiscal year 2023, student fees are $55.30 per credit hour ($1,659) at USD and $50.85 ($1,525.50) at SDSU.
"Every single time our fees were increased because of athletics, our students were solidly behind it, including building a new arena," Abbott said. "Our students were incredibly supportive."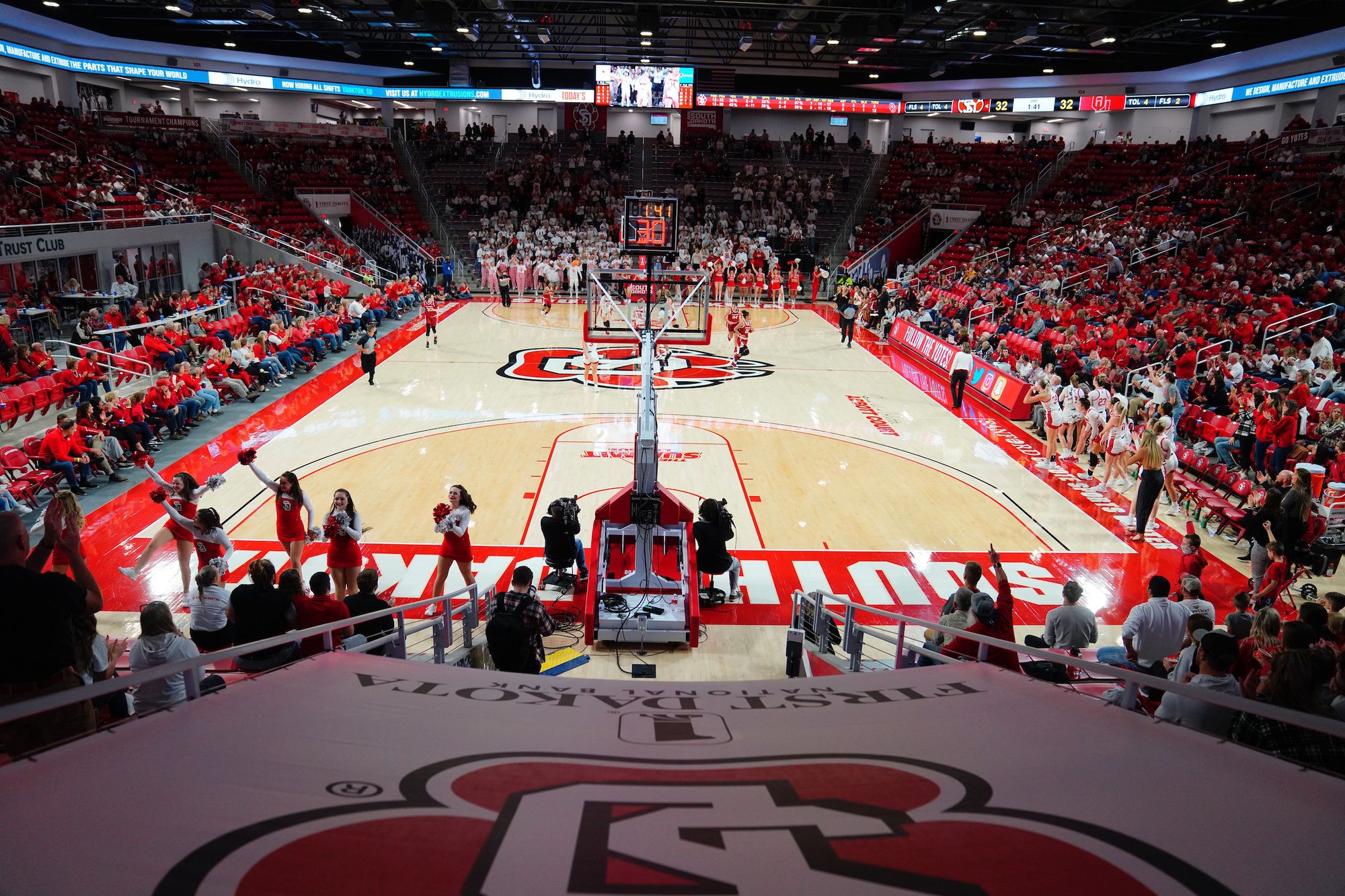 Red ink for red seats at University of South Dakota

USD reported $29.4 million in athletics-related debt in its most recent NCAA report, tied to bond service for the Sanford Coyote Sports Center and DakotaDome renovation. The basketball arena included $22.7 million in bond proceeds, to be paid off with the Sanford Health donation, corporate sponsorships and facility rental.
Funding for the DakotaDome expansion included $14.5 million in bond proceeds (serviced with private funds), $6.4 million from USD local fund cash and $5.4 from the school's Higher Education Facilities Fund (HEFF) maintenance and repair allocation, derived from a student tuition surcharge and typically used for academic buildings.
Despite occasional surges, such as when USD's women's basketball team won the WNIT championship in 2016 on its old DakotaDome court, gate revenue remains a challenge in Vermillion. The Coyotes reported $960,000 in ticket sales in 2020, which is up from $280,000 in 2012 but accounts for just 2% of athletic department revenue.
For Greg Huckabee, an economics professor who serves on USD's Board of Athletic Control and regularly attends events on campus, the relative lack of student fan interest is puzzling.
"The students help subsidize athletics with the fees they pay, but we haven't had real good attendance of students in the past 20 years," said Huckabee, who arrived at USD in 2003. "I've asked students why that is, and they point to a lack of consistent success in sports like football. It's sort of hard to generate a strong fan base when you don't have winning programs."
The Coyotes have advanced to the football postseason twice since making the Division I move, with one playoff victory. SDSU has gone on 12 times while compiling 18 wins, including two championship game appearances.
Huckabee attended college at Gonzaga, a small private university in Spokane, Washington, that achieved national acclaim when its men's basketball team started making NCAA tournament runs, including two trips to the national finals.
The Jesuit liberal arts college saw its enrollment spike 82 percent – from 4,185 to 7,605 – and its endowment doubled from 1999 to 2013 as the basketball team made 15 consecutive appearances in the NCAA tournament.
"What comes first? The chicken or the egg?" asked Huckabee. "I think you have to first generate excitement with a winning team that brings people to the games. Geezers like me, we're going to go to the games regardless of whether we have a winning team. But students aren't that way. They'll go home on weekends rather than sticking around to watch football or basketball. You've got to give them reasons to stay."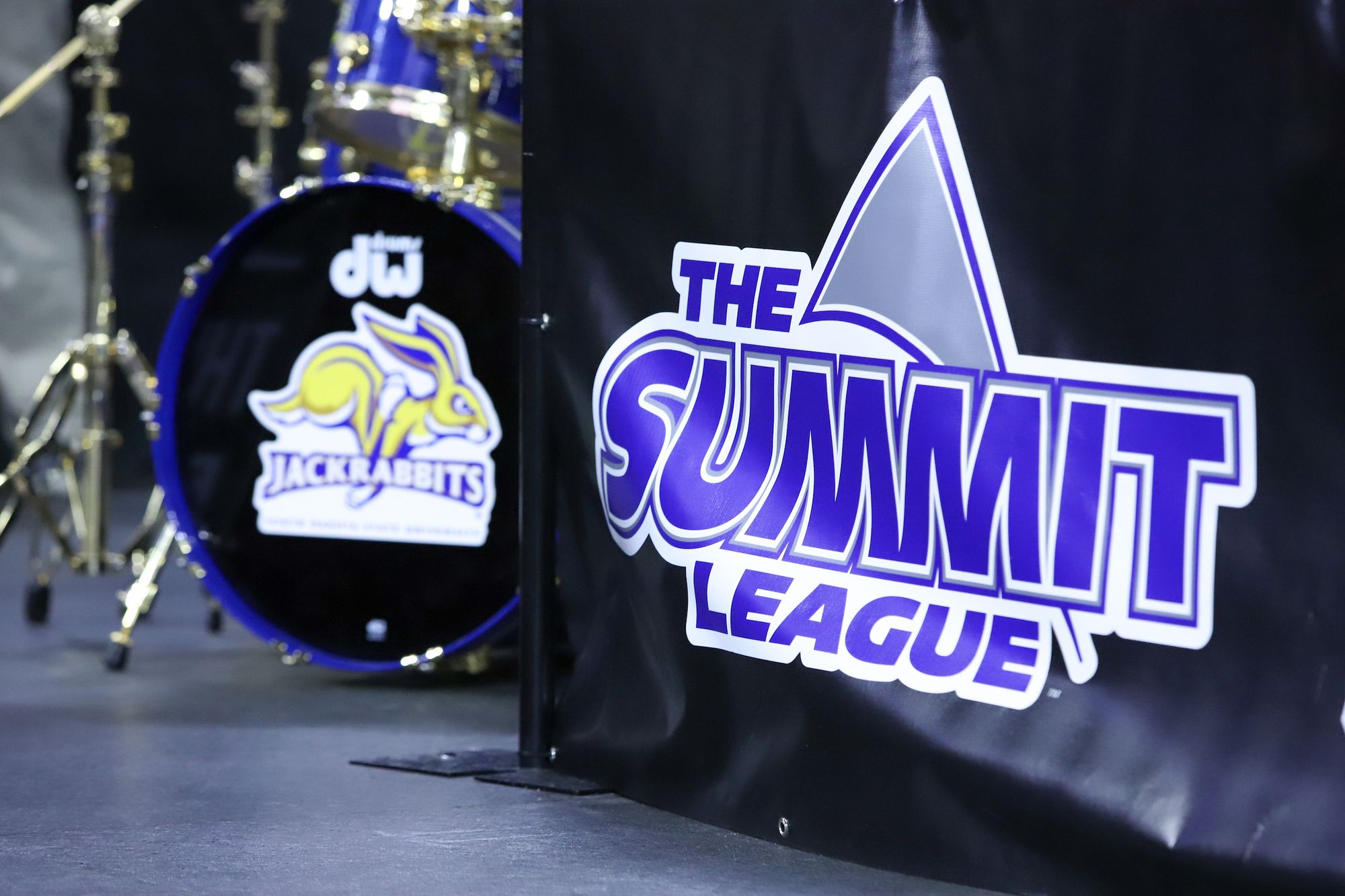 Times have changed: Bison minivan vs. Jackrabbit cooler of beer

Dana Dykhouse played defensive tackle for SDSU in the late 1970s, when NDSU ruled the Upper Midwest in football and Division I athletics seemed worlds away from the facilities and fan experience in Brookings.
When Dykhouse, now CEO of First Premier Bank, became a prominent booster for the Jackrabbits several decades later, he believed that major donors and corporate partners were the path to a more polished collegiate experience.
"I remember attending an athletic scholarship banquet up in Fargo, where the top auction item was a minivan totally decked out with Bison gear," said Dykhouse. "(SDSU's) top item that year was a cooler filled with beer. Back then we raised about $50,000 with our scholarship auction and now we bring in over $1 million in one night."
SDSU had an athletic budget of $4.8 million in fiscal year 2004, on the cusp of its transition process. The school pushed that to $12.2 million by 2010, the year after Sell arrived as athletic director, with 60% coming from allocated funds (state/university funds and student fees). The 2022 budget was $25.6 million, and the percentage of allocated funds was down to 48%.
"We made a commitment to try to figure out how to grow our budget but do it with donors, ticket sales and corporate sponsors, and really try to drive that revenue," said Sell.
Donor support more important after Division I move
But there's a limit to how much private money should be used, SDSU president Barry Dunn told News Watch.
Finding the right balance between institutional and donor support has been of particular interest to Dunn, who was hired in 2016 and chaired the search committee that hired Summit League commissioner Josh Fenton in 2021. Dunn also serves on the Summit League's finance committee.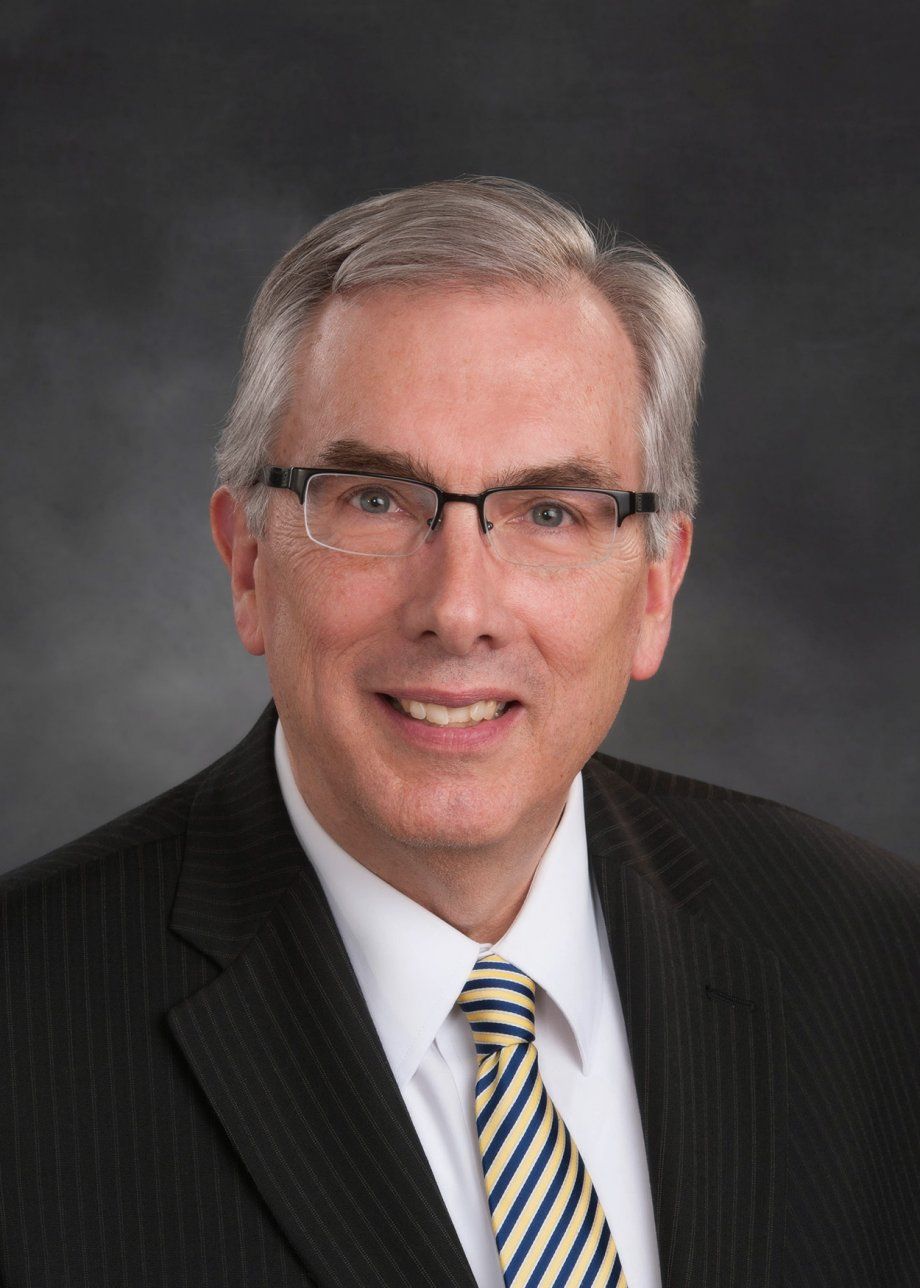 "I tackled this when I became president," he said. "I looked at the trends, and at SDSU, counter to a lot of mid-majors, we were becoming more and more reliant on booster support, corporate and ticket revenue. And in a lot of ways that's great, but I didn't want to give up institutional control. We settled on a goal of around 40% (allocated funds), and I think that's very healthy. It's also very different than USD and a lot of other schools in our conferences who receive support of 65-70% or even higher. But with our success we've been able to get that down."
A major priority was upgrading SDSU's athletic facilities largely with private money rather than having to rely on institutional funds or student fees.
Dana J. Dykhouse Stadium, a $65 million football facility that seats 19,340, opened in 2016, with $36 million financed by bonds and $27 million coming from donations, including $10 million from First Premier founder Denny Sanford and $2.5 million from Dykhouse.
Dykhouse and Sanford had earlier donated $6 million for the Dykhouse Student-Athlete Center, which includes offices, meeting rooms, locker rooms and weight training. Sanford Health donated another $10 million for an indoor practice facility.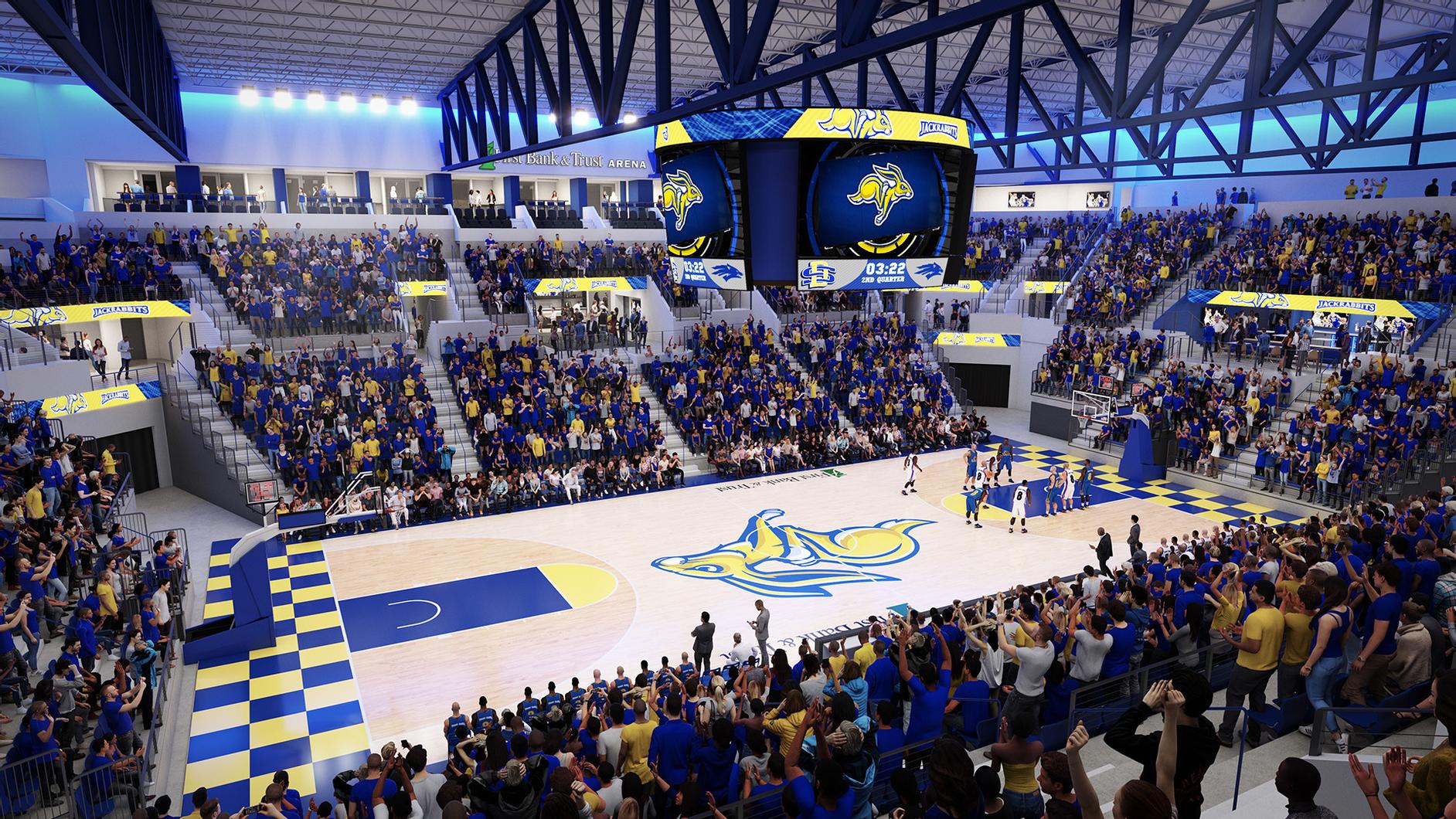 Also underway is a $53 million renovation of Frost Arena, to become First Bank & Trust Arena after a lead gift of $20 million. The project calls for $41.2 million in private donations, $6 million in HEFF funds and $4 million in university funds generated from ticket, sponsorship and broadcast rights.
SDSU listed $28.3 million in athletics-related debt on its most recent NCAA report, tied to bonding for the football stadium. Annual lease payments of $2.6 million are made primarily from revenue from suites and other premium seating at the stadium.
Donor money, not student funds being used at SDSU
"There is no student money in Dykhouse Stadium, there is no student money in First Bank & Trust Arena, and that is in contrast to how USD has funded their facilities," said Dunn. He pointed out that student fees, approved by the student association, were used for non-athletic department facility upgrades at SDSU such as the Miller Wellness Center and University Student Union.
"We want students to be able to go and have their student fees pay for tickets, but you don't want the students to bear the entire burden of this (athletic) enterprise," Dunn added. "My predecessors not only made tough decisions by going Division I, but they did the really important work of building relationships and growing that donor base, and of course winning always helps."
More News Watch: Football participation declines in S.D. and U.S. as brain injury research expands
The Jackrabbits have seen Division I momentum play out in major moments, from the men's first NCAA basketball berth in 2012 to the women making the Sweet 16 in 2019 and ESPN's College Gameday football show (which averages more than 2 million weekly viewers) coming to Brookings that same year. The football team made history with its first-ever national title this January, with a 45-21 rout of NDSU in Frisco, Texas.
Those successes spark media coverage and campus excitement, but much of the progress occurs behind the scenes. Jackrabbit Club fundraising went from $838,000 in 2013 to $1.8 million in 2022, and an active football alumni group "browbeats" former players to buy season tickets, according to Dykhouse, adding that the group donated $75,000 so the team could have new football helmets.
Premium seat sales at Dykhouse Stadium helped the football team to bring in $3.5 million in ticket sales in 2022, well above men's basketball ($365,165), women's basketball ($365,165) and wrestling ($51,859).
"That did not happen overnight," said Dykhouse, who also noted the Board of Regents' expanded alcohol policy for campus events.
"We were averaging 5,000 to 6,000 fans a game when we went Division I, and we didn't go from that to (more than 15,000) in one year. It's just a hard slog and you have to work at it – athletic department, coaches, alumni, marketing, everybody. If you're not doing the work today, it's not going to instantly get better in two years."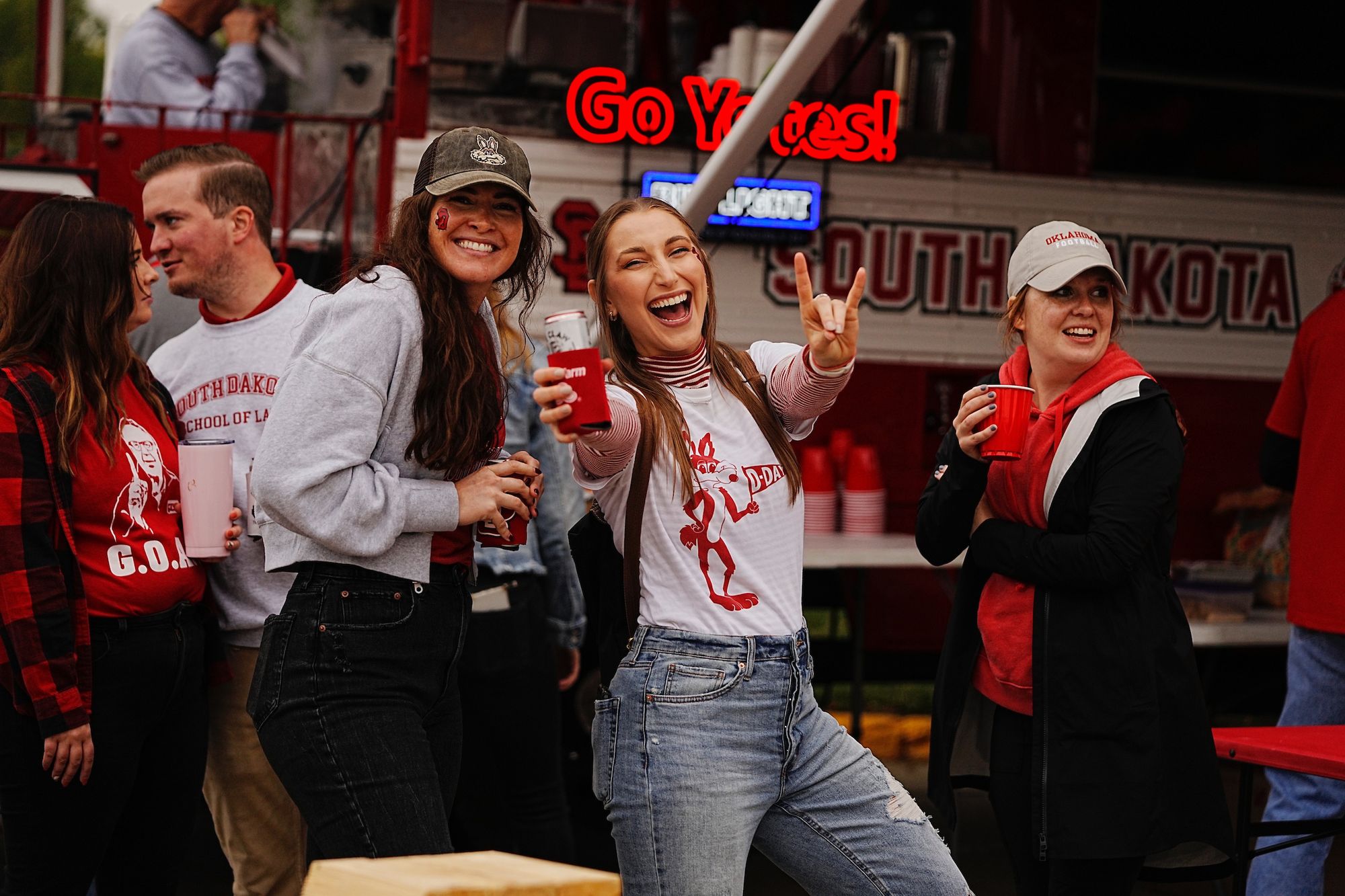 Enrollment has not followed investment in athletic programs
One of the arguments for a university taking its athletic programs to Division I is that playing at a higher level will spark more exposure and brand awareness, resulting in higher enrollment.
That has not been the case for SDSU and USD, where undergraduate enrollments lag behind or remain static from where they were in 2012, despite modest post-COVID increases for 2022-23.
SDSU is currently at 9,816 undergraduate students, down from 10,993 in fiscal year 2012. USD is at 7,132, down from 7,473 in 2012. Total enrollment (including graduate students) is 11,331 at SDSU and 9,856 at USD.
There are many factors that go into enrollment, including efforts by the Board of Regents to freeze tuition rates and maximize student access to federal aid to get more South Dakota high school graduates on campus. But packaging campus enhancements tied to Division I into SDSU/USD recruiting strategies is a priority moving forward.
"We've done a fairly poor job of telling our own story and doing our own marketing from a system perspective, and that has trickled into our campuses not getting the marketing they deserve," Maher said. "We need to really hit on these successes and improve messaging and brand notice across the board."
With SDSU sponsoring 18 sports with 493 total athletes and USD 17 sports with 448 athletes, the Division I model brings more students to campus, which acts as an enrollment and tuition stimulus regardless of wins and losses.
"Athletics is a contributor to the academic engines on campus because those students are not all on full scholarship and pay tuition and fees," said USD's Gestring. "We have over 400 student-athletes, and we privately raise the scholarship dollars, so athletics is contributing to the academic balance sheet. Of course, if we're going to be in the Division I space, we need to provide the resources necessary for those teams to be successful."
Schools trying to keep talent from leaving to Power Fives
That's easier said than done in the tiered system of college sports, where success can easily lead to more lucrative and high-profile opportunities elsewhere.
Basketball coaches Plitzuweit, Amy Williams and Craig Smith at USD and T.J. Otzelberger at SDSU left South Dakota for bigger schools. For athletes, graduate transfer and name, image and likeness (NIL) rules could incentivize more standout players to take the same path.
Sell hopes Congress or new NCAA president Charlie Baker takes action to restrict pay-for-play or transfer policies to make it harder for Power Five schools to poach FCS-level athletes.
But keeping coaches from leaving is a harder sell.
"We try to stress integrity in decision-making, family values, being part of an institution and fan base that cares about you," said Sell.
"That comes with facility development, budget growth, support for coaches and athletes and offering a chance to be relevant in winning. There are a lot of boxes we can check to make these jobs valuable and fulfilling, so other schools have to come not only with a higher salary but some of those other pieces."
Sell said that he's been stopped in airports more often these days when he's wearing SDSU gear, which he attributes to the Jacks having a larger national profile due to recent breakthroughs.
The fact that Division I success hasn't sparked an enrollment boom isn't a huge concern for people like Maher, whose perspective comes from having a son and two daughters who competed as student-athletes at the University of Nebraska.
"I see the benefits," he said of South Dakota's ongoing Division I path. "I see it from the standpoint of improving the student experience and having fun. That's an easy part for all of us to grasp because we see the people in the stands or at a family gathering, gathered around the television watching South Dakota State play on a Sunday afternoon for a national football championship. Some things, when you look at them like that, are easy to see."