Rural Life and Outdoors
Rivers at risk: State, cities place few limits on farm and urban runoff into rivers
Part of a series of stories examining river quality in South Dakota.
Cattle beat the heat on a Moody County farm recently by wading into a stretch of Bachelor Creek that flows into the Big Sioux River. The cattle moved into the waterway unencumbered because there are no fences.
Corn stretches out in neat rows near Mitchell, planted nearly to the shore of the James River. Riparian buffer strips that slow erosion and limit pollution from manure or fertilizers are nowhere to be seen, allowing runoff from the field to flow directly into the waterway.
Similar scenes are visible across South Dakota as chemicals, animal waste and other contaminants flow from farms and ranches into rivers and streams with only limited efforts to control their path or pollution level.
South Dakota's largest industry is one of the biggest contributors to the impairment of state rivers. The polluting occurs with almost no consequence to producers, even those who openly flout best management practices.
Pollution that has caused nearly three-quarters of South Dakota rivers to be labeled impaired by the federal government arrives in two basic forms: direct, or so-called "point source" pollution from pipes that dump municipal or industrial wastewaters; and indirect, or "non-point source" pollution such as agricultural wastes and urban runoff that flow off the land and into rivers slowly and steadily over time.
A South Dakota News Watch investigation into state river quality shows that while point-source pollution dischargers are subject to a highly regulated, if occasionally flawed, form of government oversight, non-point polluters are generally guided only by volunteer or incentivized attempts to improve their processes to limit pollution releases.
Despite the growth of proven new technologies and methods to reduce pollution from farms and cities, and good-hearted efforts by some producers and municipalities to reduce runoff in South Dakota, the problems persist.
Agricultural operations put high levels of oxygen-depriving nitrates, dangerous E.coli bacteria and harmful suspended solids into state rivers and lakes. Meanwhile, urban runoff that flows into waterways picks up sand and grit, pet droppings, oil, grease, fuels and toxic metals from vehicle emissions, salt and other roadway additives, and pesticides and fertilizers from lawns.
A visit to any South Dakota city will provide evidence of apartments, commercial buildings or office parks constructed with concrete sidewalks, parking lots and roads that allow polluted stormwater to flow unabated and untreated toward streams, rivers and lakes.
The damage done by untreated stormwater can be significant, especially in South Dakota where most larger cities are located along rivers.
One federal study showed that in the Sioux Falls metro area, a typical half-inch rainfall sends 144 million gallons of tainted stormwater to the Big Sioux River.
The indirect sources of pollution continue to vex South Dakota rivers and leave them contaminated and at times unsafe for humans and fish.
"With a limited number of exceptions, those sorts of sources of pollution are not managed or regulated … so we have strictly voluntary efforts that are being made," said Jay Gilbertson, manager of the East Dakota Water Development District that oversees water quality in 10 eastern counties. "Some producers are managing resources very well. But if you don't feel like volunteering, and there's nobody there to make you change the way you're doing things, things aren't going to change."
Modern pollution control methods can take many forms
Dell Rapids area farmer Mike Schmidt says there is one unavoidable fact associated with an expansive agricultural industry in states like South Dakota.
"Zero runoff is unattainable; we've just got to get past that," Schmidt said. "If you live and farm out here, you're going to have contaminants in runoff."
But Schmidt and many other farmers believe they can do better at preventing pollution than they did a generation ago or even a decade ago.
For 20 years, Schmidt has allowed his 550-acre corn, soybean and cattle operation to be used as the test site for a long-range study to examine the outcomes of using manure as a winter fertilizer on both production and river quality.
The research, done in partnership with South Dakota State University and a host of other agricultural interests, is nearly complete and seems to indicate that winter spreading can be done safely if done carefully and in the right places at the right times.
The study aside, Schmidt, 71, believes that more farmers need to try runoff control and soil protection methods so they can see a payoff for both the environment and their financial bottom line.
"Once you learn to monitor things more closely through grid sampling, you save money on the end in fertilizer," he said. "A lot of us do it right anyway because it's the smart way to do it but also because you get the biggest bang for your buck."
While many critics blame the rising number of concentrated animal feeding operations of cattle, hogs and poultry in South Dakota as a big cause of agricultural pollution, the big operators are far more regulated than smaller family farms or individual operators. Some experts argue that small farms that may be less adaptable and have fewer expendable resources do as much or more damage to the environment than the CAFOs that must get a permit and undergo regular inspections.
Pollution control methods take many forms on a modern farm. High-tech systems use satellites and computers to help farmers apply pesticides only at the right times, amounts and places.
Cover crops, reduced tillage areas and grassy buffer strips slow erosion and increase filtration of runoff. Weirs can slow runoff, and devices such as bioreactors use wood chips to filter runoff and help protect rivers.
Yet finding the sweet spot – where the cost of pollution reduction is outweighed by increases in productivity and revenues – remains elusive in agriculture in the Midwest.
Christopher Jones, a University of Iowa professor who studies farm runoff and nitrates in water, said farmers who already feel over-regulated are unlikely to voluntarily participate in runoff reduction methods.
"Almost all our practices to reduce nitrate delivery from field to stream have no benefit to the farmer in terms of production or soil conservation or income – it's not helping them grow stuff," Jones said. "So the economics are very difficult with this … it's hard to pencil it out."
Jones recently completed research showing that nitrate loading in rivers due to agriculture in Iowa and other Midwestern states has led to an expansion of an oxygen-depleted dead zone in the Gulf of Mexico that is now about 2,700 square miles.
Jones said farming operations across the country continue to consolidate, increasing the acreage of farmland that is rented, which tends to reduce focus on runoff reduction.
"When you're renting land and you're paying a lot of money for rent, it's difficult to expect a farmer to do structural things on his land when he doesn't own it," Jones said.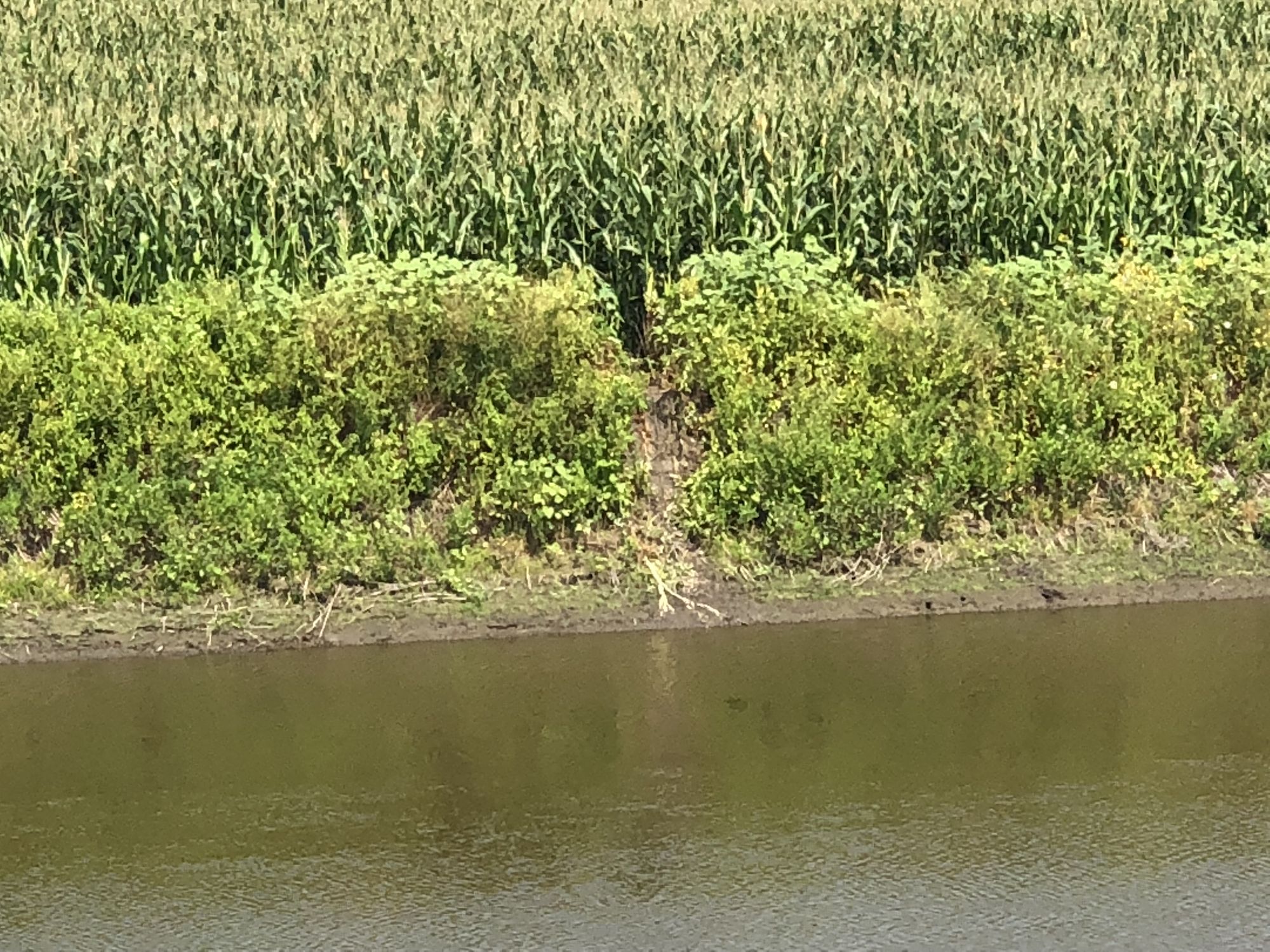 "Almost all our practices to reduce nitrate delivery from field to stream have no benefit to the farmer in terms of production or soil conservation or income – it's not helping them grow stuff. So the economics are very difficult with this … it's hard to pencil it out." – Christopher Jones, University of Iowa
Incentives designed to promote voluntary efforts
The state of South Dakota in 2017 enacted an incentive program to encourage farmers to install riparian buffer strips along lakes or streams to naturally filter pollutants out of runoff before it enters waterways.
The plan, which passed after an initial veto, gives farmers a 40-percent tax reduction on buffer strips that are 50 to 120 feet wide and are closed to grazing for part of the year.
Even though land along 575 lakes and 11,000 miles of rivers and streams is eligible, the voluntary pollution reduction plan so far has had minimal impact. According to Department of Revenue data, in its first year the program drew 27 successful applications on only 292 acres of land in 12 counties, even though farmers who already have buffer strips in place only needed to apply in order to get the tax credit.
Scott VanderWal, a Volga soybean, corn and cattle farmer who is president of the South Dakota Farm Bureau, calls incentive programs "vital" to improving agricultural processes on a wide scale.
He also understands why not all voluntary programs will work.
"The voluntary part is good because nobody likes to be told they have to do one thing or another," he said. "But if you put in buffer strips, you're basically taking that land out of production. You're still paying taxes on it and you're not making any money off it."
VanderWal said the current ag economy doesn't give farmers much room to take on new runoff or nutrient reduction processes.
"We're not making any money," he said. "South Dakota as a state isn't participating in the full recovery because of the slowdown in agriculture."
Yet as a leader in South Dakota agriculture, VanderWal said he believes that most South Dakota producers are doing their best to reduce pollution impacts.
"Certainly, it does play a role in water quality if we don't do things right, but for the most part agriculture is doing everything we can to promote and maintain water quality and are continuing to improve."
John McMaine, an agricultural biology professor at South Dakota State University who specializes in improving runoff from farms and cities, said he always gets a positive reception when he presents ideas for pollution reduction methods to South Dakota farmers.
But after his discussions, McMaine wonders if anything changed for the better.
"Most of the farmers I talk to, they feel that they have a responsibility to think about water quality, so they're interested to hear about these things," McMaine said. "The reality is that these things do cost money and might be outside their profit margins given current commodity prices."
Some projects have shown positive results, particularly in East River regions where row-cropping and the dairy industry are common and runoff is significant.
A series of joint efforts by the U.S. Environmental Protection Agency and state and local governments in the mid-2000s included installation of dozens of runoff control measures in the Big Sioux River Watershed from Roberts to Brookings counties. Multiple best management practices were followed during the $4.4 million project, cutting total suspended solids in the river by 8 percent and leading some segments of the Big Sioux to be taken off the federal government impaired waterways list.
The city of Sioux Falls runs a program called the Seasonal Riparian Area Management program that pays stipends to farmers along the Big Sioux River and Skunk Creek to erect fences and install buffer strips to keep cattle away from the waterways and slow runoff in summer months.
Gilbertson, of the East Dakota Water Development District, is a supporter of more regulation and even fines for farmers that do not follow proper management practices or who allow excessive runoff or pollution releases.
"I don't endorse the idea of running around the countryside and knocking people on the side of the head," Gilbertson said. "But I don't think too many people would be upset if the worst guy or gal in the county got nailed, because everybody probably knows they're not doing very well. It would have a tremendous impact if you knew that, well, you can in fact get in trouble."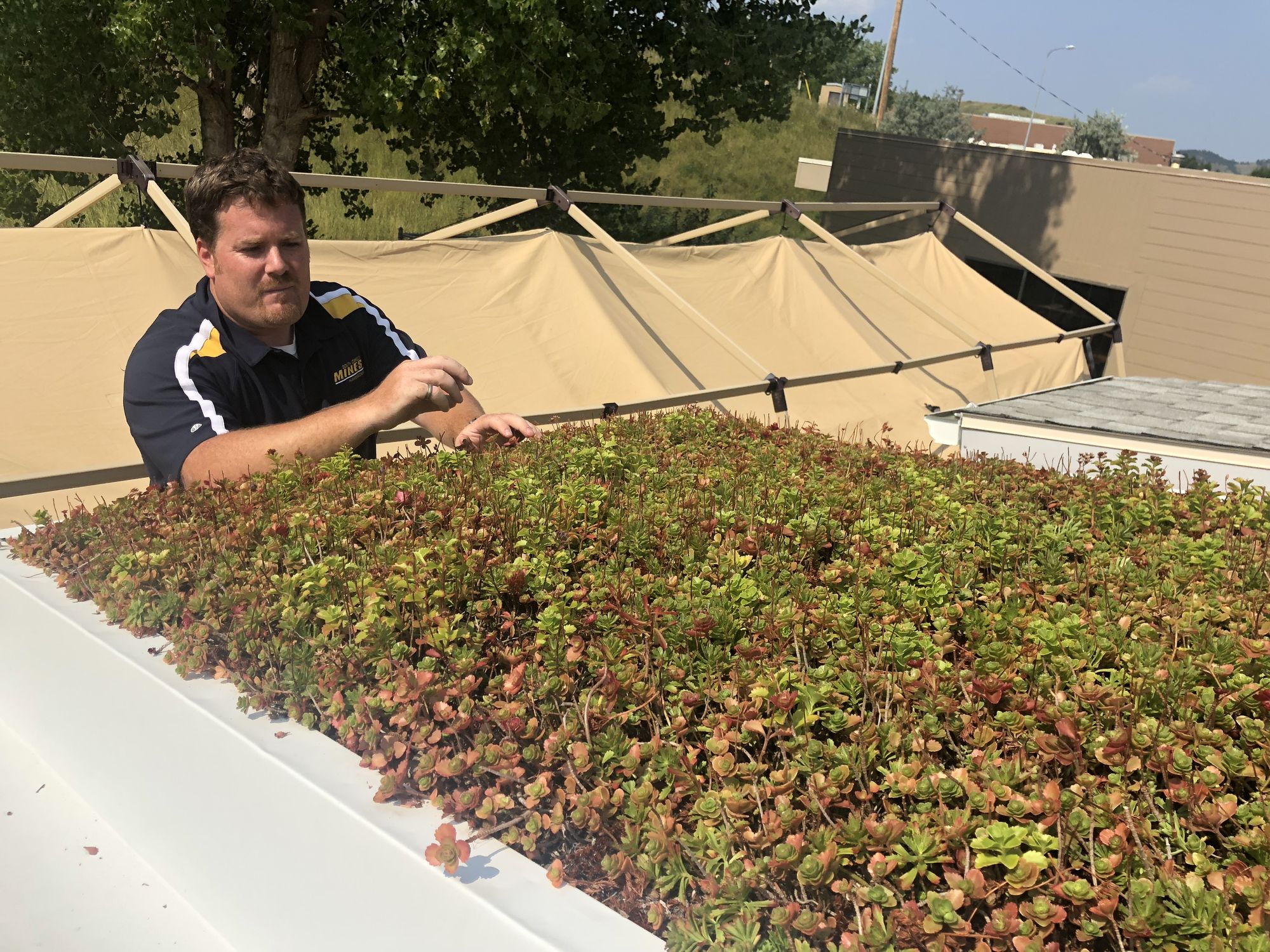 Efforts to control urban runoff

South Dakota is behind other states when it comes to efforts to use technology and new stormwater management methods to stop urban pollution from entering rivers and lakes.
Jason Phillips, a Ph.D candidate at the South Dakota School of Mines & Technology who is studying urban runoff , said the state is behind others such as Colorado where Low-Impact Development is far more common and successful.
Techniques used in LID are all designed to return the current flow of stormwater as close as possible to the way water moved before homes, businesses, sidewalks and streets were built.
Some methods come during the design and construction processes, such as installing porous rather than impervious hard surfaces, managing water flow through building construction and positioning, leaving room for retention ponds or manmade wetlands and swales, and reducing the number of concrete roads, sidewalks and curb and gutter.
Other methods take place after construction, such as placing landscaping elements where water will flow into them, creating rain gardens or catchment basins were water can collect and filter naturally, situating rain barrels around a property to capture and reuse rainwater, and installing "green roofs" that use plant life atop buildings to slow water flow and remove pollutants.
Cities in Colorado have worked with the EPA to complete numerous LID projects, and the EPA has since created an online guidebook to help communities implement LID practices and gain momentum for future projects.
The research done by Phillips has proven the effectiveness of green roofs. In a rarely visited corner of the School of Mines campus, Phillips oversees three small buildings that look like tiny homes. One roof is covered in traditional shingles, while the other two have thick layers of plants arranged like large window boxes atop their roofs. One of those has a layer of gravel beneath the plants for further filtration. All three have rain gutters leading to barrels that collect the runoff during rainstorms.
Over the past three years, Phillips has shown that in a major rainfall of 1 inch or more, the planted roofs improve the quality of runoff and reduce it by 50 to 60 percent. The planted roofs also may reduce energy costs by retaining heat in the building in winter and conditioned air in the summer.
However, without a clear path to designing and implementing LID, and with little experience in the processes among current engineers, developers and city officials, only a handful of successful projects have been undertaken in South Dakota.
The additional cost of LID, which can add 30 percent to the initial capital investment into a development and increase ongoing maintenance expenses, is another major hindrance to implementation in South Dakota, Phillips said.
"They want to get this development done, and it's going to cost extra money, they're not sure how it works, they don't know who's going to take care of it," he said. "Without having some incentives or something to go off of, it's not going to happen; it certainly isn't going to happen fast."
The potential consequences of runoff and the pollution within the runoff are enormous.
According to a U.S. Geological Survey study done 25 years ago, a half-inch rainfall in Sioux Falls in the early 1990s was found to create 19.2 million cubic feet of runoff, or 143.7 million gallons. The 1993 study determined that the region experienced 43 rainstorms of that rainfall amount or more, based on an average taken over 40 years. That means the Sioux Falls metro area send 6.2 billion gallons of stormwater runoff into the Big Sioux River and its tributaries in an average year. The runoff comes on top of the roughly 7.9 billion gallons of treated wastewater dumped into the river by the city of Sioux Falls and Smithfield Foods each year.
The 1993 study showed that while the solid materials found in the Big Sioux were attributable to a host of factors, including runoff of rainfall, the waterways around Sioux Falls are heavily impacted by urban runoff.
"During low flows in the Big Sioux River and Skunk Creek, the runoff from an average storm event could represent a significant portion of these stream discharges, thereby affecting the water quality of Skunk Creek and the Big Sioux River within and downstream of Sioux Falls," the study said.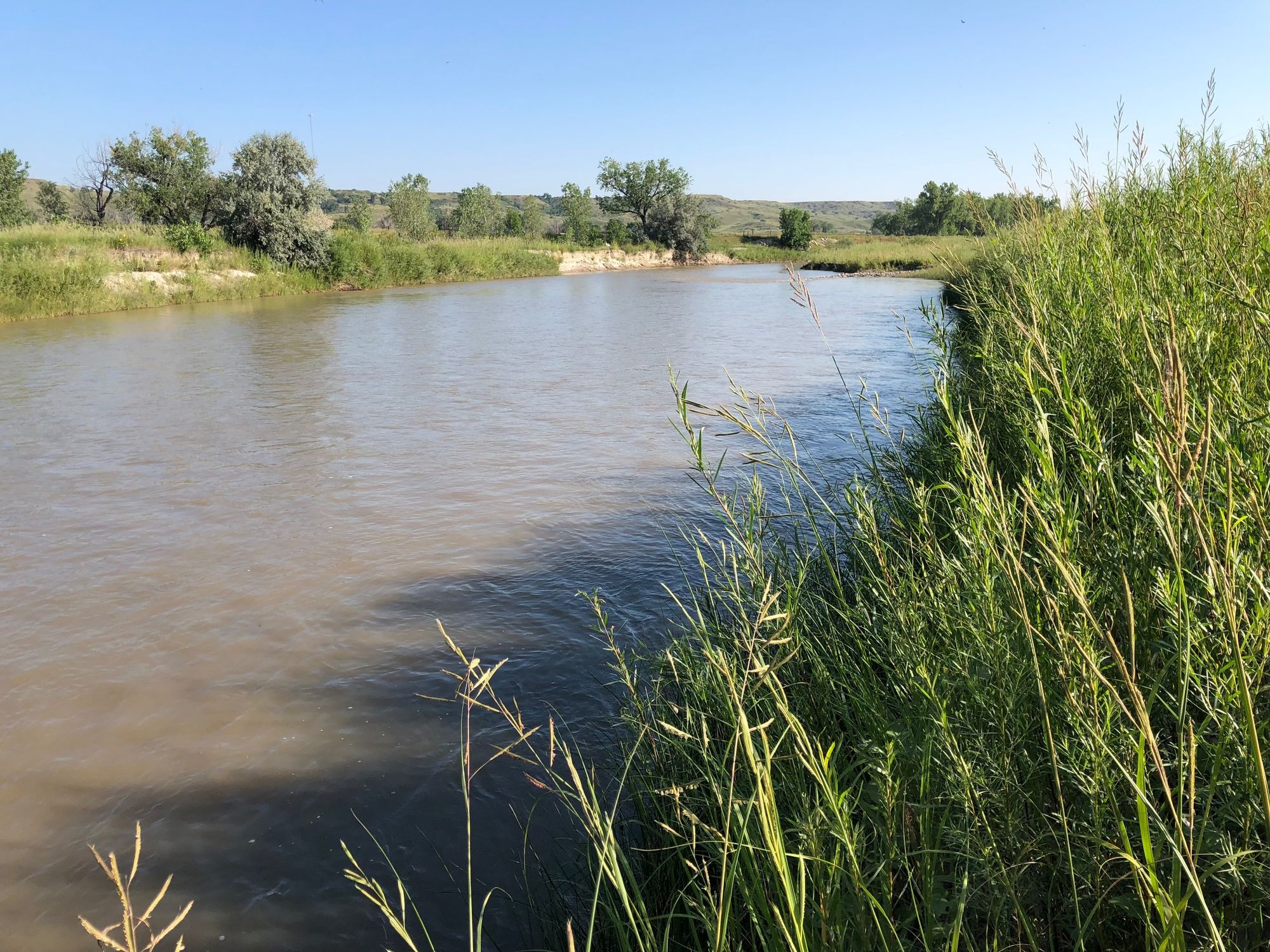 Cities struggle to diminish runoff
Both Sioux Falls and Rapid City have ordinances that require developers to manage stormwater on projects that meet a size or impact threshold.
In Sioux Falls, developers of new construction of over two acres or which creates impervious surfaces of one acre or more must get city sign-off on stormwater treatment systems and maximum flow levels, said Lance Weatherly, principal engineer for stormwater for the city.
Existing projects or sites that are redeveloped also must meet eight stormwater criteria before starting construction, Weatherly said.
Treatment of stormwater does not include any mechanical pollution removal methods, but rather relies mostly on creation of above-ground or underground retention ponds where water is held for a time so solids can settle out prior to release into a city stormwater system or directly into a waterway, Weatherly said.
The city has also recently expanded installation of stormwater holding cells and other systems, both locally and regionally, that reduce pollution through natural treatment, Weatherly said. The city's website also notes that buffer strips that reduce pollution flows have been installed astride bike paths that follow the Big Sioux River throughout Sioux Falls.
In 2017, the city enacted an ordinance giving code enforcement officials more authority to enforce stormwater treatment and flows by private industry and developments, Weatherly said. He added that the city tries to work with developers to improve rather than resort to enforcement actions.
"They could be fined through general code enforcement, but we're approaching it as much as an educational as enforcement issue," he said.
Weatherly and others who work to limit urban runoff say they try to balance the desire to reduce pollution with the need for developers to build properties that can cash flow and remain affordable for consumers.
"It's a cost that is passed through development back down to the end user, but stormwater treatment and stormwater quality is something we're heavily focused on," he said.
While stormwater best practices are being put into place, Sioux Falls and South Dakota as a whole have not embraced strategies of LID, Weatherly said. He doesn't think the city of Sioux Falls will mandate use of LID elements on new construction anytime soon, especially with a great need for more affordable housing in the metro area.
"At this point I don't see us making it a regulatory requirement; it has to come from the residents and the consumers have to have more demand on it," Weatherly said. "Development is going to morph to what demand is, and right, wrong or indifferent, I don't know if in South Dakota right now the demand is there, especially with the drumbeat of affordable housing."
Schmidt, the Dell Rapids farmer, echoes numerous others in agriculture and stormwater management in a mantra he repeats often but which appears nearly unattainable under the current political environment and existing system of water quality protection in South Dakota.
"I want to leave the land better than I found it," Schmidt said. "it's as simple as that."