Health
Public vaping ban passed in South Dakota amid some controversy
On July 1, the use of e-cigarettes or other vaping products will become illegal in almost all South Dakota workplaces and public buildings, including bars, restaurants and casinos.
After a somewhat hurried process, lawmakers in March voted to treat e-cigarettes the same as combustible tobacco products when used in public places. Gov. Kristi Noem signed the bill into law on March 27, allowing South Dakota to join a dozen other states with similar laws.
When the law takes effect, anyone vaping or using e-cigarettes in public buildings or a workplace could be charged with a petty offense, which is a civil charge that usually carries a fine.
Backers of the measure claim it will protect the air quality in public spaces and allow non-users to avoid breathing or smelling aerosol clouds from vaping that can contain addictive nicotine or other toxins. They also said the ban will help reverse the growing trend of vaping by youths.
"We need to stop the vaping process where we can, and this is a step in the right direction," said Rep. Carl Perry, R-Aberdeen, the lead House sponsor of the ban. "You're helping kids, and you're helping people who go out for dinner; you're keeping second-hand vaping products out of their face and out of their lungs."
But opponents of the ban, including some conservative lawmakers and representatives of the vaping industry and the beverage and gaming association, say the law is unnecessary and infringes on the property rights of business owners and the freedom of adults who legally use vaping products.
They argue that unlike smoked tobacco, e-cigarette vapors dissipate quickly and the science is incomplete on whether second-hand vapors have the same health impacts as second-hand smoke. Opponents also say the law is unnecessary because most South Dakota businesses that don't want vaping inside their walls have already banned it and that adult-focused businesses should be allowed to decide whether to allow it.
"It wasn't done right, and I think this is going to be a big surprise for a lot of folks," said Caleb Rose, co-owner of Black Hills Vapors, which has locations in Rapid City and Spearfish. "A lot of folks like the fact they can vape inside of a bar, and for some it makes it more effective as a smoking replacement because they don't have to go outside."
During House debate on the measure, Rep. Tim Rounds, R-Pierre, said he supports keeping children away from e-cigarettes but wasn't convinced a statewide indoor ban for adults would prevent youth use.
"We've got unintended consequences here," Rounds said. "We're trying to protect our youth by telling adults, 30-, 40-, 50-year-olds that when they go to a casino or a nightclub or a facility that is for adults, they aren't allowed to use this."
Rounds said the ban violates the rights of business owners.
"It does take away that proprietor's right, that property owner or that person who is in business, it takes away their right to allow that to happen on his property or her property," he said.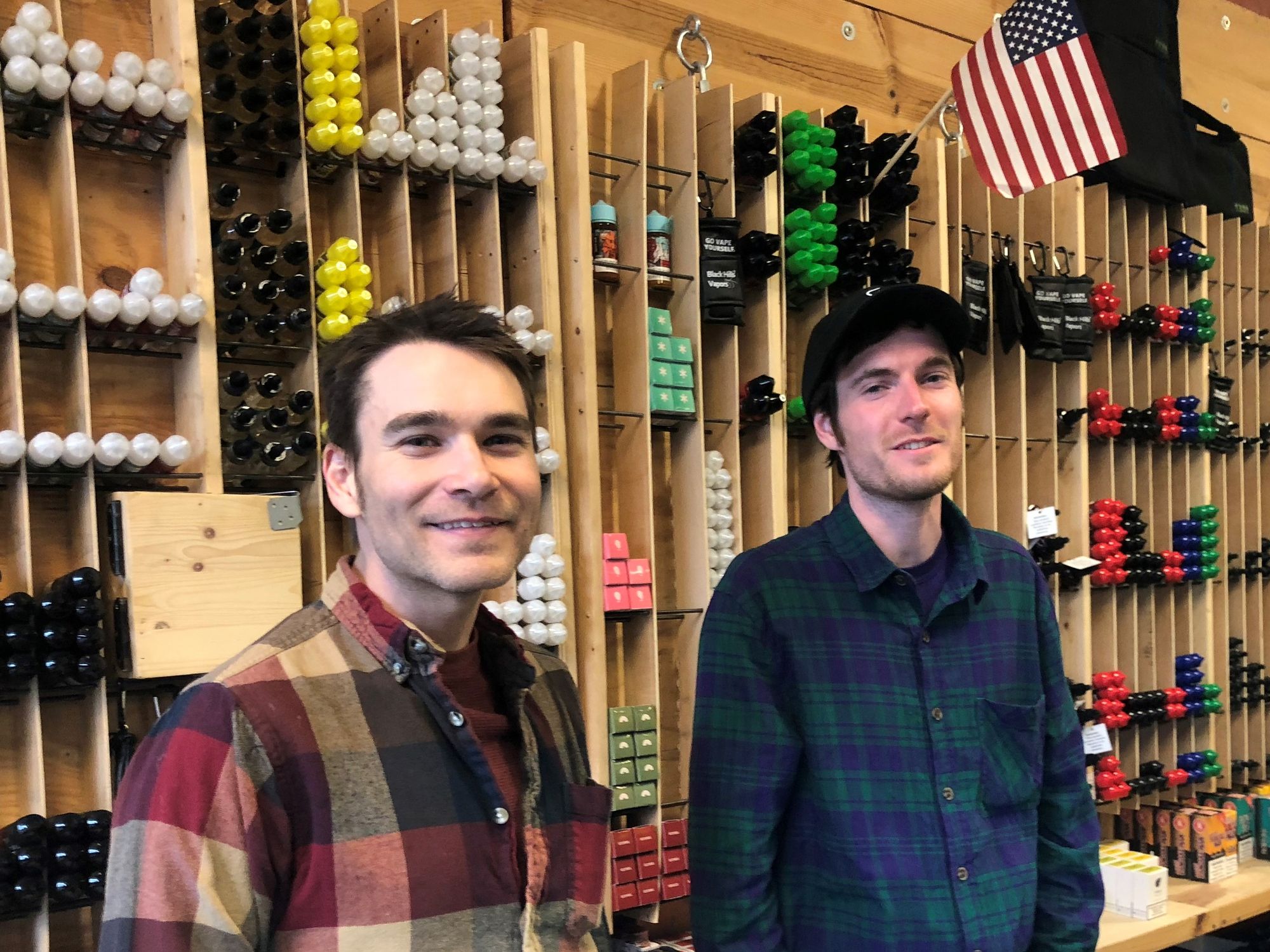 Growth in vaping leads to regulation
The category of e-cigarette products includes a wide range of hand-held devices that ignite a gel to produce a cloud of vapor, often including nicotine, that is inhaled by the user. Vaping has increased sharply in the past decade.
Among users and sellers, the products are considered safer than cigarettes, with fewer known carcinogens and less smell and aftertaste. They also say e-cigarettes help addicted smokers wean themselves away from smoking and eventually quit.
But the e-cigarettes have drawn the wrath of parents, educators and policymakers who worry over the dramatic rise in use by youths, despite a state law banning sales to minors under 18. Hundreds of cities across the nation have passed local bans on vaping use in public places.
While few studies and data collection have been done on adult use of vaping products, the evidence is clear that e-cigarette use is rising dramatically among youth.
In one year, from 2017 to 2018, e-cigarette use rose by 78 percent among high school students and by 48 percent by children in middle school, according to the Youth Tobacco Survey released by the Centers for Disease Control and Prevention and the U.S. Food and Drug Administration.
In an ironic twist, some studies show that vaping products — marketed as a way for adult smokers to quit tobacco — may actually entice youth users to become smokers.
The U.S. Surgeon General reported in 2016 that early evidence suggests that e-cigarette use is "strongly associated" with the use of traditional tobacco products by youths and young adults.
Across South Dakota, educators are increasingly raising alarms about vaping among high school and middle school students. Many say the trend of youth use is being driven by the arrival of Juul devices, which resemble a USB flash drive and deliver a nearly undetectable amount of nicotine vapor.
Lawmakers who sponsored the vaping ban consistently gave statistics about youth use, yet the law contains no language related to minors.
David Benson, a lobbyist with the American Cancer Society Cancer Action Network, said the ban could indirectly reduce youth use of vaping products.
"There's a perception factor here that if you're a family and you're bringing your kids to a restaurant or to an activity at a public place and there are individuals engaging in e-cigarette use, it sends the wrong message that this is acceptable," Benson said.
Benson provided a 7-page handout to the governor before she signed the bill into law with an overview of studies suggesting that vaping products are targeted at youth and also that vaping products contain potentially harmful elements that have yet to be fully examined.
The reports said that nicotine can negatively affect youth brain development and damage the cardiovascular system or hurt a fetus during pregnancy. The data also indicate that some e-cigarettes can contain formaldehyde, volatile organic compounds and metals including nickel and lead, though in smaller amounts than in tobacco cigarettes.
"The Surgeon General report indicates that e-cigarette aerosol is not harmless, and our goal is to reduce that risk of exposure from the toxic elements in that aerosol," said Benson, who testified in favor of the bill during committee hearings. "We see this as a first step in the work that our advocates are engaged in to address this growing concern."
Rose, of Black Hills Vapors, said some people do vape in public buildings or try to discreetly take a quick puff where maybe it wouldn't be considered polite.
But Rose said most vape users are aware of their surroundings and respectful of others around them.
"I feel like the industry is normalizing itself and can regulate itself," he said. "As far as being used in movie theaters, or being used in a restaurant and someone is reaching over a booth and blowing clouds into a baby stroller, that's just not happening."
Rose said the public ban is unlikely to have a negative impact on his sales or the popularity of vaping. He said anything that draws attention to vaping increases public interest and awareness and may lead more smokers to give it a try as a cessation method.
"I feel like the industry is normalizing itself and can regulate itself. As far as being used in movie theaters, or being used in a restaurant and someone is reaching over a booth and blowing clouds into a baby stroller, that's just not happening." – Caleb Rose, co-owner of Black Hills Vapors in Rapid City and Spearfish
Slow start, fast finish to vaping ban
Unlike the South Dakota public smoking ban that underwent heavy debate in 2010 and a statewide referendum with more than 315,000 total votes (64 percent voted in favor), the public vaping ban came about quickly and passed with relatively little fanfare or discussion.
Perry's first draft of the bill – presented as a broadly worded "vehicle" bill — would have imposed the same 35 percent excise tax on e-cigarettes that is now collected on tobacco sales. His new tax was quickly rebuffed by his Republican colleagues, so he regrouped and met with public health groups to craft the measure that ultimately passed.
Some people affected by the ban said it was difficult to monitor the bill and participate in the discussion because it changed quickly and dramatically in a short time period. The revised measure passed the House on a 48-19 vote and in the Senate by a 21-13 vote.
"They kept talking about starting a conversation, and we'd like to be part of that conversation," said Rose, who has now registered as a lobbyist and supports the new Dakota Vaping Association that supports thoughtful e-cigarette legislation. "But we'd like to be invited and not have to scramble when it is hog-housed and changed the morning of a vote."
The vaping association opposes youth e-cigarette use and backs banning online e-cigarette sales, a common way for underage users to obtain products, Rose said.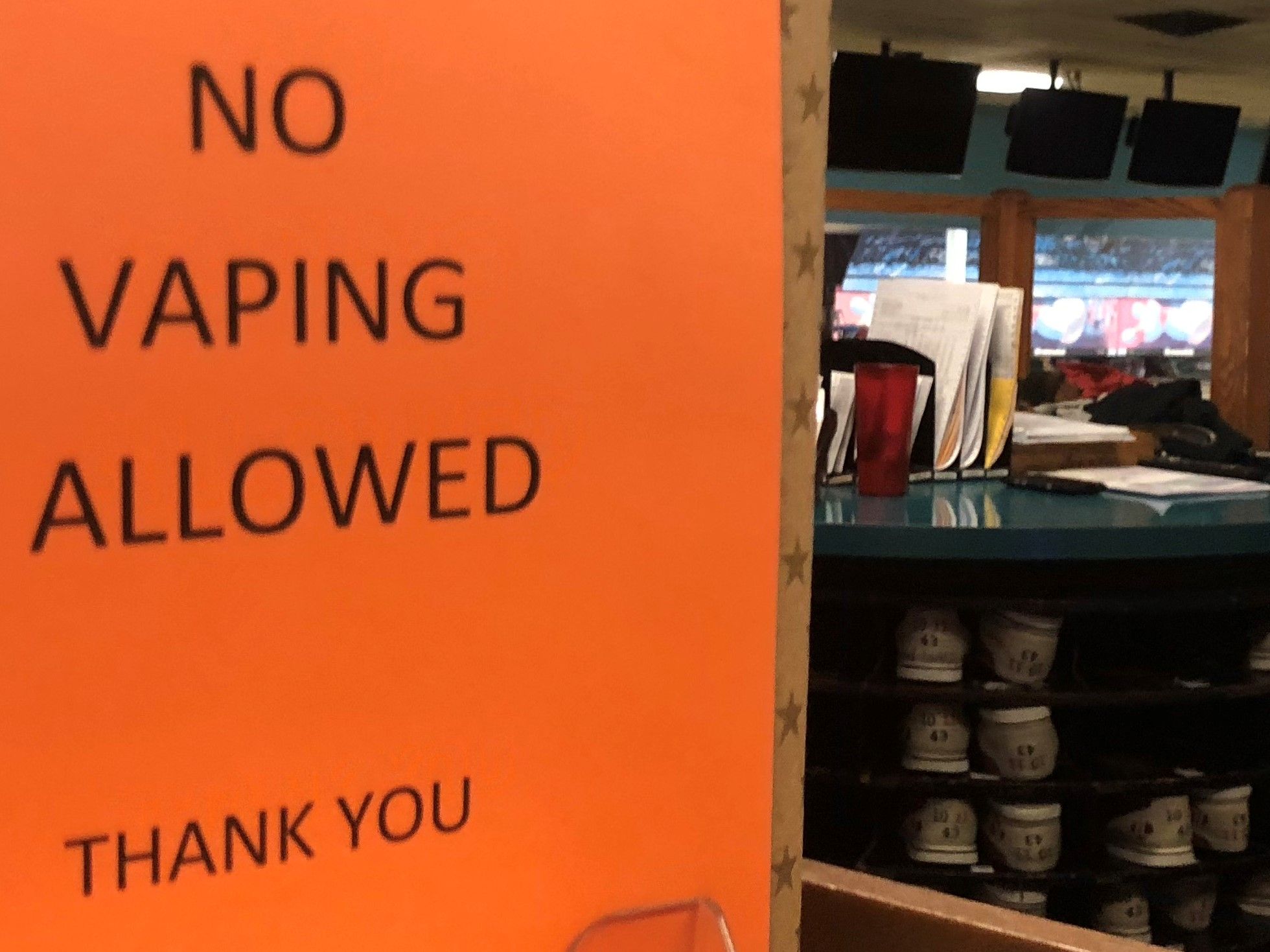 A vape shop owner in Pierre predicts that the vaping ban may lead some adult e-cigarette users to either return to smoking cigarettes or take up the habit anew.
Michael Shoup, owner of Oahe Pawn in Pierre, which also sells vaping products and rents trucks, said some of his e-cigarette customers are professionals in Pierre who use vaping as an alternative to smoking cigarettes. Those customers, who include an attorney and state office workers, discreetly vape at work or at a bar but will have to go outside when the ban takes effect.
"They didn't have to leave their desk at work or if they went to a pub, they didn't smell like a cigarette and have that taste on their tongue all day, so it worked well for them," Shoup said. "Now, they'll have to go outside and be with cigarette smokers, which creates a big temptation to return to smoking."
Shoup's business will be affected by the vaping ban in that his customers will no longer be allowed sample vape products inside. The law for e-cigarettes will be the same as for cigarette and cigar stores in which it is legal to smoke inside if the business gets 75 percent or more of overall revenue from the tobacco products.
Shoup's vape sales aren't that high, so customers will have to step outside. He said that is not a major inconvenience but could deter some customers from trying nicotine-free vaping gels as they slowly wean off nicotine.
"They are penalizing the people who are trying to use vaping to get off cigarettes, and there is nothing in the language that addresses youth use," Shoup said. "Moving it outside won't stop kids from using it. If anything, it will give it even more of a mystique."