Native America
Native American artists in South Dakota travel new paths to prosperity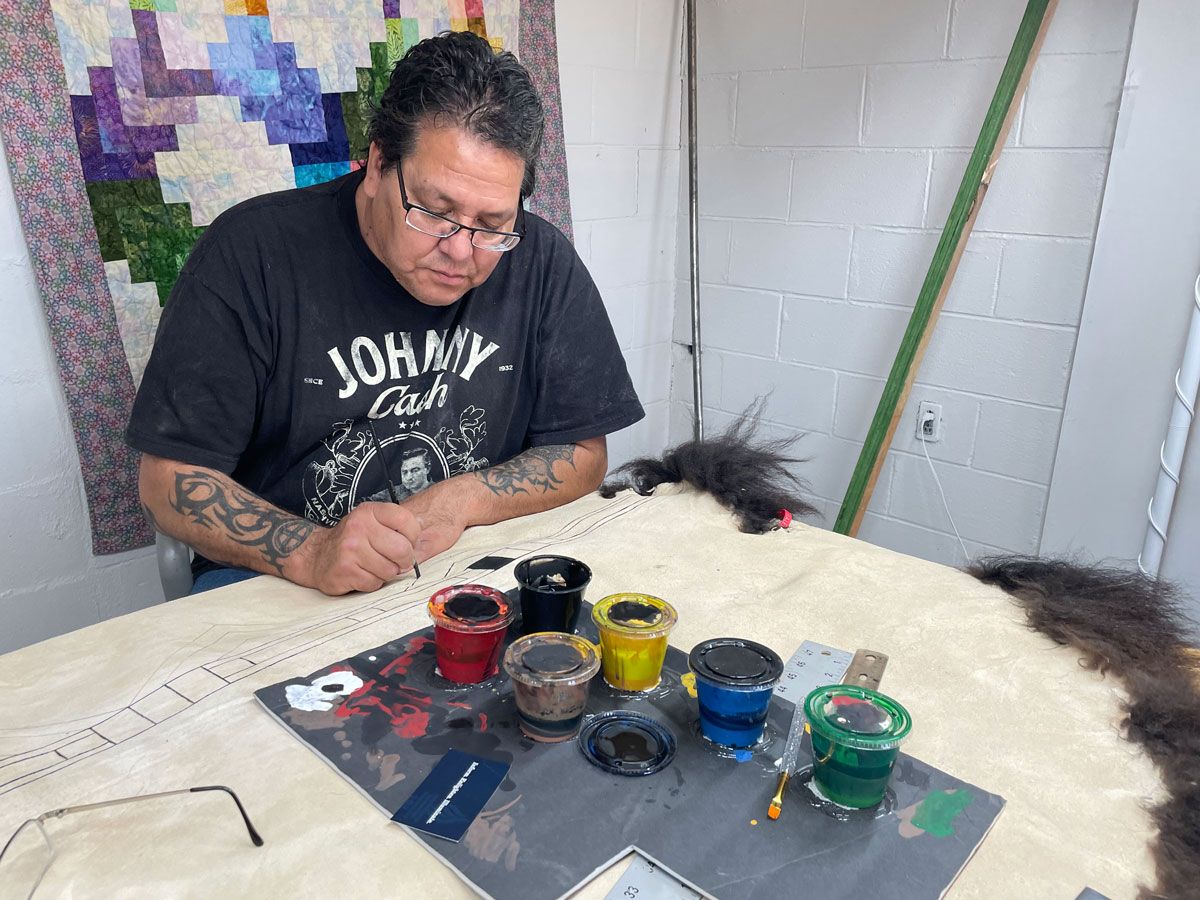 WHITECLAY, Neb. – Within concrete walls that once housed a beer store that fueled alcoholism and death among residents of the nearby Pine Ridge Indian Reservation, renowned Native American artist Evans Flammond Sr. deftly draws lines on a huge buffalo hide.
Sitting at a table in the building in this small village on the South Dakota border, Flammond uses a tool called a chisel brush to lay out straight borders on the hide. The animal skin would eventually contain a sweeping encampment scene with American Indians on horseback running along the bottom.
On that day in May, Flammond was serving as artist-in-residence at the Whiteclay Makerspace, a building where Native and non-Native artists and potential artists gather to create art, share their knowledge and skills and sell pieces of artwork.

The makerspace is one element of a plan to use art instead of alcohol to drive the economic recovery of Whiteclay, which is just yards from the Pine Ridge border town and reservation where alcohol is illegal.
Until 2017, when the state of Nebraska cracked down on the town's liquor stores, Whiteclay was notorious for selling millions of cans of beer each year, most to Native residents of the reservation, where alcoholism contributes to generational poverty and suffering.
"This place killed many Native Americans — many, many people," Flammond said. "But now, this building is the very first of its kind, a really groundbreaking place that has so many ways to help artists."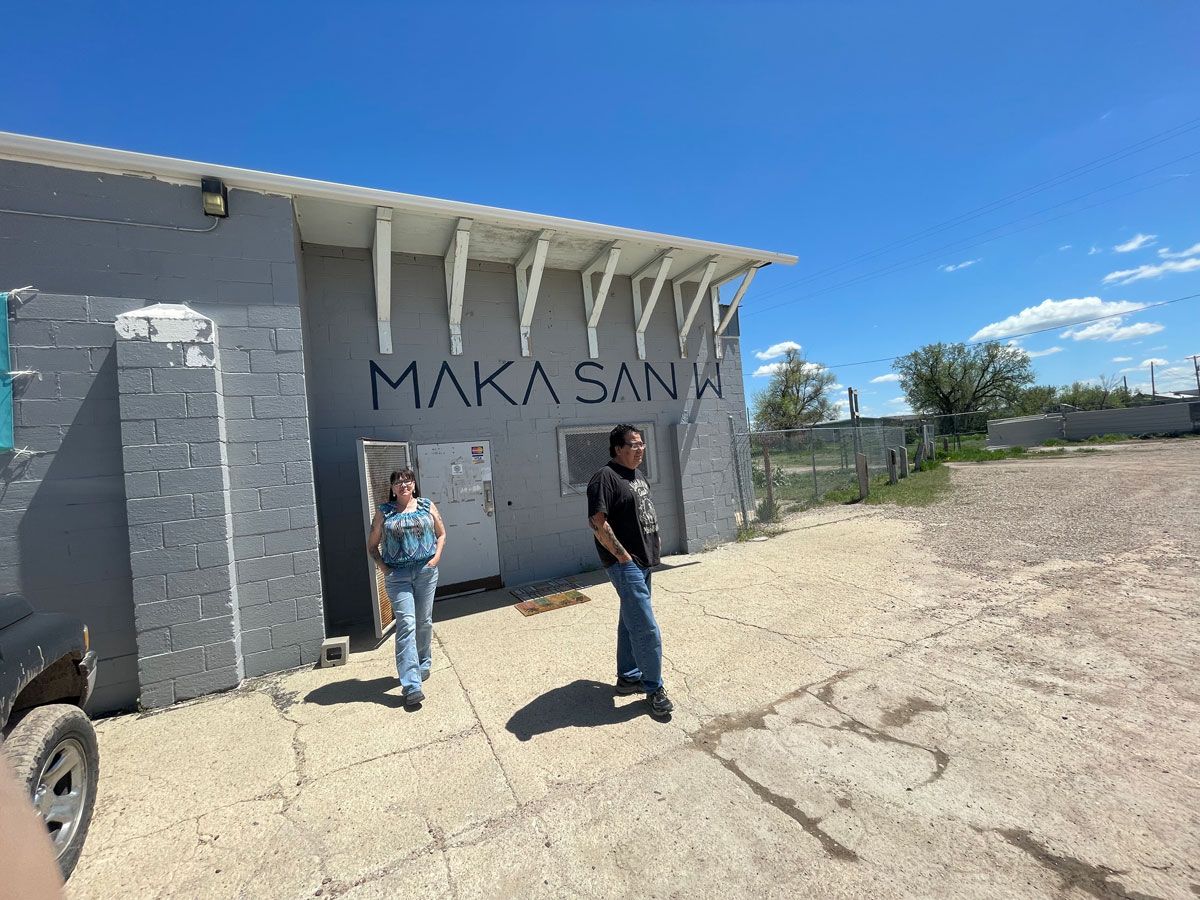 Part of a bigger effort to help Native artists
The makerspace contains a large front room for artists to work and sell their pieces. It has sewing machines and two giant quilting machines. And it features a retail space with art supplies in a room that once served as a huge beer cooler.
The facility is part of an attempt to rebuild and rebrand Whiteclay as a haven for Native artists and art.
Native America: Leaders in South Dakota forge ahead with educational reforms
But moreover, the studio is part of a sweeping, and increasingly successful, larger effort in South Dakota and beyond to encourage Native Americans to pursue art and creativity, to expand their skill sets and artistic range, and also to monetize their creativity to make a living and strengthen their families and communities along the way.
Another part of the effort, the Rolling Rez Arts Bus, has traveled throughout Indian Country in South Dakota since 2016, bringing a mobile arts studio with experts and supplies to Native communities where art studios are rare or non-existent.

And in May, a grand opening was held for the Oglala Lakota Artspace near Kyle, about an hour north of Pine Ridge. The newly built structure contains art classrooms, a modern music and recording studio, performance spaces and equipment for artists to ply their trades.
Young native artists increasing at time demand is also up
Without pinpointing a single cause, one Native art expert said he has seen a dramatic rise in the past year both in the number of new, younger Native artists in South Dakota and an increasing ability of artists to break artistic barriers within the realm of Native art.

Dan Tribby of Rapid City is the general manager of Prairie Edge Trading Co. and Galleries, a downtown art and culture emporium that's one of western South Dakota's largest purveyors of Native American art.
"I'm not sure what was in the water, but in the last year we have been so blessed with the number of new artists and the talent they have. And the future just looks as good or better than it has in the past 20 years, that's for sure," Tribby said. "These young people we've had step forward in the last year are fantastic, really fantastic."
Tribby said he has also seen a recent shift in Native art toward brighter colors and use of "bling" that he said is attractive to younger artists and customers.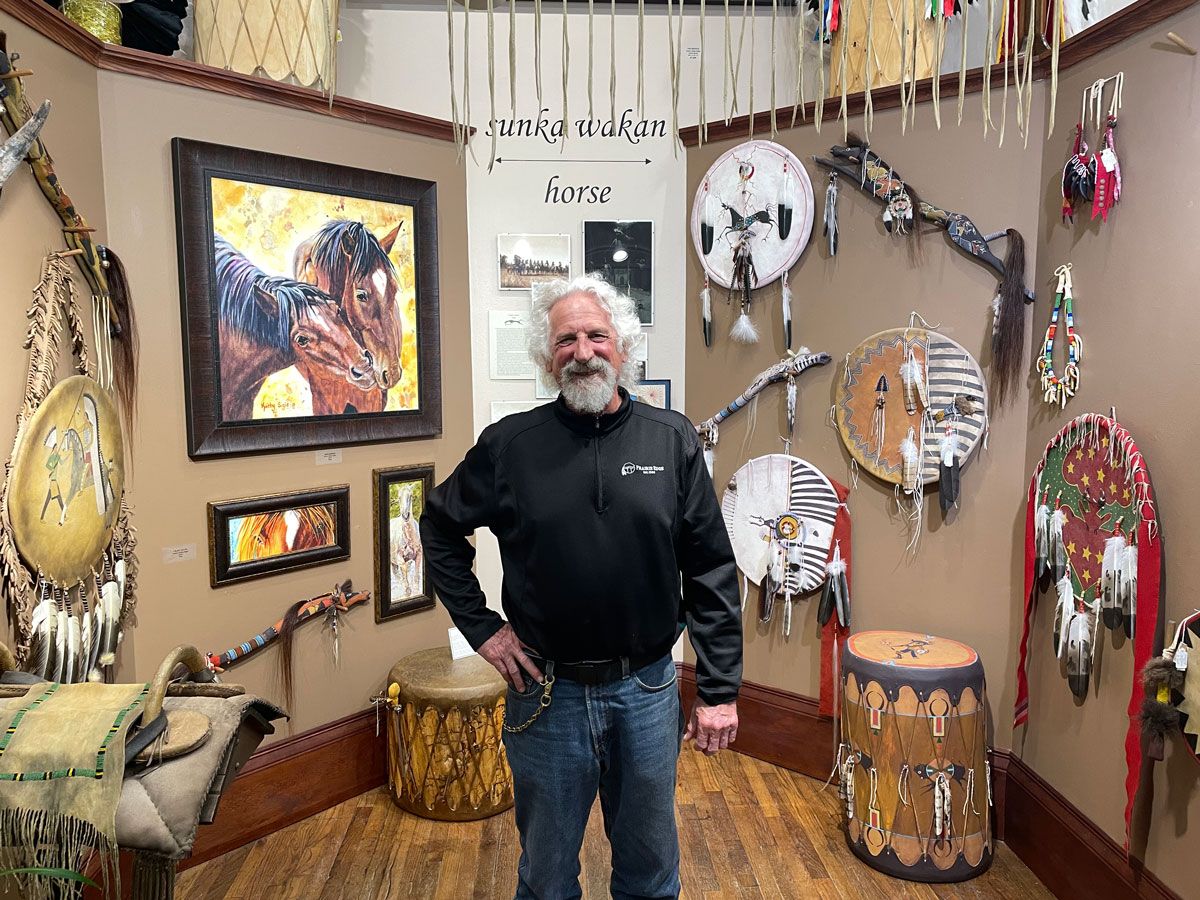 Flammond theorized that the release of the popular movie "Dances with Wolves," most of which was shot in South Dakota in 1989, brought a heightened global interest in Native American culture and art that has continued to this day.
But Tribby said he's seen a recent bump in consumer interest in Native art, and buyers are willing to pay more than ever to own quality works.
"Native art has really come into its own right now, with a whole new audience and an expansion that has been good for everybody," Tribby said.
Survey: Native art offers opportunity for artists
A 2013 market study by Colorado State University and the First Peoples Fund showed how sales of artwork can boost the incomes of Native Americans. It also found that in many cases, opportunities to improve monetization of art are being missed.
The major findings of the study, which surveyed Native Americans in western South Dakota, included:
A third of Native people are practicing or potential artists, but most live below the federal poverty line.
Half of Native households on the Pine Ridge Indian Reservation depend on home-based businesses, including art, for income.
Eight in 10 of the home-based business on the Pine Ridge reversion consisted of selling traditional arts.
More than 60% of emerging Native artists earn less than $10,000 a year, and that workshops and training can lead to a significant rise in incomes.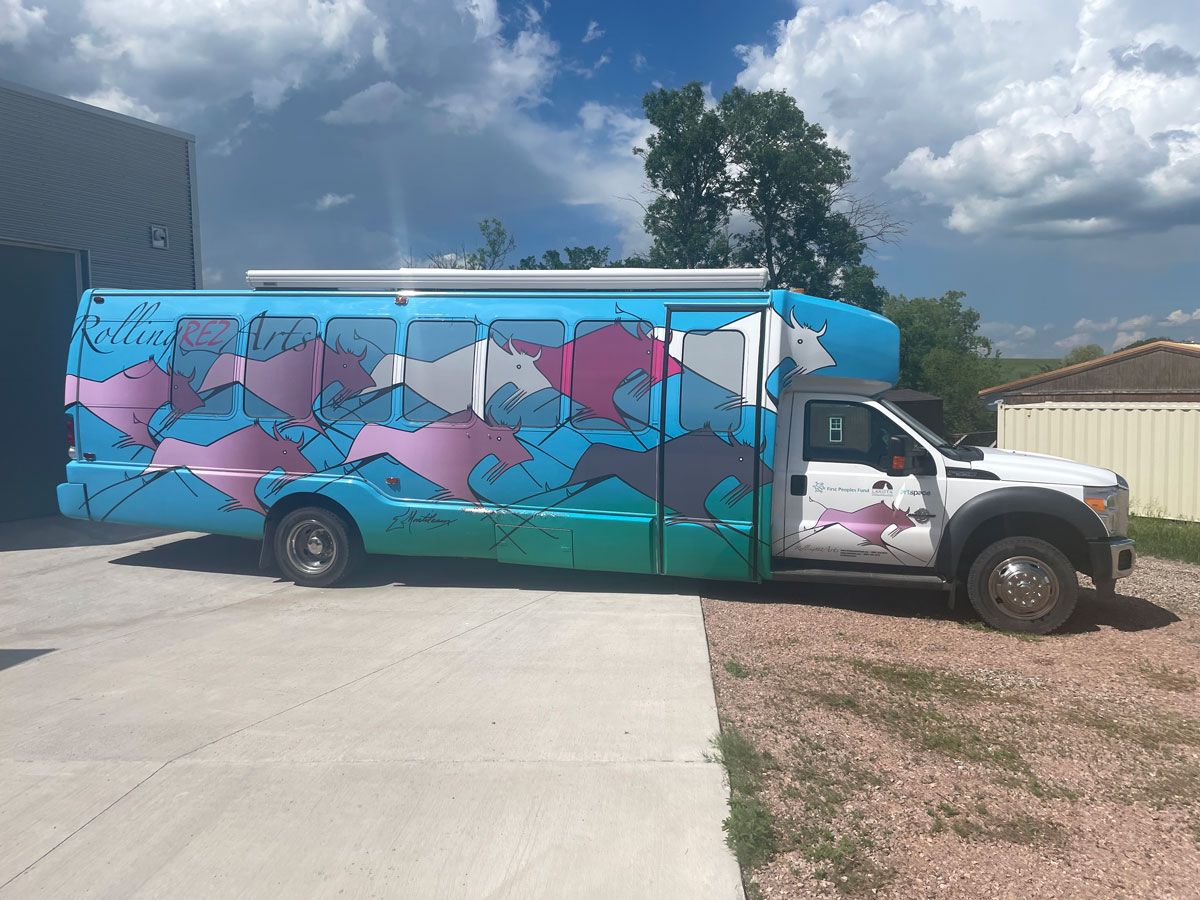 Generational talent and a realization that they're artists
The Lakota artspace in Kyle is the first formal facility on the Pine Ridge reservation where working artists and budding artists can gather to help each other learn and grow in their art, said Bryan Parker, an art program manager with the First Peoples' Fund.
Parker has run the Rez Arts Bus since its inception, providing a path forward for artists across Indian Country who had no or only limited access to art supplies and training. Now, he said, the bus will refocus its efforts to spur creativity by encouraging aspiring artists to visit the Lakota Artspace.
There, experts in the arts will teach classes through a curriculum designed to both elicit creation of Native art and navigate the process to get their art exposed and possibly sold to the public.
"That curriculum teaches folks how to seek the value of their work and in themselves professionally, and provides other tips and knowledge on how to navigate the professional art world," he said. "It's definitely a needed resource because there's a lot of artists who, on or off the reservation, have no idea where to start or to even to call themselves artists."
For generations, Parker said, Native Americans have expressed themselves and their appreciation for family, spirituality and the natural world through art that includes drawings and paintings, beadwork, sculpture, weaving and creation of pottery, among other ways.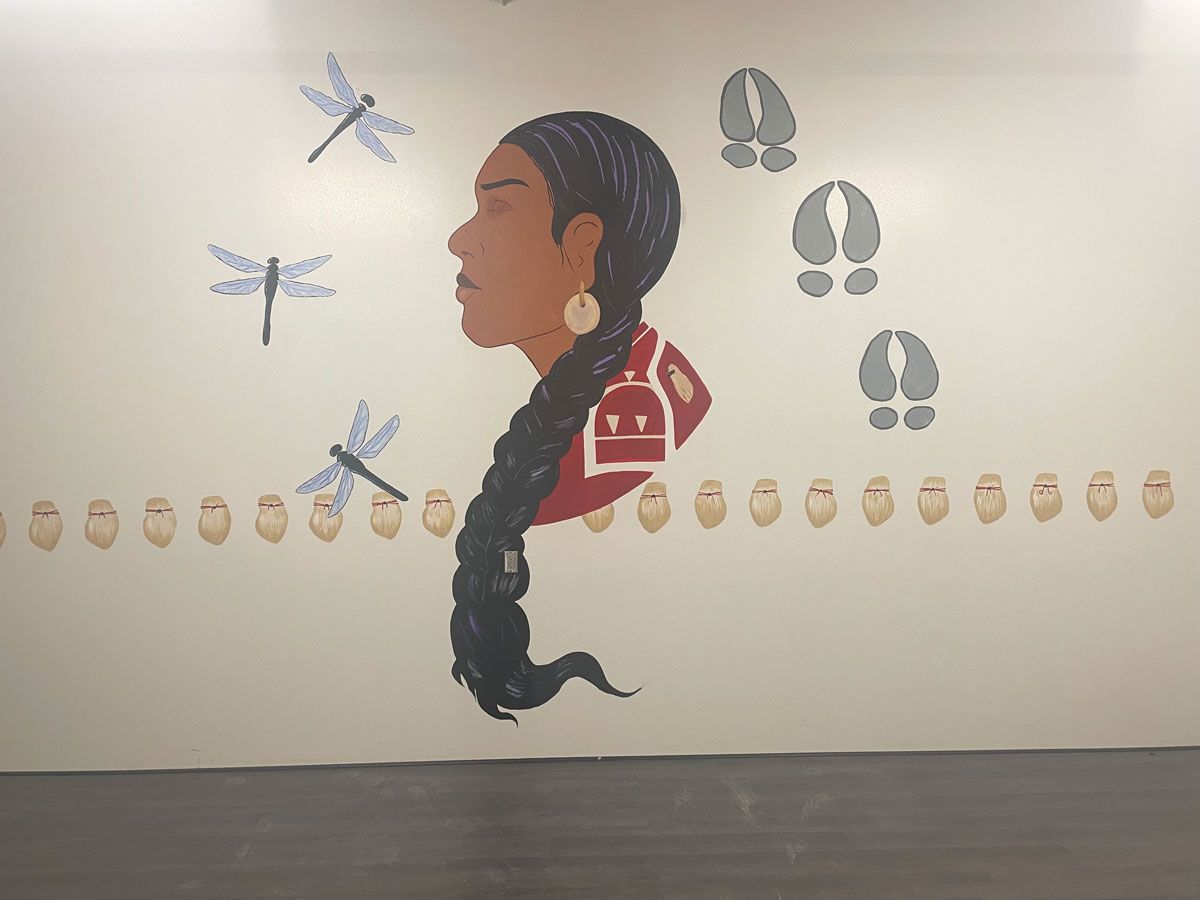 While it was common for an elder to teach their children or grandchildren how to make the art, it was rare for families to consider themselves professional artists or to try to make a good living through their art, he said.
"It's just something that people have always done, passing down generationally their creative skill sets and traditional knowledge, and it starts there, with artists acknowledging themselves as artists," Parker said. "And then we're giving them that next level information."
More opportunities to earn a living from art
With new resources in place and a greater willingness among established artists to share what they know, there are increased opportunities for Native individuals and communities to thrive through art, Parker said.

"When one person has this knowledge and these skills, they can pass that onto the next person, their families, their friends and their communities," he said. "The overall goal is just to build community, to make sure the artist and their families have the knowledge and resources to sustain themselves and better their own communities."
A strengthening market for Native art, and higher resulting prices paid by the public, will also add opportunity for Indian artists to monetize their craft, he said.
"It's definitely an ongoing thing where a lot of artists never received the full value of their labor," Parker said. "Artists are learning to put themselves out there more, but to also talk about why their work should have more value to it."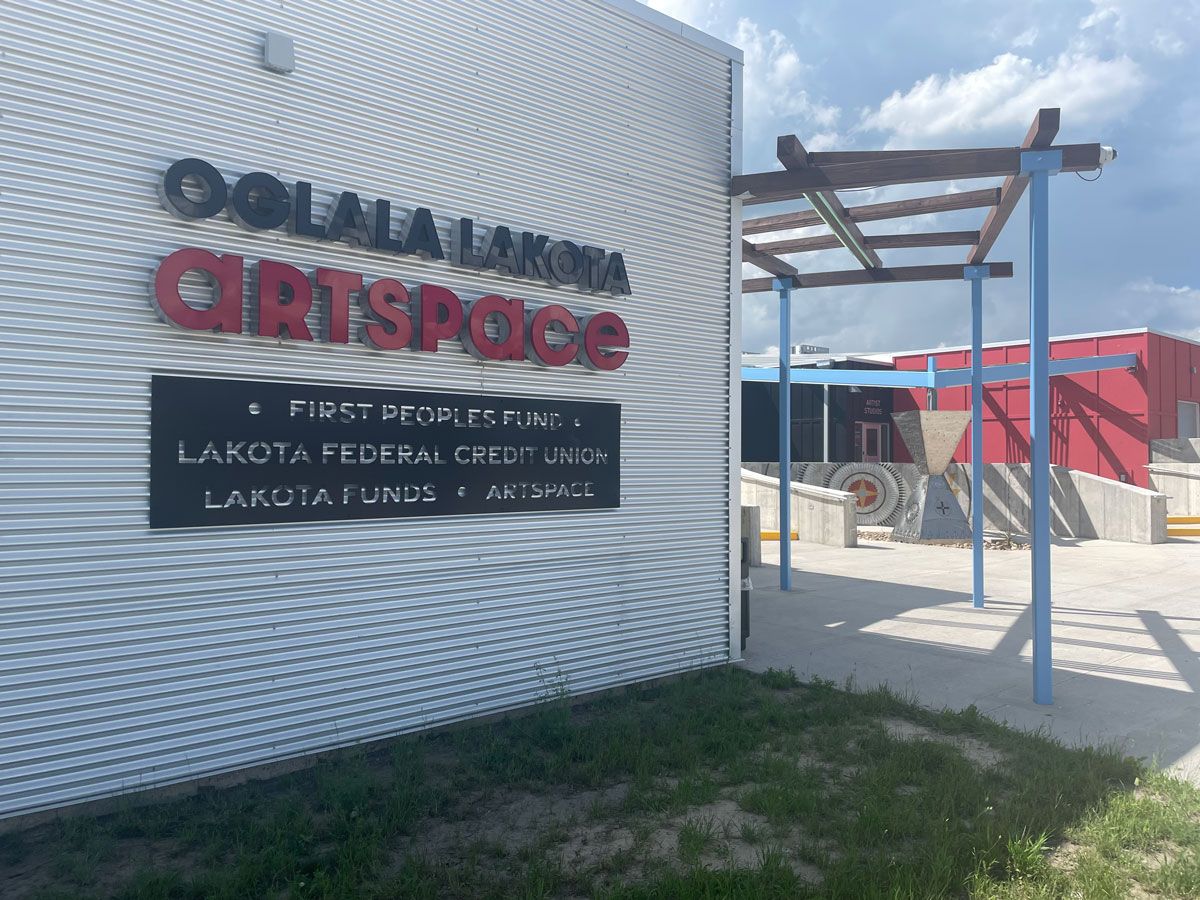 Effort also includes tapping the musical talent of Native artists
On a recent afternoon, Talon Bazille Ducheneaux provided a brief tour of the Oglala Lakota Artspace, where he is musical coordinator.
Bazille Ducheneaux stopped briefly to describe traditional art workspaces and classrooms. But he focused mostly on his area of expertise in a music studio that includes instruments, a modern recording studio and spaces for musicians to teach and work.
During the tour, Bazille Ducheneaux paused to perform the first verse of a rap song called "Land Acknowledgement," in which he rapped about the Native experience and the importance of land, language and identity.
"Sitting in prayer with top of a hill connecting … meditating through all the noise and disrespecting … I hope we all find a way to peace … even if they all hope we fall … when ancestors always with you, you always strong … tell me now, what's a Sioux to do, when you ain't even the thing they've been calling you … bet you never even know who you were talking to."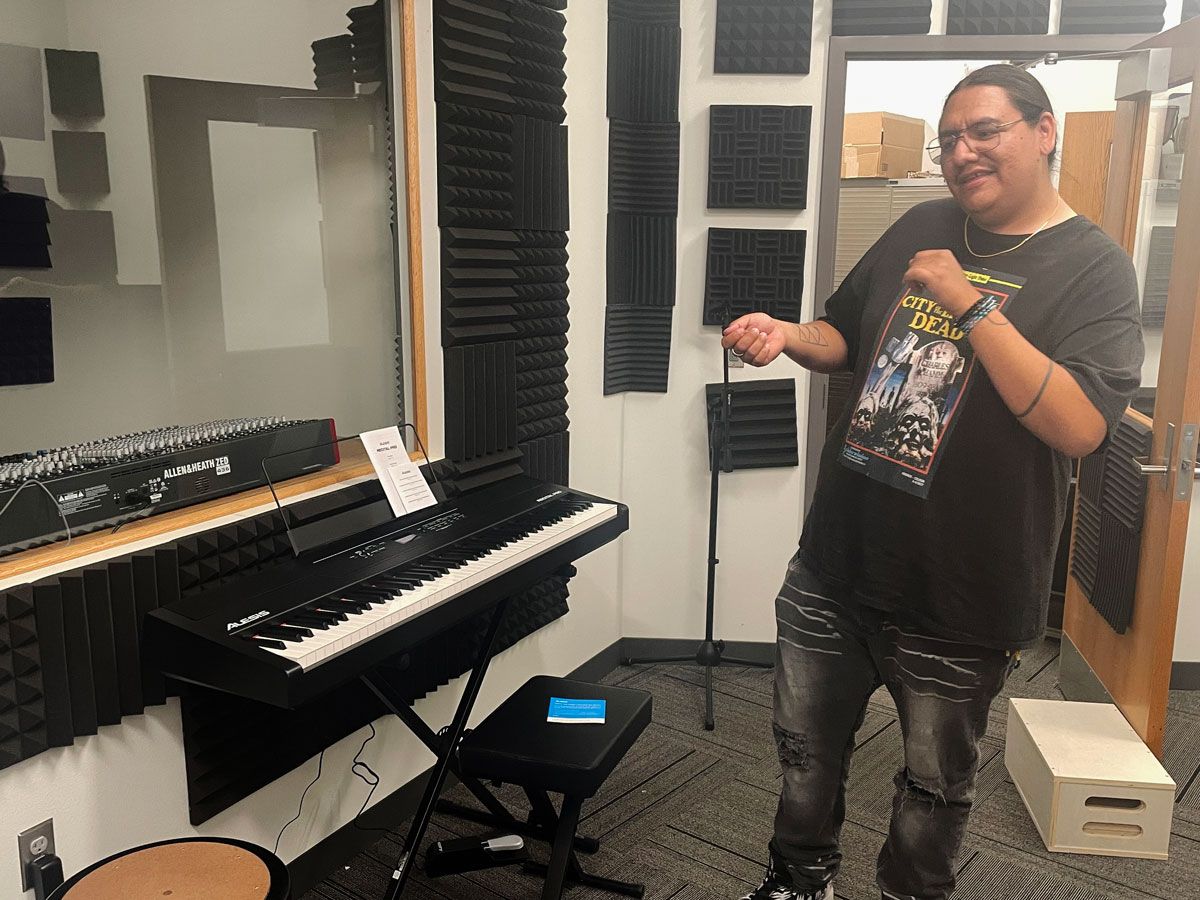 Bazille Ducheneaux said he sees music, as well as other art, as a way for Native people to connect more deeply to their heritage, their culture and to one another in ways that will strengthen individuals and heal both Native and non-Native communities.
"The hope for the future is … for this space to become a hub for all of the community to come and celebrate each other with one another, to value each other for the stars that they really are, for the power that we all really have, and for the creativity we all really have," Bazille Ducheneaux said. "We want to provide space for people to openly express and share with one another as equals, and communities of mutual support."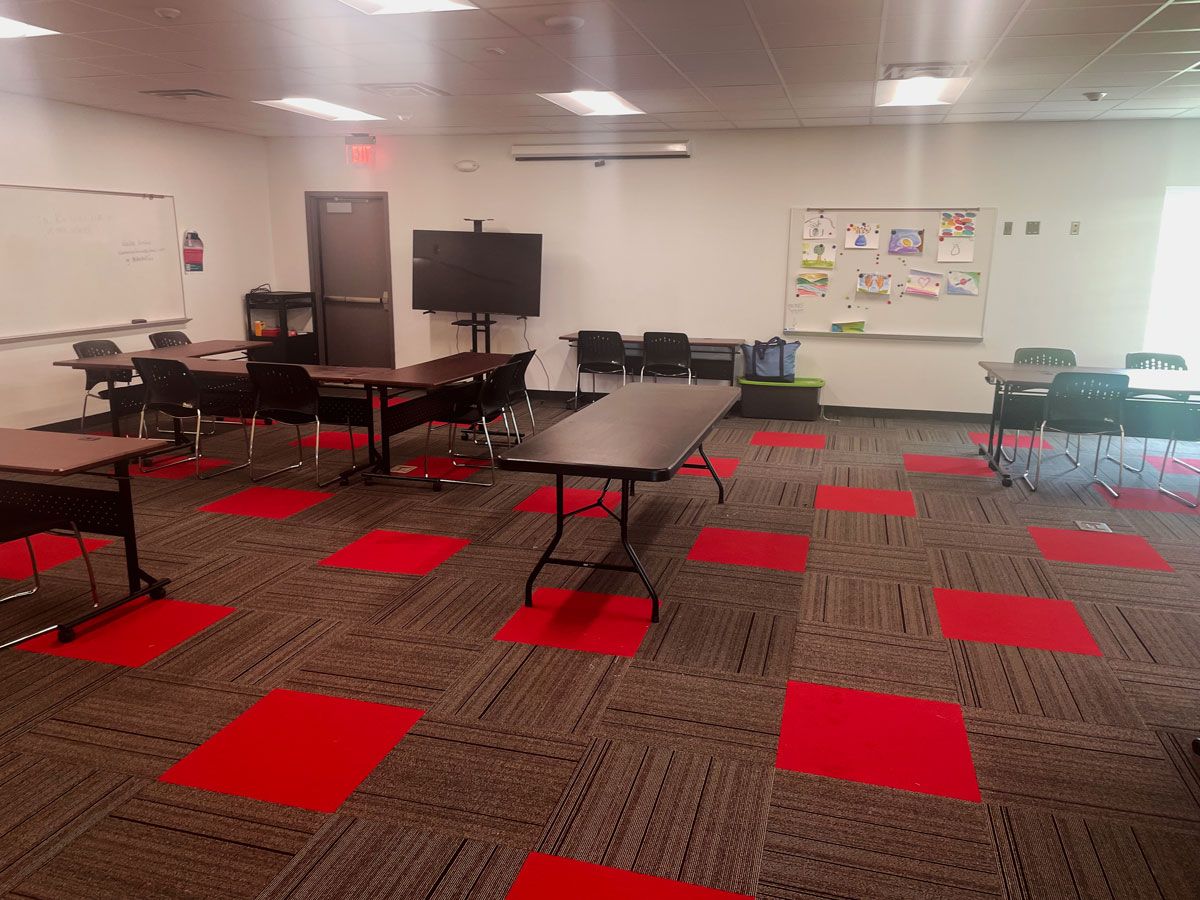 A beer store that robbed talent now invests in it
Like the Lakota Artspace, the Whiteclay Makerspace has a strong focus on providing the critical elements to making artists successful: a place to create, the supplies to make art, knowledge from more experienced artists and a venue to sell their work, according to Holly Albers, manager of the facility.
The building transitioned from beer store to art gallery due to funding and leadership by business owners in Whiteclay who wanted to shed the town's bad reputation and rid it of the connections to alcohol, Albers said.
To help artists succeed, it features a leather sewing machine that can be hard to find and two new quilt-making machines valued at $17,000 and $12,000 that were supported in part by grants from the local Rotary Club and which can dramatically expedite the ability of artists to make the prized star quilts for sale.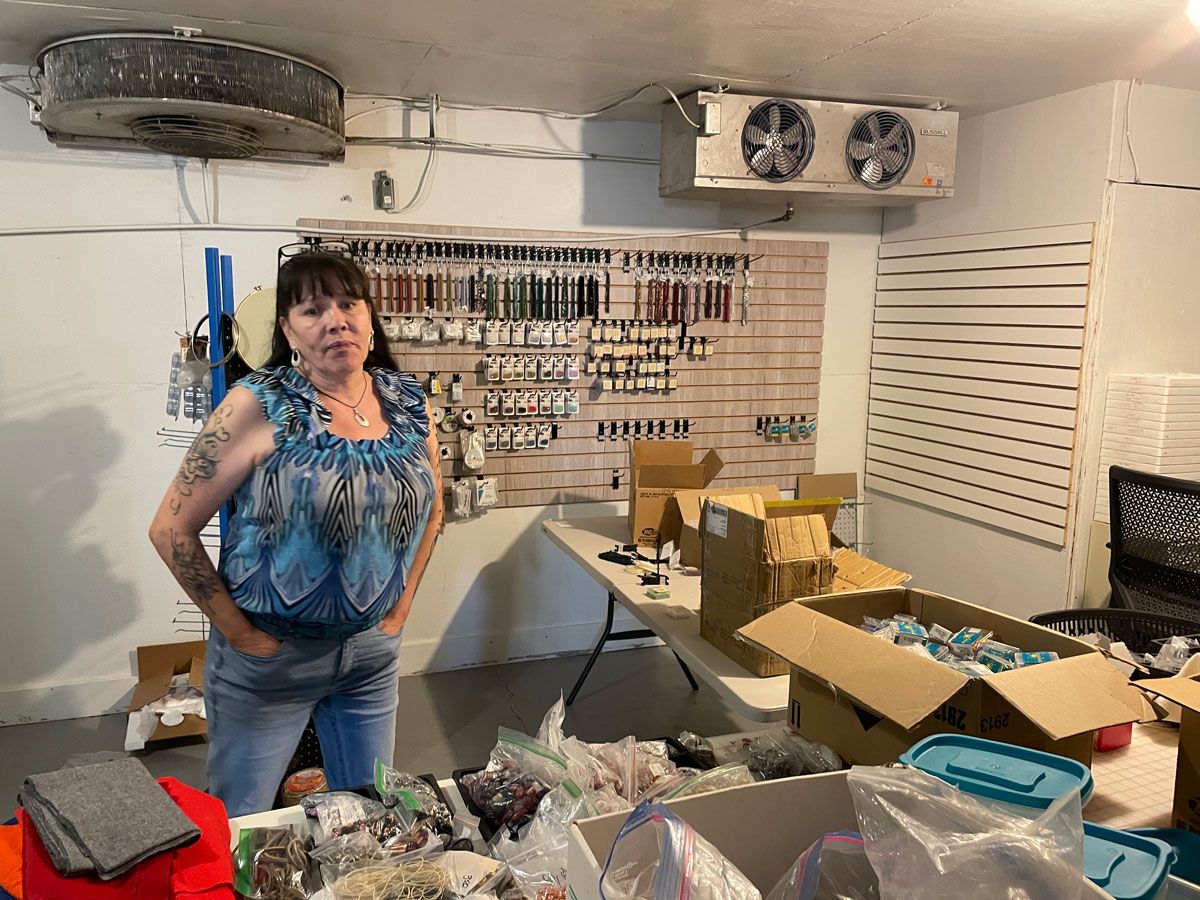 "Instead of someone taking a week to make a star quilt, they can stitch it within a couple of hours," she said.
Albers said the facility expects to expand its offerings to help more artists who often work from their kitchen tables or small spaces tucked inside their homes.
"What we do here is provide the space and the tools and a platform for all artists, most of whom are Native American … so they can make and sell their art," she said. "Next we're going to be offering classes on how to make ribbon skirts, moccasins, star quilts, shawls and other artistic items."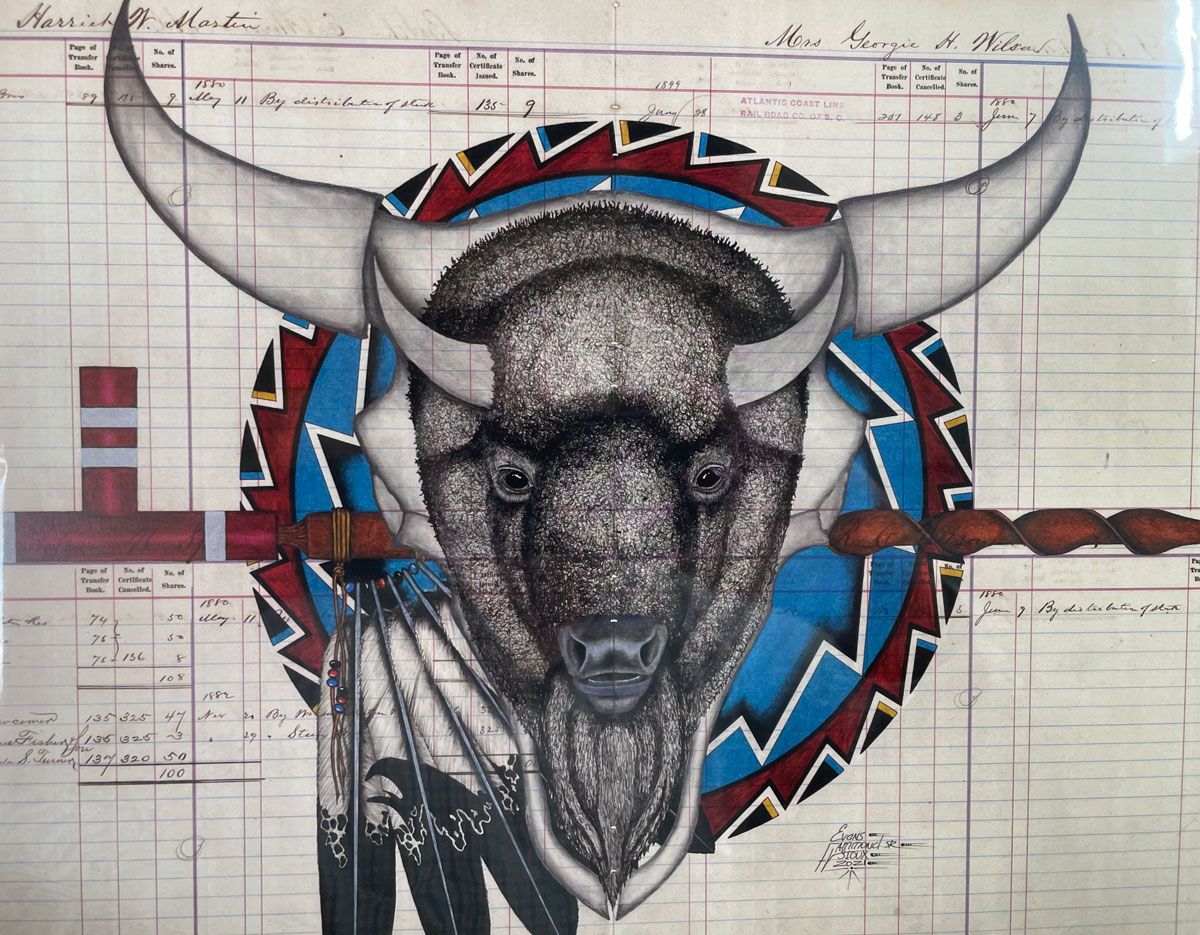 Teaching artists to use Venmo and social media
Another critical component of the programming helps artists make a living, Albers said.
One expert maker of star quilts sold many of her works but was limited by her inability to take a credit card, Albers said.
In response, the Whiteclay Makerspace now offers programs to teach artists to use social media sites like Instagram, Facebook and Twitter to showcase their art and also to use Venmo and other services that accept credit card payments.
Albers said it is important to note that the makerspace is a place for artists and customers of all backgrounds, not just for Native Americans. The facility is now listed as a stop on the 2023 Nebraska Passport state tourism program that encourages visitors to explore hidden gems within the state.
"This space is for everybody, and we want to help everybody out, to help each other," she said. "That's how Native American people are. They help each other out."
'I do it to make a living, but it's keeping my culture alive'
Flammond's ledger work and other art is featured prominently at Prairie Edge in Rapid City, is exhibited in art galleries across the Midwest and hangs in the state Capitol in Pierre. He's part of a renowned roster of South Dakota Native American painters that includes Oscar Howe, Arthur Amiotte, Bobby Penn, Richard Red Owl, Mary Sully and others.
Flammond said he feels compelled to share with others what he has learned about how to gain respect as an artist and share ways to make a good living through art.
While that requires a commitment to quality, dedication and hard work, Flammond also believes that budding Native artists need opportunities to create art, instruction to hone their craft, and knowledge about how to monetize their work to have a real shot at success.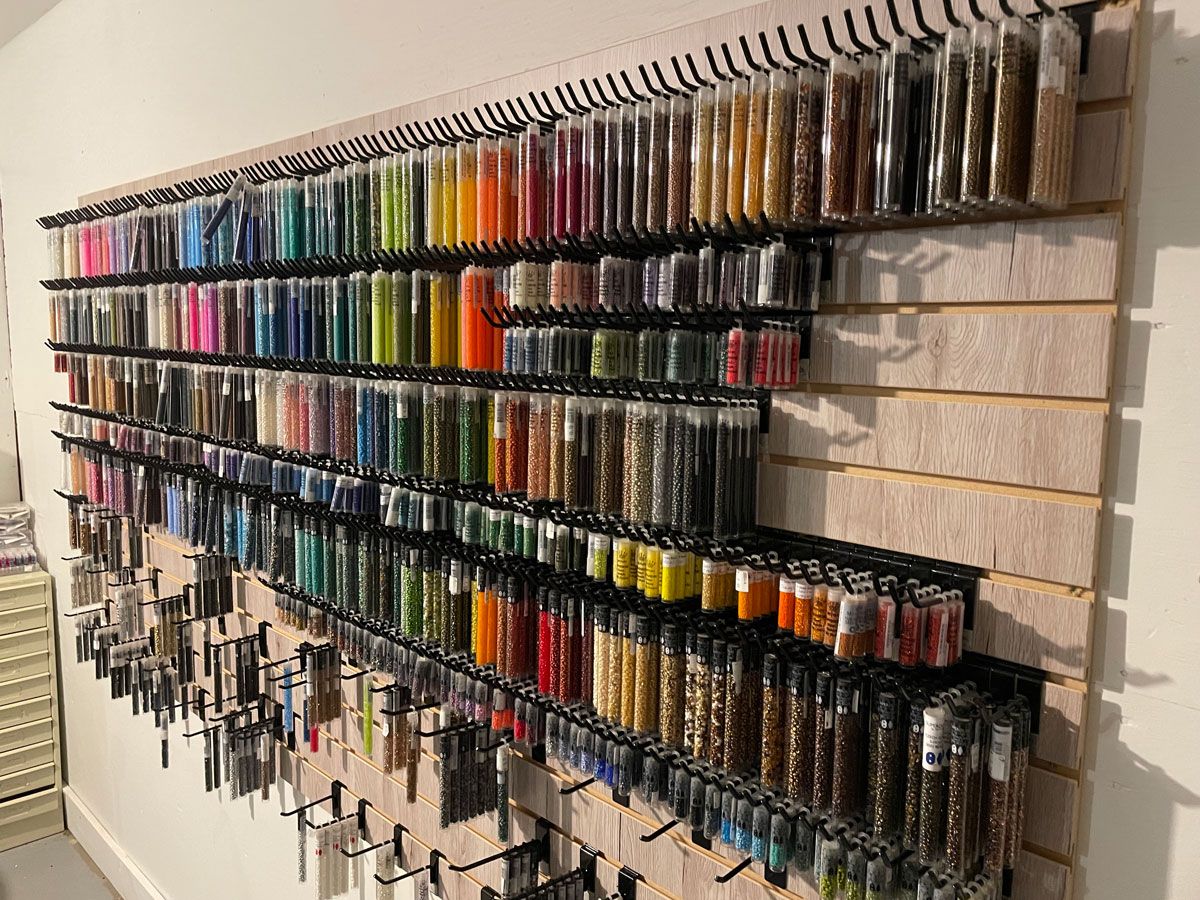 "I've been so blessed through my career that this now is me giving back to artists who are just starting out," Flammond said. "We're here to steer them on the right path."
As interest and involvement in art takes hold in American Indian communities, Flammond said, expression of Native art will lead to better lives for individuals, their families and communities.
"At the end of the day, every time I pick up this brush or a colored pencil to do my ledger art, I do it for my people," he said. "I do it to make a living, but it's keeping my culture alive and it's my little effort to keep the culture alive."
New efforts to expand the amount and quality of Native American art will also help drive greater appreciation of Native culture among the population at large, Flammond said.
"Every time someone lays their eyes on a piece of Native art, no matter what it is, they learn something," he said. "No matter how good or professional the piece is, they learn something from it."