Politics
Matt McCaulley: Sioux Falls lawyer has become a behind-the-scenes power broker in Pierre
PIERRE, S.D. – For someone who doesn't hold elected office, attorney Matt McCaulley of Sioux Falls has amassed a significant amount of political clout, and he is among the most influential people in Pierre during South Dakota's annual legislative sessions.
Throughout his more than 14 years of lobbying, McCaulley, 47, has developed a reputation for quiet competence, effective problem-solving and honest negotiation — and, recently, for serving as a top adviser to Gov. Kristi Noem. McCaulley's talent for navigating complex legal and political issues has made him a go-to lobbyist for clients ranging from Noem to Sanford Health, and from South Dakota agricultural interests to national cell service provider T-Mobile.
In addition to maintaining one of the deepest client lists of any lobbyist in South Dakota, McCaulley is also the managing partner of Redstone Law Firm in Sioux Falls, which has been hired to provide outside legal counsel to the Noem administration. So far, Redstone's work for Noem has cost taxpayers more than $123,000 over the course of about 15 months, according to state records.
McCaulley shuns publicity and operates mostly behind-the-scenes of the legislative process. But his work for Noem over the past 15 months, while continuing to lobby for 16 private clients, has raised some eyebrows in Pierre. The dual role — well known by decision-makers in Pierre — could give McCaulley unfair and undue influence to affect policy and legislation, according to one legislative leader.
"I do think it's problematic," said Senate Minority Leader Troy Heinert, D-Mission. "If you're going to lobby for the governor's office, or any government department, you shouldn't be able to lobby for the private sector."
In an interview with South Dakota News Watch, McCaulley said he would not comment on his relationships with current clients, including the governor. Instead, he said he thrives on public service and always tries to do what he thinks is best for South Dakota and for his clients, whether they are in private industry or in the Governor's Office.
"I'm never looking for the attention or the credit. I want to help move the state forward, figure out what's good, sound public policy, fix problems and just keep us moving forward," McCaulley said.
McCaulley's pattern of success has positioned him to play key roles in some of South Dakota's most complex, controversial issues.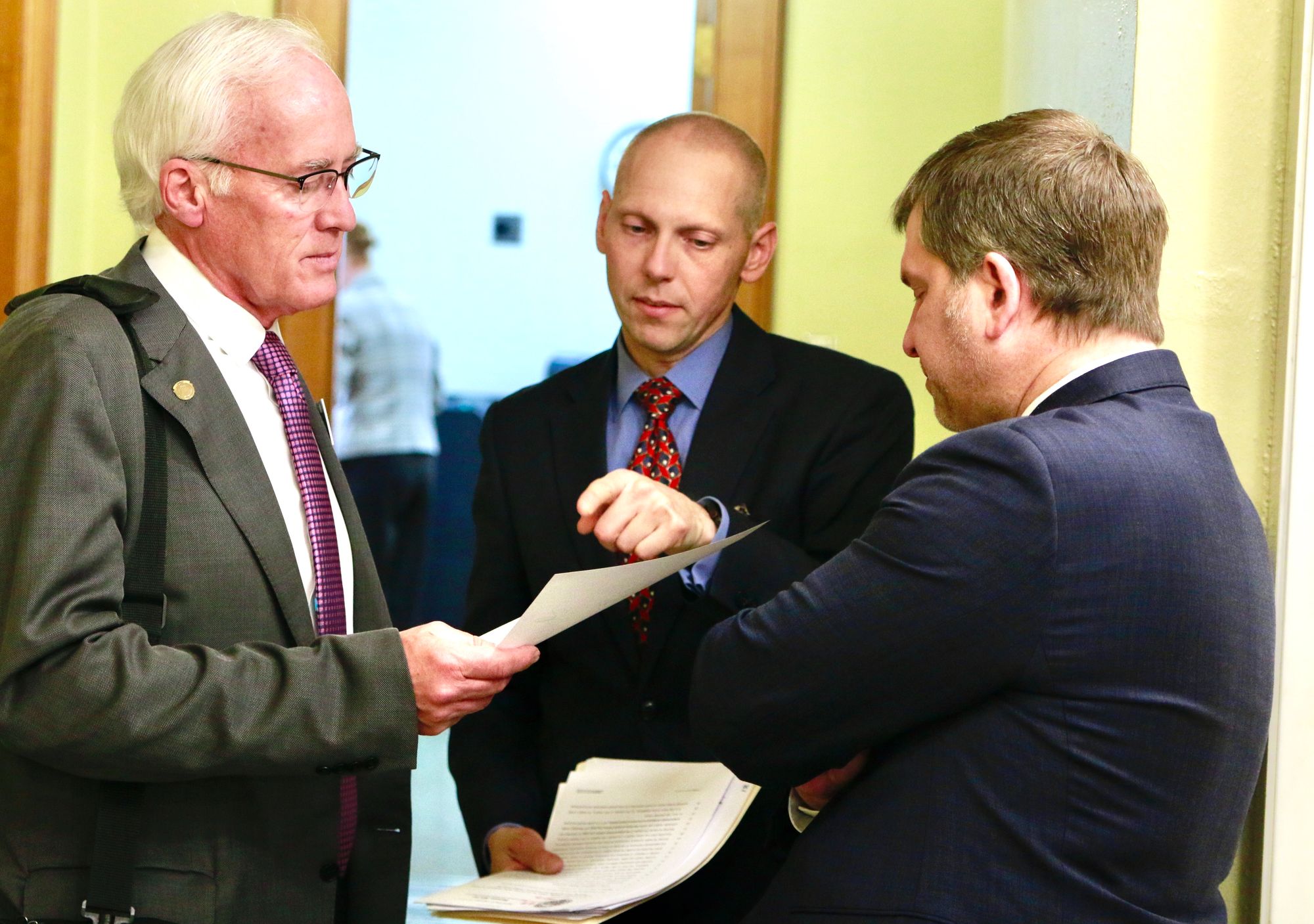 "This is a guy who legitimately wants to get deals done. He wants to solve problems, he wants to make South Dakota better," said Nathan Sanderson, a senior policy adviser to former South Dakota Gov. Dennis Daugaard.
Sanderson worked closely with McCaulley, in 2017, to draft and successfully lobby for a controversial piece of legislation to address the state's handling of legally unrecognized lakes that had formed over private property. The meandered waters bill was passed into law during a special legislative session.
In 2018, McCaulley was listed as the attorney of record for a pharmaceutical industry-backed group called South Dakotans Against the Deceptive Rx Ballot Measure. The group filed a legal challenge that ultimately got an initiated measure aimed at controlling the price of prescription drugs thrown off the 2018 general election ballot.
McCaulley helped draft and successfully lobbied for then-newly elected Gov. Kristi Noem's so-called riot-boosting legislation in 2019. The riot-boosting laws caused outrage among the state's Native American communities and ultimately were negated by a settlement in federal court.
During the 2020 legislative session, McCaulley worked as a lobbyist for Heartland Consumers Power District, which sells electricity to city-owned utilities. That relationship put him on the front lines of a fight between rural electricity cooperatives and municipal utility departments.
As part of Redstone law's contract with Noem, McCaulley also registered as a lobbyist for the governor's office. Redstone's connections to the Governor's Office have been further strengthened of late as Tony Venhuizen, recently a partner in the firm, has taken over as Noem's chief of staff.
---
McCaulley's long list of clients
Over the past 10 years, Sioux Falls lawyer and lobbyist Matt McCaulley has registered to lobby for 51 clients. In 2020, In addition to serving as a lobbyist and outside counsel for South Dakota Gov. Kristi Noem, McCaulley has registered to lobby the state legislature for 16 private clients. Here is a list of McCaulley's private lobbying clients.
Heartland Consumers Power District, Madison, S.D.
South Dakota Corn Growers Association, Sioux Falls, S.D.
Farm Credit Services of America, Omaha, NE
Sanford Health, Sioux Falls, S.D.
RAI Services Company, Winston-Salem, N.C.
CGI Technologies & Solutions Inc., Fairfax, Va.
South Dakota Upland Outfitters Association, Gettysburg, S.D.
South Dakota Land Title Association, Gettysburg, S.D.
ENGIE Development, LLC, Houston, TX
South Dakota Health and Educational Facilities Authority, Pierre, S.D.
South Dakota Biotech Association, Sioux Falls, S.D.
Alliance for Automotive Innovation, Washington, D.C.
Philanthropy Roundtable, Washington, D.C.
SD Business to Business Lending Group, Sioux Falls, S.D.
T-Mobile USA, Inc., Nashville, TN
South Dakota Board of Technical Education, Pierre, S.D.
Source: South Dakota Secretary of State's Office
---
Close ties to Gov. Noem
Beyond sharing a similar set of political values, McCaulley has professional ties to Noem going back a decade. He served as Noem's campaign attorney when she successfully ran for South Dakota's lone seat in the U.S. House of Representatives in 2010. He continued to serve as Noem's campaign attorney each time she defended her seat and throughout her 2018 campaign for governor.
After Noem defeated her 2018 Democratic opponent, state Sen. Billie Sutton, she brought McCaulley in to lead her transition team. McCaulley was one of two transition team members not brought into the governor's administration full time, however. The other transition member not brought in full-time was Lt. Gov. Larry Rhoden, whose elected position is part-time.
In early 2020, McCaulley and Redstone's ties to the Noem administration got even stronger. Tony Venhuizen, former Gov. Dennis Daugaard's long-time chief of staff who had gone to work for Redstone law after leaving government, was named as Noem's interim chief of staff.
The announcement was made in late December, 2019, after the departure of Noem's second chief of staff, Joshua Shields. Venhuizen took over the role in his capacity as a lawyer providing legal services to the governor's office through the Redstone contract. Venhuizen was slated to fill the post through the 2020 legislative session. But on March 2, well before the end of the 2020 session, Noem announced that Venhuizen would officially rejoin state government as her third full-time chief of staff.
While McCaulley didn't take a full-time job with Noem, he did pick up a potentially lucrative set of contracts for his firm. On Jan. 5, 2019, former Noem chief of staff Herb Jones and McCaulley signed the first of what would become three contracts — two for legal services and one for legislative consulting services — worth a combined total of up to $259,375.
"The governor has a long-standing professional relationship with Matt," Noem spokeswoman Kristin Wileman said in an email to South Dakota News Watch. "He brings a wealth of knowledge and expertise to the table, so when it came time to decide who the outside legal counsel would be for the governor's office, Matt was undoubtedly the top pick."
Redstone's first contract to provide legal services for the Governor's Office was for up to $129,200 and expired on June 30, 2019. The second legal services contract, worth up to $71,400, is set to expire on June 30, 2020. The legislative consulting services contract worth up to $58,775 also is set to expire on June 30, 2020. To date, according to state records on the website open.sd.gov, South Dakota taxpayers have paid Redstone Law Firm a total of $123,592.76 for the firm's work with the Governor's Office.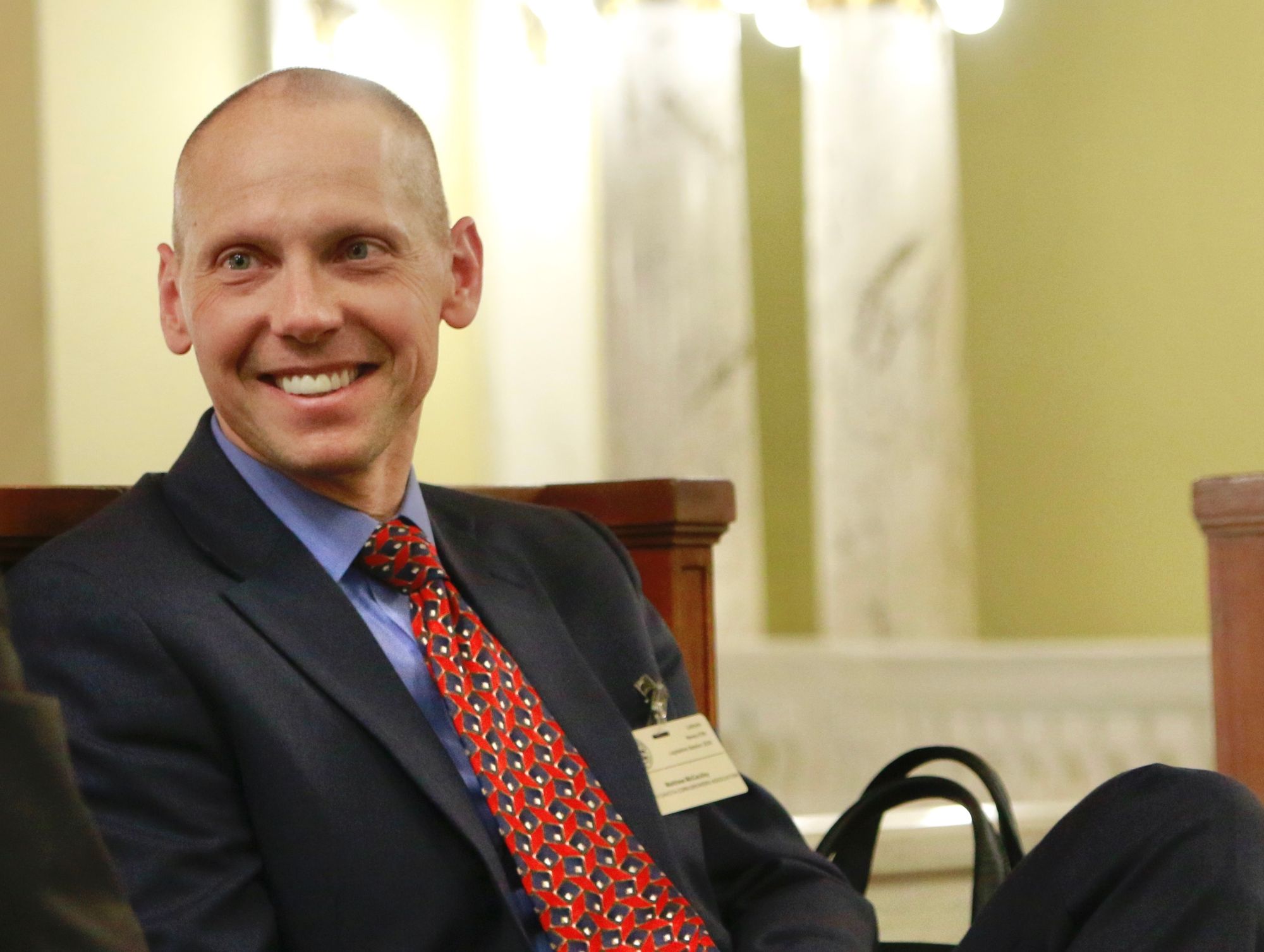 "Once you get out [to Pierre] and you meet the great people and you see the difference that just one person can make as an elected official, public service kind of gets in your blood. I think it's hard to walk away from that." -- Matt McCaulley, lawyer, lobbyist and legal counsel to Gov. Kristi Noem, on why he transitioned to lobbying after serving in the state Legislature
A Sioux Falls native, USD law grad
McCaulley who grew up in and around Sioux Falls, actually got his start in South Dakota politics more than 20 years ago. Not long after earning his law degree from the University of South Dakota Law School in 1997, a chance meeting with long-time legislator and lawyer Roger Hunt provided the spark.
"Had I not had coffee with Roger Hunt, and had he not urged me, I certainly wouldn't be here today," McCaulley said.
Hunt's prodding led McCaulley to run for and win a seat in the state House of Representatives as a Republican in 2000. He represented District 10, in the eastern part of Sioux Falls, from 2001 to 2004.
By 2004, McCaulley had learned that being a lawyer and a legislator isn't easy and only gets tougher with a pregnant wife at home. He resigned from the legislature on May 10, 2004 and became a father that September.
McCaulley joined what would become Redstone Law Firm in 2004. At the time, the firm was known as Murphy, Goldammer and Prendergast after its founding partners. One partner, Jeremiah D. Murphy, had decades of experience as a lobbyist in Pierre and had helped then-Gov. Bill Janklow in his effort to convince Citibank to relocate to Sioux Falls. Murphy became McCaulley's mentor and, in 2006, McCaulley was back in the Capitol learning the ropes of lobbying under Murphy's tutelage.
"Once you get out (to Pierre) and you meet the great people and you see the difference that just one person can make as an elected official, public service kind of gets in your blood," McCaulley said. "I think it's hard to walk away from that."
One of McCaulley's earliest clients was the South Dakota Corn Growers Association. In 2008, the organization's legislative director, Teddi Mueller, needed help for what would turn out to be a years-long fight over how to fairly assess property taxes on agricultural lands. She said she had heard of McCaulley and that he was a quick study. Their first conversation took place over the phone as McCaulley was headed to Pierre; he took the job and has been working for the corn growers ever since, Mueller said.
"He never tries to trump our decisions … and that to me is probably one of the biggest pieces. It's not about him, it's about making sure that the organization and the farmers of South Dakota are taken care of or benefited in the right way," Mueller said.
McCaulley's work with South Dakota corn directly led to his key role in one the most high-profile legislative debates he's participated in to date — the 2017 legislative clash over non-meandered lakes.
The fight was touched off when the South Dakota Supreme Court, in March 2017, ruled for the second time that neither the public nor landowners had a right to use non-meandered lakes for recreation. In response, the state Game, Fish & Parks Department shut down boat ramps on several lakes and stopped helping anglers access others. The GFP move sparked a panic in communities that had come to rely on the money spent by visiting anglers.
McCaulley, who had been hired by a group of farmers whose land was flooded by non-meandered lakes, worked hand-in-hand with Sanderson, an advisor to then-Gov. Daugaard, to craft legislation aimed at solving the dispute. Ultimately, the legislation was passed during a June 2017 special legislative session.
While neither side was completely happy with the result, the new law did provide some clarity on how non-meandered lakes can be used for fishing or hunting, Sanderson said.
"I always felt like when he and I were having conversations, we could be honest and open with each other and we knew where each other stood and where the governor stood. And I certainly got the impression that we trusted each other completely and that we were going to hold each other to our word," Sanderson said of McCaulley.
Sanderson wasn't alone in coming away from the non-meandered waters debate with a positive impression of McCaulley. Rep. Steven McCleery, D-Sisseton, said he was impressed by how well McCaulley represented landowners' viewpoints and interests during the debate.
"He definitely helped make a path for that legislation to pass," McCleery said.
Still, McCaulley's work for the governor while lobbying for private clients is troubling, McCleery said. Whether real or imagined, the idea that McCaulley might have extra pull or support from the Governor's Office can affect legislators' decisions on bills he lobbies on, he said.
"I would say it does have an impact depending on the issue," McCleery said. "I think some would say it has a big impact."
McCaulley, for his part, said he was happy to have helped resolve the meandered-waters impasse that had threatened so many livelihoods. The toughest issues can be some of the most rewarding to work on, if you're in it for the right reasons, he said.
"If you're serving for the right reason, and it's not just to advance yourself, then it makes politics and public policy a lot of fun," McCaulley said.