Health
Committed to their communities: Two rural medical professionals go the extra miles
Editor's note: This article is part of the final segment in the South Dakota News Watch series, "Small Towns, Big Challenges" and features two rural medical professionals who show a deep commitment to providing medical care to residents of remote small-towns in South Dakota.
---
In many rural areas of South Dakota, the key to receiving high-quality health care depends more on individual practitioners and local community support than the size or care level of the system that employs them or the facilities that house them.
Crystal Page is a physician's assistant and as such the highest-trained medical professional in Buffalo, a Harding County town of 350 people in the far northwest corner of the state that is among South Dakota's most remote communities.
Page, 40, is a Nebraska native who met and married a man from Buffalo, and after college the couple decided to settle in his hometown to work and raise their four children. The clinic receptionist and nurse grew up in Buffalo.
Even after 13 years in her position, Page said she never knows what type of case a new day will bring. Her official work schedule is from 8 a.m. to 5 p.m., but she sometimes travels with the local ambulance service to provide emergency care and is also willing to see patients in emergencies at night or on weekends.
Page said she and her nurse are able to diagnose and treat many basic maladies or injuries that are not uncommon with a ranching lifestyle and energy-based economy.
The clinic has X-ray capabilities and an electrocardiogram that allows for monitoring of some heart functions, but it's not home to a full lab or imaging operation. Some testing materials are sent off by courier, with results likely to arrive the following day, she said. Patients who require surgery or advanced diagnostics must travel to more fully equipped hospitals, sometimes by ambulance or helicopter.
"As a rural clinic, we only have so many resources, so you use your physical-exam skills a little more," Page said.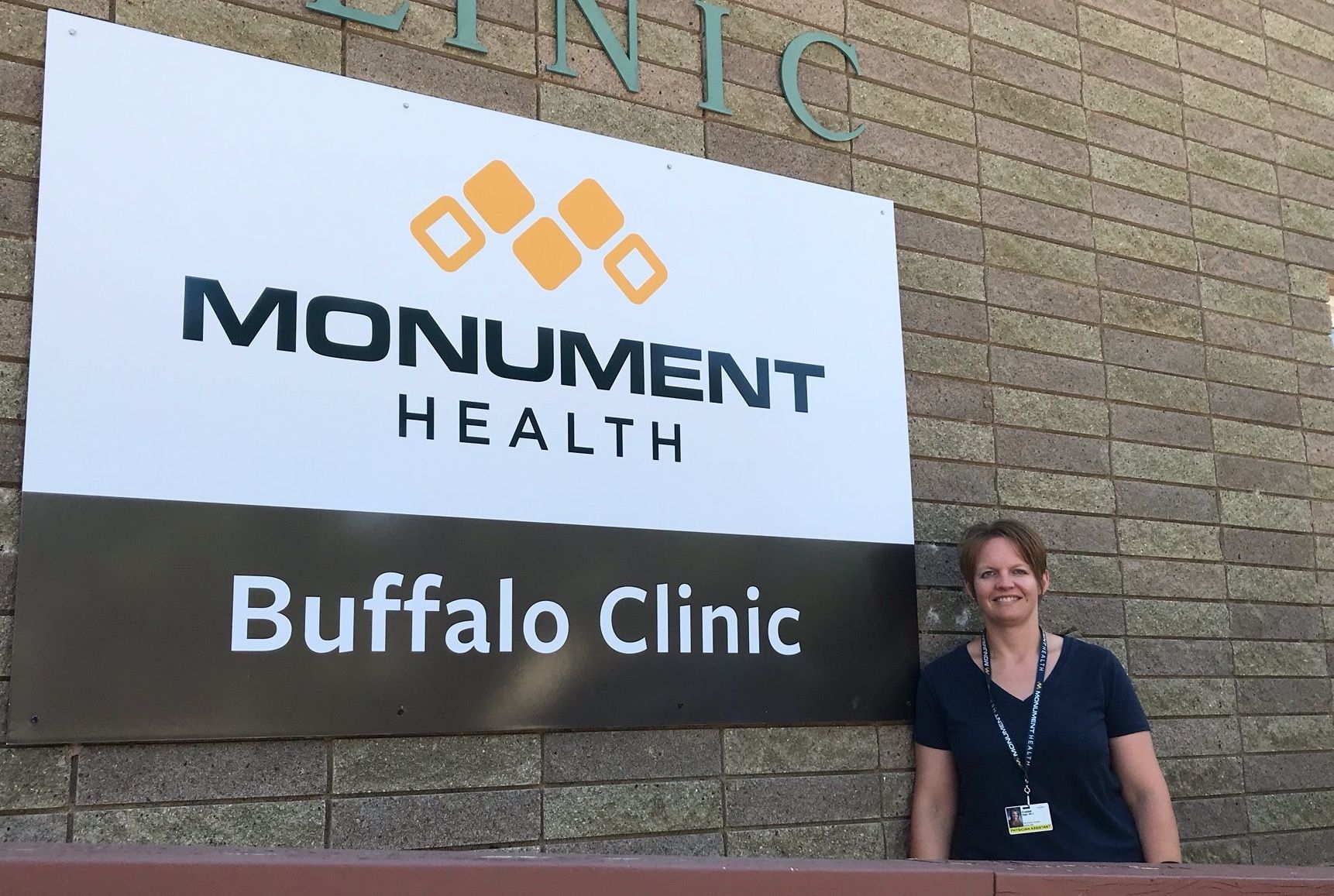 Page stays in regular contact with her supervising physician at the Monument hospital in Belle Fourche, Dr. Bobbi Rae Thuen, who advises her on diagnostics or in situations where she needs guidance, such as on abdominal pain that could result from a number of serious conditions.
Page said most rural residents realize they may face challenges in obtaining health care in an emergency and accept the risk. "We never can determine when a good time to have an accident is, so some health care is better than none when we're this far out," she said.
The small clinic in Buffalo benefits from significant community and local government support that help maintain its viability in such a remote location.
A governing board owns the building and provides maintenance, Harding County pays for the clinic's propane and electricity, and the town board pays for water and garbage service, Page said.
That support took off after the Great Recession in 2008 put the future of the clinic at risk, Page said.
"We have support all around, and we always have enough volunteers if we need something done," she said.
The COVID-19 pandemic has not led to any known infections in Harding County, but Page said the initial lockdown did slow things down at the clinic as some potential patients stayed home. The pandemic broke out during lambing and calving season, so many ranchers were busy on the farm and not interacting much anyway, she said. She does not expect to see any long-range impacts for the clinic and its operations.
Page said she and others in the remote area served by the clinic are well aware of the importance of having some level of medical care to maintain the population and economy in Buffalo, which is 45 miles from the nearest hospital in Bowman, N.D., and 85 miles from the Monument hospital in Spearfish, S.D.
"Personally, if I weren't the provider here, I would have a hard time living here without some form of clinic or health care," Page said.
Page said the safety and comfort of knowing most of her patients and neighbors personally is a big draw for her and others in small towns across the Midwest.
"We really don't have any strangers around you, I can still let my kids ride their bikes around town and not worry much about them," she said. "I am amazed at how many people come back and then start families and have children here themselves."
Living, working and providing care to Native communities
Diane Inch made the leap to providing rural health care a decade ago and has never looked back.
Inch, her husband and their two children moved to Fort Thompson, S.D., about 10 years ago after deciding to relocate from Syracuse, N.Y., to rural America.
They chose Fort Thompson, a town of 1,280 people on the Crow Creek Indian Reservation, by simply picking a spot on the map.
"It was blind faith. We just took a jump and have never regretted it," she said. "When you pull into Fort Thompson, it is not the most inviting town, there's no doubt about it. But when you get to know the people and get to know the ins and outs, there's a lot more to Fort Thompson than meets the eye."
Inch, 49, is a physician's assistant at the small Horizon Health Care clinic in Martin, a town of about 1,100 people on the Pine Ridge Indian Reservation.
Martin is roughly 180 miles from her home, but Inch avoids the commute by living four days a week in a small apartment attached to the clinic.
Inch, who is not Native American, said she feels deeply enriched by living and working in reservation communities.
"It's such a family-centered way of life in that they not only look out for each other, but take care of each other in the extended family," she said.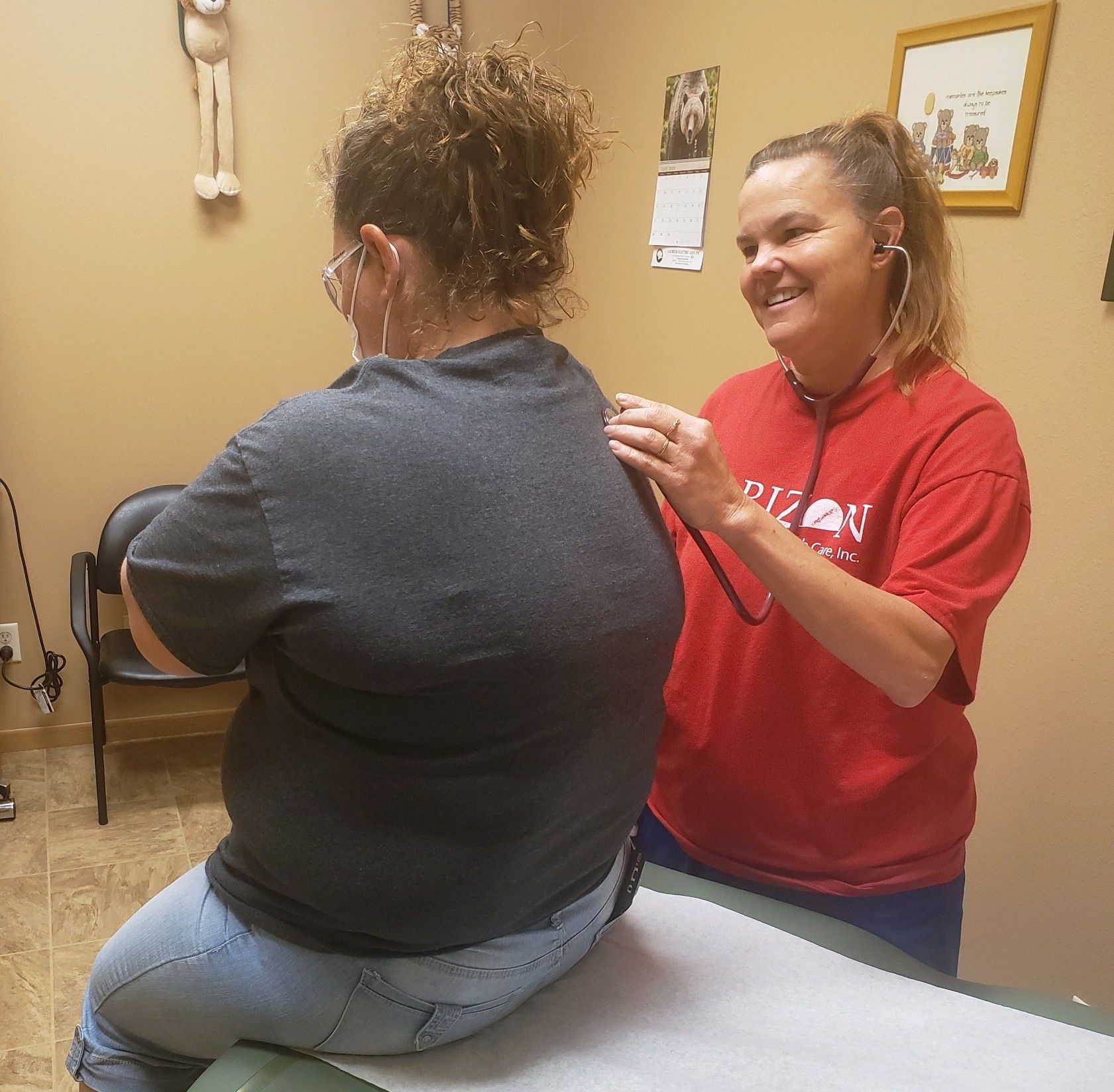 Inch feels as though she is now part of that family. At the clinic, she provides a wide range of critical health services that might be out of reach for some patients who are caught in generational poverty and may not have transportation or access to health care anywhere else.
Depending on the day, Inch might provide treatment, triage or simply advice on a wide variety of conditions, ranging from aiding diabetics, to helping someone with kidney failure manage dialysis, to providing referrals for mental-health services, to helping new mothers care for their babies.
"We're seeing babies that come to us for their first appointment that have multiple genetic problems and conditions, and they're not seeing a pediatrician, they're seeing us," she said.
Inch has also participated in programming to encourage physical exercise and healthful cooking and has helped patients arrange for transportation to appointments.
Being involved in her hometown and also playing a critical role in Martin gives Inch satisfaction she might not get working as part of a large staff at a big-city hospital, she said.
"Definitely there are challenges out here as we are kind of all types of health care wrapped into one," she said. "But I just want to make sure those who need health care are able to get it."