Welcome to the South Dakota News Watch Impact Tracker, which provides a brief overview of the ways in which News Watch is informing the public and policymakers of South Dakota. This page will provide quarterly updates on audience reach, media partner use of News Watch material, awards and recognition and other examples of how South Dakota's only non-profit journalism content organization is having a positive impact on the lives of South Dakotans and people across the world.
Breaking news — Third Quarter 2022
— News Watch Content Director Bart Pfankuch was a finalist for a national journalism award in summer 2022. Pfankuch's series on the childcare crisis in South Dakota, published in December 2021, was a finalist in the Explanatory Reporting category in the medium division of the annual Institute for Nonprofit News journalism contest, open to well over a hundred non-profit news organization across the country.
— News Watch published its 300th in-depth story package in early July, a milestone developed over more than four years since the organization officially launched in February 2018.
— News Watch hosted a "South Dakota Matters" online panel discussion in September about the deepening lack of civility in South Dakota politics that featured a lively and informative discussion among experts on civility and government.
— South Dakota News Watch teamed up with the Chiesman Center for Democracy to conduct a statewide poll on several topics of critical importance to the state. News Watch used the survey of 500 registered voters to publish four in-depth articles on the public's views on abortion, gun control, recreational marijuana and civility in society.
— Reporter Stu Whitney appeared on Dakota News Now TV in Sioux Falls for a discussion of his article on the abortion poll, and Pfankuch appeared on South Dakota Public Broadcasting in August to discuss his package on fraud within the organic food industry.
— Articles in third quarter of 2022 with largest audience engagement includes: Poll shows soft support for recreational marijuana (Pfankuch), fraud in organic food industry (Pfankuch); poll shows South Dakotans do not support full abortion ban (Whitney); and Gov. Noem political profile (Whitney).
MEDIA PARTNER USAGE
One critical component of how South Dakota News Watch reaches readers in South Dakota is our unique partnership with other media outlets, in which News Watch provides its material to all media for use at no cost. Here is a snapshot of recent partner usage of News Watch material:
— News Watch material appeared on the front pages of numerous daily newspapers in third quarter of 2022.
— Overall, News Watch material is published by other news outlets an average of 120 times per month in publications with a combined circulation of more than 140,000 subscribers.
— Broadcasters regularly use News Watch material, and News Watch made strides in expanding our relationship with broadcast media during March and April 2022 by providing news video and audio. Stations that regularly use our material include: KELO TV in Sioux Falls, which publishes News Watch articles on its website every weekend. Radio broadcasts of News Watch material are used by several stations, including Dakota Radio Group (seven stations), Pierre, S.D.; and Homeslice Media Group (six stations), Sturgis, S.D.; and KELO AM and FM, Sioux Falls, S.D.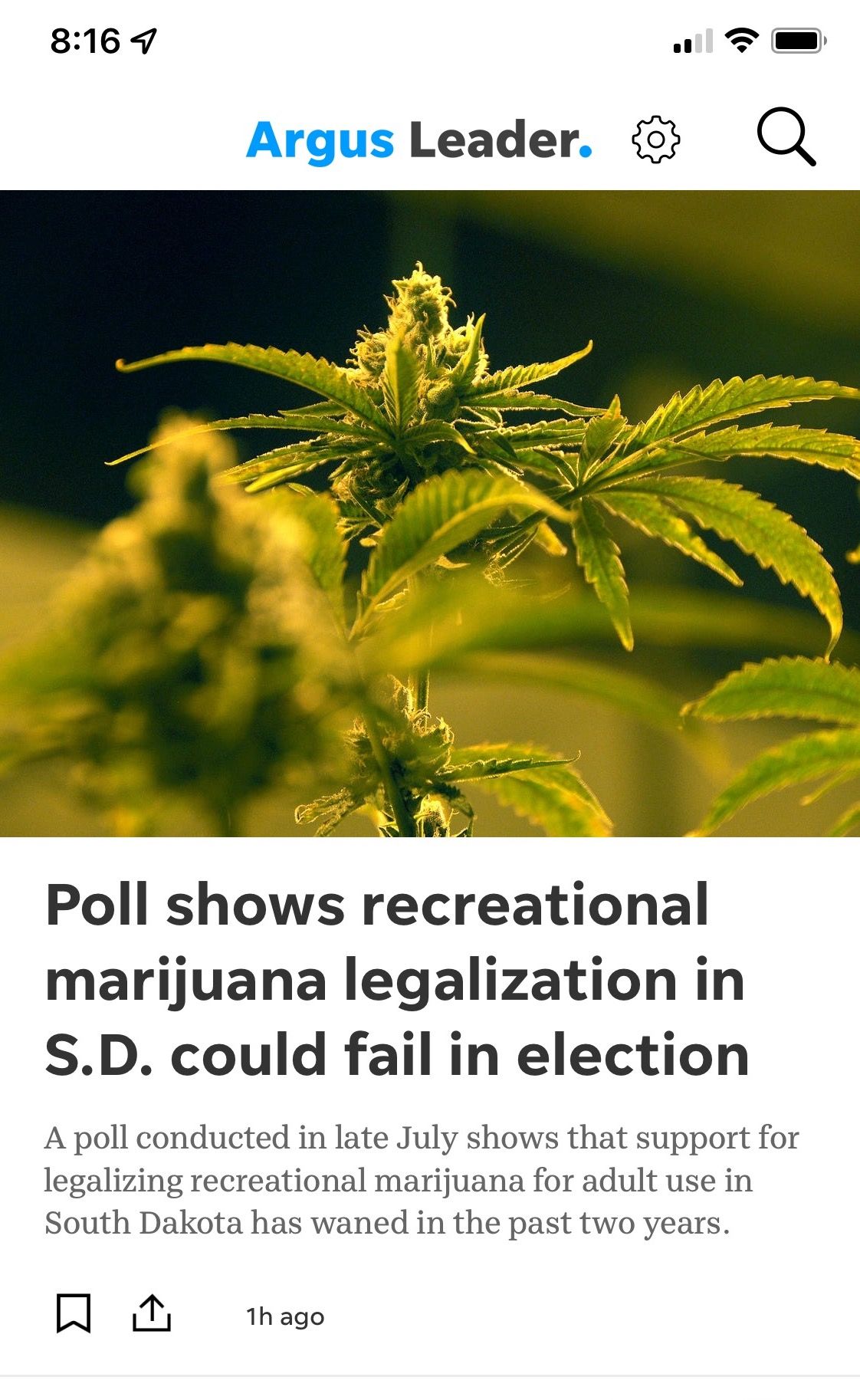 SOCIAL MEDIA AUDIENCE REACH
Social media outlets such as Facebook and Twitter are major components in how News Watch reaches a wide audience. Here is a look at recent measures of audience engagement.
SDNEWSWATCH.ORG
— The News Watch website had 66,000 unique users and about 88,000 reader sessions through third quarter of 2022.
FACEBOOK ENGAGEMENT
— As of Oct. 1, 2022, News Watch had 6,250 followers who see every News Watch posting.
— In second quarter 2022, News Watch had a total audience reach of 81,100 unique individuals on Facebook, up 6.5% over prior three months.
— Articles on the Facebook page for South Dakota News Watch had a reach of nearly 168,000, an increase of 145% over the prior year, and 14,000 audience reactions.
— 2022 top single-article audience reach to date: "Bills would allow S.D. Native Americans to fish, visit parks for free," Feb. 2, 2022, audience reach of 34,500, more than 2,200 post clicks, more than 3,300 user reactions.
TWITTER ENGAGEMENT
— As of June 30, 2022, more than 2,800 people follow News Watch on Twitter, including 218 new followers in second quarter 2022.
— Third quarter 2022: More than 40,500 individual impressions from audience; nearly 4,700 page visits.
— Top audience for article Tweet in second quarter 2022: "Poll shows majority of voters oppose total abortion ban," (Whitney) with 13,200 impressions.
SOUTH DAKOTA MATTERS PROGRAMMING
"South Dakota Matters" is the ongoing programming offered by News Watch to conduct statewide polling and host panel discussions with newsmakers and knowledgeable people on statewide issues.
— The August 2022 panel discussion on civility in politics and government drew a strong audience on Facebook.
— To date, News Watch has conducted four statewide polls and hosted 10 online panel discussions on statewide issues.
— Statewide polls are conducted with the Chiesman Center for Democracy at the University of South Dakota, including in July 2022 (abortion, gun control, legal marijuana); in October 2021 (attorney general status; abortion legislation; governor's performance); in April 2021 (economic pessimism, stress on Democracy, confidence in government) and in October 2020 (female voter attitudes; state COVID response, opinions on governor.)
— "South Dakota Matters" panels appear regularly, including recent panels in August 2022 (civility in society); and June 2022 (politics in education;) March 2022 (Native American education); December 2021 (child care in crisis); September 2021 (predator bounty program); June 2021 (economic uncertainty); and April 2021 (civics/history curriculum concerns.)
— Internship at South Dakota State University: News Watch co-sponsors an annual, paid internship for a student in the journalism program at SDSU. Intern Kylie Carlson, summer 2022, published several articles; 2021 intern Andrew Rassmussen published several in-depth articles.
AWARDS AND RECOGNITION
Since its launch in February 2018, South Dakota News Watch has been feted numerous times for its journalism and civic involvement. Here is a look at some awards and recognition received by News Watch.
AWARDS
New in 2022
— News Watch Content Director Bart Pfankuch was a finalist in the 2021-22 INN Awards in the Explanatory Reporting for his 2021 series on a lack of access to childcare in South Dakota.
— News Watch won three regional awards in the Great Plains Journalism Contest hosted by the Tulsa Press Club. Articles by Pfankuch in 2021 were a finalist in three news categories: in Investigative Reporting for articles on questionable COVID grants received by a South Dakota state senator's son; in Specialty Feature category for a series on the child-care crisis in South Dakota; and in Business Feature for articles examining the growing dairy industry in South Dakota and increasing use of robotic milking.
Regarding the COVID grant article, the judge noted: "Great example of investigative reporting to hold people and government accountable. The reporting in this is impressive and not only includes great use of traditional public documents — tax and property records — but the reporter also used archived testimony on an unrelated matter … that confirmed what the reporter had learned."
— Third place, Profile Writing, North American Agricultural Journalists, (Pfankuch), Lake Norden dairyman
— Honorable Mention, News Photography, North American Agricultural Journalists, (Pfankuch), South Dakota robotic dairy
Great Plains Journalism Awards (compete with all newspapers in eight states)
2021 — First Place, Business Reporting (Pfankuch/Lowrey), meat plant COVID outbreaks
2021 — Finalist, News Story (Pfankuch), Serenity Dennard missing
2021 — Finalist, Beat Reporting (Pfankuch), agriculture beat
2021 — Finalist, Business Feature (Pfankuch), grain bin deaths rising
2020 — First Place, Beat Reporting (Pfankuch), agriculture beat
2020 — First Place, Business Reporting (Pfankuch), varied economic issues
2020 — Finalist, Investigative Reporting (Pfankuch), Aurora Plains Academy abuse
2020 — Finalist, Online Project (Pfankuch), CAFO photos and videos
North American Agricultural Journalists association (continental journalism organization)
2021 — Agricultural Journalists of the Year (Pfankuch/Lowrey), COVID impacts on agriculture in South Dakota
2021 — First Place, Technical Writing (Pfankuch/Lowrey), lax meatpacking plant safety oversight
2021 — First Place, Ongoing Coverage (Pfankuch/Lowrey), news about South Dakota agriculture industry
2020 — Agricultural Journalist of the Year (Pfankuch), CAFO investigation
2020 — First Place, News Coverage (Pfankuch), livestock industry growth and safety
2019 — Audrey Mackiewitz Special Award for Excellence in overall coverage of agriculture (Pfankuch/Lowrey/Maricarrol Kueter)
RECOGNITION
— South Dakota News Watch was awarded the 2021 Community Spirit Award from the Sioux Falls Area Community Foundation, which cited News Watch for its "impact in the lives of those it serves and in the community we call home."